Amazon Advertising Strategy | The Path That Two Doctors Took To Profitability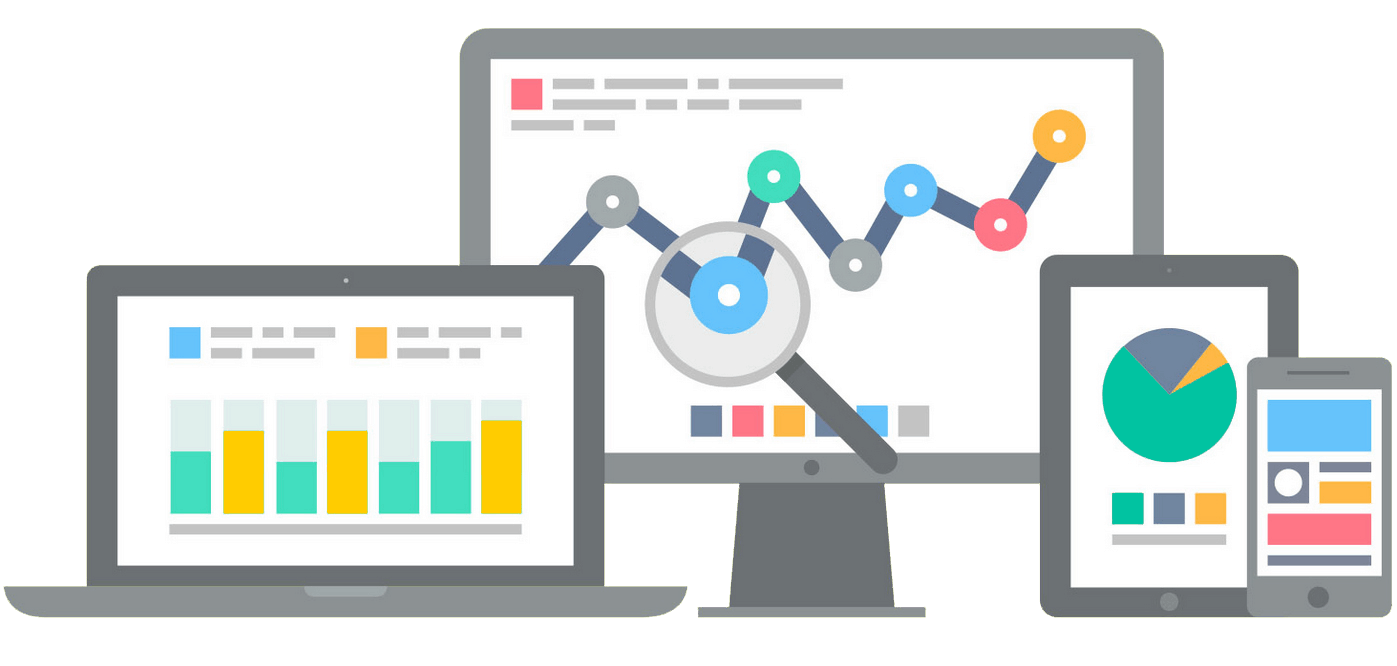 Designing an Amazon Advertising Strategy
When Eye Love Drs. Travis and Jenna Zigler, a husband and wife team, decided to sell their products on Amazon, they came up with their own Amazon advertising strategy to achieve profitability. Their first step was assigning each product with its Amazon Standard Identification Number (ASIN), a unique identifier that each product receives when listed for sale on Amazon.
This is like a retail product sold in a brick and mortar store, that receives a Universal Product Code (UPC) for tracking inventory and sales. Books, for example, receive an International Standard Book Number (ISBN) when ready for hard copy publishing and, if placed on Amazon for sale, will also receive the unique ASIN too.
Top Related Article: Amazon PPC
Have all your ad copy ready and any images you will use, which are already preset to the correct sizes for Amazon to give the zoom view. See the section further down called Important Tips from AdBadger About Amazon Ads to find out more information.

The Campaign Manager and Sponsored Products
There are two ways to set up your campaigns and you can do both at the same time. The importance of doing this type of strategy is to find out what search terms will be the most profitable for your product to be searched in Amazon. Once you have found them and figured out the best ones, based on the auto research discovery, you will collect your top selections and use them to scale the product in Exact Campaigns. More on this further down the page.
The first is the AUTO Discovery Campaign. In the Zigler campaign, the chosen term, Wayfarer Shiny Black B0186L2HPK, is the basis for campaign names for this product. Only the term end section changes to show the type of campaign it is. In the AUTO Discovery Campaign, it is called Wayfarer Shiny Black B0186L2HPK | Auto Discovery. Also note that the ASIN number is set as the page link to the product on Amazon.
The next part to fill out is the daily budget at "$5/Day | $0.75 Bid if conservative — $20/day | $5 Bid if aggressive or anywhere in between." Next, you select the ad to Automatic Targeting.
You do nearly the same set-up for the BROAD Discovery Campaign. Click on the Create Campaign button and name your ad campaign. In this case, the Ziglers used the following title, Wayfarer Shiny Black B0186L2HPK | Broad Discovery. The same product page link is still in place. The bid will also be the same as above, "$5/Day | $0.75 Bid if conservative — $20/day | $5 Bid if aggressive or anywhere in between." Now you select the ad type as Manual Targeting.
Keywords
There is one other step to do with a BROAD Discovery campaign and that is to select keywords. You have a choice of selecting the suggested keywords that Amazon gives you during the set-up, or pick Broad Match Type, or you can use your own results from previous independent keyword research results.
Here are some tips the Ziglers suggest for you. If you are not sure which keywords you want to use for the product, then run the AUTO Discovery Campaign first. Amazon runs through all search terms that Amazon users put into the search box. Also, Amazon's search bot analyzes customer behavior in how your product type is searched for. When your campaign has been active for a few days, you can get a Search Term Report in your Amazon Seller account and find the analytics for which terms perform well, including click-through rates (CTRs) on your ads.
If you choose Broad Match Type, this will give research returns of keyword discovery related to your product. Finally, you can add your own keywords from your research that related closely to your product. Each product campaign should have between five to twenty keywords to maximize success. Stay within those keyword numbers.
From this point on, you would want to check your campaigns often if you were using the Amazon Seller platform directly. But there are software platforms you can use that, once you get everything set up, reduce time spent with your advertising system. This makes it easy to step away and spend more time on your business.
The Ziglers' chose AdBadger Software to help with the automation of their advertising campaigns, making it easy to tweak each one as needed. This program platform helped them be more successful in selling products online at Amazon. First, you should know a few terms you will meet while you are working with Amazon Ads. As we go through how AdBadger works, you will see these abbreviations several times, so you should be familiar with them.

Pay-Per-Click (PPC)
As you involve yourself more into how Amazon Ads works, you will run into a few terms you should know ahead of time. Pay-Per-Click (PPC) will show what amount of money you will pay if someone clicks on your online advertisement. You will set the rate and once the ad is running for a few hours, you can check to see how much you are paying to the platform. This is true for Amazon Ads, Google Ads (formerly called AdWords), Facebook Ads, and any other platform with PPC as its base of operation for bringing in leads and buyers.
Related Article: Amazon PPC Tips
Advertising Cost of Sale (ACoS)
You will see 'ACoS' in your reports, and this denotes just how successful and profitable your ad is on Amazon. This is the average amount you spend during a campaign divided by the total of product sales. More on this further on.
Related: The ACoS formula
Click-Through Rate (CTR)
As part of analytics for your ad campaign, you want to know how often your ad was pulled up on the browser, and we call that an impression. Now you want to know how many viewers clicked on the ad after it showed up on their browser. That is your click-through rate. That is also your PPC amount that you will pay.
You always want to know the numbers in percentages as to how many viewed the ad and then were interested enough to click on it. If you have high rates of CTRs, then you are targeting the right audience and your copy and visuals are working well to appeal to your preferred audience. If you consistently keep a spreadsheet of numbers gathered regularly over each week, for example, you will see where and when you are either gaining audience or losing audience. Alternatively, if you have low rates, this tells you that maybe you need to tweak the copy and see how that works.
Timing is also important. If you notice a drop at the end of August, understand that most people take a quick vacation over those last weeks and that is likely the cause of your drop. If your ad has been doing well, but drops at one point, then goes back up again, see if it connects with a typical vacation time where more people are not online.
Quality Score
This is a little tricky conundrum that occurs when your ads are not doing well, which is why you need to keep track of all your important points (CTRs, PPCs). Whether it is Google Ads, Amazon Ads, or Facebook Ads, you will receive a high-quality score if you are very successful at getting viewers to click on your ads. That means you pay less in bidding for your ads. Nice, right? However, if your ads are not doing well, then you will find your ads ranking lower and you will pay more to keep them visible to your audience.
The Buy Box
So, what is the Buy Box? It is the area to the right of the product where there are two buttons you can press: The Add to Cart button and the Buy Now button. When you click on the "Add to Cart" button as a customer, you are buying directly from the owner of that Buy Box on that product page. The "Buy Now" button is important as it leads directly to a sale. The customer goes right to the billing page to activate payment and shipping terms. See the image below for the Eye Love Buy Box on Amazon.
The Buy Box on Amazon for Eye Love Product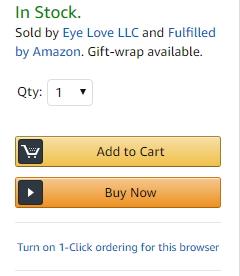 Here are the factors, according to AdBadger, that show how important the Buy Box is in having the ability to run ads on Amazon.There is a whole science to getting and keeping the Buy Box and if you have products to sell on Amazon, you should know everything you need to know about how to keep it active. Check out our post on CPC Strategy. So long as you own the Buy Box, you can do Amazon Ads.

A History of Successful Selling
It is important that you build your reputation of making sales with your products over time. You will want to keep your return rate down and, more specifically, offer good quality product(s) for sale.
Excellent Customer Service
This speaks for itself. Always be attentive to what customers say and respond as quickly as possible to any issues that arise. The products you sell will bring you loyal customers if they get exactly what is advertised. You are also building your brand reputation when you can show that you care about your customers and are available to help with any crisis that may occur. You always want to keep a pleasant tone of voice when responding to negativity – we know it's hard but it's so important.
Keeping Products in Stock
There is nothing worse than to see an ad for a product that is no longer in stock. When you click through to the page, there are none available. Worse yet, no one knows (including Amazon) when it will be back in stock. You must always keep up with your inventory levels, and reorder or restock as soon as possible when you are selling physical products. Beware that you are not advertising products that are not available.
Listing at a Competitive Price
Research your competition for each product you offer, study their reviews, Q&As, product descriptions, and pricing. The list price should be a reasonable offer to get those sales away from your competitors, while still giving you a return on your investment.
If you must charge a higher price than your competitor, add a descriptive list of benefits and features that highlight the special points of your product that others do not have. Your product must stand out in one way or another if you want to charge a higher price.
Having Fulfillment by Amazon – FBA
When you ship your products to Amazon's warehouse for storage and handling, they will also pull the product and deliver it to the customer as soon as the customer pays you for it. Your job is to notify the fulfillment company after you are paid, and you pay the fulfillment company to pull the product and deliver it. When Amazon is the one to store, pull, and deliver your products, for which they charge you a fee, then the complete system is handled for you by Amazon.
The positive aspect of this is that Amazon is also aware of how much stock it has of your product at any given time. When sellers use other fulfillment companies for storage and delivery, then Amazon has no idea whether you have stock or not. This makes you more of a liability in their eyes. Of course, if you always deliver your products in a prompt fashion, then you build trust with Amazon as a seller. But it builds slowly when using an external fulfillment company.
We briefly discussed the Buy Box earlier but using FBA will give you a higher chance of winning the Buy Box over other sellers who use a different fulfillment system while selling a similar product. That's because you are already recognized as having the goods that Amazon relies on to support its own reputation as a retail company.
Your product will also be eligible for the Prime 2-day delivery which means customers who are Prime members, get free shipping. You gain a higher seller reputation because of this. A little tip about automation of the FBA – check out this article from Trade Gecko to learn more about FBA and how you can automate the whole system, making it easier to spend time doing other things for your business. If you can automate every part of your business, then you will be a happier seller with more time to dedicate elsewhere.

Images
If you are an Amazon customer, you have, while looking at a product, clicked or hovered your mouse over the image to see a close-up view of it for better details. If you want Amazon to give an excellent view of your product picture, upload an image that is 1,000 X 1,000 pixels.
Additionally, if you are in Adobe Photoshop, click on IMAGE, then IMAGE SIZE, and you will see the following menu. Where you see Width and Height, make sure those say 1000 for both entries, like the image below.
Related: Amazon Ads
You may have to crop a picture to that size, so use the sizing guide numbers that show up while setting the cropping area. Make sure the image is a high resolution too when making the final save of your image.
Image Sizing Window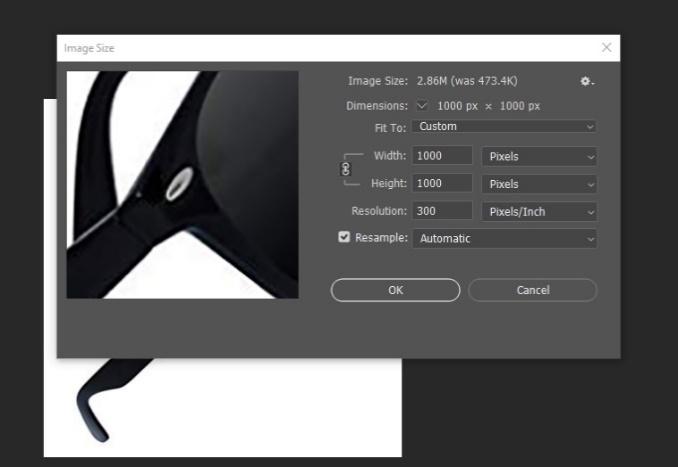 Pricing
Price your product so that it markets well against your competitors. You do not want to be outrageously expensive, unless your features and benefits show that it is well worth the money. This can be a little tricky, so research your competition thoroughly for their features and benefits and balance that research against what they charge. For example, if these eye glasses are 100 percent UV blocking (which they are), while your competitors are only 75 percent or less, then highlight this feature. Which leads us to the next tip.
Great Product Descriptions
Give every detail about the products that you can pull out of your magician's hat. List every feature and benefit. Highlight those that stand out well against any of your competitors. You created the product for a specific reason, so tell that story.
Customers love stories and the more you can show connections to those things that grab customers' emotions, the more likely you are to make a sale. For example, Drs. Jana and Travis Zigler, who started their Eye Love company, travel to Jamaica annually and offer free eye exams and help, including eye glasses, to those who have no other way to get help with their vision problems. People who have received this help, have had their lives changed for the better. You can read this great story on the selling page for any of their Eye Love products offered on Amazon, including this link for the Wayfarer Shiny Black Eyeglasses spoken of in this post.
Excellent Customer Service
If you give excellent customer service, people will buy from you again and are far more likely to become loyal customers. Be sure to watch all comments and reviews and respond back promptly when you receive negative comments. Low ratings and reviews affect your sales negatively and it may be very hard to recover to your former standing. Be sure to answer any questions and let the customers see you respond to negative experiences. This will tell everyone that you are willing to take care of them and address their concerns.
Next, we look at how the AdBadger Platform can help you stay on track and develop better sales without tearing your hair out because you have so many things to keep up with. First, you may want to pick up the AdBadger Seller Guide to get an overview of what you will learn about using AdBadger. Then you can learn more from the Amazon/AdBadger campaign the Ziglers did for their products.

AdBadger Software for Automating Amazon Pay-Per-Click (PPC)
If you want to use this software, click on the AdBadger Software link above. You will get a 30-day free trial, which gives you plenty of time to try everything out. While this is an affiliate link that pays a commission to the Ziglers, they note that this will be well worth your time to use this platform in connection with products you are selling on Amazon now or if you are planning to do so in the future. Once you have set up your account, check out the Dashboard tab. Take advantage of all the training videos and components offered in AdBadger on this tab. You will find tons of information and training about Amazon Ads as well as how to use AdBadger with those ads.
You should have all the products you want to sell already listed on Amazon to effectively use the AdBadger platform. If you have completed this, then open up AdBadger after you build your account there.
Follow the directions given in AdBadger to connect to your account in Amazon Seller Central. All the active Amazon Ads information will show up in AdBadger in about 24 hours after connection and you are now in automation mode. Here is how to optimize any campaigns you currently have going on in Amazon Ads.
Beginning Your Campaign Optimization Strategy
Dashboard
Once you are connected to AMS, open AdBadger on the Dashboard tab. On the left side of your AdBadger platform, you will see a list of all your products and campaigns currently running in Amazon. Across the AdBadger platform top, the tabs are (from left to right) Dashboard, Account Navigator, Bids by Badger, Negative Keyword Tool, and Reports.
Your Dashboard Tab will show you all the training information you need to get up to speed to be successful with AdBadger in connection with AMS. Be sure to spend time here learning everything you can about Amazon Ads and AdBadger.
Account Navigator Tab
On the Account Navigator Tab, you will find all kinds of analytics that you can review to help you understand the numbers happening in your campaigns. At the upper right of the page, check out the menus and drop-down boxes for different ways you can look at the analytics, which will give extensive insight into what you should know behind the scenes. For data geeks, this is a gold mine of information.
Bids by Badger
Click on the Bids by Badger tab, then click on the red Off button for Phrase Keyword, or whichever line shows a red button (except the Brand). Once you have clicked on it, a pop-up will appear where you can calculate the information and add your target ACoS. This is the area where you will spend the most time in AdBadger tweaking your strategies for each product.
You should know what your break-even ACoS is, as now you will bid at least 10 percent higher than that break-even amount. Put that new ACoS percentage number in at the bottom of the pop-up. We discuss more about the ACoS strategy in full further on in The ACoS Strategy section.
If your Brand Protection line has a red button instead of a green button, you do not need to turn it on for automation. Most people will already be looking for your brand, once they know about you and your products.
As Dr. Travis Zigler says, "Trust the system. It's not always going to be perfect, but neither are you." At this time, he has used four different programs and AdBadger has offered the greatest success for his campaigns. This technology performs better (and faster) than humans ever could, if they were doing everything manually.  
Negative Keyword Tool
The term Negative Keyword sounds a bit ominous, but it is not what it sounds like. You can use negative keywords to filter out an unwanted target audience, because they are unlikely to buy your product. This will involve some research to uncover where your ad might show up to someone unlikely to buy from your ad, even though they clicked on it. Wasted and expensive click-through actions by searchers can adversely affect your quality score. Find out more here.
What you will want to do is click on the negative keyword tool tab, then have a look at those keywords that receive high impressions, but low click-throughs. These are the keywords you want to eliminate. Amazon may have chosen them for you when setting up the ads or they could have come from one of your own keyword research sessions. That is why you want to keep reviewing your keyword statistics, so you know which ones are not working well, and cancel them.
Alternatively, you may have some keywords that you do want to keep, regardless. You can set them to always remain white-list keywords. Drop down the list box above and go to Summary. You can add or white-list keywords and make sure they never become negative keywords. You can customize your keywords, as well as kill low converting terms. Also, you can set rules of the amount of conversion rates and if they perform lower than the amount you set, they will be killed off.
Check the Negative Keyword Actions to see what has been eliminated. You can change one to be active again, and add it to the white list of keywords, so they never become negative keywords again. That is the beauty of the Negative Keywords Tool Tab, in that you can always change things around and you always have your statistics available that help you with your strategy on the AMS platform.
Dr Travis Zigler looks at the Negative Keyword Tool in the Predator Mode and makes the following comments. "You can use the defaults that AdBadger gives you. Hit the mark box and add the options to your account. You can edit these as needed, but their presets are a good baseline."
He will generally set Expensive Non-Converters to the average cost of his products. (See the ACoS formula calculation below). He will also set any Low Converting Terms to be more aggressive at 25-30 clicks.
Reports
This is where you can select many different types of reports, such as top performing keywords by revenue or ad campaigns by revenue, and so on. There will be plenty of valuable information that you can find from these reports that help you decide what actions you want to take. It may be changes in keywords or in your ACoS calculation.

The ACoS Strategy
Sample ACoS Calculation Table in AdBadger

Amazon Fees

15

%

Production Costs

20

%

Shipping Costs

15

%

Ad Costs

15

%

Cost of Goods

Your Maximum ACoS

(Break-even point) is at

35

%

Set Your Target ACoS at:

45 (or just 10% over ACoS)

%

Save

Cancel

Set 10% above break-even ACoS to drive more organic sales
When you click on the Bids by Badger tab inside your AdBadger platform, you click on the red tab which shows that a line, such as Phrase keyword, is not active. Click on it and it opens the ACoS tab where you do the calculations necessary to make it active. You will see a listing of information you can change or use the AdBadger default numbers.
Dr, Tavis Zigler shows the break-even ACoS formula calculation he does in the following way:
Retail Price of Your Product – 15% Amazon Referral – Pick and Pack Amazon Fees
– Cost of Goods / Retail Price
After you get the result, you add on 10% to the ACoS, as shown in the table below.
Retail Price

$16.00

15% Amazon Referral

-$2.40

Pick and Pack Amazon Fees

-$4.00

Cost of Goods

-$3.50

Sum of Above Divided by Retail Price

$6.10/$16.00

Result for Profit Margin/Breakeven ACoS is:

38%

Typically, you now add on 10% more over your ACoS (= 48%)
Dr. Zigler, however, likes to be more aggressive and will usually go higher to gain sales. If you set it at the Break-even ACoS of 38%, you will likely lose sales. When you are new, always add at least 10% to your ACoS. He points out that when in doubt, just use the default numbers that AdBadger gives here, then change them as you learn more and gain confidence. You can check out this video overview of AdBadger by Dr. Zigler below.
Click Here to check out my video review and walkthrough for AdBadger
Creating Phrase and Exact SCALE Campaigns
Advertising Report (Search Term Report)
Open Amazon Seller Central (ASC) and click on the reports tab at the top. Then click on Advertising Reports. Where it says Report Type, add Search Term. It asks for a name so name it Sponsored Product Search term report. For the Report Period (of time span), choose 90 days as the maximum. Use 30 days instead if you can keep this schedule. The Data Unit comes as Total or Daily. Choose Total. Click on Create Report button as shown below.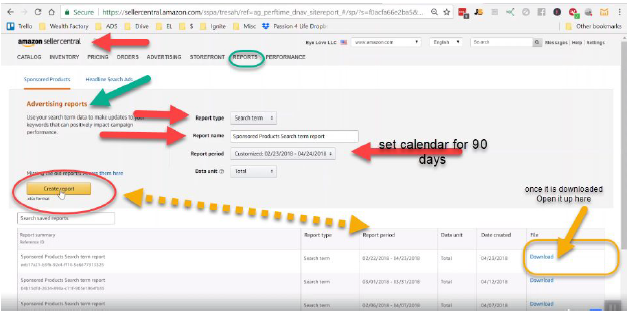 This report shows where people are looking for your category of product and how they land on your page. The report shows if there was a conversion or not. You can cut and paste the data into a Google doc worksheet, then cut rows Q-W (not needed) and cut the first three columns. The areas you have now for calculations are:

Your report worksheet will look like this: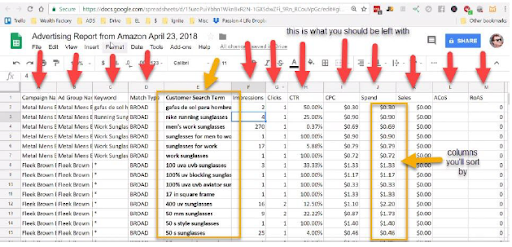 Separate the ones that get sales from the ones that do not. Go to the Data drop-down menu, click on sort range, and check Data has Header Row. Sort by Sales, A-Z, and hit Sort.
You can sort by Campaign by using the ASIN your product has on Amazon. Then separate each campaign, Add New Sheets to your worksheet, and put each separated campaign on its own worksheet for further calculation, as shown below: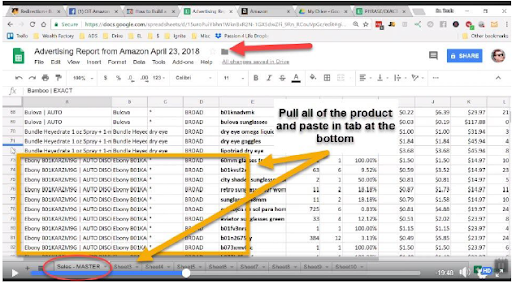 Label each sheet with the Campaign-ASIN name, leaving the Master sheet intact. Sort each sheet by Sales by Z-A, highest sales to lowest. Your goal is to look at the higher sales and note if the ACoS is under the break-even percentage. Remove any keywords for ACoS that is over the break-even amount. Then, remove all keywords that did not generate any sales at all. Copy the top 1 to 20 remaining Customer Search Terms (from highest to lowest) and copy into the Exact Campaign.
A few tips for you to know include: 1) the Search Term with the most sales should be the ad's lead title. In Backend Search Terms, use the top 20 terms that drive your majority sales. You can use Charactercounttool.com to cut out duplicate terms.
EXACT Campaign
Go to your Campaign Manager and open Exact Campaign for Selected Product or choose Create Campaign. Fill in the campaign name using the EXACT extension, the daily budget, and the start and end date. Name the campaign in the following manner: Your product name, ASIN, and Exact Customer Search Term extension.
Wayfarer Shiny Black B0186L2HPK | Exact Customer Search Term
You can be more aggressive with this campaign as these are proven (by Dr. Zigler) to be profitable. For example, you can bid high at $10 a day, or $2 if conservative; or $5 a day, $20 if aggressive, or anywhere in between these two numbers. Select the Manual Targeting choice. Now, you will copy-paste the profitable Customer Search Terms from the Search Term Report into the EXACT Campaign. Put those same Customer Search Terms results into Negative Exact Keywords for your Auto, Broad, and Phrase Campaigns. See the image below: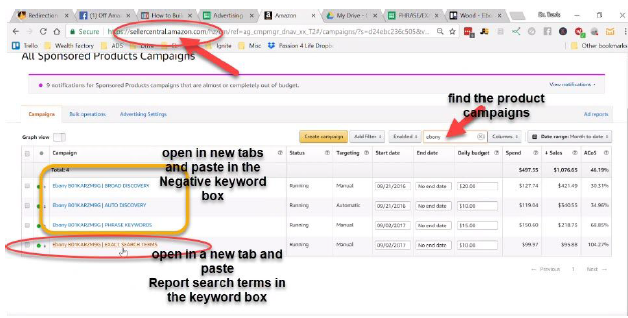 PHRASE Campaign (Optional Step)
Create the Phrase Campaign and, as a choice, insert Profitable Keywords into the Phrase Campaign. Ignore any * that show up in the column. Your worksheet should look like the image below: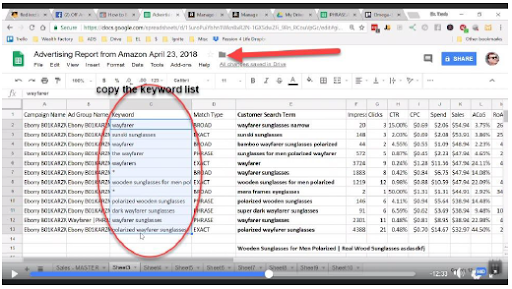 You can use those same keywords (profitable keywords only) in your Phrase Match campaigns: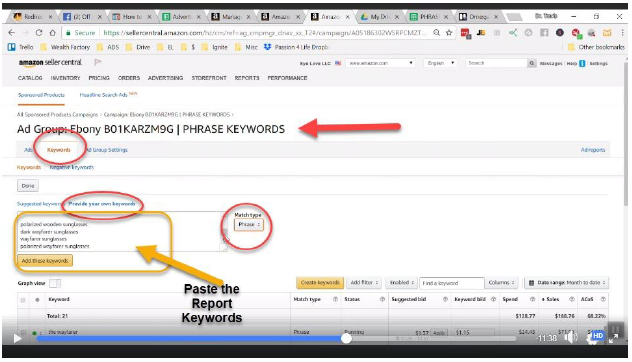 Use a bid of $10 per day maximum, with a $1.25 bid at minimum level. You can also put those same keywords into your Negative Phrase Keywords for your Auto and Broad Campaigns, shown at the beginning of this post.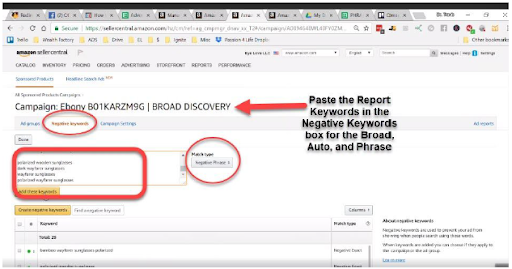 Your last step here is to turn off Bid+ for all campaigns.

Final Touches
PPC Campaign Cleanup
If you want to keep a tidy and organized Ad house, once a month, delete any keywords that have not generated any sales for the last 90 days. Maintain your accounts at least once per month, certainly when you are just starting out and need to get a feel for how it all works.
Make sure the keywords in the Phrase, Exact, Auto, and Broad campaigns are in separate campaigns. You should have the following arrangement:
Name of Product ASIN | Auto Discovery
Name of Product ASIN | Broad Discovery
Name of Product ASIN | Phrase Keywords Discovery

Name of Product ASIN | Exact Customer Search Terms
Getting Help
The Ziglers created their own training programs and are also available for one on one coaching sessions. You can reach out to Dr. Travis Zigler here for coaching sessions.
Notice of Proof
The Ziglers have provided you with a brief look at how they are now running a $4 million a year company. Here is the proof for September 2018. Are you ready to do the same?!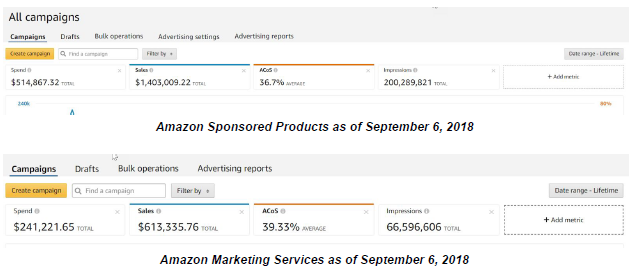 STOP shooting for that low ACoS! Let us help you do much better!
Click here to get your trial of AdBadger and start automating your Amazon Sponsored Products.