5 Best Amazon FBA Tools To Increase Your Sales [AND SCALE]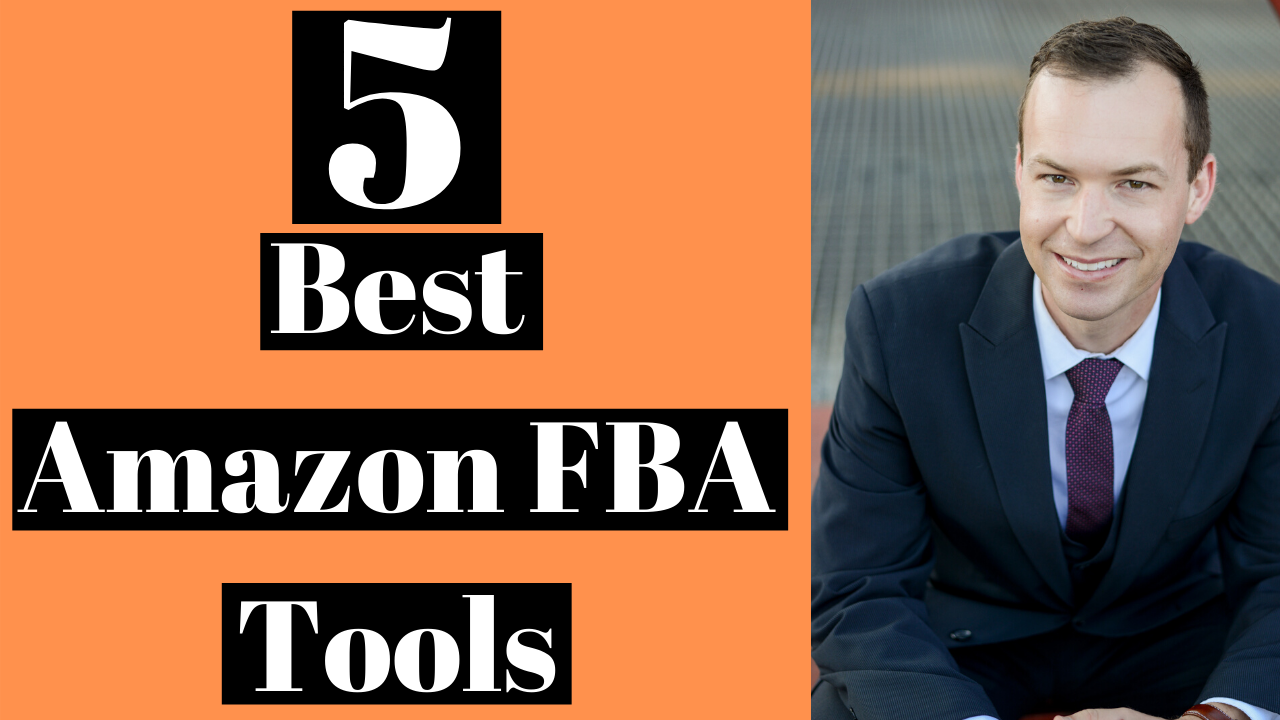 When someone asked me to write up an article about the five tools that every seller needs to succeed on Amazon, I wasn't sure I could write it. In all honesty, I use only three tools for Amazon, and they work incredibly well. So I added a little bonus section, which are the fourth and fifth tools on this list, that I think you will enjoy. Those two are the key to creating a million dollar business. Using the other three tools are VITAL to your Amazon success, but if you really want to be free, you must master the art of the fourth and fifth tool.

Also before we get started I want to be clear on one thing. I am an affiliate for all of these tools, but this is NOT why I selected them. I chose to use these tools, fell in love with them, and then became an affiliate. With that out of the way…

Let's jump into the 5 Best Amazon FBA Tools to Increase Your Amazon Sales and Scale Your Brand!

Keyword research is the most important skill/strategy that you can learn in regards to Amazon PPC and Amazon FBA selling. And after learning how to use the Helium 10 tool, it became SOOOOO much easier.

Keyword research is my favorite tip and skill that you need to learn to accelerate your sales, and it is not even close (Scaling comes in second).

Learn exactly how I do keyword research using Helium-10 here.

I use both their Cerebro tool and their Magnet tool for keyword research. Cerebro allows you to dive deep into your competitors to identify their winning keywords. It gives you an estimated search volume for these keywords allowing you to find longer tail keywords that no one else is going after. Magnet allows you to do very detailed keyword research.

Refund Genie is another great tool for Helium 10. This gives you detailed reports to submit to Amazon for reimbursement of lost or damaged inventory. In the last year I have recovered close to $33,000, which makes this tool well worth the cost of admission for Helium 10.

Frankenstein is another great tool that I use to find and organize keywords into a nice list for my backend search terms, and I also use this tool for tags on my YouTube videos.

Finally, their chrome extension is by far one of the most useful tools on the market for analyzing a listing, including your own (and it is free).

They continue to add more tools that I just honestly haven't dug into that much. This includes an index checker to check if your keywords are indexed or not, follow-up email automation, daily profit email, sales trend analyzer, keyword tracker, and alerts for hijackers on your listing.

Overall, this is my favorite FBA tool, and before going on to the next tools, I would recommend signing up for Helium 10 and watching their complete instructions on how to use each tool.

I have a few guides on keyword research and competitive analysis that are well worth your time!

Get 10% off your monthly subscription or 50% off your first month of Helium-10 when you use the coupon code SALESFUNNEL50

Click here to try out Helium-10

Manage By Stats is what I use to track sales of each individual product, for tracking profit and loss, keyword tracking, downloading customer lists for Facebook ads, and for my email campaigns.

My favorite part of Manage By Stats is the easy to read dashboard, where I can see sales at a glance for today, yesterday, seven days, 30 days, 365 days, and year to date. These are helpful when checking your sales (obviously), but also watching for problems in your account, growth, decline, or excess ad spend with your Amazon business. The best part is that the dashboard is 100% customizable so you can put anything you want in it.
I also love to use the statistics area which gives you an excel file to download for your stats, but also presents in a nice table in the software itself. The table includes product sales, promos, Amazon fees, refunds, other income from Amazon, cost of goods sold, inbound shipping, ads cost per product, sales tax, and it even calculates profit, profit margin, and ROI (return on investment).

We use this table quite frequently when analyzing products to maintain, push harder and relaunch, or to discontinue altogether.

Another feature we use is the keyword tracker that allows you to look at the last 30 days of keywords that you want to track and keep an eye on.

Their sellermail feature is how we send our one follow-up email to customers. We send it five days after purchase and it is almost always a "how-to" email on how to use the product.

Finally, we use Manage By Stats to download our customer lists and then upload them to Facebook custom audiences to cross-sell other products on Amazon as well as to provide more value, such as a free ebook.

This is another tool that does a ton for your Amazon account that we have not fully utilized.

Click here to try out Manage By Stats (affiliate link)
Software is a game changer in Amazon PPC, but I have tried and gone through about 5 different softwares before I found one that I really liked. The reason I like Samurai Seller is simple. It is NOT fully automated and you still have to manually push the changes, so you're still analyzing before making changes. I would call this an Amazon PPC Analyzing software and not an automation software.

This flexibility allows for you to be able to scale your campaigns, whereas most fully automated software does not allow this and unfortunately leads to the opposite result of stagnant campaigns that barely sell.

Check out this article as I fully dive into Samurai Seller.

Click Here to Try Out Samurai Seller (affiliate link).

Like stated above, Amazon FBA tools like the ones listed above are a great way to make more Amazon sales and to track your progress. But the two tools below are how you build an amazing business.
You need to start building your audience NOW. It does not matter where you are in your business. I actually recommend starting to build your audience way before you start product research.
Knowing WHO you serve will help you scale your business much faster and get you to that one million dollar business level that everyone talks about.
It's about a person, not a product.
Not necessarily an "Amazon FBA tool," but this can be very helpful in your Amazon journey. Clickfunnels is a great way to make a VERY simple landing page to collect emails to then follow-up with an email sequence to make more sales, increase the value you provide to the customer, and to increase the lifetime value of a customer.

We use Clickfunnels for a few businesses and Zipify pages for others. Here is an example of our landing page. It is simple, yet converts extremely well.

We know that most people that buy our products are suffering from some form of dry eye, therefore we download the customer list from Manage By Stats, upload it to Facebook Custom Audience, spend $5 per day on advertising to build our email list (scale this, but commit to $5 at the beginning), send them to a landing page, and then email them more information every 4 days.

The key to this is GIVE, GIVE, GIVE, GIVE, GIVE, then ASK for a sale.

This may be a future course that I plan on doing in the future. Interested? Let me know here.

On top of Click Funnels being amazing, Russell Brunson, the CEO, has written my favorite marketing book, DotCom Secrets, which is in my top 5 must reads.

Try Click Funnels on a free 14-day trial by clicking here (affiliate link)

My love for SEMRush cannot be understated. This tool is a ton of fun.

This isn't your typical Amazon FBA tool, but it is SOOO powerful in spying on what your competition is doing and figuring out what is working for them.

SEMRush is a tool I use to develop content and advertising strategies with amazing keyword reports, competitor spying, advertising research, and keyword difficulty ratings.

I use this to create the content around my lead magnet and then send my email list to this content (blogs). These blogs are essentially a warm up page to selling something else, like another product that is similar to the one they purchased or a coaching program (look below to see the one for Sales Funnel HQ and my coaching).

For the blog, I look for LOW keyword difficulty on keywords of the PROBLEM that my product solves. We have a dry eye blog, a dry eye YouTube channel, a dry eye Facebook group, and more around dry eye. This is what our business solves and we cater to that sufferer that is post-menopausal and 61 years old (her name is Cindi). Everything we do on the blog and on video is to better SERVE Cindi.

The more you think about giving to your ideal customer, the more you will receive in return.

Click here to try it out free for 7-days (affiliate link)

Did I forget any tools that you like to use? Let me know in the comments of my YouTube video by clicking here.

Make sure to subscribe to our YouTube channel and join our free Amazon PPC Pros Mastermind on Facebook.
FAQs About Amazon FBA Tools
What's Next With Your Amazon PPC?
Have you taken my Amazon PPC Masterclass? Click here to get all the Amazon PPC lessons emailed right to your inbox once per week. This is an actionable lesson every week to take your Amazon PPC to the next level. Each lesson is also below.

Step 1 – Track and Measure Your Results
Step 2 – Research Your Competitors
Step 3 – Simplify Your Amazon Keyword Research
Step 4 – Amazon Listing Optimization
Step 5 – Set Up Your Amazon PPC Campaign
Step 6 – SCALE your campaigns.
Step 7 – Optimizing Keyword Bids for Increased Profitability
Step 8 – 9 Best Amazon PPC Auto Campaigns Hacks and When to Use Auto Campaigns
Step 9 – Product Targeting Ads
Step 10 – How To Calculate Bid Adjustment for Top of Search

If you want support in this Amazon PPC journey, this is where I can help.
How I Can Help Double Your Amazon Sales from Amazon PPC
I've set aside time in the next 48 hours to speak to you personally about how you can apply these ideas to your Amazon business starting TODAY.

Whatever your biggest challenge with Amazon PPC, I've seen it and know how to overcome it.

We will get on the phone for about 45 minutes and we will work with you to craft a step-by-step game plan to hit your business goals, whether that's doubling your Amazon sales, increasing keyword rankings, lowering ACoS, or simply just having more love for what you do every single day.

The cost? Absolutely FREE.

But this is not for everybody…
Who This Is For
You MUST have an incredible brand that you are looking to scale.
You MUST operate your business with integrity and great values.
You MUST be willing to take action to transform your Amazon PPC.
You MUST take accountability for your failures, avoiding excuses for why something can't be done.
You MUST be coachable.
Why I'm Doing This
I do this because I love helping others attain the financial abundance that we have achieved with our business.
Plus, I know that you might want help transforming your business (it's tough going it alone!). If so, we can discuss it and see if it's a good fit for both of us. And if it's not, I will point you in the direction that you need.

If you're willing to:
1. Take Action
2. Be Vulnerable
3. Be Coachable

Then I would love to chat with you…

This is what I love helping people do. This is why I was put here on this Earth… to help people like you grow their Amazon business.

I can show you, step-by-step, how to create efficient, scalable Amazon ads and free yourself from working hours on your ads and second guessing yourself.

All you need to do is book a call here: https://www.growto1million.com

Every day that goes by is more time wasted. Every moment you hesitate is you settling for being less than you were born to be. Let me help you turn your dreams into a reality.

Your future is waiting for you.
Talk soon,
Dr. Travis Zigler