Should I Hire an Amazon PPC Agency? [Amazon PPC Agency Pricing]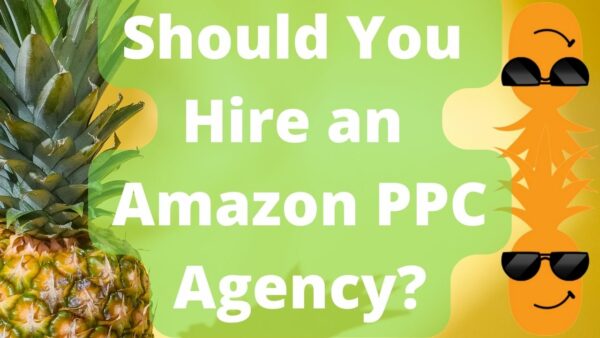 Should you hire an Amazon PPC agency to manage your ads? We get this question all the time in our Amazon PPC Agency. Yes, we are an Amazon PPC agency and people ask us if they should hire someone. What do you think our answer usually is?

Believe it or not… It depends!

Why?

You need to have goals and a mission behind your business before you start bringing on contractors to help you grow and scale. If your goals don't line up with the contractor, or in this case the Amazon PPC agency, then there will be problems and expectations will not be met.

5 reasons that you SHOULD hire an Amazon PPC agency
1. Amazon's ever changing platform
Amazon's campaign manager is constantly changing. Amazon is always adding new features and advertising tools that if you don't have someone learning how to do it full time, then you might be falling behind.
2. Amazon's ever changing advertising algorithm
Amazon is also constantly changing how they show your ads and therefore you need to be constantly evolving your strategy for these ads. Just in the last 12 months we have changed our system three times due to this very evolving algorithm. Our latest change has been quite amazing, and Amazon is really onto something. They are no longer rewarding the seller that bids on thousands of keywords, but rather are punishing them now (and have been for a while, but sellers still do this).
3. Save time and headaches
Just learning the basics of Amazon PPC can be quite daunting, and when you get into the advanced tactics it takes a unique skillset. It takes us about 2-4 months for a new hire to get their first account in our agency. Why is this? Because we use advanced tactics, and it takes that long to get them down.
4. Get RAPID results
You can lose a lot of money in a short period of time managing your own Amazon ads. The amount of additional revenue you will make from hiring an agency should pay for itself after 3 months. And this goes for hiring anyone. If they don't pay for their salary after 3 months, then you should probably part ways.
5. Increase your organic rankings
Amazon loves conversions. The higher your conversion rate, the better your listing ranks. You need to focus your Amazon PPC on the search terms that convert. The more sales you get on your highest converting search terms, the higher you are going to rank organically. We just launched this product and only have a few reviews on it, but we are already ranked number 5 organically for our main keyword. This is because we only go after highly converting search terms.

5 reasons that you SHOULD NOT hire an Amazon PPC agency
1. You don't have the money to scale and invest
Most Amazon PPC agencies are going to spend more money than you will. This is because they know how to scale ads quickly. If you don't have the money to invest in more ads and more inventory, then hiring an agency is not right for you.
2. If you love running Amazon PPC ads
Simple enough, if you love doing it and are comfortable with your income from the business as well as your lifestyle, keep doing what you are currently doing.
3. You're comfortable and don't want to grow
If you love what you are doing (like stated above) and don't need a change, then keep doing what you are doing.
4. You are unsure what to expect
You should have clear expectations for any agency or team member you bring on. If you don't, there will be a constant disconnect and expectations will not be met.
5. If it is not a good fit
We do NOT bring on everyone that wants to work with us. Out of every ten zoom calls that I am on with a potential client, I offer to work with about three of them. Why don't I accept everyone? Our goals are not in alignment. We love working with brand owners that are looking to make a difference in this world and not just to pad their pocketbooks. If you have a brand and are ready to scale, I'd love to talk to you and see if we are a fit to work together.

Bottom Line
If you are ready to invest in growing your business, then we highly recommend outsourcing your Amazon PPC to an agency that has goals that are aligned with yours. We truly believe that if an Amazon PPC agency doesn't make or save you the amount of their cost, then you should fire them. Also you are freeing up more of your time to focus on doing other more important matters in the business, like product development, audience building, and more.

Don't fall for the typical Amazon PPC agency pitch where they talk about how low they are going to get your ACoS. Lower ACoS does not mean that you're maximizing your potential. All that means is that they are not spending any money, and they are not scaling your ads.

Here is a client we took on in January of 2020. They were spending $30,000 to make $60,000 for an ACoS of 50%. We have since focused on the highest converting search terms and SCALED them. For the month of May 2020, they spent the same $32,000 to make $100,000 for an ACoS of 32%.

Same spend, but almost double the sales by simply focusing on what works!

Client's account from January 1st, 2020 through May 31st, 2020. The blue line is ACOS and the orange line is sales.

Amazon PPC Agency Pricing
For the cost of a part time employee, you can get started with our Amazon PPC agency by filling out this application. 
We are an Amazon PPC agency that works with ethical companies and would love to discuss this opportunity with you.  If you are ready to hop on a call to discuss, just fill out this application.