How to Use Helium 10 Magnet for Amazon Keyword Research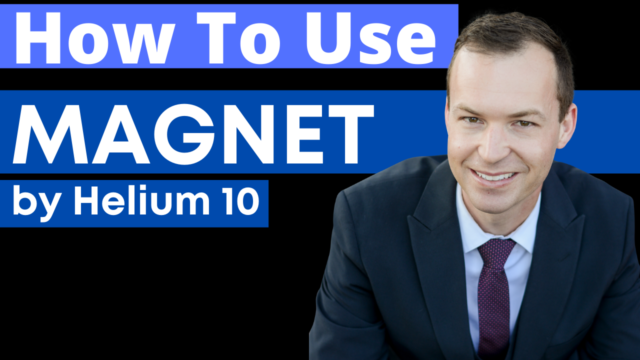 Amazon is an eCommerce giant, which offers everyone an ability to sell their products. However, there are a lot of things that matter when it comes to selling on Amazon. Ensuring that the right customer can see the right product exactly when he needs it is necessary.

This all starts with the right keywords. Amazon keyword research is one of the most important skills to learn for selling on Amazon. The correct keywords should go in the product's title, bullets, description, back end search terms, and finally in Amazon ads.

Helium 10 Magnet Tool allows sellers to find the best keywords based on search volume and relevance to your product. This is one of the most widely used tools for Amazon keyword research worldwide with over 500,000 users. It customizes the results, with advanced filters.

The process of using the Magnet tool to get the maximum output is quite easy. It contains a few steps, which lead to the creation of a higher number of customers reaching the product.

How To Use Helium 10 Magnet for Keyword Research
Step 1 Includes going to the Helium 10 Magnet Tool and signing up for an account with Helium 10.
Step 2 Enter your first keyword that relates to your product in the search field of the Magnet Tool and, prior to hitting search, a list of autocomplete keywords will display. These are the top searched keywords on Amazon related to your product. This list can also be used for further research into top keywords.
Step 3 Click [🔍Get Keywords] and a list will populate below that will have a relation to the keyword that you used for the search. Within the list of total keywords that are displayed are Organic Keywords, which are the keywords that are used the most in the listings of the top selling products on Amazon for the keywords searched.
Step 4 Search, Research, and Compile a list of keywords to use in your Amazon listing title, bullets, description, back end search terms, and especially your Amazon PPC ads.
Note: For further assistance with Amazon keyword research or Amazon PPC ads please join the Amazon PPC Pros Facebook group by clicking here and one of our community members or one of our Pros would be glad to answer any questions you may have.

The Helium 10 Magnet Tool will offer you keywords that are both high search volume and highly competitive, but also low search volume with low competition. The best keywords to go after are the ones that have a low amount of competition with moderate search volume. The mistake most sellers make is going after the most competitive keywords, which is both costly and will be hard to gain momentum.
Amazon Keyword Research for the Spanish Market
The Spanish market on Amazon is a bigger market than most sellers realize. You can use the Helium 10 Magnet Tool to do your normal keyword research, but with the main keyword that you would search for in Spanish. Use Google Translate for assistance.

If you are looking for a powerful Amazon keyword research tool, there is no better option available than that of the Helium 10 Magnet Tool. It helps you in sorting your amazon keyword research, which makes your products competitive, and aggressively gives a boost to your sales. You will be able to find the highest volume as well as the most relevant keywords.
Make sure to subscribe to our YouTube channel and join our free Amazon PPC Pros Mastermind on Facebook.
Helium 10 Coupon Code
This blog was brought to you by Helium-10. If you click through my links, I make a small commission and you get a discount. Win win. Get 10% off your monthly subscription or 50% off your first month of Helium 10 when you use the coupon code SALESFUNNEL50

Click here to try out Helium 10