How To Increase Amazon Sales FAST With GetEmails Lead Generation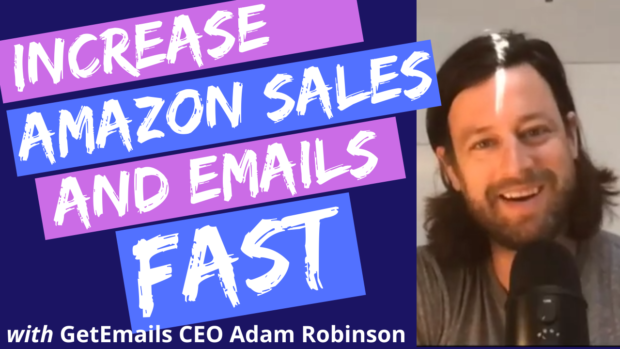 I first learned about Adam Robinson and his software, GetEmails, when I was listening to another podcast that he was featured on. GetEmails is by far one of the fastest ways I have ever seen to grow an email list at just $0.25 per lead.
The great thing about GetEmails is that it is a pay-for-performance software, which means you only pay for it when they get you emails. If you are currently getting traffic to a blog, website, or store, then using GetEmails will essentially pay for itself as you go.
The key to this is to have an amazing email sequence that engages and offers them a coupon code to buy, and I will share below what we do. Once you have just three simple emails in place, you can scale GetEmails along with your traffic. And then, you have the email asset to sell even more.
Tune in to this amazing interview and learn more about how GetEmails can help grow your Amazon sales FAST.
What is GetEmails?
GetEmails identifies up to 35% of your anonymous traffic and it passes you customer records that you don't already have. It is 100% CAN-SPAM compliant and totally legal in the United States.
It is free to start, takes 60 seconds to set up, and integrates with most email providers, like Klaviyo (we use for ecommerce) and ConvertKit (we use for this blog).
If you are a publisher, a media company, or a blogger, you suffer from chronic attrition, which is just you losing emails and customers. GetEmails is the cheapest source for acquiring engaged emails, which you can then market to.
For ecommerce, this creates a new channel for customer acquisition that no one else has used. Customer acquisition cost is around $20-$40. You will be emailing to colder traffic, which means you have to warm them up a little by providing value to them first.
How is This Legal?
It is legal in the United States only. It is not GDPR compliant. It works by matching up the identification in your customers browser with their own data that they have sold.
Email marketing in the United States is OPT-OUT and not OPT-IN, like the rest of the world.
Don't use false or misleading header information. Your "From," "To," "Reply-To," and routing information – including the originating domain name and email address – must be accurate and identify the person or business who initiated the message.

Don't use deceptive subject lines. The subject line must accurately reflect the content of the message.

Identify the message as an ad. The law gives you a lot of leeway in how to do this, but you must disclose clearly and conspicuously that your message is an advertisement.

Tell recipients where you're located. Your message must include your valid physical postal address. This can be your current street address, a post office box you've registered with the U.S. Postal Service, or a private mailbox you've registered with a commercial mail receiving agency established under Postal Service regulations.

Tell recipients how to opt out of receiving future email from you. Your message must include a clear and conspicuous explanation of how the recipient can opt out of getting email from you in the future. Craft the notice in a way that's easy for an ordinary person to recognize, read, and understand. Creative use of type size, color, and location can improve clarity. Give a return email address or another easy Internet-based way to allow people to communicate their choice to you. You may create a menu to allow a recipient to opt out of certain types of messages, but you must include the option to stop all commercial messages from you. Make sure your spam filter doesn't block these opt-out requests.

Honor opt-out requests promptly. Any opt-out mechanism you offer must be able to process opt-out requests for at least 30 days after you send your message. You must honor a recipient's opt-out request within 10 business days. You can't charge a fee, require the recipient to give you any personally identifying information beyond an email address, or make the recipient take any step other than sending a reply email or visiting a single page on an Internet website as a condition for honoring an opt-out request. Once people have told you they don't want to receive more messages from you, you can't sell or transfer their email addresses, even in the form of a mailing list. The only exception is that you may transfer the addresses to a company you've hired to help you comply with the CAN-SPAM Act.

Monitor what others are doing on your behalf. The law makes clear that even if you hire another company to handle your email marketing, you can't contract away your legal responsibility to comply with the law. Both the company whose product is promoted in the message and the company that actually sends the message may be held legally responsible.
What Should I Send? How Can Amazon Sellers Use This In Their Business?
Since this is a colder audience you need to warm them up first.
The first email should be a "Thanks for visiting and a discount" email, and send it immediately, which will reduce complaints. They were just on your website and saw your logo and brand, then see you again.
The second email should be sent on day two and remind them of the discount and let them know about the story of who you are and why you are in business.
The third email should be on day three and remind them of the discount and educate on your best sellers.
Example of Email #1
Thank you so much visiting Eye Love and joining our mission to heal 1,000,000 dry eyes naturally! Watch this short video of my husband, Dr. Travis Zigler, and myself, Dr. Jenna Zigler explaining what we
believe in at Eye Love.

What should you expect from us?
1. You will be the first we reach out to for future giveaways, promotions, eye health tips and advice!
2. We want to educate you on keeping your peepers healthy, so expect occasional emails from us that will give you eye health tips and tricks.  

Here is your coupon code good for 10% off your first purchase of our best selling Heyedrate collection: EYE10LOVE

Also, don't forget to stay social with us over on Facebook!

If you need anything else, please let me know.

Example of Email #2
We just got this email from a customer named Lisa and she was BLOWN AWAY by Eye Love.


Check out what she had to say about the Heyedrate Lid and Lash
Cleanser:

"This product is a must have for people suffering with Dry Eye Syndrome especially caused by Blepharitis. It refreshes my eyes and takes away the stickiness and gritty feeling in my eyes… It is all natural which is great…"

We love it when our customers find relief with our products, and we're so happy to be able to share this joy with you. 

Remember that you get 10% OFF at checkout by using coupon 
EYE10LOVE.
Example of Email #3
Hi! Dr. Jenna Zigler here.

I wanted to let you know that Eye Love is leading the way in socially conscious eye wellness. Although there are many great reasons to do business with us, the number one reason is because we always put the customer first!

Check out the video below, where my husband, Dr. Travis Zigler, discusses our way-to-easy return policy and our 100% satisfaction guarantee.

A customer-centered shopping experience has always been our goal, and we pride ourselves in our comprehensive policies that have put us in a realm above and beyond our competitors.

Here are just a few of the reasons why you should buy from us:

We use national fulfillment centers to ship your order. We have partnered with national fulfillment centers for all order fulfillment and have our products strategically placed in warehouses across the United States.
That means you will be receiving your wonderful products from somewhere near you.

Secure online ordering…always!

Lowest pricing available online (Did you find a lower price? We'll refund the difference.)

Brand new, innovative products you'll love

Courteous, knowledgeable and professional support

Tons of satisfied customers

100% satisfaction, money back guarantee

The bottom line is, we love our customers, and our customers love our products!

Learn more about Eye Love:
Our Story of Why We Started Eye Love
Our Vivid Vision for Eye Love
Past Mission Trips and News Features

How Much Does GetEmails Cost?
It is absolutely free to start and you can get 25 emails per month for free, forever. Monthly subscription plans start at about $0.25 per lead.
Eccomerce Results
In the first 7 days of having GetEmails, we were able to get 1,120 email addresses, which cost us about $280, which is $0.25 per email address.
This resulted in $457 in INSTANT revenue for our business on our shopify site, but now we also have an asset of a person's email address. This is a return on ad sepnd of 1.63, which may not seem like it is that amazing, but we know we have an email address, which in itself is an asset.
Our average open rate is around 20% for these emails with a 2% click through rate. Our average order value is around $55 and our lifetime value is around $205, so we know this will more than pay for itself when we scale it up.
Additionally, we aren't even tracking the orders we are getting on Amazon as a result of this strategy as we don't use Amazon's attribution links, which you could use if you don't sell on your own website.
What are your thoughts on GetEmails?
Let me know in the comments of the YouTube Video by clicking here. If you want to give it a try for free, click here.