How to Create a Shipping Label for Amazon FBA [WITH VIDEO]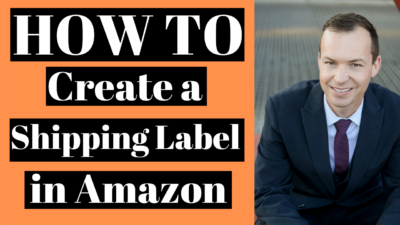 Today's show and blog is a simple HOW TO video and SOP for Amazon FBA.
I will be showing you how to create a shipping label inside Amazon Seller Central to sell Amazon FBA and get that coveted PRIME badge on your listing.
Let's jump right in and show you in 5 minutes how to create a shipping label.

1. Under inventory click Manage Inventory
2. Click the box all the way to the right of the listing and Change to Fulfilled by Amazon
3. Click Convert and Send Inventory
(There will be two questions to answer here, then continue)
Alternatively, if you have already converted the inventory to Fulfillment by Amazon (FBA), then you will only need to click the box on the far right. A submenu will come down, and you'll want to click Send/Replenish Inventory
4. Create a new shipping plan
Choose the address the inventory will be shipping from. You can also add a new address in if needed.

Finally, choose a packing type. Individual products is when you have multiple different products in one box, whereas case-packed products is all the same products in one box. If you have multiple cases, they must all contain the same amount of products in each. Choose the best option for your product.

Finally, click Continue to Shipping Plan

5. Set Quantity
Enter the units per case and the number of cases for each product. These two multiplied together should equal the total units you are shipping in.

Click Continue

6. Prepare Products
If you want Amazon to prepare your products for you, select Amazon under Who Preps. For more information about the per-item cost, see FBA Prep Service fees.

Important: Amazon FBA can prep only products that have a single UPC or EAN that corresponds to an ASIN in Amazon's product catalog.

Even if you sign up for the FBA Prep Service, package your products so they will arrive safely at the fulfillment center. Package fragile, glass, and sharp items in such a way that they arrive intact so that fulfillment center associates can handle them safely.

Important: If you select Merchant in the Who Preps column, you are responsible for ensuring that your products meet all FBA prep requirements for shipping.

7. Label Products
All products must have a barcode. If your product is eligible for tracking with the manufacturer barcode, you don't need to print and apply Amazon labels to your items. If your product is not eligible, then it must have an Amazon barcode. To print and apply Amazon barcode labels yourself, select Merchant in the Who labels? dropdown menu and click "Print labels for this page". Or, you can choose to have Amazon do this for a fee by selecting Amazon under Who labels?
8. Review Shipments
Review the shipments and rename them well so that you know what is going where.

The inventory you send to Amazon may be split at the Merchant SKU (MSKU) level into multiple shipments. Amazon FBA will assign each shipment to a specific fulfillment center based on several factors including the size and category of the product, your address, and other fulfillment network factors. Learn more

Click Approve & continue

9. View Shipments
This is just an opportunity to view the shipments. Click Work on shipment

10. Prepare Shipment
Choose Small Parcel Delivery unless you're sending pallets through UPS, and these will be LTL (less than truckload)

Choose Amazon-Partnered Carrier (UPS) for the best rates.

Choose Everything in One Box/Multiple Boxes/One SKU per Box (whichever applies)

Click Use web form

Enter all information (units per box configuration, number of boxes, box weight (lb.), and box dimensions (in.)

Click Confirm

Click Calculate to see shipping charges.

Then click I agree to terms and conditions and then Accept charges

11. Print Box Labels
After you accept the charges you can then print your box labels. Be sure to leave BOTH sides of the label showing on the box as one side is for UPS and the other is for Amazon FBA. After this you can click Complete Shipment and you are done.

For more videos and instructions on Amazon FBA packing and shipping, check out these FBA packing video tutorials from Amazon.

When you ship your inventory to Amazon fulfillment centers, it is important to follow their packing guidelines. Watch the packing process videos I've included here to learn how to pack, label, and ship for safety and efficiency.

Watch the video below to see all of the FBA packaging, labeling, and shipping videos. For specific packing processes, see the videos further down.
How to pack boxes for shipment to a fulfillment center:
How to ship case-packed products:
How to label small-parcel shipments:
How to build a pallet for shipping and receiving:
What's Next With Your Amazon FBA?
Have you taken my Amazon PPC Masterclass?

Click here to get all the Amazon PPC lessons emailed right to your inbox once per week. This is an actionable lesson every week to take your Amazon PPC to the next level.

Each lesson is also below.

Step 1 – Track and Measure Your Results
Step 2 – Research Your Competitors
Step 3 – Simplify Your Amazon Keyword Research
Step 4 – Amazon Listing Optimization
Step 5 – Set Up Your Amazon PPC Campaign
Step 6 – SCALE your campaigns.
Step 7 – Optimizing Keyword Bids for Increased Profitability
Step 8 – 9 Best Amazon PPC Auto Campaigns Hacks and When to Use Auto Campaigns
Step 9 – Product Targeting Ads
Step 10 – How To Calculate Bid Adjustment for Top of Search

If you want support in this Amazon PPC journey, this is where I can help.
How I Can Help Double Your Amazon Sales from Amazon PPC
I've set aside time in the next 48 hours to speak to you personally about how you can apply these ideas to your Amazon business starting TODAY.

Whatever your biggest challenge with Amazon PPC, I've seen it and know how to overcome it.

We will get on the phone for about 45 minutes and we will work with you to craft a step-by-step game plan to hit your business goals, whether that's doubling your Amazon sales, increasing keyword rankings, lowering ACoS, or simply just having more love for what you do every single day.

The cost? Absolutely FREE.

But this is not for everybody…
Who This Is For
You MUST have an incredible brand that you are looking to scale.
You MUST operate your business with integrity and great values.
You MUST be willing to take action to transform your Amazon PPC.
You MUST take accountability for your failures, avoiding excuses for why something can't be done.
You MUST be coachable.
Why I'm Doing This
I do this because I love helping others attain the financial abundance that we have achieved with our business.
Plus, I know that you might want help transforming your business (it's tough going it alone!). If so, we can discuss it and see if it's a good fit for both of us. And if it's not, I will point you in the direction that you need.

If you're willing to:
1. Take Action
2. Be Vulnerable
3. Be Coachable

Then I would love to chat with you…

This is what I love helping people do. This is why I was put here on this Earth… to help people like you grow their Amazon business.

I can show you, step-by-step, how to create efficient, scalable Amazon ads and free yourself from working hours on your ads and second guessing yourself.

All you need to do is book a call here: https://www.growto1million.com

Every day that goes by is more time wasted. Every moment you hesitate is you settling for being less than you were born to be. Let me help you turn your dreams into a reality.

Your future is waiting for you.
Talk soon,
Dr. Travis Zigler