Amazon PPC Audit for Activation Products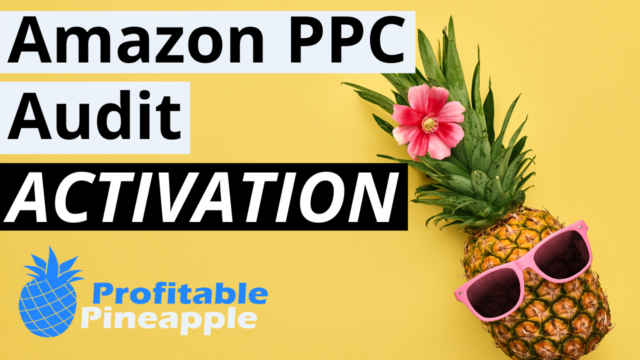 How I Would Improve Activation's Amazon Ads and Listings
Brand Analytics | Activation
We're doing an Amazon PPC audit for the amazing brand Activation. We're going to be taking a look at how well they are optimizing their Amazon listings, taking care of their sponsored products, sponsored display ads, sponsored brand ads, and more.

Initial Test – Search for the brand's initial products | Oceans Alive
Areas of Opportunity
When pulling up the search results for Oceans Alive, which is one of Activation's top products you immediately see a missed area of opportunity with the Sponsored Brand Headline Ad. It's a priority to protect your brand searches as well as your product searches. Not only is another product taking up that top of the search headline ad, but they're not utilizing the full potential of the ad by using 2 more products to display in the ad.
The Good and The Bad
Scrolling down through the search you are met with a very nice Sponsored Display Video Ad that is a great video, and when you turn on the audio you can hear all about the product. However, without the audio you see the product and someone talking, but you don't know what they're saying. This is a perfect opportunity to display closed captions at the bottom of the video as well as some product sales copy on the video to catch a shopper's attention.

Where is the Coupon!?
Coupons are not only a great way to attract a customer to your product, but it is also more likely to turn an inquiry into your product into a sale. Coupons don't have to be a large percentage or amount off. They could be as little as 5-10% off, just as long as something is there to draw your customer away from the other products on the page.

Diving into the Product Listing
Overall the product listing is as fantastic as pineapple. The photos and video are of great quality and clearly done well. The infographic provides detailed information about the product. One of the standout issues is with the title. If you notice, Activation is seen as the overall brand of all of the products, but it's not displayed on the front of the actual product. This means that the product name is being seen as a brand on it's own, so it could actually be moved to the front of the title and "Activation Products" could either be removed completely or moved to later in the title.

Helium10 | Reverse ASIN Search | Oceans Alive
Using the Helium10 tool called Cerebro, we did a reverse ASIN search of Activation's product Oceans Alive and set the filter to only show keywords where they're ranked 1-15. We pulled up one of their main keywords "marine phytoplankton" to see how Oceans Alive Displays. The product appears to usually show up organically as number 1 or 2 as seen below, which is excellent. However, they are again missing out on the top of search Sponsored Brands Headline Ad, which shows below as another brand's products.

Now let's move on to a different keyword, "marine pure". When this keyword is pulled up you can see that this shows up in the search as a completely different product, and you can see that Oceans Alive doesn't show up or rank at all. This is a good thing, because this just means that they added the proper negative keywords to ensure that ad spend isn't wasted for this search.
Helium10 | Reverse ASIN Search | Magnesium Spray
Using the Helium10 tool again to do a reverse ASIN search for Activation's Magnesium Spray, we will pull up the keywords that are ranked between 1-15 organically. We then will sort the search for the highest search volume. We can then see that they are Organically ranked 5 for the highest volume search term "magnesium spray", so there is a lot of opportunity there to work on getting the organic ranking to number 1 using PPC ads.

Again. WHERE IS THE COUPON!?

As you can see below, these products are not using coupons to attract the shopper to their product. This is just another missed opportunity that is not being utilized on any of these products. And with this product they are not running any video ads or headline search ads for the highest searched keyword "magnesium spray".

Final Thoughts
Activation has a lot of opportunities for growth on Amazon and they are doing very well with their enhanced brand content, product listings, and targeting high volume keywords. There is definitely a need to be made aware of the mistakes that they are making and the opportunities that they are missing out on. More and more customers are moving to Amazon to meet their shopping needs due to their quick shipping speeds and ease of use. At profitablepineapple.com we love to work with brand owners and help play the Amazon game the right way. It's important to defend your brand, your products, and your listings.

See what the Pineapple can do for you!!