Amazon PRIME DAY PPC Strategies 🔴 DO THIS TO MAXIMIZE SALES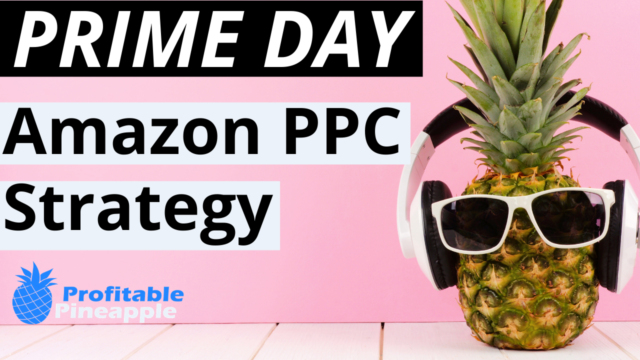 We're going to be going over 10 strategies to implement for Prime Day, but the last one is the one you will want to really pay attention to….
#1 Prepare for Growth
Amazon Prime Day sales grew more than 70% in 2019 compared to the previous year… and that was before COVID. It's likely that more people are turning to online shopping for a lot of their needs during this unique 2020 year, so you should be prepared that Prime Day could be surprisingly larger than previous years.
#2 Get in Front of Prime Members
As of 2019, more than 100 million customers have Prime membership in the US, accounting for 62% of the total Amazon customer base.  This is great news for entrepreneurs and brands that are currently selling off Amazon, because Amazon provides a platform and an opportunity to expand and grow by getting in front of potentially millions of new customers everyday. This would have been unheard of 10 years ago. 
#3 Pay Attention to Your Budgets
The first peak is usually around 11 AM PST, followed by the second peak at 6 PM PST. This time is expected to be the most active duration for shoppers during the day and after work. You'll want to make sure that you check your budget directly after these times, because your budget may be depleted and you want to make sure that there's enough available for the next peak time. DON'T MISS OUT.
#4 Use Amazon Prime Day Deals
Participate in the deals that Amazon has to offer you as a brand selling on their platform. Amazon provides these opportunities to brands selling on Amazon, because they want you to sell and sell well.
#5 Lightning Deals and Prime Exclusive Deals
Usually lightning deals are required to be submitted well in advance of Prime Day, sometimes months in advance. One of the advantages of setting up lightning deals, alongside setting up an auto PPC campaign, is that Amazon puts your product on their Amazon Today's Deal page where it's listed with thousands of other products that are being discounted. This is great exposure for your product and it's a great way to gain more customers over a short period of time. Prime Exclusive Deals are another way to attract new customers or provide exclusive discounts to your customers, usually between 20-40% off.
#6 Product Bundling Opportunities
Amazon allows you to create virtual product bundles by using your separate FBA listings and bundle them together to sell them as one bundle. You want to create as many of these bundles as you can with as many products that you have in order to provide all of these options to customers. Also, another advantage of creating these bundles is that it takes up a ton of real estate on your listing, so it's essentially just more free advertising on your listing, pushing any competitor's ads further down the page.
#7 Leverage External Traffic: Social Media, Influencers, and Google Ads
It's extremely important when developing a brand to develop a relationship with influencers on various social media platforms or develop a brand following on your own social media pages. If you don't have one now before this Prime Day, it's never too late to start preparing for the next year. There are many influencers in your space out there willing to talk about your product, but a relationship isn't developed by paying an influencer to drive traffic for you. You must develop that relationship so that it's long term and can create some opportunities down the line.

In regards to leveraging external traffic, if you have search terms that are working on Amazon then why wouldn't they work on Google? It's definitely worth it to drive traffic using Google ads. If you're doing a deal for Prime Day then you can take that search term for that product as well as the discount that you're providing and create a Google ad that points the customer directly to Amazon. Usually Google ads tend to be less expensive than Amazon and can sometimes provide just as much traffic and a low average cost of sale.

#8 Competitor Analysis
Find high search volume keywords and start advertising on those. Using the ASINs from your top product competitors you have the ability to create product targeting ads (sponsored display or sponsored product) that will show your product's ads on and around their listing. Sponsored display ads tend to work best because they appear higher up on the competitor's listing. This is a great way to get the most amount of impressions on your product. If you have a coupon on your product this will also show up on that ad and entice a customer to check out your product over the competitor's product.
#9 Download Your Search Term Reports
It's always a good idea to download your search term reports on a monthly basis and go back as far as Amazon will allow you with the time frame to maximize the most data that you retrieve (usually 60 days). You can then organize this information to see which keywords are providing you with the most sales and revenue. After this information is discovered you can then use the next strategy to really take your sales to the next level.

#10 MOST IMPORTANT STRATEGY: 80/20 Principle
20% of inputs create 80% of results. When this is applied to your business and Amazon specifically, 20% of your search terms create 80% of your revenue. It's important to focus on those 20% of search terms around this time (Prime Day and Holidays), because you can put all of your ad spend on the search terms that make up most of your revenue and this is a great way to maximize your sales.

What can you do to focus on your 20% of search terms? Make sure these terms are in Exact Match Campaigns. It's recommended that you do single keyword campaigns (1 keyword per 1 match type per campaign). The reason for this method is due to the ability to customize the bid adjustment for each individual search term, adjust your budget for each search term, and be able to monitor more closely what is working during this time of high traffic.

At Profitable Pineapple, we are an agency that enjoys working with and growing brands. More and more customers are moving to Amazon to meet their shopping needs due to their quick shipping speeds and ease of use. We love to work with brand owners and help play the Amazon game the right way. It's important to defend your brand, your products, and your listings.

See what the Pineapple can do for you!!