What is Amazon DSP? Should You Use This Amazon Ad Platform?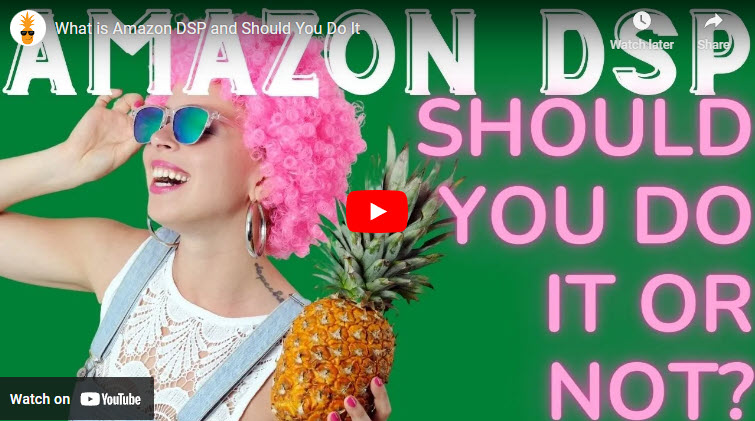 What is Amazon DSP?
Amazon DSP is an online advertising platform that allows advertisers to programmatically purchase display and video ads across a variety of websites and mobile apps. This platform gives advertisers access to Amazon's extensive inventory of digital media, as well as the ability to target specific audiences and individual customers. With Amazon DSP, businesses can reach more customers with better precision than ever before.
Amazon DSP is powered by advanced machine learning technology that helps optimize ad campaigns for the highest possible performance. The platform offers detailed reporting features so marketers can measure their success in real-time and make adjustments to their strategies quickly and easily. Additionally, Amazon DSP provides pricing models based on different objectives, such as impressions or clicks, so advertisers can tailor their budget plans based on their goals. All these features make it easy for businesses to maximize their ROI when using Amazon's powerful digital advertising tools.
Amazon DSP can be an amazing advertising platform if you are selling on Amazon.
We are currently spending around $12k/month on DSP returning about $50k, for a little over a 4.0 RoAS.
Some of our other clients are getting better results than that, but they are spending less.
Now with Amazon DSP, if you go through Amazon, they will make you commit to spending at least $30k/month in ad spend for them to manage it. If you are going through an agency like Profitable Pineapple Ads, then you no longer have a monthly minimum.
Apply to work with Profitable Pineapple Ads for Amazon DSP
In this video, I dig a little deeper into how we are getting a 6.0 return on ad spend (RoAS) with Amazon DSP, which was an improvement from the above 4.0 RoAS.
This is something you should do in addition to Amazon PPC, and in my mind you should have Amazon PPC (Sponsored Products) rocking and rollin' before you think Amazon DSP.
With that said, if you are in the consumable space and are already making sales, Amazon DSP is a no-brainer.
Focus Areas for Amazon DSP
Start at bottom of funnel (#1) and move to the middle (#4)
#1 Drive repeat purchases.
If you sell a consumable, then hopefully you are getting customers to subscribe and save with your products. For those who don't subscribe, you can run ads to remind them that it's time to repurchase.
Let's say you sell a supplement in a 30-day supply bottle. You can target someone who has purchased, but not in the last 30 days. You can run just a simple ad reminding shoppers that your product is awesome. Maybe getting buyers back to your product detail page will also encourage them to subscribe and save.
#2 Cross-sell with "bought X, not Y" campaigns.
Do you sell complementary products? If so, you can build an audience of shoppers who've purchased one of your products, but not another complementary product you offer. For example, let's say you sell guitars and guitar cases.
What if someone buys your guitar, but not one of your cases? You can run targeted ads touting the features and benefits of your cases to people who've recently purchased one of your guitars.
Or maybe you sell a line of skincare products and someone has purchased your eye serum, but not your moisturizer. Why not run ads to your serum buyers showing how your serum and moisturizer work together to create amazing results?
#3 Retargeting those who have visited your product page, but have not purchased your product.
#4 Steal your competitor's customers with competitive conquesting.
This is arguably, one of the most powerful and exciting ways to leverage Amazon DSP ads. In addition to running Amazon ads, our agency manages YouTube and Google ads for eCommerce brands. We wish we had an option for this level of competitive targeting on Google and YouTube as well, but sadly, we don't.
This type of targeting is unique to Amazon DSP. With this option, you can target competitive shoppers in one of two ways – Shoppers who have viewed your competitor's products, but haven't purchased yet. – Shoppers who have purchased your competitor's products in the past