3 Simple Tricks to Monitor Your Amazon FBA and FBM – AVOID SUSPENSION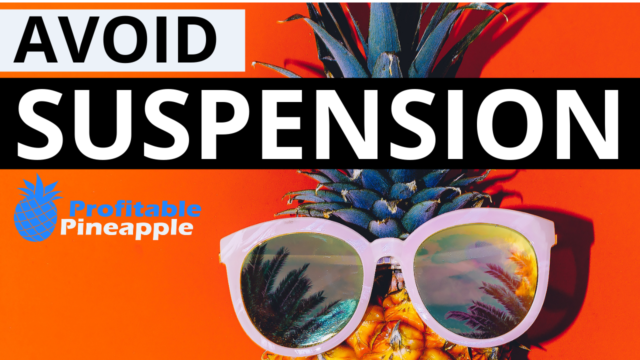 Having your Amazon FBA or Amazon FBM account suspended can be one of the scariest things that Amazon sellers face. Recently, I met with my Amazon suspension attorney who walked me through what to pay attention to inside your account to avoid suspension. In this article and video, I will be walking you through what we discussed. Lucky for you all, we have had 11 products suspended over the last 3 months, so we had a TON of warnings. 🙂

Within your Amazon Seller Central account is a section called Account Health. This section is the heartbeat of your Seller Central account. If left unchecked, or if the issues that are flagged within it are ignored, then your account will end up being suspended. We are going to go over the various details and areas within the Account Health section, what you should be looking out for, how to avoid account suspension, and keeping your performance targets at optimal levels.

Account Health
The Account Health section of Amazon Seller Central can be found by first going to the Performance tab at the top of your account and selecting Account Health. Below is an image example of where you can find this section and what it will look like.
Policy Compliance
The middle section titled Policy Compliance is where you will want to focus most of your attention initially. This is the section that provides your overall Account Health Rating. In the example provided, the Account Health Rating is showing as Good, which is in the Green. However, just below the Account Health Rating are the various issues, violations, and complaints that can arise and should be addressed as soon as possible. If these items are left unaddressed for too long then your Account Health Rating will drop and your account will be at risk of being suspended.

By clicking on any of these violations, you can find further details of the issues that are being flagged by Amazon. When these violations are triggered on your account there should also be an email sent by Amazon alerting you of these issues and the actions that need to be taken to resolve them. It's also best practice to check for these alerts at least once a day, so that any issues that arise can be handled immediately.

In this example we're going to click on the Food and Product Safety Issues, which has four issues that are currently flagged and need to be addressed. Below is what screen populates after clicking on one of these flagged issues. On the right side you will see the Next Steps column and the Appeal buttons that can be selected to proceed with resolving each of these issues that are populated. Note that, even after you've appealed the issue and fixed the issue, the violations will remain on your account for months afterward. All of the issues you see in our account have actually already been dealt with.

Voice of the Customer
Going back to the main Account Health dashboard in Amazon Seller Central, there is another section that is just as important as Policy Compliance. This next section is called Voice of the Customer and can be found on the second row of tabs on the far right side as seen below.

In the Voice of the Customer section of Account Health it displays a list of products that are performing poorly, most likely to get suspended, or there may just be something that has been identified that needs to be resolved. As you can see in the screenshot below, there are 3 products that have a CX Health of Very Poor, and they should be fixed immediately. We are going to go into the second product by selecting the option See Details.

After selecting See Details you will see the option to select Take Action, which is how you will proceed with taking action to resolve the very poor performance health. As seen below you can see that the reason that this product was flagged as having very poor CX Health is due to the Negative Customer Experience (NCX) rating, which is close to 5%. This number is calculated based on the number of returned orders compared to the total orders.

As you scroll down this page you can see the reasons that these products were returned by looking at the customer feedback. This particular product had customer complaints stating that the product "Caused increased irritation to eyelids…" or "The natural fragrance is so strong and irritating to my sinus and eyes…". In order to resolve these issues that are causing the very poor health rating on this product, as previously mentioned, you will select the Take Action button.

The next screen that will populate after selecting the Take Action button will provide you with the steps that are needed in order to resolve the issue with the product. For this product I can resolve this issue by simply editing the listing. You'll want to select the Next button and Amazon Seller Central will redirect you to this product listing in order for you to make edits to the listing.

As Amazon redirects you, you will see the URL that is used to redirect you to the product listing to edit actually is telling Amazon that you went through the Voice of the Customer section and that you selected to resolve the action.

As you can see below, I was redirected to the backend of the product listing where I can make any edits in order to resolve the issue. In this situation we will most likely make sure that there's a warning on the listing to ensure the customer knows that some customers may experience sensitivity issues. If this listing already has that warning or if you're not able to determine what needs to be updated, then any small change that you make in the backend would resolve the issue. In this example I made a very minor change by adding "Made in the USA". This would be all that is needed to place an update on this product to resolve the issue.

After going through all of the CX Health alerts that are labeled as Very Poor for certain products and taking action to resolve them, it's also a great idea to be proactive and go through the products that are labeled as Fair to see what's going on with them. They most likely will be minor issues that can be resolved quickly, but it's best to get ahead of any issues prior to them getting any worse.
Performance Notifications
The final section that is important to go over to avoid account suspensions is Performance Notifications. This area can be found by selecting the Performance tab and then selecting the Performance Notifications drop down option.

Within the Performance Notifications section is where Amazon will notify you of the issues that are being flagged on your account and that have actions required. Whenever you receive one of these notifications it's best to proceed with addressing whatever issues Amazon is notifying of. Each of these notifications should provide further details within them on the steps that are needed in order to resolve the issue. It's important that any response that is provided back on these notifications should be sent from the main Amazon account listing, because Amazon usually wants these emailed to a specific team and this is usually specified in the email notification.

Overall, it's usually best practice to start your review of these issues under the Voice of the Customer section, because you can usually catch the issue before it becomes a problem, before it affects your Account Health, and before it becomes a Performance Notification. Then move on to the Performance Notifications to make sure there is nothing that was left unanswered or unchecked. Finally, look at your overall Account Health to ensure that each of the items flagged under Policy Compliance are resolved. As long as you stay on top of each of these items the alerts will only stay on your account for about 6 months before they are removed.
At Profitable Pineapple, we are an agency that enjoys working with growing brands. More and more customers are moving to Amazon to meet their shopping needs due to their quick shipping speeds and ease of use. At profitablepineapple.com we love to work with brand owners and help play the Amazon game the right way. It's important to defend your brand, your products, and your listings.