5 Golden Rules of Amazon Split Testing to Easily Increase Amazon Sales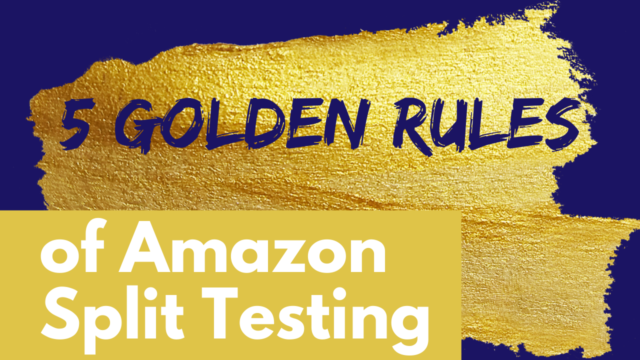 What is Amazon Split Testing? Why Do It?
Split testing (also referred to as A/B testing or multivariate testing) is a method of conducting controlled, randomized experiments with the goal of improving a website metric, such as clicks, form completions, or purchases.

So what does this mean?

Amazon split testing is simply where you compare something (what that something is, we will discuss in a little bit) on your listing. This could be comparing two different photos, prices, bullets, descriptions, or anything else on the listing.

Why should you be split testing on Amazon? Amazon PPC is an effective marketing tool, but it can also be a very expensive one if all the basics and key strategies are not performed well. Using A/B Split Testing, digital marketers can further improve and optimize their campaigns to generate better and more targeted results.

How is this?

By split testing and optimizing your listing, you can find what images convert to more clicks to your listings, what price can sell more units at a more profitable rate, what increases your conversion rate leading to more sales, and much much more.

Here's a quick example of split testing results and Amazon PPC:

Let's say you sell an item for $20, have a conversion rate at 20%, and the average cost per click is $2.

Therefore after 100 clicks, you will have an Amazon PPC cost of $200 and would have made $400 in sales, therefore your average cost of sale (ACoS) would be 50% ($200 divided by $400 = 50%).

Let's now say we split test the first photo and it increases our conversion rate to 25% with all other variables being the same. Now you have 100 clicks, an Amazon PPC cost of $200, but now you make $500 in sales, therefore your average cost of sale (ACoS) goes down to 40% ($200 divided by $500 = 40%).

This is like free money!!

Before I go into WHAT to split test on Amazon, let's discuss some "golden rules" of Amazon split testing…
5 Golden Rules of Amazon Split Testing
Only split test one factor at a time (whether that is title, price, bullets, photos, etc…). If you split test more than one factor, you will not know what caused the increase or decrease.
Allow enough actions (or time) to take place to ensure a reasonable conclusion can be made on the results. The great thing about the tool that I use, Splitly, is that it tells you when it is ready with accuracy.
PATIENCE… I allow each split test to run at a MINIMUM of two weeks and sometimes up to a month. DON'T declare a winner after a few days.
Record everything that you are changing and what the winner and loser was.
PATIENCE
So now the question becomes, what is the most important thing to split test on Amazon?
What You Should Be Split Testing on Amazon…
I put this list in order of importance and most impactful. I would start at the top and move down from there.

MAIN IMAGE – the first thing to split test is the main image. This is so important because it is what leads people into your listing and gets them to click to your product pages. Although we are restricted to a WHITE background without badges, you can still try different angles or product parts. Ask your photographer to get creative with the product and see what they come up with.
TITLE – the second thing to split test on a product is the title. This is where pulling your search term report is vital. You've heard me say it before and I will say it again. 20% of your search terms are driving 80% of your sales. The search term that is driving most of your sales NEEDS to be at the front of your title. You can also split test to see if a shorter, less keyword stuffed title works better in a sea of long titles. Also split test different benefits that your product offers. Pull these benefits from your search term report and from your customer reviews.
PRICE – You can split test your price a few different ways. Splitly has a tool called Profit Peak which dynamically changes your price for you, or you can just split test two different prices statically. Even a $1 pricing difference can increase your profit margin and give you more cash to use toward growing your business and paying yourself. A client of ours was struggling with profitability when we first took over her account. We raised her price by $10 right off the bat and sales didn't slow down at all (she was VERY hesitant to do this too). Now we have an extra $200 to use everyday toward Amazon PPC, inventory, and paying her more. Side note… if you're interested in seeing what we can do with your Amazon PPC, apply here.
MAIN IMAGE… again. This is so important because it is what leads people into your listing and gets them to click to your product pages.
SECONDARY IMAGES – go to town on the secondary images. Look at the best sellers in your category and see what their images look like. Better yet, go to the best sellers on Amazon's whole website and see what is doing best. Try different lifestyle images, man vs women, adults vs children (if it makes sense), infographics, colorful text images, and more.
TITLE – Again, pull that search term report and test it again.
BULLETS – VERY COMPLEX – More information Below- do all benefit driven, all feature driven, mix of the two, shorter vs longer bullets, CAPS vs normal, change them all, change just one…
PRICE – Try to test a higher price again.
How to Split Test on Amazon Using Splitly
The software tool that we use in Eye Love is SPLITLY. We have always loved using this software and find that it is both easy to set up and run. It also keeps track of all your data in a nice dashboard.

1. Click here to create an account and sign up (affiliate link)

2. After connecting your account to seller central (very easy to do), click A/B Tests. Scroll to the bottom and click Begin Testing Now
3. Find the product that you want to split test by searching for it by ASIN or scrolling and select Create A/B Test
4. Choose which field you would like to optimize. Here is a quick recap based on importance.
Main image
Title
Price
Main Image
Secondary Images
Title
Bullets
Price
5. Basic Settings

I like to make the test name what I am split testing plus the ASIN. For example, this title will be Main Image – ASIN. Put your cost of goods landed into the unit cost.

6. Advanced Settings

I always choose a minimum significance of 90% and the goal to always be profit. I choose a minimum amount of rotations to be 4, but this may go longer. Fill in your FBA Pick and Pack Fee, Referral Percentage and choose update child ASIN only.

7. Now choose and change whatever you are split testing. Name variant A Original and DO NOT TOUCH THIS. Click on variant B, which I name New + Whatever your are testing. For example New Main Image

8. Then click Save & Run

That's it for Amazon split testing. It's pretty simple but can add a lot of profit to your Amazon sales. Let me know your results by commenting on the YouTube video.

Ready to Scale Your Amazon Business and Amazon PPC?
Have you taken my Amazon PPC Masterclass? Click here to get all the Amazon PPC lessons emailed right to your inbox. This is an actionable lesson with an SOP and video to take your Amazon PPC to the next level.
Each lesson is also below.
If you want support in this Amazon PPC journey, this is where I can help.
All you need to do is fill out this form here.
After filling out the form, I will get back to you within 48 hours to see how I can help!
Talk soon,
Dr. Travis Zigler