Amazon FBM vs FBA – Why You Need BOTH & How To Create a FBM Listing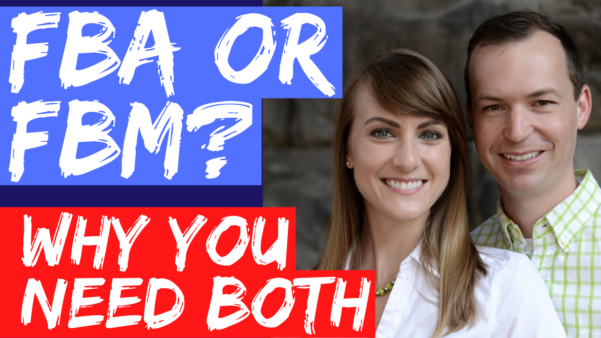 Amazon FBM vs FBA
Amazon FBM (Fulfillment by Merchant) is simply where you sell an item on Amazon and then you or a fulfillment center outside of Amazon's network packs and ships the order. Amazon FBA (Fulfillment by Amazon) is where you sell an item on Amazon and AMAZON packs and ships your order. We recommend Viable Shipping for managing your inventory and FBM listings.

Amazon FBA gives you the coveted PRIME badge, but you can still get this with Amazon FBM. It just takes time and is difficult to get it.

Both have their advantages and disadvantages, which I am not going to cover in this article. In this article, I am going to discuss why you need BOTH Amazon FBM AND Amazon FBA in order to be successful on Amazon.
Why You Need BOTH Amazon FBM AND Amazon FBA
When you rely solely on Amazon FBA, you are left at the mercy of Amazon to do everything for you. They pretty much control your entire inventory and can do WHATEVER they want with it. I am going to give you examples of the problems we have had with Amazon FBA and the solutions we came up with to avoid these problems in the future.

Before I start on this section, I want to disclose that Amazon FBA is 75% of our business and we still LOVE Amazon FBA and use it daily. It is a core part of our business and is our main focus around everything, but you NEED to protect yourself from Amazon controlling 100% of your inventory and revenue.
Problem number 1 with Amazon FBA, and why you need Amazon FBM
We had just sent in 1,000 units of a new product that Amazon was going to label for us. We launched the product and sold over 400 in the first few days. We gained momentum and reviews quickly and moved up the organic rankings quickly… Then the messages started coming in.

"Item not as described."

Amazon FBA MISLABELED our product and they were sending out the WRONG product to customers. They shut down our listing, and all sales stopped as Amazon was investigating the inventory.

The simple solution to this problem was to have an Amazon FBM listing on top of the Amazon FBA listing side by side. Therefore when Amazon shut down the FBA side, we would still have been able to sell the product. While this sucked, we put the FBM listing in place so it just took over the buy box and we were up and selling again. Because the FBM listing wasn't Prime, we were selling less than before. However, we were still selling!

Problem number 2 with Amazon FBA, and why you need Amazon FBM
Stocking out on Amazon FBA is going to happen. It's inevitable and no business owner can predict what will happen with your product. The problem with Amazon FBA is that when you stock out you have to wait for them to check in your inventory, which can take forever depending on the season (Christmas and Prime Day) or if there is an event (Coronavirus) where they completely stop taking shipments altogether for non-essential items.

During the coronavirus, we stocked out of two items because we weren't able to send our shipments in.

Luckily we already had FBM set up in case this were to happen, and the Amazon FBM listing took over the buy box and sales continued.
Problem number 3 with Amazon FBA, and why you need Amazon FBM
The second thing that happened during the coronavirus event was that Amazon started delaying shipping to customers of non-essential items by 5 WEEKS, which makes your listings' conversion rates nosedive. But with our Amazon FBM listing, we were able to ship products within a few days and we offered free shipping on our website.
Another benefit of Amazon FBM
One of my favorite benefits of FBM is product bundling to help increase average order value, reduce your fees, and increase your visibility. We did a whole article and video on this, so I would recommend checking that out here, but to summarize, having bundles of your products shipped via Amazon FBM can help decrease your inventory need as you don't have to bundle these products together to ship them into Amazon. You have your fulfillment center handle the bundling.

With this method, you simply send products to a fulfillment center and they can create the bundle whenever it is ordered. The best way to increase average order value is creating a three-pack that is 2.25x the price of a one-pack.

This super simple strategy can save you tens of thousands, if not hundreds of thousands of dollars, while also allowing you to not be at the mercy of Amazon FBA. Check out our friends over at Viable Shipping to get your FBM up and running today. I don't receive any sort of commission from them, they are just great people.
How To Set Up An Amazon FBM Listing
1. Log into your Amazon Seller Central Account. Click Catalog and Add Products.
2. Put in the ASIN of the product you are going to add an Amazon FBM listing to.
3. Select it as New condition and click Sell this product
4. Pick your settings. I use the same SKU with FBM on the end. Set your price to what you want. Then pick the quantity that you have at the fulfillment center. Once you sync it with the software of your fulfillment center (which they should do for you), then it will update quantity automatically. Click I will ship this item myself (Merchant fulfilled), then click Save and Finish. You're done and live!
Again check out our friends over at Viable Shipping to get your FBM up and running today. I don't receive any sort of commission from them, they are just great people.

FAQs about Amazon FBM
Make sure to subscribe to our YouTube channel and join our free Amazon PPC Pros Mastermind on Facebook.

This blog was brought to you by Helium-10. If you click through my links, I make a small commission and you get a discount. Win win. Get 10% off your monthly subscription or 50% off your first month of Helium-10 when you use the coupon code SALESFUNNEL50

Click here to try out Helium-10

What's Next With Your Amazon PPC?
Have you taken my Amazon PPC Masterclass? Click here to get all the Amazon PPC lessons emailed right to your inbox. This is an actionable lesson with an SOP and video to take your Amazon PPC to the next level.

Each lesson is also below.
If you want support in this Amazon PPC journey, this is where I can help.
How I Can Help Double Your Amazon Sales from Amazon PPC
I've set aside time in the next 72 hours to speak to you personally about how you can apply these ideas to your Amazon business starting TODAY.

Whatever your biggest challenge with Amazon PPC, I've seen it and know how to overcome it.

We will get on the phone for about 30 minutes and we will work with you to craft a step-by-step game plan to hit your business goals, whether that's doubling your Amazon sales, increasing keyword rankings, lowering ACoS, or simply just having more love for what you do every single day.

The cost? Absolutely FREE.

But this is not for everybody…
Who This Is For
You MUST have an incredible brand that you are looking to scale.
You MUST operate your business with integrity and great values.
You MUST be willing to take action to transform your Amazon PPC.
You MUST take accountability for your failures, avoiding excuses for why something can't be done.
You MUST be coachable.
Why I'm Doing This
I do this because I love helping others attain the financial abundance that we have achieved with our business.
Plus, I know that you might want help transforming your business (it's tough going it alone!). If so, we can discuss it and see if it's a good fit for both of us. And if it's not, I will point you in the direction that you need.

If you're willing to:
1. Take Action
2. Be Vulnerable
3. Be Coachable

Then I would love to chat with you…

This is what I love helping people do. This is why I was put here on this Earth… to help people like you grow their Amazon business.

I can show you, step-by-step, how to create efficient, scalable Amazon ads and free yourself from working hours on your ads and second guessing yourself.

All you need to do is fill out this form here: https://www.growto1million.com

Every day that goes by is more time wasted. Every moment you hesitate is you settling for being less than you were born to be. Let me help you turn your dreams into a reality.

Your future is waiting for you.
Talk soon,
Dr. Travis Zigler