9 Best Amazon PPC Strategies, Tips, and Hacks for 2020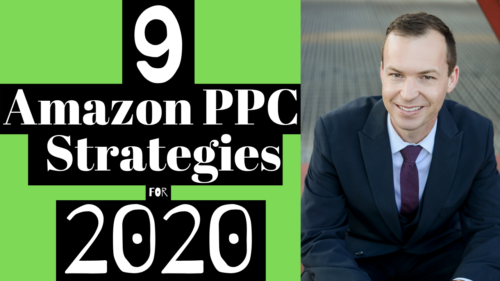 2019, where have you gone?? It is December and I am wondering how this year went so fast (we say that every year). December is a great time to reflect on what happened in 2019, what you learned, and how you can learn from your mistakes and move forward.

2019 will forever be a year that I remember, as we lost our second son Bodhi on November 2, 2019. I don't bring this up for you to feel sorry for us, but just know that with life (and entrepreneurship) you will hit roadblocks, snags, struggles, and you will fail. You will have times that you wonder if you can go on.

With every life event you can let it define you, destroy you, or STRENGTHEN you. With Bodhi passing away, I will always remember him by following what I am passionate about. It's important to stop struggling with limiting beliefs that we tell ourselves, such as you can't do something. When I follow my passions and stop the poor self talk, I am happiest and I am free.

With that said, I love teaching all of you the ins and outs of Amazon PPC and Amazon FBA. This is a project I meant to start two years ago but started after we got the diagnosis about Bodhi. It came as a result of letting go of a lot of things in my business that I was not passionate about and just focusing on what is fun for me.

Are you following what is fun? If not… why not? What do you have to lose?

Let's jump into the 9 Best Amazon PPC Strategies that I learned in 2019 to implement in 2020 (ASAP).
1. How To Scale From a Search Term Report
Scaling your search term reports is the single most important thing that I learned in 2019. If you have been running your Amazon campaigns for a while now, this step will also be beneficial for you as you can take your data from current Amazon PPC campaigns and scale the 20% of the search terms that are driving 80% of your sales.

Pareto's Principle also applies to Amazon PPC. According to Better Explained, Pareto's Principle states that most things in life are not distributed evenly, which means:
20% of the input creates 80% of the result
20% of the workers produce 80% of the result
20% of the customers create 80% of the revenue
20% of the bugs cause 80% of the crashes
20% of the features cause 80% of the usage
And 20% of customer search terms on Amazon drive 80% of your sales!
Let's find and SCALE those customer search terms!

Side note… you can use these best selling search terms in your backend search terms as well as your title, bullets, etc.

Click here to see my full SOP on Scaling your Search Term Reports.
2. Bid Adjustment
Top of search (first page) bid placement is most likely your most profitable ad placement and it is most likely making most of your sales. Therefore we want to make sure that we dominate the top of search during times of higher traffic and increased sales (such as Christmas and other holidays).

You can find this area by going into an individual campaign and clicking on the placements menu. Top of search (TOS) placement results get almost ten times the sales vs. the other placements combined, and it results in an ACoS that is half. Also, what you will notice is that the conversion rate (orders divided by clicks) for TOS is almost always significantly higher than other placements as well.

In this article and video I walk you through an easy calculation (which you can do manually with a calculator, or use this handy Google sheet I made for you).
3. Product Display Ads Can Be Costly
Product Display Ads were a new beta platform that came out in late 2018 just in time for quarter four. Unfortunately, as with any new advertising platform, we don't really know how to use it, so we might use the defaults that Amazon puts in place… BIG MISTAKE.

I recommend running these ads on each product you have, and make sure you separate them by parent ASINs at the campaign level and then have child ASINs separated by Ad Groups.

I also recommend starting your bid low, like around $0.25, and your budget low around $5-25 daily.
4. Tracking Amazon PPC Is the Most Important Thing To Do
If you want to get results with any advertising, whether it be Facebook, Google, or Amazon, you have to track your results and know which numbers to track. The goal of advertising is to increase sales, increase profits, and decrease expenses. An expense, in this case, is spending money on worthless advertising.

The actuality is that once you start tracking and developing a simple system to scale, you will spend more money, but you will also make a lot more profit too.

The goal of our simple tracking strategy for Amazon PPC is to track your Amazon sales, your Amazon PPC sales, and your total average cost of sale (TACoS) weekly (or daily if you're really ambitious). That way, we can set goals and see if we are on pace to hit them.

Learn more about tracking your Amazon PPC and download my Google Sheet by clicking here.

Manage By Stats is what I use to track sales of each individual product, for tracking profit and loss, and for my email campaigns. Click here to try it out (affiliate link).
5. Use a SEMI-Automated Software to Help You Analyze the Details in Your Amazon PPC Account
Software is a game changer in Amazon PPC, but I have tried and gone through about 5 different softwares before I found one that I really liked. The reason I like Samurai Seller is simple. It is NOT fully automated and you still have to manually push the changes, so you're still analyzing before making changes.

This flexibility allows for you to be able to scale your campaigns, whereas most fully automated software does not allow this and unfortunately leads to the opposite result of stagnant campaigns that barely sell.

Check out this article as I fully dive into Samurai Seller.

Click Here to Try Out Samurai Seller (affiliate link).
6. Auto Campaigns Are Worthless (Kind Of)
Most turn on auto campaigns in hopes that they will start selling their product. This is lazy and will waste you a lot of money before it makes you a lot of money. Manual search campaigns should always be focused on first, and auto campaigns should be turned on later in your advertising cycle when budget allows it.

Check out more best practices on auto campaigns.
7. Product Targeting Ads Can Waste a TON of Money But, If Done Right, PTAs Can Make You a TON of Money
This, again, is like Product Display ads, in that they are new to Amazon and can get very costly when not done right. The first is to NOT focus on this, auto campaigns, or product display ads until you have mastered search ads, which is what my free 8-week Amazon PPC Masterclass is for.

The goal for PTAs is impressions, as these ads won't make a lot of sales. Mine ASINs out of your search term report to set up PTA's so you have more control out of the bidding of them. You can also research to see which ASINs to target as well.

Check out my full SOP and video on Product Targeting Ads here.
8. Hire and Train Someone Internally Using Our PPC Masterclass or Hire Us To Do Your Amazon PPC For You
Either you do this yourself or hire someone to do it for you. Take our Amazon PPC Masterclass (it is free) and then hire someone to take it and implement it. The single best thing I have done for my business is what I teach in this course. It has produced amazing results for us.

If you start to get overwhelmed with the course, I do coaching around the course, where I look into your account and help you along the way.

Also, you can hire us to manage it for you. I will warn you though, we only work with a handful of clients that we select after an interview with you.

If you are interested in coaching or hiring us, head to www.growto1million.com to schedule a call.
9. Helium-10 is the BEST Amazon FBA Tool for Keyword Research
Keyword research is the most important skill/strategy that you can learn in regards to Amazon PPC and Amazon FBA selling. And after learning how to use the Helium-10 tool, it became SOOOOO much easier.

This is my favorite tip and skill that you need to learn in 2020 to accelerate your sales and it is not even close (Scaling comes in a close second).

Learn exactly how I do keyword research using Helium-10 here.

Get 10% off your monthly subscription or 50% off your first month of Helium-10 when you use the coupon code SALESFUNNEL50

Click here to try out Helium-10

That's it.

Make sure to subscribe to our YouTube channel and join our free Amazon PPC Pros Mastermind on Facebook.
FAQs About Amazon PPC in 2020
What's Next With Your Amazon PPC?
Have you taken my Amazon PPC Masterclass? Click here to get all the Amazon PPC lessons emailed right to your inbox once per week. This is an actionable lesson every week to take your Amazon PPC to the next level. Each lesson is also below.

Step 1 – Track and Measure Your Results
Step 2 – Research Your Competitors
Step 3 – Simplify Your Amazon Keyword Research
Step 4 – Amazon Listing Optimization
Step 5 – Set Up Your Amazon PPC Campaign
Step 6 – SCALE your campaigns.
Step 7 – Optimizing Keyword Bids for Increased Profitability
Step 8 – 9 Best Amazon PPC Auto Campaigns Hacks and When to Use Auto Campaigns
Step 9 – Product Targeting Ads

If you want support in this Amazon PPC journey, this is where I can help.
How I Can Help Double Your Amazon Sales from Amazon PPC
I've set aside time in the next 48 hours to speak to you personally about how you can apply these ideas to your Amazon business starting TODAY.

Whatever your biggest challenge with Amazon PPC, I've seen it and know how to overcome it.

We will get on the phone for about 45 minutes and we will work with you to craft a step-by-step game plan to hit your business goals, whether that's doubling your Amazon sales, increasing keyword rankings, lowering ACoS, or simply just having more love for what you do every single day.

The cost? Absolutely FREE.

But this is not for everybody…
Who This Is For
You MUST have an incredible brand that you are looking to scale.
You MUST operate your business with integrity and great values.
You MUST be willing to take action to transform your Amazon PPC.
You MUST take accountability for your failures, avoiding excuses for why something can't be done.
You MUST be coachable.
Why I'm Doing This
I do this because I love helping others attain the financial abundance that we have achieved with our business.
Plus, I know that you might want help transforming your business (it's tough going it alone!). If so, we can discuss it and see if it's a good fit for both of us. And if it's not, I will point you in the direction that you need.

If you're willing to:
1. Take Action
2. Be Vulnerable
3. Be Coachable

Then I would love to chat with you…

This is what I love helping people do. This is why I was put here on this Earth… to help people like you grow their Amazon business.

I can show you, step-by-step, how to create efficient, scalable Amazon ads and free yourself from working hours on your ads and second guessing yourself.

All you need to do is book a call here: https://www.growto1million.com

Every day that goes by is more time wasted. Every moment you hesitate is you settling for being less than you were born to be. Let me help you turn your dreams into a reality.

Your future is waiting for you.
Talk soon,
Dr. Travis Zigler