13 Best Amazon Product Targeting Ads Tips, Tricks, and Hacks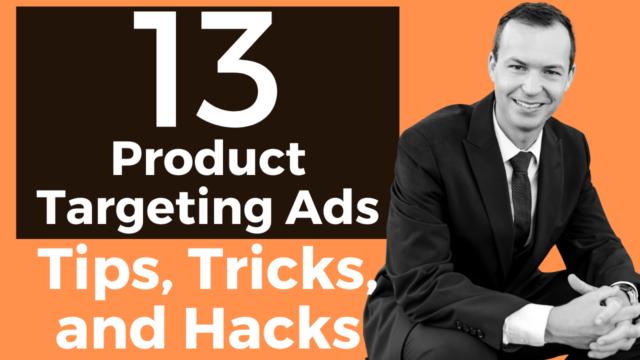 Do you have a strategy around your Amazon PPC Product Targeting Campaigns? Or do you just do generic category targeting? BIG MISTAKE… In this article I will be showing you 13 of the best tips, tricks, hacks, and strategies behind Product Targeting Ads inside your Amazon PPC account. Also, watch the video above for more information.

If you have been following along in our 8-week journey to scaling your Amazon PPC and doubling your Amazon PPC, you have learned how to track and measure your results, research your competitors, simplify your Amazon keyword research, make sure your Amazon listing is optimized, how to structure and set up your Amazon PPC campaign, SCALE your campaigns, determining what to bid on keywords, and when and how to implement auto campaigns.

In this article we are moving on to step NINE, which is what to do with your product targeting ads inside campaign manager. When you should turn them on, how you should use them, and a strategy to dominate your keywords and search terms that you are making great sales on.

I would highly recommend going back and reading/watching the previous examples (not required but helpful) if this is your first time joining us, as they will all play a role in scaling, or you can check out my FREE 8-week Amazon PPC Masterclass by clicking here.

With that said, this is a step that we recommend implementing AFTER you have your manual campaigns scaling and AFTER you have run your auto campaigns, but if your budget allows it, you can start product targeting campaigns at anytime.

Our strategy around product targeting ads inside Amazon Sponsored Products is to increase your impressions on the Amazon platform. Increasing your impressions will make it look like you are everywhere to a buyer. They will see you all over your competitors listings (product pages) and as the old rule goes, after seeing you seven or more times they almost HAVE to purchase your product and try it. It will always be on the top of their mind, also called TOMA (top of mind awareness).

Like stated earlier, TOMA campaigns (auto campaigns and product targeting ads) should only be done AFTER you have maximized your manual search campaigns. Manual search campaigns are the way to scale and I would really focus on those before ever worrying about product targeting ads.

Without further adieu, let's jump into the 13 best product targeting ads tips, tricks, hacks, and strategies…
13 Amazon Product Targeting Ads Tips, Tricks, and Hacks
1. Don't Start Product Targeting Ads Until AFTER Search is Scaling
If you have already been running manual campaigns for a while, you want to make sure you are starting to scale your search terms that you are converting for. Scaling your search term report is the single most important thing you can do for Amazon PPC and we did a whole video and article on how to do it. Click here to see it.

If you have not started your manual campaign than I would recommend you to stop reading this article and start at the beginning of this free 8-week Amazon PPC Masterclass.

Step 1 – Track and Measure Your Results
Step 2 – Research Your Competitors
Step 3 – Simplify Your Amazon Keyword Research
Step 4 – Amazon Listing Optimization
Step 5 – Set Up Your Amazon PPC Campaign
Step 6 – SCALE your campaigns.
Step 7 – Optimizing Keyword Bids for Increased Profitability
Step 8 – 9 Best Amazon PPC Auto Campaigns Hacks and When to Use Auto Campaigns
2. Product Targeting Campaigns are for PLACEMENT on Product Pages and Not for Search
Since we are trying to specifically target certain ASINs, these will show up on our competitors (or our own) product pages and not in search. This is great for impressions.

3. Goal is for Impressions or Top of Mind Awareness (TOMA)
The goal of product targetings ads is to be seen EVERYWHERE the shopper is looking. You want to show up on your competitors product listing for specific search terms that you are selling well for. This will make your brand appear very large, and they will see you over and over, which means they will purchase your product eventually, which in turn will increase your organic rankings for that search term.
4. Goal is to Mine ASINs and NOT Search Terms
We want to get very specific, profitable ASINs that we can target in this strategy, and we will get into how to do that below.
5. Each of Your ASINs Should Have Its Own Product Targeting Ad
Do not clump multiple products or ASINs into the same product targeting ad. Each product ad should contain one ASIN.

6. Product Targeting Campaigns Are Not Scalable… Manual Campaigns Are
Focusing on scaling search should be priority one, two, and three as they are where you will make 80% of your sales. Product targeting ads are a shiny object that should NOT distract you until you have your product scaling on at least one search term.
7. Don't Target Generic Category Targeting… Get Specific and Target ASINs Only
Please do NOT give up the control Amazon gives you by being lazy and targeting a certain category. This is not specific at all and most sellers do not know how to categorize their products and therefore you will bid on irrelevant items and waste thousands of dollars (ask me how I know)! 🙂

8. Use Your Search Term Report To Target the Right Competitors
This is where the gold starts to come in with product targeting ads. If you are not sure how to download a search term report and analyze it, click here.

The big difference is we are going to be looking for ASINs that are profitable and making sales. These ASINs will most likely come from your auto campaigns and we can mine them out of our auto campaign and into a more specific product targeting campaign where we can control the bid for each individual ASIN, which you can not do in an auto campaign.

9. Research To Target ASINs for Search Terms You Want to Dominate
We've discussed how 80% of your sales comes from 20% of your keywords or customer search terms. What we want to do now is identify those search terms (start with the top one first). We are then going to do some research around that top search term that we found on our report and target all the ASINs that surround that search term to create a halo around our product.

Our goal here is to get on competitor product pages in the Sponsored Product section AND organically in the rest of the listing such as the Customers Who Bought This section AND Frequently Bought Together section, AND Compare Similar Items section.

Start with the top search term for your product. This search term drives the most sales, has high impressions, and high search volume. Eventually, when budget allows, we will build this out to the top 10 keywords for YOUR product (look at your search term report).

In our case, the search term eyelid wipes is by far producing the most results, so we want to create a moat around the keyword and show up everywhere!

Do an Amazon Search for that top search term and compile a list of ASINs to begin targeting.

Here is a list of the ASINs to target and jot down from your SEARCH RESULTS:
Top 3 Organic ASINs
Top 3 Revenue ASINs
Top 3 Sponsored Products ASINs
I use Helium 10's Chrome Extension to compile this list quickly and easily. I use the Xray tool, then download the list into a spreadsheet and highlight the top 3 organic, top 3 revenue, top 3 sponsored, and manually ad the top 3 from the headline search ad at the top.

First I download the Xray tool's full list and narrow it down.

This chart above shows the top 3 sponsored ads, top 3 organic, and top 3 revenue ASINs.

Here is a list of ASINs to target and jot down from your BEST SELLING COMPETITOR:
Top 3 Compare With Similar Items
Top 3 Customers Who Bought This Also Bought
Top 3 Frequently Bought Together
Top 3 Sponsored Products
I manually add these to the list.

Once I have my completed my list I upload it to my product targeting competitor ad group.

10. Start with a LOW Cost-Per-Click (CPC)
This should be a lower bid than your search campaigns that you are trying to scale, but a higher bid than your auto campaigns since they are more specific than your auto campaigns.
11. Start Bids Against Competitors ASINs Low
For competitors ASINs, I usually don't start above a $1 bid.
12. Set Up a Defensive Product Targeting Ad
Your product portfolio should consist of complementary products and not a random hodgepodge of products. If you have complimentary products, set up a defensive ad group to have these products show up on your product listing page.

This is YOUR HOUSE and YOU MUST PROTECT YOUR HOUSE!

I usually bid a little higher at $2 for these.

This is how I name the ad group: Our PRODUCT Name ASIN | Defensive PTA
13. This Should Be One of the LAST Ads to Set Up Inside Amazon – Focus on Manual Campaigns and Search Term Dominance First
I've stated it before and will continue to state it. Scaling search term manual campaigns are priority one, two, and three. Product targeting should be a distant afterthought.

How to Set Up a Product Targeting Ad on Amazon
First head over to your campaign manager inside Amazon seller central. Click Create campaign and choose a Sponsored Products campaign.
Next you want to click Create campaign and select Sponsored Products.
Next, set your campaign name to your product ASIN | PTA for product targeting ad. Choose a small daily budget around $25 and Manual targeting.
For the Campaign bidding strategy, choose Dynamic bids – down only and I usually put a 20% increase for Product pages to help give a small boost to my bid.
Then name your Ad group very similar with your campaign: product name ASIN | PTA Competitors if you are going against competitors or Defensive if you are making your defensive campaign.
Choose Product targeting next and NEVER choose category targeting as it is a waste of money and budget. You want to be in control and you don't want to give Amazon that control.

Pick the default bid to be around $1 for Competitors and $2 for Defensive campaigns.

Finally pick Individual Products and enter the list of ASINs you found from your research.
What's Next With Your Amazon PPC?
This was step 9 in your new Amazon PPC Strategy. Click here to get all the Amazon PPC lessons emailed right to your inbox once per week. This is an actionable lesson every week to take your Amazon PPC to the next level.

Step 1 – Track and Measure Your Results
Step 2 – Research Your Competitors
Step 3 – Simplify Your Amazon Keyword Research
Step 4 – Amazon Listing Optimization
Step 5 – Set Up Your Amazon PPC Campaign
Step 6 – SCALE your campaigns.
Step 7 – Optimizing Keyword Bids for Increased Profitability
Step 8 – 9 Best Amazon PPC Auto Campaigns Hacks and When to Use Auto Campaigns
Step 9 – This article with Product Targeting Ads

If you want support in this Amazon PPC journey, this is where I can help.