Do This To Scale Your Amazon FBM and FBA Business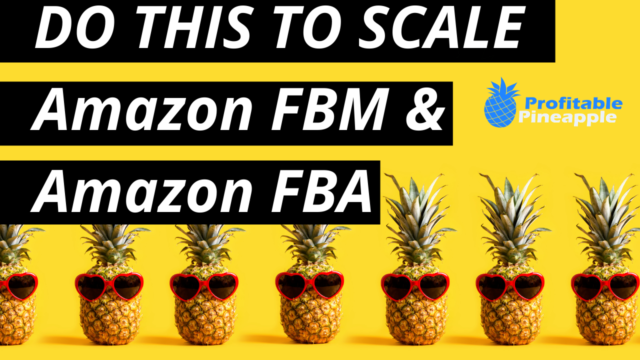 I'm sitting down with Taylor Smits from an Amazon prep center called My FBA Prep, the largest network of ecommerce prep centers in the country. We are going to discuss and go over why we need to be focusing on more than just our FBA business. We will be focusing on what an Amazon prep center is, what it can do for you, and how it can really accelerate your business. 

The aim of an APC is to be an ecommerce service provider. They typically receive goods that are bought wholesale and get them ready for retail sale. The inventory can be received from private label sellers or wholesalers, and the APC will take the product from being received as a pallet, for example, and get each individual unit ready to ship out. This may include adding the FNSKU label, poly bagging the units, bubble wrapping each unit, or doing whatever else is needed to get the units ready. The ultimate goal is to ensure that the products are Amazon compliant. The APC will then go into Amazon Seller Central on behalf of the client and tell Amazon what will be sent into their fulfillment centers. My FBA Prep focuses on the 50,000 customers that are selling at least $1M+ in revenue on Amazon. This allows them to provide the best customer service that they can by assigning customers to an account manager who will facilitate many different requests that a customer may require.
The key reason that someone would want to pursue an APC is because time is very valuable for a lot of businesses. Because an APC takes care of the prep and fulfillment side of the business, that business can then better focus on other areas where their time can be used to further grow their business. For example, if you're a wholesale seller, your time would be better spent finding suppliers than it would be prepping. If you're a private label seller, your time could be better spent coming up with better products to sell, doing merchandising/bundling, or advertising/optimizing your current products for further growth.

When someone analyzes their business and is able to point out what their focus is, it's very rare that the focus is logistics. Amazon prep and logistics is not a selling point for a business that is in ecommerce selling individual products, and it's actually seen more as a commodity piece. Ultimately, a brand should focus on what makes them unique and the Amazon prep center should handle the logistics, so they don't have to. This is key for any brand looking to expand their business.

An APC exists to make your life as a business owner easier. To ensure that they fulfill this service to you it's best to have an APC that is easy to get a hold of during urgent times and one that fits seamlessly into the entire flow of your business. When searching for an APC one of the key indicators to look for is their customer service. Ensure that they are readily available and willing to help at any stage of the Amazon Prep process. They will be in control of the backbone of your business, your inventory, so it's best to be careful when making this decision. 
Do You Have Your Customers Do More FBA or FBM?
Most customers that are able to scale their businesses the quickest and that are the most profitable end up using a hybrid of both FBA and FBM. It is recommended that 75% should be dedicated to FBA and FBM the other 25%. The reason for this is because the Prime badge converts better with customers than selling FBM (which will not show a Prime badge). Also, it's great to have FBM in addition to FBA as a way of diversifying and reducing any risk that could occur with one channel. During times like these in 2020 when we can see longer shipping times or reduced inventory limits with FBA, FBM is great to have in order to provide a backup for fulfilling the needs of customers as well as a quick way to replenish FBA inventory.

Pro Tip: Most customers that are purchasing your products through FBA are expecting to get their shipping for free through Amazon Prime, so it's best to offer free shipping through FBM if it's ever necessary to flip from FBA to FBM. Also, the SKU number should be included in your Amazon PPC advertising, so that it's easier to identify the ads for certain products when a switch occurs between FBA and FBM.