Amazon PPC Tips | Using Techniques Developed By Two Doctors To Get Profitable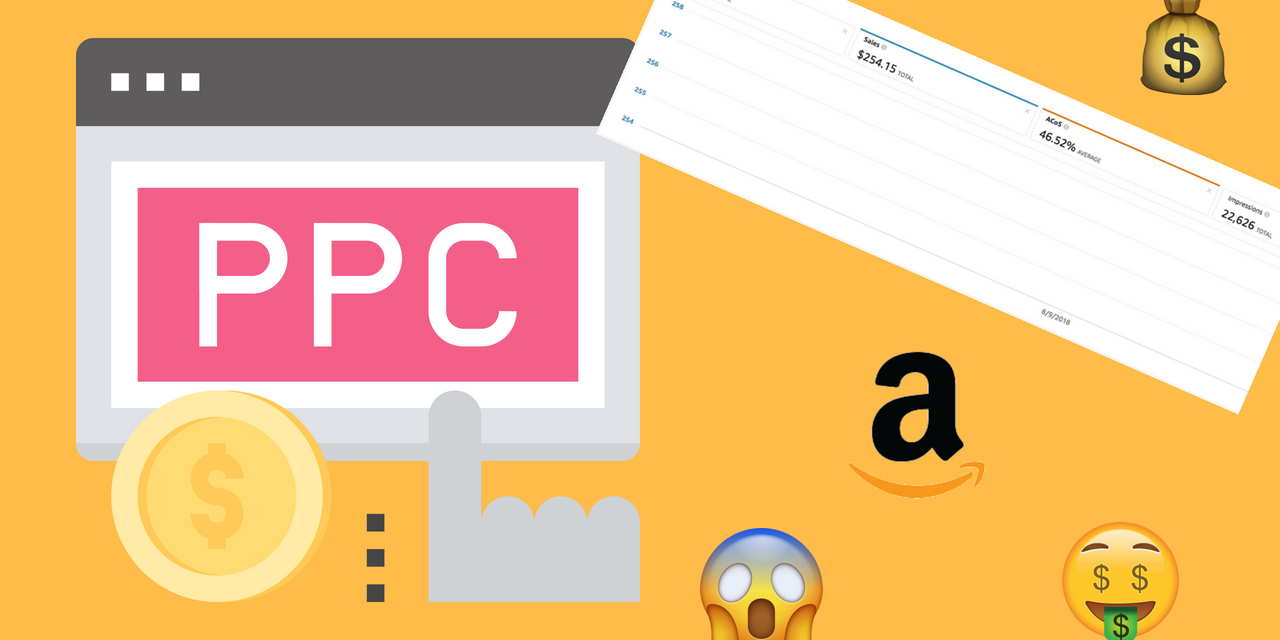 There are many different Amazon PPC tips and strategies that are available. After all, there are many different possible ways to use PPC adds effectively. Those who look through as many of these different strategies as possible are the ones who will gain enough background knowledge to expertly navigate through the Amazon PPC platform.
Accordingly, one of the most effective Amazon PPC tips recently was developed by two doctors. With a track record of success, they have stepped forward to share their knowledge with those who want to boost some sales. On this page, we will describe exactly what these techniques include. To put it plainly, this page will guide you through a system which is proven to work, and also introduce you to various resources which you may find useful.


Amazon PPC Tips: Who are these Doctors & Why Should I Care?
Dr. Travis and Jenna Zigler are two optometrists whose entrepreneurial mindsets later helped create a successful lifestyle in online sales and marketing. One of their accomplishments in the online sales arena includes a knockout month of sales with $500,000.00 earned in just December 2017. Although these doctors may be professionally trained in the field of optometry, they are also very skilled at navigating through the online marketplace.
Accordingly, as we continue to break down their techniques for successful Amazon PPC campaigns, learn to see this pair as a group of online sales experts, not just doctors. After all, the fact that they are doctors is not impressive to those who are looking to boost their online sales revenue.
However, their track record of success and online portfolios are reason enough to consider giving their Amazon PPC campaigns strategies a shot. Due to their successful formula, they also offer coaching sessions.
Amazon PPC Tips: Start by Naming & Setting Up Campaigns
Before we break down the strategy for automating effective Amazon PPC campaigns, it's important that you know some of the basics involved in setting up a campaign. Everybody, regardless of their level of technical skills, should be able to at least get through the naming process and set up an automatic targeting campaign. Although for your reference, let's go ahead and take a quick glance at how to do this.
Name your Campaign
Start by logging into your Amazon account. Navigate to the Campaign Manager page and click on Create Campaign. Then, all you need to do is type in the campaign name, your daily budget, and the dates which you wish to run the advertisements. You will also need to select the product(s) that you wish you advertise during this step.
Example: (Wayfarer Shiny Black B0186L2HPK | Broad Discovery)
Once you finish the naming process, it will then be time to select whether you want to do an AUTO Discovery (Automatic Targeting) or BROAD Discovery (Manual Targeting) campaign. This decision should be based on your experience working with the Amazon PPC system. Here is some more information on both of these types of campaigns.


Automatic Targeting Campaign
Automatic Targeting campaigns are the most likely type of campaign that Amazon PPC tips around the internet will recommend. This is for very simple reasons. Automatic targeting campaigns are designed to level the playing field a little bit for beginners. For example, you won't need to worry as much about keyword research and selection since Amazon will take care of these difficult steps for you. With an AUTO Discovery campaign like this, all you need to do is set your bids and let Amazon handle much of the heavy-lifting.
Manual Targeting Campaign
BROAD Discovery (or Manual Targeting) campaigns are a tad more difficult since it requires a little more technical knowledge and background research. To do a manual campaign, start by naming your campaign properly as we described above. Then, select your bid, pick Broad Match Type, or you can simply add in your own keywords.
See Also: Amazon PPC Course Reviews
However, if you are new to PPC campaigns, one of the best Amazon PPC tips you can receive is to start with Automatic Targeting and then continue to gather effective keywords for your PPC campaigns down the line.
Keyword Amazon PPC Tips:
As you may have gathered by now, keywords are a prime element of a successful PPC campaign. Anybody who gives you effective Amazon PPC tips and strategies is well aware of the importance of keywords in a successful advertising campaign. Accordingly, it's important that you know how to navigate through the system and use keywords properly.
Start with Automatic Targeting campaigns.
Research and find your own effective keywords over time.
Anywhere between 5 – 20 keywords are suitable for a campaign.
Remember that less is more, and that you need to have a set limit of keywords. Never put more than 20 keywords into your campaign. Most importantly, stay humble and ready to research for better keywords. Each of the above Amazon PPC tips should be kept in mind as we continue to explore the next steps and Amazon PPC tips perfected by the two aforementioned optometrists.


Using AdBadger to Boost and Automate PPC Sales
When you use AdBadger, you have the opportunity to leave some of the difficult parts of setting up Amazon PPC advertisements on your own to the professionals. When used effectively, you can automate the steps behind constructing a PPC campaign. Additionally, it is a wonderful tool for helping make sure you always know how much you are spending on advertisement costs, and it can help with the process of keyword research and selection.
Why Use AdBadger?
The main reason the doctors recommend to use AdBadger is that it helps you to automate your Amazon PPC advertisements and free up time for better, more important things. Since AdBadger directly connects with your Seller Central account, it can be easily set up and used in a manner which won't interrupt your previous routine that much. AdBadger is also a very reasonably priced, premium service. When used correctly, AdBadger can only serve to help boost your sales and investment returns.
Setting Up and Using AdBadger for the First Time
If you are interested in trying AdBadger for the first time, it's important to learn how to do things correctly. Of course, there is a free trial which new users will be able to use. However, once the premium service starts to kick in, it will be important that you gathered all of the necessary information to effectively use the service. Otherwise, you may not realize the full benefits of the service, and quit using it before you start to see where it really shines. Accordingly, let's go ahead and break down the most important pieces of information while using it for the first time.
Connect to Seller Central
The first step for successfully using AdBadger is to connect it to your Amazon Seller Central account. To do this, simply sign up for the free trial and follow the instructions. Once your AdBadger account is connected with your Seller Central account, you will be ready to begin looking through keywords, placing bids, and calculating your ACoS. Without connecting to Seller Central, you won't be able to automate the PPC campaigns.
Bids by Badger Feature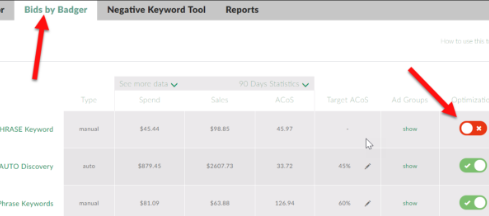 Once you are connected to your Amazon Seller Central account, you are ready to begin using the Bids by Badger Feature. The Bids by Badger feature works very simply. All you need to do is click the red switch (shown above), and you are ready to put your target ACoS (Advertising Cost of Sales) in the box. This part needs to done very strategically.
Carefully Calculate your ACoS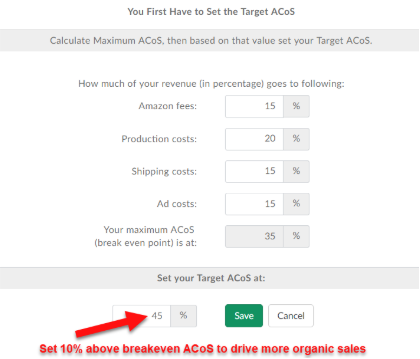 Once you click on the red switch, a pop-up should come up where you type in your ACoS. For best results, try to overshoot this number. The doctors recommend going 10% above your breakeven ACoS. This way you can drive more organic sales and in turn, receive more profits into your bank account at the end of the month.


Related: The ACoS formula
The above graph is an example of an effective ACoS. To calculate your breakeven ACoS, here is the mathematical formula:
(Retail Price of Your Product – 15% Amazon Referral – Amazon Fees – Cost of Goods) / Retail Price
Example: $16 – $2.40 – $4 – $3.50 = $6.10 / $16.00 = 38% Profit Margin / Breakeven ACoS
In the above example, you would set your Bids by Badger to 48%. Of course, you might even consider being a little more aggressive. You might choose to simply gauge the Bids for Badger instead at the 38% breakeven. This depends on how much you are willing to risk. There is a great potential benefit of sales for those who spend a little bit more aggressively.
Negative Keyword Tool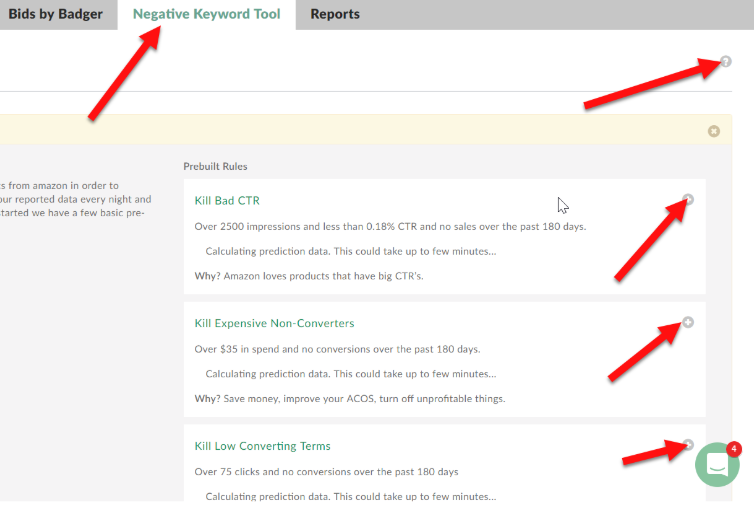 The negative keyword tool helps you to filter out keywords which are unsuccessful and not worth using for your PPC campaigns. For those who are just beginning, you should start off by sticking with the default settings. Additionally, it helps you to get an idea of which terms are working and which aren't.
Set expensive, non-converting terms to the average cost of your products.
Set low converting terms at 25 – 30 clicks to boost your chances.
Stop using terms which don't convert at all.
Each of the above tips should be kept in mind while using the negative keyword tool. As a general rule of thumb, the negative keyword tool should be a booster to help you start converting with terms which might otherwise be difficult to use. When used correctly, the negative keyword tool can be one of your most effective weapons.
Creating Exact and Phrase SCALE Campaigns
When you are working with your keywords, those who use exact matching terms are proven to generate more sales than those who focus on matching certain phrases. Of course, the Amazon system is intuitive enough to help those who focus on phrase campaigns to be visible. However, for the absolute best results possible it is necessary to start finding exact match keywords. Below, we will break down how to find exact keywords so that you can start maximizing your sales today.
Using Advertising (Search Term) Reports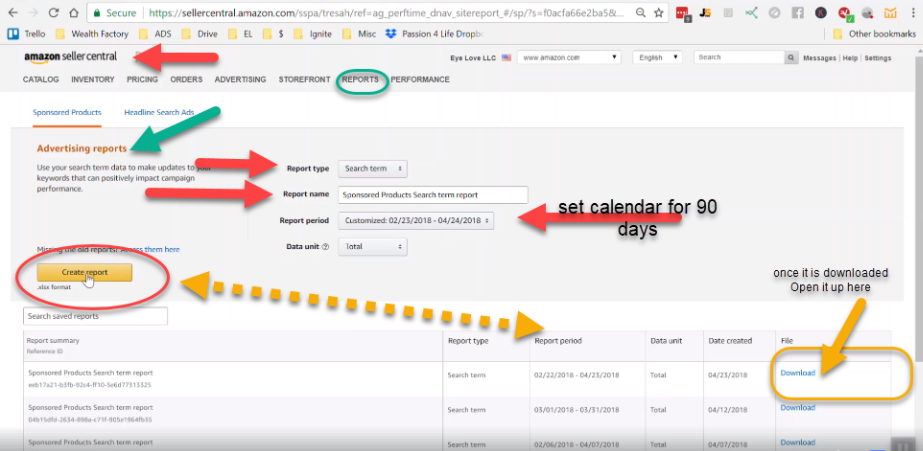 To get started, pull up your Advertising Report (or Search Term Report). To do this, go to your Amazon Seller Central account, click on Reports, and then click on Advertising Reports.


Related: Average Cost Per Click On Amazon
Next, use the picture above as a guide to pull up your report. Once you have all your desired information logged in, click on the Create Report button and wait for it to download. The information you receive in the file will tell you exactly how each of your previous products was sold, along with much more relevant data.
Selecting the Right Keywords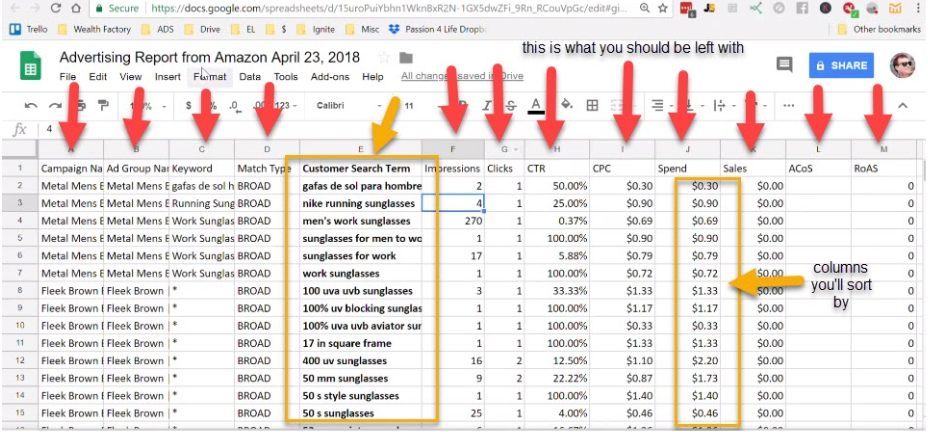 Once you have your file, set it up to resemble something like what you see in the picture above. Delete terms which had zero sales, your ASIN numbers, and other irrelevant data. This will help you organize all of the information you have. As we can see above, certain keywords have a higher CTR than others.
However, since each of the featured keywords are broad match keywords, these would only be best for those who have yet to find their first exact match keyword. To select the right keyword, try to pick the one with the highest number of sales and overall success. With your advertising report, this should be very simple to do. Finish by organizing your terms in order of their success.
The search term which gets the most sales should be the lead of your title. Use the top 20 or so terms for your backend search terms.  If you encounter duplicated terms, Character Count Tool is a wonderful resource to hold onto.
Creating EXACT Campaigns
With your keyword research out of the way, we are ready to begin creating your first successful exact campaign. Start by logging onto your Seller Central account. Go to Campaign Manager, click on Create Campaign and type in the basic information as we described in the "Naming & Setting Up Campaigns" sections above. Once you are finished with this step, you are ready to begin crafting a fruitful exact campaign.
Guideline for Bidding
As a general rule of thumb, try not to bid conservatively when you do exact campaigns. The doctors recommend that you start with a $10 – 20/day budget. You should bid anywhere between $2 – 5 for each bid.
Related: Amazon Ads
The higher your PPC bids and daily budgets are, the more likely you will succeed. After all, exact match campaigns have been demonstrated over and over to be much more profitable. That is, as long as you put in the research and get the right keywords.
Use Manual Targeting
This part is crucial. Since you (hopefully) put in a healthy level of research for your keywords, you should be able to bypass the need for Amazon's campaign keyword assistance. After all, a handful of exact match keywords which have been known to turn around sales are much better than just about any other set of mediocre keywords.


Creating PHRASE Campaigns (Optional)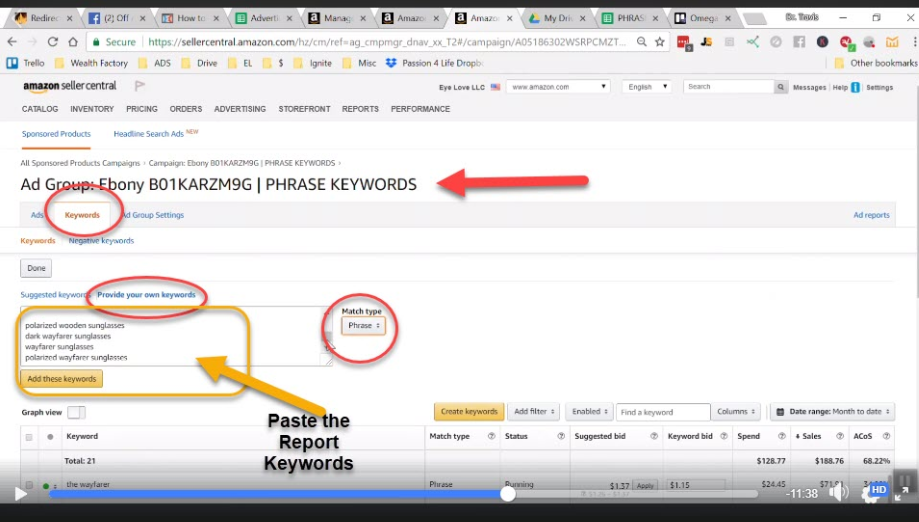 Of course, it is preferable that you run campaigns with exact match keywords. This isn't always possible or desirable though. To run a phrase match campaign, cut your daily budget to around $10/day and your PPC bids to about $1.25 per bid.
Using the same advertising report process described above, gather the highest performing keywords and then paste the best keywords into the module shown above. When you finish this, list the same keywords into Negative Phase keywords for Auto & Broad campaigns.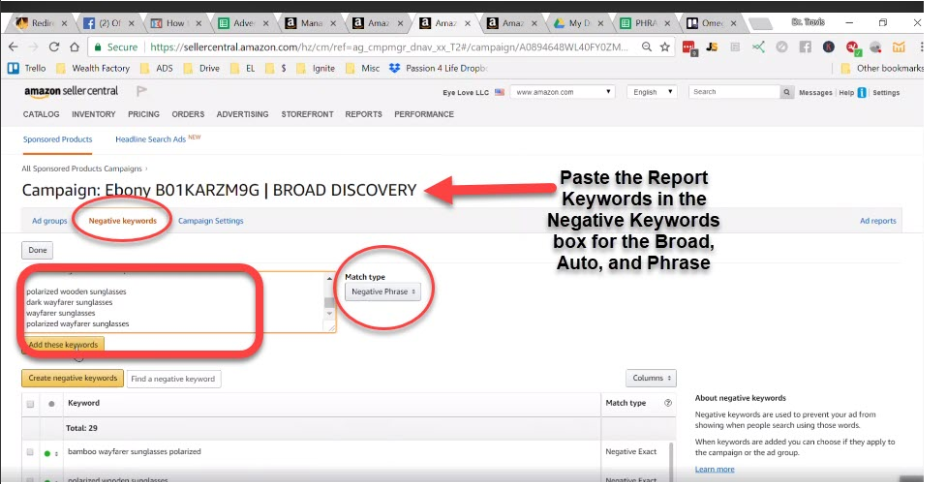 Steps for Cleaning up your PPC Campaigns
At the end of each month or so, it is absolutely crucial that you go back into your reports and keep your keyword lists clean and tidy. Otherwise, you may soon find yourself overwhelmed with information when it comes time to manually sort through keywords. When done correctly, this will turn your advertising reports from a simple report into a roadmap for your advertising campaigns.
Related: Amazon Sponsored Products Management
However, to do this start by deleting each keyword at the end of your sales cycle that didn't lead to a sale, even if it is an exact match keyword that you had high hopes for. Then, clean up all of the unnecessary information, such as the name of the campaign, product ASINs, and any other piece of information not relevant towards the success of your advertising campaign.
Amazon PPC Tips: The Doctors' Diagnosis
The doctors recommend that you try this strategy either once per month or per quarter. It is ideal that you do this once a month. Remember that the Phrase Campaigns are optional. In reality, they are just a third type of discovery campaign.
Finally, if you are interested in receiving more help from the doctors, you can reach out to them and sign up for coaching sessions. With a coaching session, they will share many of the other secrets that they have behind their successful multi-million dollar online companies.