How Amazon FBA Sellers Can Use Business Credit to Scale Their Business w/ Ty Crandall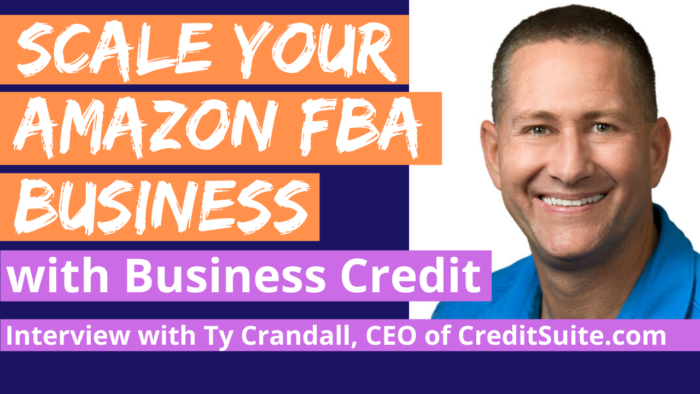 What is Business Credit?
Business credit is a way for the business to fund itself. The idea is to build a credit profile for the business so that the business can stand on its own. By building this credit profile, you're able to obtain credit from any retailer you could imagine, and run your business smoothly. This may include credit from Amazon, Walmart, Sam's Club, and other large retailers. Gas stations all have credit cards, and auto financing is also available with business credit. Basically, it makes it much easier to get loans for your business. Not only is business credit great for credit cards, but it's also helpful in getting these loans and credit lines.
Every start-up business can start with business credit, and this will be helpful for future loans from larger lenders. Businesses that don't have a lot of history can benefit from this because they can easily get high limit credit accounts from major retailers which will allow them to purchase the things they need to start their business. In most cases, it's as easy as having an EIN number. Without business credit, larger companies can get stuck without having any, and they'll have a harder time obtaining the capital they need.
In the business credit world, "fundability" is important, and this includes everything about you and your company that lenders sift through as they work through your application for credit and loans. The best thing to do is clear out those issues beforehand and then apply for the loan.
How Amazon Sellers Can Use Business Credit to Help Their Store
If you're growing a business, SBA loans can be used to fuel growth. This is what capital does for a business; more stability, faster growth, and piece-of-mind. If you want to borrow money in the future, you need to be building your credit in your business no matter what type of business you run.
Business credit can be what you use to not only fund inventory, but also purchase things such as cameras and computers used for the business, phone systems, and other things needed to actually run the business.
Amazon loans have become popular recently, and we've taken one ourselves. However, even though they're easy to qualify for, make sure you're aware of the terms of the agreement (usually, Amazon expects you to pay it back within 12-18 months). Amazon bases these offers off of your revenue, and they're not looking at whether or not you're able to pay it back.
Obtaining Business Credit
SBA loans look at the FICO small business score, which must be 140 to even get a loan. To obtain this score, you must have business credit to begin with. SBA loans take more time, but they provide much better terms for your business. Remember, you have to focus on cash flow and what your business can handle!
First of all, look into fundability. Make sure you understand this and that everything in your business follows what's expected. When you fill out an application, using your business phone number, email, address, and other business credentials can make a huge difference. Make sure you have these. Most applications are denied due to fraud, so if the information on your application doesn't match everywhere online, this could be problematic.
Also, make sure to check out your business credit score, which you can do on Credit Suite's website here. This is free, and it's important to know if you have business credit at this time. Make a conscious effort to build up your business credit, which you can learn more about here. If lenders see that you're using the credit you've been given, and you're paying off your credit cards in a timely manner, it makes it easier to get financing in the future.
Make sure to visit creditsuite.com and learn more about business credit. Listen to their podcast, check out their blog, and subscribe to their YouTube Channel for up-to-date info.
Ty Crandall Bio
Ty Crandall is an internationally known speaker, author, podcast host, and business credit expert. With over 18 years of financial experience Ty is recognized as an authority in business credit building, business credit scoring, and business credit repair. Ty is the author of two popular books on credit named Perfect Credit and Business Credit Decoded. Ty currently serves as the CEO at Credit Suite where he has helped create and grow one of the biggest and most credible business coaching operations in the United States.