Automating Amazon PPC Optimization With Helium 10 ADS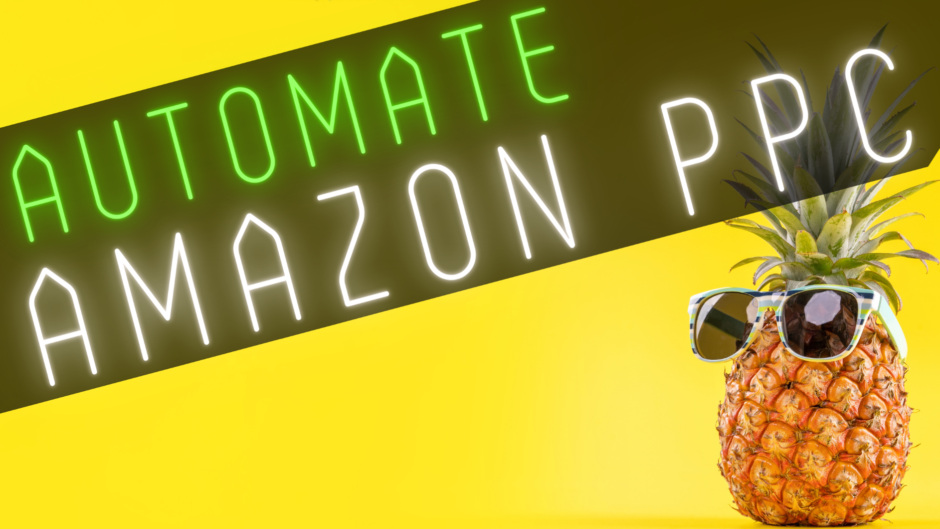 Advertising on Amazon is becoming a lot more complex with all the different platforms like sponsored products, sponsored brands, sponsored display, Amazon DSP, and attribution. In order to scale your Amazon PPC, you need to eliminate what is unneeded, automate what can be automated, and delegate the rest.
I love focusing on the STRATEGY side of Amazon PPC, but I hate doing the little things like keyword bid adjustments, adjusting budgets, changing top-of-search bid adjustments, calculating what to bid on keywords, creating new campaigns, pausing those keywords in old campaigns, pausing unprofitable search terms, and everything else that goes with the day-to-day tasks of Amazon PPC.
Does that sound familiar?
This new strategy will make you a LOT more profitable, so you can focus on the bigger picture — the strategy of Amazon PPC.
Automating your Amazon PPC is the best way to start making more sales on Amazon, increase your organic rank, and increase your profit so you can make more money for yourself and your business…
That is… if you do it right!
This all starts with the right tool.
Full disclosure, I do not use Helium 10 ADS Tool in my personal account or in my agency.  The problem was that most couldn't afford the tool that we use, so if you are doing UNDER $25k/month then I recommend using the Helium 10 ADS Tool.
🔴 The tool we use is Quartile – Get a 55% discount on the first 2 months with the code: qkvvYsAo
🔴 We also have a Mastermind, Course, and Coaching around Quartile here: https://profitablepineapple.com/course-order-pageh810e77f42403938
With that being said, Helium 10 ADS Tool allows new sellers to have a great tool when you are on a budget.  You not only get the Helium 10 ADS Tool, but also Magnet, Cerebro, and all the other great tools Helium 10 offers. 
Helium 10 Coupon Code
Before we jump into the Helium 10 ADS tool, please consider using my affiliate link. I make a small commission and you get a discount. Get 10% off your monthly subscription or 50% off your first month of Helium 10 when you use the coupon code SALESFUNNEL50
Click here to try out Helium 10 
Before you start with the Helium 10 ADS Tool, you need to install the PPC token.  Once added, 60 days worth of data will be added to your dashboard.  You can view ad spend, ad sales, ACoS, TACoS, and total sales. Second thing to see in the pie charts are the top 5 products that are spending the most on ads and the top 5 products that are producing the most sales. Finally, there will be a highlighted area of highest ACoS campaigns and highest ACoS keywords to take immediate action on. 
The graphs at the bottom of the overview page are where you can compare all the analytics in your account by comparing two different metrics over the past 7 days. It will also show you if your spend, sales, or whatever other metric is trending down or up from the previous period.
Make sure to subscribe to our YouTube channel and join our free Amazon PPC Pros Mastermind on Facebook.
I wanted to briefly cover how to pause keywords inside Helium 10. This can also be done within Seller Central as another option.
Pause keywords by using filters to find keywords and search terms that are not performing well. Here are our filters that we like to use for pausing (which we will go into more detail in the next article):
PAUSE → > 10 Clicks and ACoS > 100%
PAUSE → > 10 Clicks with 0 Orders
ANALYZE → > 10 Clicks and ACoS between breakeven ACoS and 100% – look at how many orders and how relevant the keyword is.  Be more attached to exact and broad than phrase terms. Add negatives to broad and phrase campaigns.
To do this inside Helium 10, head to Ad Manager, click on the latest 30 days, which automatically leaves a 4 day attribution window. After this, open up the filters and apply the above filters. Pause all that meet the above criteria.
There are two ways to automate the ACoS. The easiest way is to set an overall, account level ACoS, which is not as practical but much less work. To do this, go to Suggestions and click the Settings button to pop up a window.
Then set your ACoS target to what you want your entire account to be.  We are more aggressive with ours and go for a 72% account wide ACoS, which is 10% above our breakeven.  Go back to chapter 2 in the book/course to see what you calculated.  
To individualize the ACoS target, which I recommend, we need to calculate this on a per product basis. Once you have this, head over to Ad Manager in Helium 10 tools, click on the settings wheel below the configure area, which will pop up this screen. Set the ACoS target for EACH individual campaign, depending on the product that campaign is running for. Check out the picture below for both automating negative keywords and for setting campaign ACoS targets on an individual basis.
You can also add a rule for negative keywords as well in here. Remember though, this is not pausing keywords but making them negative. Don't be as aggressive in making negative keywords. 15 clicks without a sale and double the cost of the product are good rules of thumb to follow. Then click the automate button to never think about negative keywords again in that campaign.
If you see a sudden drop in campaign performance, it could be because this rule picked up a negative keyword that shouldn't have been added as a negative. Go in and delete that keyword if that is the case.
After adding your target ACoS on an individual basis or over your entire account and adding negative keyword rules (if desired), it is time to automate your campaigns.
Go back to Ad Manager inside the ADS tool, find the campaign you have put your settings into and click the automate button. This will automate the keyword bid suggestions currently found on the suggestions page. Changes will also be recorded in the Change Log.
The suggestions on how to change your Amazon ad campaigns are based on an algorithm based on sales, ACoS, CTR, CPC, impressions, and clicks. This will be reflected in the reason as to why they are recommending that change. This is also where you can set your account wide ACoS target, but we recommend taking the time to do this on a campaign level.
This again can be automated with the previous step, but if you don't want to completely automate and only semi-automate, don't click the automate button and come to the suggestions page to make changes to your campaigns manually based on Helium 10 ADS suggestions.
Click the checkmark to make the suggested bids.
Helium 10 ADS Tool is an incredibly robust tool, but my goal with this article was to teach you the basics of the tool.  If you choose to automate a part of your Amazon ads, please click through my links. I make a small commission, you get a discount, and you keep this course free. 
Win win!
Get 10% off your monthly subscription or 50% off your first month of Helium 10 when you use the coupon code SALESFUNNEL50
Click here to try out Helium 10 
Again, if you are interested in either having us do it for you or learning the EXACT system that we do now, I recommend joining our mastermind, taking our course, and getting our exact SOP for our agency.  If you want to completely delegate it, apply to work with us here.