Amazon Sponsored Ads Strategy | Following Two Doctor's Paths To Profitability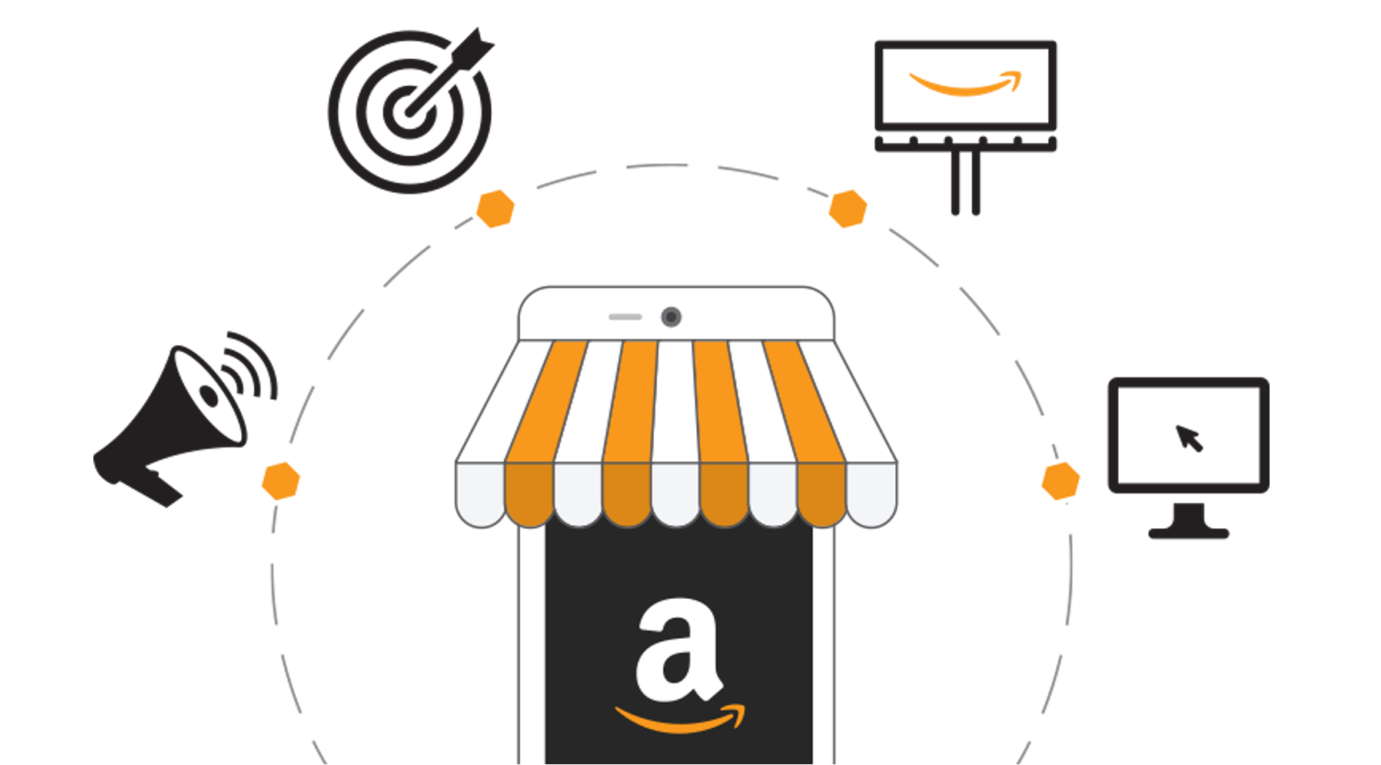 Whether you want to discover a new Amazon Sponsored Ads strategy, or simply are curious how others make profits on Amazon, there is always power in learning new ideas. Thankfully, there are various people who are transparent enough to share their recipes for success on Amazon. Accordingly, this page will feature an Amazon Sponsored Ads strategy that has been developed and mastered by two eye doctors.

Amazon Sponsored Ads Strategy: Who are the Amazon Doctors?
Every great Amazon Sponsored Ads strategy needs to be tested and demonstrated to be successful before it could ever be consistent enough to be depended upon. Dr Travis and Jenna Zigler are optometrists whose ingenuity has propelled them to develop a consistently successful Amazon CPC strategy that they have used to generate some serious income. For example, they once generated $500K in one month of sales. Accordingly, they have reached a point of success where they can share their recipe of success with others.
Top Related: Amazon PPC Tips
Amazon Sponsored Ads Strategy: The Doctors' Diagnosis
Not everybody is going to succeed on Amazon without using the right Amazon CPC strategy. What matters the most is knowing how the system works. Another important aspect to master is which tools you can use to boost your chances at running successful advertisement campaigns.
Of course, it is always possible to navigate through the Amazon PPC system without specific tools, but they can only serve to help you. The doctors recommend having basic background knowledge of how the Amazon Sponsored Ads system works, as well as the use of certain tools and strategies. On this page, we will demonstrate exactly what this entails.
Amazon Sponsored Ads Strategy: The Doctors' Treatment Plan
Here, we are discussing the Amazon Sponsored Ads strategy developed by two individuals who also happen to be medical professionals. Due to their training and professional background, the method and steps we will discuss will be very similar to visiting a doctor, receiving a diagnosis, and following their plan of treatment.
In this case, the diagnosis is clear. You are having a problem with your Amazon sales and wish to have a strategy and system which you know will work. Accordingly, you need to know the source of your problem, so you can start to fight it and turn your sales around. Typically, a common problem that people have is not derived from their motivation, but rather how they set up their ads and how they find their keywords. Accordingly, let's go ahead and break down the tools you need to set up your ads correctly.
See Also: Amazon PPC Course Reviews
Amazon Sponsored Ads Strategy: Tools Required for Treatment
Before we get started on the doctors' Amazon Sponsored Ads strategy, it's important that you first are aware of all of the tools that you need. If you are serious about increasing your chances at success with Amazon, there shouldn't be a single barrier that you let get in the way. Accordingly, here is a snapshot of what you need to try the doctors' Amazon Sponsored Ads strategy:
Fully Setup Amazon Seller Central Account.
AdBadger Premium (or Free Trial).
Time to Invest in your Online Business.
Right off the bat, we can see that you don't necessarily need to invest a single dime to get started with the doctors' Amazon Sponsored Ads strategy. In fact, those who already have an active Seller Central account will simply need to set up an AdBadger account, and then just dedicate some time to trying the strategy for themselves. It's important to also understand that some aspects of the strategy will require knowledge of the Amazon system.

Amazon Sponsored Ads Strategy: Basics of Campaign Setup
Many people who try Amazon PPD advertisements for the first few times can easily become overwhelmed by all of the options. However, navigating the system isn't too hard when you have some basic background knowledge and experience. For these reasons, it is important for us to start by breaking down how the doctors choose to set up their PPC advertisements and increase their chances at a high profit after the advertising cost of sales (ACoS).
Creating and Naming Ad Campaigns
One of the very first things that you need to do name your campaign. It's important to not just put down the first thing that comes to mind. This way, when you return and look at the advertisement reports, as an example, you will know exactly what you're looking at. As the doctors set up their advertisements, they will use this format.
Format:

Name of the Product ASIN

|

Type of Targeting
Example:

Shiny Blue Boots B0185L2HPK

|

Auto Discovery
With names like the ones listed above, it will be especially easy for those who want to run multiple campaigns simultaneously to do so. Additionally, it will help you to immediately know which products you are using and the strategy that you used with each strategy.
Remember that collecting good data is necessary for any sort of advertising campaign. After all, you will immediately be able to recall what worked, what didn't, and where to improve.
Manual and Automatic Targeting: Basics to Understand
Right off the bat, one of the first things that you will need to pick is the type of targeting. The main campaigns that you should run are auto discovery (automatic targeting), broad discovery (manual targeting) campaign, and ideally, exact scale campaigns. Choosing the type of campaign is one of the first steps in setting up a successful PPC campaign.
Simply by reading the names of these campaigns and learning how they work, many beginners will typically choose to run an automatic targeting campaign. Unless you have a lot of keywords at your disposal, this is probably the best campaign for you to start with. Below, we will discuss how these campaigns work before helping you learn how to research and select keywords for those of you who want to run manual targeting campaigns.
Auto Discovery Campaigns (Automatic Targeting)
A great Amazon CPC strategy that is typically used by beginners is to simply run automatic campaigns until they are comfortable with the system.
To get started with an automatic targeting campaign, navigate to your Campaign Manager page and select Create Campaign. Once there, you will need to name your campaign, set your budget, and the start and end date. The doctors recommend conservative bidders to set their budget at $5.00 a day and a $0.75 bid for each click. Those who are tad more aggressive may choose to go anywhere up to a $20.00 a day budget with a $5.00 bid for each click.
Broad Discovery Campaigns (Manual Targeting)
This is a great campaign to use before you are able to graduate up to exact scale campaigns, where you know the exact phrases your potential customers will type in the search bar. Broad match campaigns can be usually a little more effective when done right. As far as the daily budget and PPC bids, you should use the same $5.00-$20.00 a day budget and the $0.75 – $5.00 bids described above.
If you have done a few campaigns already, a great Amazon PPC strategy to use is the Search Term Report to see which search terms are generating impressions and clicks for your advertisements. On this page, you will see keywords labeled as "Broad Terms" which are close to the exact phrases your customers are using. Of course, Amazon still uses your broad match terms and can potentially show your advertisement to someone who searches something similar.

The Doctors' Secret: Using AdBadger to Automate Profits
Now that we have some basic background information on creating your PPC campaigns, let's dig a little deeper into the Amazon CPC strategy recommended by the doctors. Right off the bat, it's important to understand that you will need to use a premium tool. Of course, you can start by using a free trial to see if it works well for you. The goal here is to automate your Amazon PPC advertisements so you can free up time and start doing more important things.
AdBadger is an Amazon PPC tool used to automate your PPC advertisements. It is reasonably priced, and when used as intended, you can spend less than an hour each month using the system and simply waiting for the profits to roll in. It uses an intuitive system which helps you to automate your advertising cost of sales (ACoS) and generate the most profit possible. Using AdBadger, the doctors have developed a system which they have used to be successful for years.
Connect AdBadger to Seller Central
One of the best aspects of AdBadger is that you can use it with your Seller Central account. Without this feature, you would have to manually set up each and every single one of your advertisement campaigns. As far as effective Amazon CPC strategy is concerned, wasting your time unnecessarily can quickly and easily turn into lost revenue. Once you have your AdBadger account, follow the instructions that are included to connect to your Seller Central account.
Calculating your Breakeven ACoS
The breakeven ACoS is the point where you won't lose any money, or necessarily expect to gain any. Calculating it is important, since it will help you understand how much you can afford to spend before your campaign is a little too risky. As a disclaimer, the doctors' strategy suggests that you spend a little more (10% more) than what you may be comfortable with. Regardless, here is a formula to help you calculate your breakeven ACoS:
Formula:

(Retail Price of Your Product – 15% Amazon Referral – Other Amazon Fees – Cost of Goods) / Retail Price
Example:

$16 – $2.40 – $4 – $3.50 = $6.10 / $16.00 = 38% Profit Margin / Breakeven ACoS
Related: The ACoS formula
Bids By Badger: Calculating ACoS with AdBadger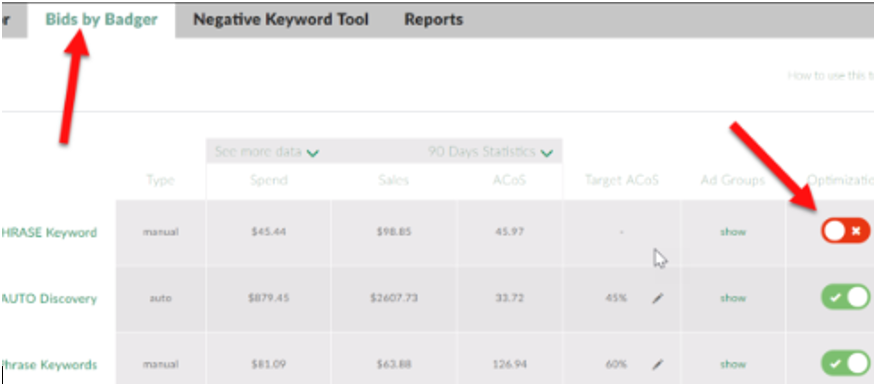 Once you have your AdBadger account connected with your Seller Central account, navigate to the tab titled Bids by Badger. This is where you can start the process of automating your ACoS and ideally, your profits. All you need to do here is click the red switch until a pop-up comes up where you enter your desired ACoS.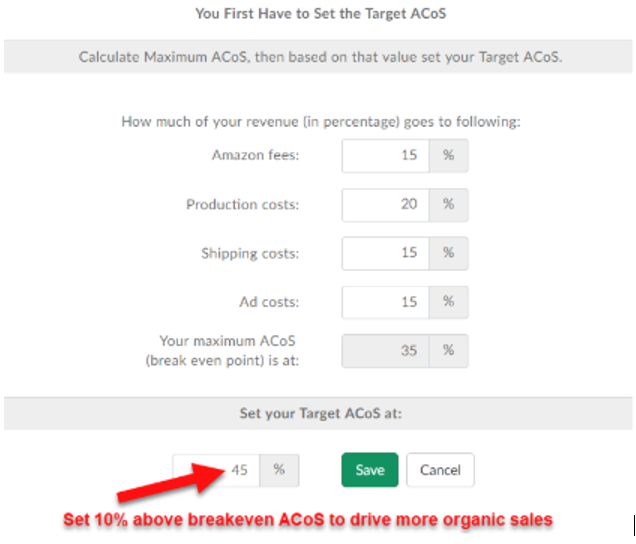 The doctors recommend that you go 10% above what would be your ACoS to break even. As we can see, the break-even point set above is calculated after all the fees and costs to be 35%. Accordingly, the doctors would then set their target ACoS at 45%.
Related: Average Cost Per Click On Amazon
Finding Good Keywords and Filtering Out Bad Ones
Any successful Amazon CPC strategy, whether from the doctors or another source, will tell you that a critical aspect of running effective advertising campaigns involves spending some time digging through web pages and reports. This will help you to find keywords which don't convert into impressions and sales and most importantly, those that do. Thankfully, AdBadger will help you to do this.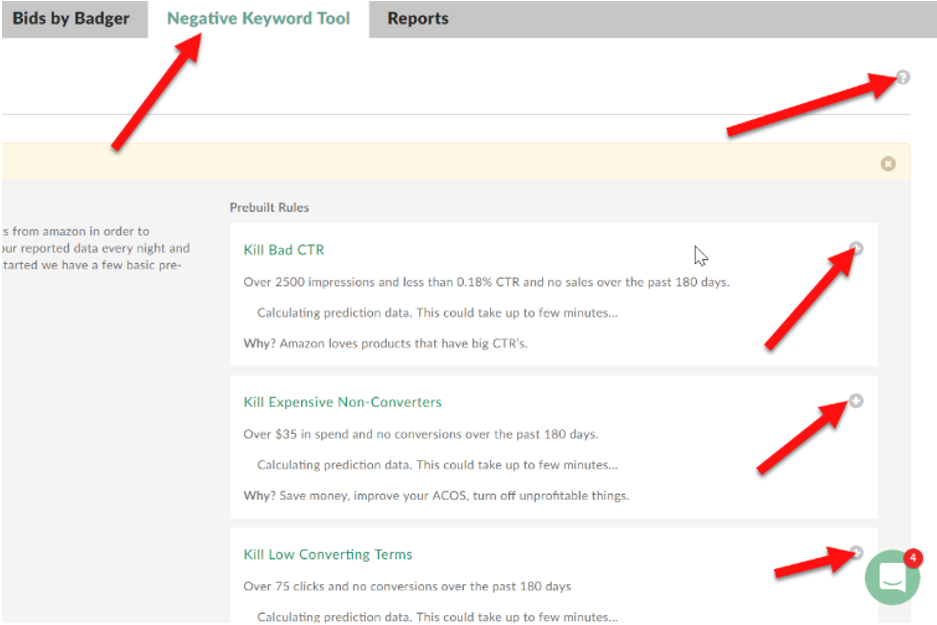 Negative Keyword Tool
Just about anybody who is serious about running an online business using Amazon will be impressed with AdBadger's ability to help you to automatically stop using keywords which have been tested and failed miserably. In fact, it is very easy to set up. Simply navigate to the Negative Keyword Tool tab to adjust the settings. For best results, try to set expensive terms to the average cost of your products, set low converting terms at 25 – 30 clicks, and simply stop using terms which don't convert.
Using Exact Match Keywords and Campaigns: Your Primary Objective
Those who use exact match keywords have demonstrated time and time again to have the best results. As a result, any effective Amazon CPC strategy involves finding the best exact match keywords. Of course, these can be a little difficult to find.
The only difference with these campaigns is that you should set your budget higher (around $10.00 – $20.00 daily) and have an aggressive bid ($2.00 – $5.00) for each click. Since exact campaigns generate more sales, be aggressive when setting them up. Below, we will show you one of the best ways to find exact match keywords to use in your advertising campaigns.
Amazon Sponsored Ads Strategy: Using Advertising Reports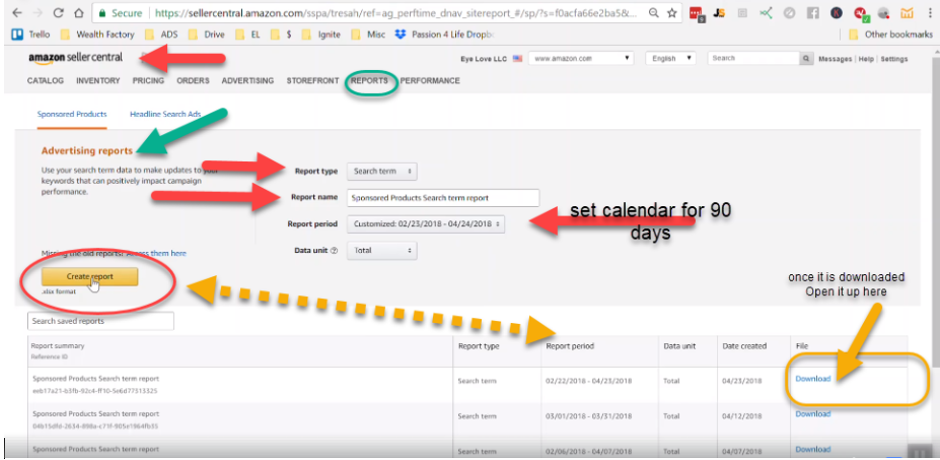 Whether or not you know, Amazon will actually help you to find exact match keywords. Once you have some advertising campaigns under your belt, you are ready to start using Amazon's search term reports to see if you have already inadvertently used effect exact match keywords.
What are Advertising Reports?
Advertising (or Search Term) reports are included with your Seller Central account, and in this case, can be used to your advantage. Each time you run a campaign, Amazon tracks each of your sales. Specifically, it will even tell you if the term the customer used to find your product was derived from the exact same keyword or not. Of course, advertising reports are also used to go through your data and help you to adjust your Amazon CPC strategy.
Why and When Should You Use Advertising Reports?
Everyone who is serious about using Amazon as the main platform to sell their products and using Amazon Sponsored Ads to help boost the visibility of their products should use the Advertising Reports. Additionally, anybody who simply is curious about their advertisement campaign results will want to use this feature.
To open up your reports, log onto your Seller Central account, click on Reports, and then fill in the form to generate the report that is relevant to your need. As you will see, there is a ton of information to deal with. As a result, it's important to do some routine cleaning with your data so you can save and easily navigate through the data in the future.
Cleaning Up your PPC Campaigns
About once a month, it's important for you to look through your data. However, it can be a little overwhelming to deal with all the information that Amazon provides. A great Amazon CPC strategy is to spend some time deleting irrelevant information.
When you look through your data, delete keywords which didn't convert into a sale, regardless of what type of keyword it is. Then, delete information such as product ASINs, the campaign titles, and any other columns which you simply do not need to reference and study in the future.
Following Two Doctor's Paths to Profitability: Summary
In short, what the doctors recommend is to automate your PPC campaigns. As you work each campaign targeting strategy and eventually find effective exact match keywords, you can easily automate your PPC campaigns by using AdBadger. If you want some more individual training straight from the source of this strategy, you can try to sign up for coaching sessions. However, it's worth noting that they only do this for certain individuals. Regardless, if you follow the steps above you can use essentially all of the tools and methods that you would pick up in one of their classes.