Amazon Ads | Understanding The Advertising System That Drives Sales On Amazon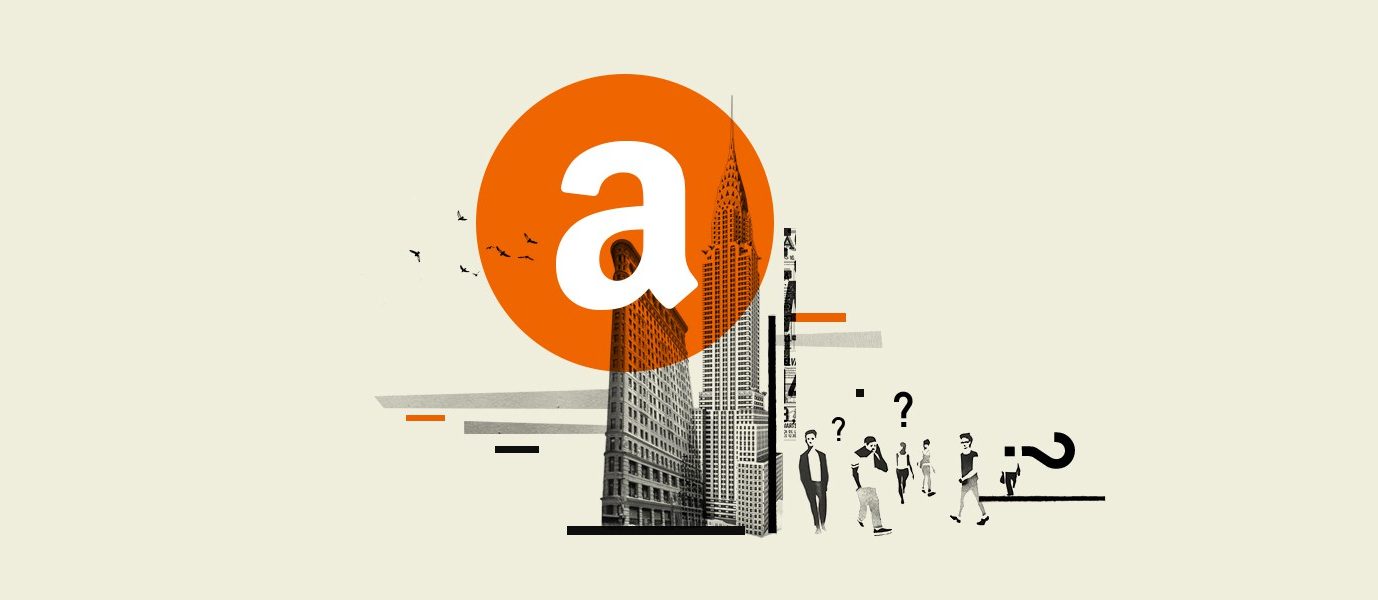 Ever considered Amazon Ads for your business? In the world of marketing and advertising, the internet holds innumerable opportunities. While there are free options, others require a sizeable budget. The power of content marketing, especially to advertisers, cannot be overstated. Yet, there are situations when the free alternatives are not sufficient.
Amazon is currently the world's largest marketplace with millions of users all over the world. Studies have shown that the average shopper begins their journey on Amazon. If you are a vendor with a goods trading business, you will soon discover that advertisements enable you to meet your sales target in a more efficient manner, and quickly too. Of all the available advertisement chances and channels on the internet today, one of the most underrated opportunities is Amazon ads.
You may think it is weird, but it's a fact. If you are already a seller on Amazon, their marketing services give you better opportunities for brand awareness and enable you to attract more customers.


How Does Amazon Advertising Work?
Instead of working on how you can make sales on the Amazon marketplace, a better option would be learning how to make the process seamless. What this means is that you should be focusing on efficiency instead of just learning the basic rules and guidelines of using the marketplace and expecting some kind of magic to happen.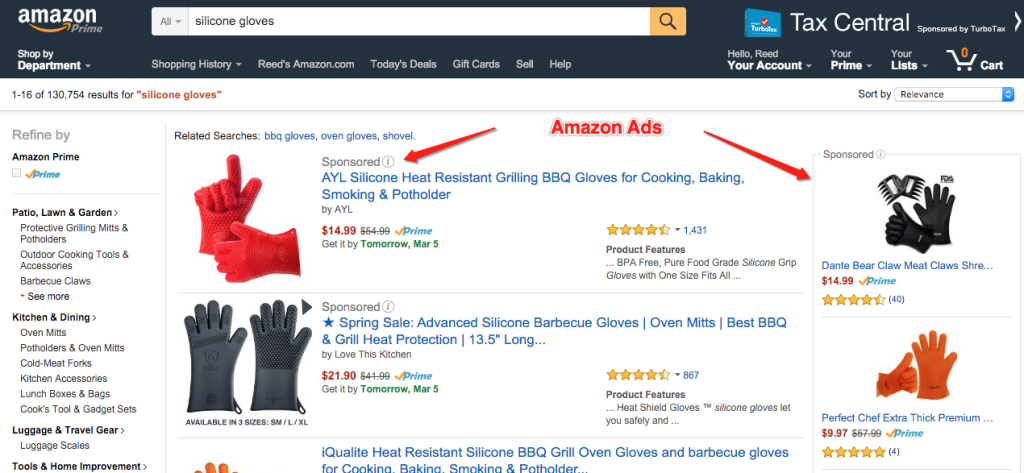 There is always a cause and effect, which means you can expect results without effort. Establishing your online store will not suffice; you have to brainstorm on your marketing strategy and this is where you start using the power of Amazon ads.
Amazon Search ads are somewhat similar to Google Search Ads, meaning when you input a search query, the first results you get are sponsored products. These products belong to vendors who have paid to make their products appear above every other product. It's like walking into a store to get an energy drink and you choose the can sitting on top of the first shelf you pass.
Related: Amazon Sponsored Product Software
Amazon ads work on the same principles. The ads follow the basic belief that consistent exposure can yield more brand patronage and as a result, increase profit significantly. Therefore, sellers who desire more visibility and sales for their product and brand bid on particular keywords and pay for better ranking and appearance on Amazon Search Result Pages.
There are multiple options on Amazon ads to choose for advertisement – sponsored products, product display ads, and headline search ads. Headline ads are more popular because they offer products more visibility than other advertisement options on the platform.


How Does Amazon Show Its Ads?
Keywords: Like many ad providers, Amazon shows ads based on the queries people search for.
Related Products: Amazon uses product purchases to determine what other products you would be interested in. There are products that complement each other that are usually searched and bought together. Such ads are shown as "people also buy" or on "related products" to let the customer know what they could also buy.
Shopping History: Amazon gets accurate information on their customers and determines what ads to show based on the products they bought in the past and product searches. As they continue to use Amazon for purchases, the profile gets even more accurate. Over time, Amazon will be able to predict what kind of products the customer will be interested in.
Search Intent: The belief is that people have something in mind when they search, regardless of the search query they use. Amazon tries to predict what a customer is implying with their query to provide them with the best product match.
Do Amazon Ads really work?
The bigger question is about your primary goals and how much you plan to utilize the Amazon marketplace for your business. With a well-organized Amazon marketing strategy, your business may perform well in sales, regardless of how effective your main website performs outside Amazon. The ads platform gives you the tools you need to be able to drive more customers to your products and increase profit.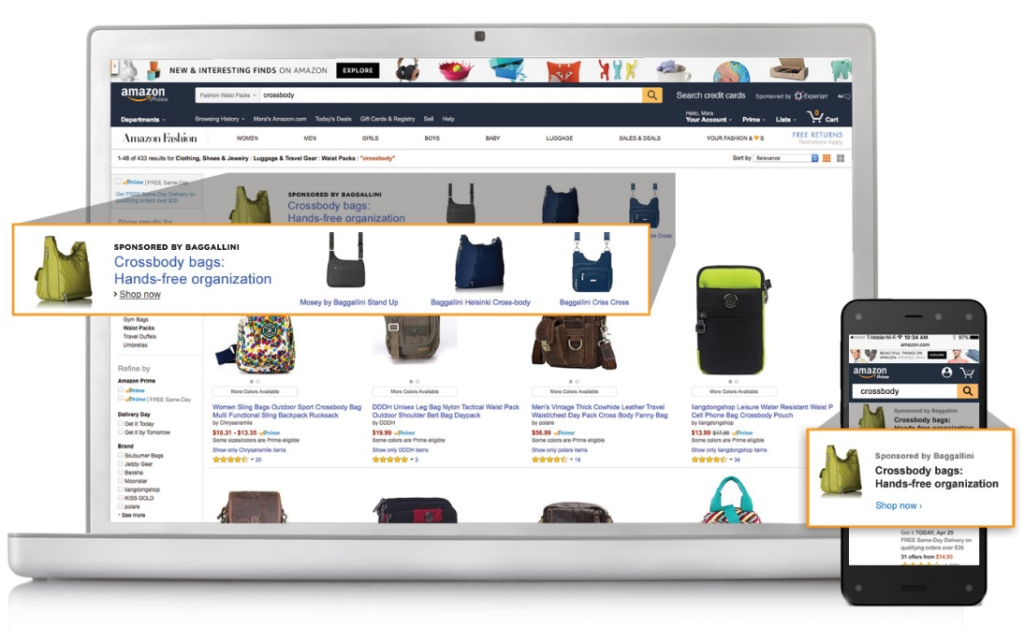 When starting out with the advertising platform on Amazon, you can choose one of your products and set up a little advertising campaign for it. This is a good way to limit your spending while you determine the value of an ad.
One other major reason you should consider advertising on Amazon is that paying for ads increases your rank remarkably on the platform over time. Organic ranking continues to improve for the keywords you use in your Amazon PPC ads. This indicates that shoppers will easily find you when searching for generic products without necessarily focusing on a particular brand.
Related: Amazon Sponsored Products Management
In order to test Amazon as an advertising platform, I suggest you pick one of your products and create a small advertising campaign for it. This way, you can set a budget while still evaluating tangible results.


What is the cost of advertising on Amazon?
Amazon ads are pay-per-click, meaning you don't have to pay for the ad unless shoppers click on it. The average cost of an Amazon sponsored product ad is about $0.35. This indicates you don't need a heavy budget to use Amazon ads. With a small budget and a good strategy, you can still get remarkable results.
Since the people who begin their product search on Amazon are usually ready to make a purchase, every click on your ad may yield a new customer. This does not mean that you will get sales from your ads, but Amazon offers something you won't get from other advertising platforms – customers that have the intent to make a purchase. They are not surfing the internet or searching randomly for stuff on Google. They are in the marketplace for a purchase – either now or later.
Advantages of Using Amazon Ads
Amazon has implemented complex data management and a risk-free pricing plan in its marketing services to ensure you get premium value from executing your marketing strategy with Amazon ads.
Amazon ads may be using a favorable pricing system, but that is not close to the tools available to sellers from tracking return on investment. Amazon ads platform has integrated analytics that will help you evaluate your expenses and results and determine how much your daily budget will be. There are also insights to help make your ads more successful.
Equal prospect for vendors
Amazon uses the rate of sales to determine how to rank a product in search result pages. This is the typical way but puts new sellers at a disadvantage since their products may never get to the top. Amazon ads help to remove that hurdle at a price.
As a new seller on Amazon, you can enjoy the visibility of veteran sellers through the available methods of advertisement. With PPC pricing, you don't even need to spend much to achieve results.
Minimal risk, no shortcuts
Don't be deceived by individuals or agencies who guarantee mouth-watering sales with shortcuts or magic. There is no shortcut to Amazon ads – only the correct way of doing things. The pricing plan makes the risk minimal, which mean you won't suffer losses too great if the ads fail. The advice is to try the ads with a small budget and work your way up.


In addition, Amazon ads, like every other ads platform requires strategy, expertise, and evaluation, not shortcuts to achieve results.
Results are not always guaranteed in advertising, but the pricing plan (PPC) that Amazon uses helps make the process more reassuring. In contrast to other ads platform that charge a certain rate for impressions, regardless of the result you get from the ad, Amazon ads give you a better deal.
Amazon marketing services and other systems using pay-per-click make your ad budget more effective since you only have to pay for results. Interstate billboards and other conventional media can't give you that.
The Shortcomings of Amazon Marketing Services
If the product you are trying to promote is deemed too low to generate significant profit for Amazon, you won't be able to drive traffic to them. Although there is no standard price limit, the lower the product price, the harder it'll be to meet Amazon's requirement.
There is a disparity on Amazon ads regarding product segmentation. If you decide to run an ad for a product, and another product you have sells better, it will affect the campaign metrics of the promoted product. This can lead to disparity when evaluating the viability of the campaign and optimizing the ad.
The outlook or design of Amazon Ads is somewhat outdated. The ads could be designed to look better and more appealing.


Getting Started with Amazon Ads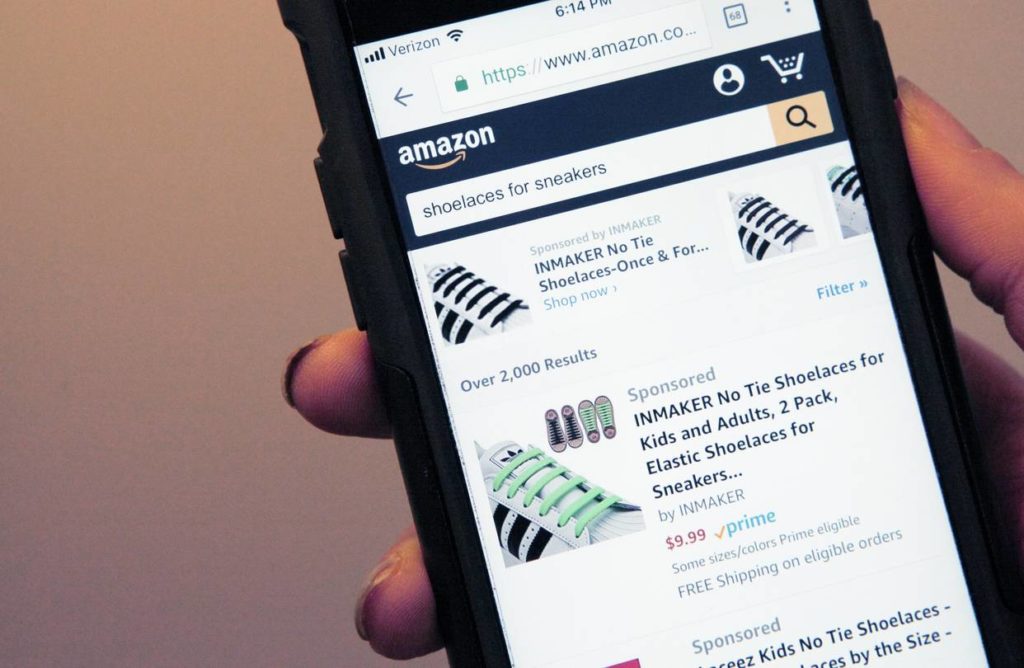 To use Amazon ads, you have to be a vendor, an agent or own a Kindle Direct Publishing account. If you are new to the Amazon Marketing platform, you can create a new account immediately. After setting up your account, you can then log in to set up your first ad campaign on Amazon.
The first step is to choose the type of ad you want to run. As mentioned earlier, you can choose between Headline Search Ads, Product Display Ads, or Sponsored Product Ads. If you have the budget, you can run multiple ads at once.
The second step is to decide your budget. If you are just starting out, begin with a small budget on a single product. With that, you will be able to acquaint yourself with the Amazon ad system and how to improve your strategy.
Choose your targeting method
You have two primary options – manual targeting and automatic targeting.
What are the advertising options available?
There are three available advertisement options on Amazon Marketing Services:
Product display ads
Sponsored product ads
Headline Ads
Product Display Ads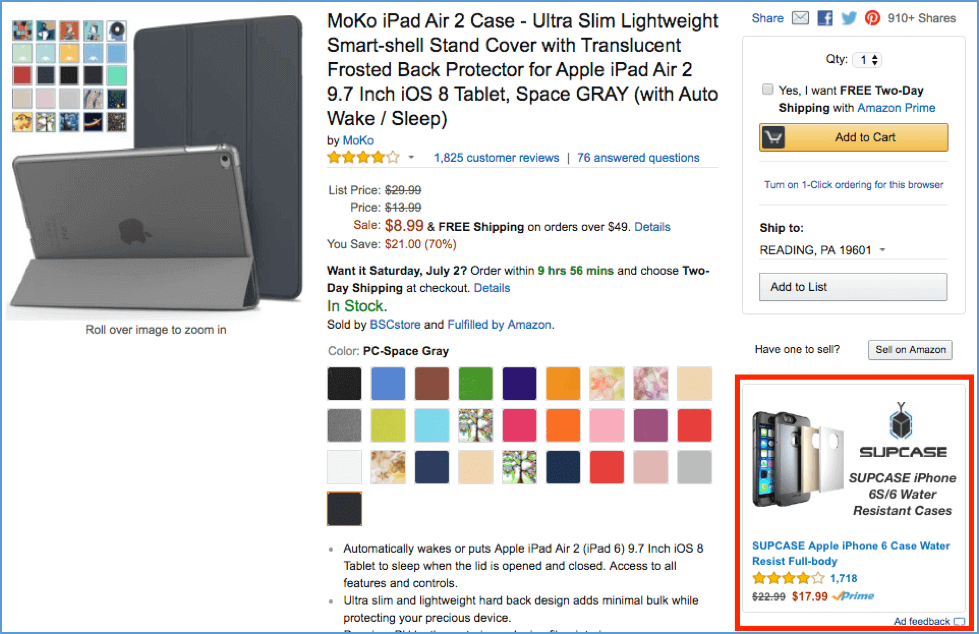 This option is an efficient way to boost visibility for selected products by redirecting to the product's landing page. With product display ads, you can go head-to-head with other vendor's products who target similar interest groups, products, or relevant categories.
Product display ads are shown across many places, including:
Customer Review Pages
Search Result Pages
Amazon Marketing Emails
Product Information Pages on Desktop and Mobile
Promoted Products Listing Pages
Product display ads are different from identical items such as products listed under "frequently bought together." Amazon includes a star rating and a notification of eligibility for prime.


Creating Product Display Ads
All the advertisement options on Amazon have different strategies to help ensure a successful campaign. If you are just starting out, try experimenting with different strategies to find out the best fit for your product.
The first process would be setting up a campaign for a specific product (ASIN) and allowing it to meet your ACoS (Average cost of sale) before making any modification. When setting up your product display ad, consider choosing one product and building a campaign targeting its competitors. With time, you can make additional campaigns based on complementary products. What this means is that if you have chargers on your product list, you can set up a product display ad targeting the electrical products it works for.
The rule of the thumb is to choose Product display ads for products you can sell easily, new additions to your stock, or products you want to clear from your inventory. A good strategy is putting up your best selling product (with images and information) to match your competitor's products, highlighting the strong points of your product.
How Targeting Works on Product Display Ads
Product display ads are delivered to online shoppers based on three criteria:
Product-Based Targeting
This targets a particular set of customers. Product-based targeting deals with selected products and therefore convert better but have a more expensive cost per click. Amazon ads platform allows you to choose the products for promotion and the target products. The target products can be related, complementary, or competitor's products.
Category based Targeting
This was recently introduced to product display ads. It targets your audience based on the category of products they are interested in.
Interest-Based Targeting
Interest-based targeting allows you to attract buyers by appealing to their interests. With this option, you can decide on multiple ASINs or related products and where you want visibility. This option doesn't convert like the others because you are targeting a wide audience. Your best bet is to bid cheaply on this.
After choosing your targeting options, you can now name your campaign and decide how much you want to spend on the ad and how long. You also need to set the headline copy, the brand name, and your logo to the ad. The least cost per click available is $.02, and your minimum daily budget is $1. If you want to get a good overview of your ad's performance, the best bet is to let the ad run for about a month.
Sponsored Product Ads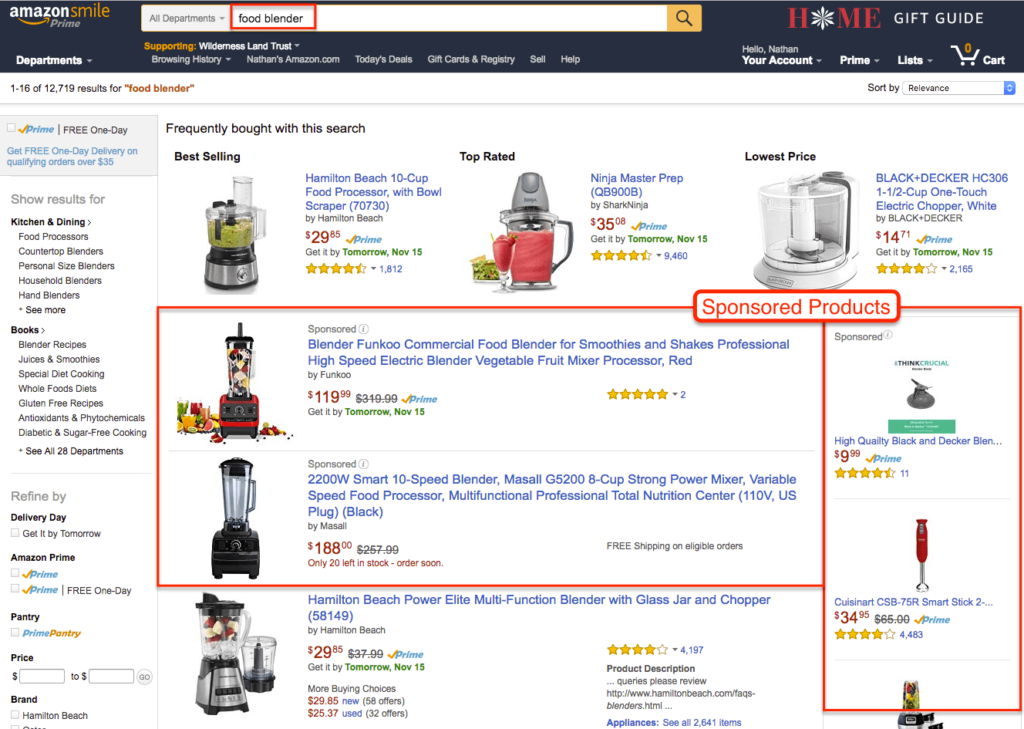 Web retailer conducted a survey a while ago on Amazon ads and discovered that out of the 67 percent of sellers using promotions on Amazon, 74 percent of them spend money on Amazon Sponsored Products. Needless to say, it is more popular among sellers than all the other advertisement options on AMS.
Related: Amazon Sponsored Products
Sponsored Product Ad is an efficient tool you can use as a vendor to drive sales and profits for your online store. The aim of Amazon is to make sure that every shopper on the platform has the most precise informative and product details when making product searches. Every seller on Amazon wants to appear on search result pages, which is why they attempt to boost their product's discoverability and try to convert any shopper that visits their product detail page to customers.
Driving shoppers to a product page (visibility) and turning those shoppers to customers when they land on the page (viability) are two important elements in any seller's campaign strategy. Ultimately, this decides how profitable a business will be on Amazon.


Where do sponsored products appear?
Mobile and Desktop Browser
Product Detail Pages
Search Result Pages
Right Column on Landing Pages
Are sponsored product ads really worth it?
Amazon Sponsored Product Ads give visibility to products on the right column and bottom of search result pages using preset search keywords and relevance. This ad is a powerful instrument for increasing brand and product visibility on Amazon Marketplace.
The following are possible ways to utilize Sponsored Products:
Boost product visibility
Improve traffic to buy box
Positive attention to buy box
Display latest additions
Help new products without sales record gain discoverability
Drive traffic to products with low engagement
Display selected products
Drive sales during certain seasons and clearance
Campaign Options Available on Sponsored Product Ads
With Sponsored Products, you can choose between manual and automatic campaigns.
This option allows you to choose who will see your ads and when they will be seen. You can do this by selecting your preferred search keywords for which your ads will be visible. The ads then show based on the correlation of the shopper's search keywords to the seller's chosen keywords.
With this option, you do not have to worry about setting the keywords. Amazon automatically uses keywords matching your product details or info to match all correlating users' search queries. This means the ads are shown automatically if the search query is related to your product. The automatic campaign option became available to sellers in 2016. Prior to that, automated campaigns were only available to third-party sellers.
The automatic campaign is the better option for sellers who are just starting out on the Amazon marketplace. It typically generates more traffic and ultimately boosts discoverability and sales for products. Since the ads appear based on their relevance to search queries, users are mostly going to be interested in the ads. After trying out automatic campaigns, you can then use the performance data to launch an active and accurate manual campaign.


Boosting ROI with Sponsored Product Ads
Every advertising solution provided by Amazon ads can help generate a substantial profit, but Sponsored Product ads give the best impact because they are everywhere. Consider a case of a power tool manufacturer who managed to boost product sales, brand visibility, and brand awareness in their first attempt.
First, their biggest challenge was meeting their third quarter ROI goals without any advertisement strategy. The first step was to decide what strategy to use and their advertisement budget. The next step was to create five new sponsored products ads in addition to one headline search ad and a product display ad (targeting the competition). They understood they could achieve more results with Sponsored Products, so they allocated a higher budget to it. In four months, they recorded a performance boost of 43 percent, mostly from the results of the sponsored products campaign.
Suggestions for Using Sponsored Products
The keyword is the most important tool for any successful ad campaign, which is why you must get it right. Successfully bidding on the most accurate and relevant keywords for your product is important for improving your rank on search result pages and boosting sales.
You need to be familiar with the words that shoppers use when searching for your product. An excellent tool for this purpose is the search term report integrated on the sponsored product.
There are many resourceful third-party Amazon keyword tools, but the information they provide is not comprehensive enough to help you make an educated guess when bidding. These tools should only be used as a supplement for the keywords provided by search report tools. One other excuse for using Amazon's tool over the others is that the keyword results are generated based on what shoppers are actually using on the marketplace.
Decide your budget and draw up a campaign
People are mostly skeptical when it comes to spending on Amazon ads because they are not sure what to expect.
If you are a seller, you should commence your marketing strategy with Automatic Campaigns using low bids. As the ad runs, you will gain insights into the performance of your keywords. These results will help you if you decide to try a manual campaign since you will already have the best converting keywords. Another advantage of this is the guarantee that your marketing expenses will give you the best ROI.
While you run your ads, it is essential that you keep track of the performance of each product in your campaign. If you discover some aspects of your ads are not generating enough results, you can cut the budget and reinvest in better performing products.


If you have a large budget, you can run multiple campaigns using different strategies at once. After the money runs out, you can then evaluate the performance of the campaigns to determine the best option for your business. If the ads perform well, increase the budget. Cut the budgets of underperforming ads or make changes to the ads to see if that helps.
In addition, you can set your daily budget when setting up your campaign or choose a budget that will cover the duration of the campaign. If you are skeptical about the entire process, you can cap your daily ad spend at $50 or $100. This means that your ad spend will not go beyond that, regardless of your budget.
Our recommendation is that you set your budgets per campaign as opposed to setting a general budget. If you have a limited budget for ads, you will be able to keep your spending low, and still get good results.
When running your ads, you should only make decisions based on the information available, especially if you are worried about your ad spend. A good move would be to let your budget run for about a week or two without making adjustments. This will give you an overview of the ACoS of the products when using that particular budget and bid range.
Headline Ads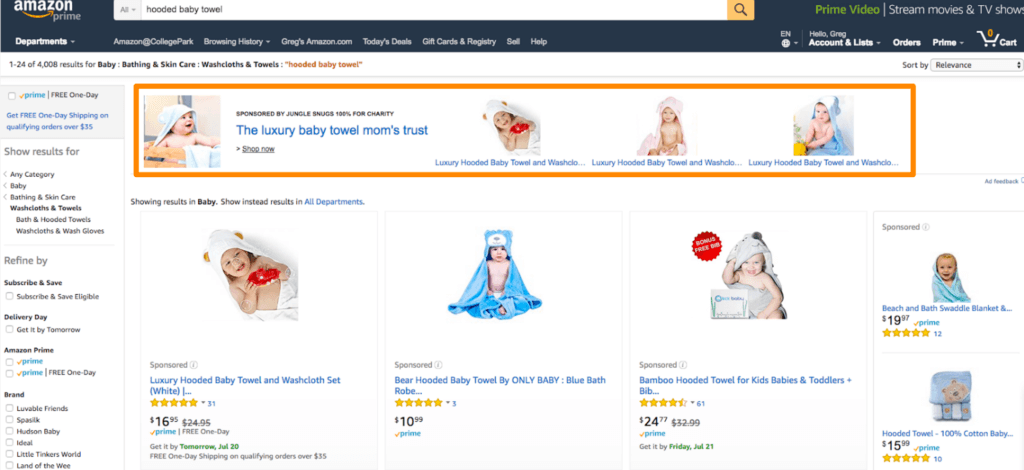 Amazon Headline Search Ads are shown prominently above the search results. Headline Search Ads are common with vendors because it gives their products more visibility than other advertisement options on Amazon Marketing Services. Headlines appear first when shoppers search for a particular product.
Related: Amazon Headline Search Ads
Because of the placement, you can get better click-through rates, more visibility, and brand awareness. This is perhaps the reason every seller on Amazon wants their best product on headline search ads, hoping to increase sales and profit.
How Headline Search Ads Work
Headline search ads provide you with three choices, all of which represent places be you'd want users who click your ads to be redirected to.
Custom URL: This would contain three of your top products
Brand Page: This page can be a collection of all your product listing.
Best Selling Product: This page contains your best sellers – usually products that customers would be interested in.
Headline ads are simple. Amazon has a search bar to help online shoppers find whatever products they're interested in. When they type in search queries, Amazon automatically generates the most relevant products based on the keywords in the query. Above the displayed search results are headline search ads, which are also products associated with the search query.
Headline Search Ads typically contain three ASINs or products. ASINs are simply the product identifiers that Amazon use for categories. Every product on Amazon has a unique AINS for indexing. This makes product discoverability and inventory tracking easy. This unique but constant identifier used by Amazon helps keep them on top of their game, considering the millions of products currently listed on the marketplace.
Headline ads have three products listed. When shoppers select any of the listed products, they will be taken to another product page (containing descriptions and images) designed to help shoppers make an informed purchasing decision.
On the other hand, if the user clicks on the headline logo or copy, Amazon will redirect them to the product you choose while setting up your ad and not the products on the ad.
Visual cues like appealing images and copy are used in headline ads to appeal to online shoppers and drive them to click and buy the product.


How effective are Headline Search Ads?
It is true that ads are only good if they make buyers take a decision. Normally, running ads should be enough to generate traffic to your product page, but it isn't enough. Conversion is important and no other option does it better than headline search ads. The best explanation for this is that headline ads are at the top of the sales funnel tier.
The buyer's journey starts with the intent to buy, and then moves to actually searching for the product. When most customers search, they are still unsure of their product choices, which means they are open to a variety of good offers available to them. Headline ads appear first after the shopper searches, and that is usually where the journey ends.
Related: How to Advertise on Amazon
During your campaign set up, it is essential that you properly set up your keywords and optimize your ads so that it would be enough for any customer searching for products related to yours without having to consider other options.
What is the process involved?
Yes, you may be thinking about the chances of your ads appearing first when there are thousands of other Amazon vendors who are also trying to achieve the same feat. This is where keyword bids come in.
To get visibility on the first page of search results, you must first win a bidding war. Setting up your ads and optimizing them is not enough to get you a place in front of potential customers looking to buy your product. You have to bid on a keyword and beat other vendors who are trying to use the same keywords to push their ads. Unless your bid on a particular set of keywords trumps that of other vendors, your ad won't be displayed on the front page.
If your bid isn't high enough, you will still gain visibility, but on other pages – page 2 till infinity. This may not generate the best results for your products because most shoppers end their product search on the first page. The best option is to optimize your ads and work on your strategy if you want to get significant results.


Essential Tips for Generating Optimized Ads on Amazon
There really aren't many available resources on Amazon to enable sellers to optimize their headline Ads. Currently, Amazon has no comprehensive method for supplying the keywords utilized for headlines. This, therefore, makes it hard to ascertain what keywords site guests are rummaging, and what keywords to utilize. And this could result in wasting cash on keywords that do not bring good returns.
Related: Get Extra Support from Adbadger
Hence, it is important to expend your energy on making the best use of other features to make certain that your headline ad wins the offer, gets incessant click-ins, and augments sales of your products.
Research Traffic Volume
Knowing the popularity of each keyword you use is very important. Note that there is an assigned volume of traffic for every keyword utilized in Amazon headline ads. The volume is the calculation of how much traffic each keyword gets. Volumes are categorized into low, medium, and high categories, and are determined by the number of impressions they are expected to get.
These affect the ASINs in your campaign significantly. Though your priority should be getting as many high-traffic keywords as possible in your ads, however, make sure you use relevant keywords too.
One awesome tool for researching Amazon keywords is Sonar. It allows you to search and discover keyword traffic volume information. Plus, it helps you effectively use keywords in your headline ad campaign. This tool comes with a free Chrome extension.
An excellent tool for Amazon keyword research is Sonar. Sonar gives you traffic volume information of selected keywords and how you can utilize the keywords for your headline ad campaign. The tool has a free Chrome extension. To utilize this tool, simply input the desired keyword and the tool will supply results like traffic volume of the keywords, frequently used terms, and related products that can show you what your competitors are engaged in.


Related: Amazon Marketing Services 101
Some other tools you can check out are Google's Keyword Tool and Keyword Planner. Even though it was originally designed for AdWords campaigns, the keyword tool can prove an excellent source for getting info on traffic volume and feasible bidding procedures on common keywords related to your products.
If you want users to click your headlines more often, it is important that you shift your focus to keywords that are generating the highest attention. It will also help if you want to ultimately drive sales for your products.
Despite the fact that there isn't much data to work with in respect to keyword utilization in headline ads, this isn't an excuse not to observe carefully the keywords you are utilizing for your headline ads. Instead, you need to put in more effort and research to guarantee your ads are obvious when individuals utilize Amazon.
Intriguingly, there are a significant number of choices with regards to keywords you can utilize in your headline ad duplicate that can aid and inspire buyers to consider trying you out.
Competitor Branded Keywords
If possible, identify your competitors in your field, and adopt their brand keywords. Consequently, whenever a prospective buyer searches for their products, you will also pop up in the search results. Who knows, they might be contemplating trying out a new brand. Conversion rates will greatly depend on how much value you offer the shopper though.
Complementary Keywords
There are situations where two different products are used side by side. For instance, if you sell an electronic gadget that requires a charger, then try adding the keyword of this complimentary item. Thus, you have initiated a demand for two products at the same time, and you can sell both at once.
These are the precise keywords that your brand and product names carry. They help to boost the visibility of your brand and help your products to appear in appropriate search results. Being successful goes way beyond getting a good product sold, it also entails providing an excellent customer experience.
Out of Category or Unrelated Keywords
Though not totally related to your products, these are keywords that may be in the trends or are potent enough to push your ad into the headlines and stimulate people to visit your product page.
Here are some tips for adequate use of Keywords:
Amazon recommends using 30-40 keywords, with a maximum of 1-2 keywords per phrase
Utilize the search volume report that is made available by Amazon
Take advantage of the search volume report provided by Amazon. Nonetheless, we strongly advise you to research what your customers are actually searching for.
Make use of hyphens when combining keywords
Remove unnecessary or space-filling words because they eat into the available space for significant words.
No need to worry about singular and plural words. Whichever way, both always come up in search results.
Putting words in capitals does not make any difference
Make sure to input part numbers where necessary.
More investment should be put on keywords with high turnarounds, so they can appear more in search results
Pack off all keywords that yield zero turnarounds over a 60-day period
Bear in mind that your principal aim for choosing to use the right keywords is to make sure it is relevant to your target market and will aid sales. Relevance is a crucial factor in attracting sales. Sometimes using your brand as part of your keyword can help too, especially if you have built popularity and a customer base on or off Amazon.


Develop Good Ad Copy
Words are powerful. Your choice of words for your ads can either drive sales for your product or turn people off. Before launching your ads, you must create powerful ad copy that will attract customers to your products. Here are a few tips for creating strong copy:
Use adjectives such as "new" or "exclusive"
Don't use unprovable words like "number 1" or "Best Seller"
Use your target keywords in the ad copy
Use words that trigger an action, like "buy now"
When writing your ad copy, create a feeling of urgency that pushes customers to make a decision.
If possible, highlight why they should choose your product
When starting out, work with specific terms before going for generic terms, especially before getting results. After seeing the effect of the ad, you can use general terms describing your business. Launching your campaign with specific keywords will give you a good footing and higher conversions without necessarily wasting money on experiments.
Set a Budget
Amazon Ads platform charges by the click, which means you should have a predetermined budget before you set up your ad so that you won't incur losses in the long run or go overboard in ad spending. Headline search ads are costlier than other ads because they are way more competitive –everyone wants to appear at the top of the funnel and maximize sales. Yes, headline ads are that effective.
Related: Simplifying Your Amazon Marketing Strategy
It is essential that you have a good marketing strategy before commencing your keyword bids. Make a list of the best and most relevant keywords for your brand and products that will generate the highest click-through rates and consequently increase your sales. After sorting that out, you can then start bidding.
When bidding, only choose the best and relevant keywords. Be wary of how much you spend here because it is easy to get lost in a bidding war against other sellers. High converting keywords are generally competitive, and the bidding war could get costly. Your budget should allow your best bet to balance costly keywords with less expensive keywords. Just make sure that all the keywords are relevant to your products and good for conversion.
The basic rule when working with a restricted budget (for high conversion) is to be calculative with your decisions. Run your ads when you have new additions to your stock, during seasonal sales like Black Friday, or are trying to meet a specific sales target. This strategy will ensure you only spend on keywords that matter for sales without expending your entire ad budget on an unprofitable venture.
Consistency Matters
If you intend to run ads, design your strategy in a way that makes it possible for the ads to run over time. Your budget plays a big role here. Staying consistent with your ads increases your brand awareness and ultimately improves your rank in product listings. As people consistently see your ads, shoppers will build a sense of trust for your brand. Another benefit of running consistent ads is that your customers will choose your products effortlessly because they are acquainted with your store.
Use Reviews to Your Advantage
In some cases, having a great ad and telling people your product is good is not enough. Sometimes the customers want to experience that for themselves mostly by reading reviews and opinions about your brand and products. PowerReviews recently conducted a survey showing that 55% of shoppers that were interviewed use Amazon and other marketplaces instead of physical stores because they can easily read what others are saying about the product before making a purchase. You should encourage buyers to drop a review on your page to get an increase in conversions.
Reviews belong to a category called social proofs, which is a way of verifying the credibility of a brand or product. Most people read online reviews to know if the product works as described, to ensure they are getting the best value for their money, or to simply know what to expect if they end up buying the product.
More studies have shown that reviews are major influencers to a customer's buying decision. A recent study revealed that 85% of women use reviews to make choices when making online purchases. Also, 52% of Americans read reviews from four other customers before an expensive spend. Positive product reviews are therefore essential to your product page.
When setting up your ad, you can decide to show your product rating beneath the ASINs. If you do that, ensure you have a minimum of four stars. Most shoppers are generally skeptical of sellers who have below four stars. The bottom line is that people want assurance that they are not wasting their money on a low-quality product.
Perform Split Testing
Performing spilt testing on your ads is important for discovering the flaws of your ad, where you're getting the best performance, and what your customers are interested in. After testing your ads, you will probably find an ad that is not performing as expected. The best way to handle such ads is to check for adjustments that you can make that will make a difference before cutting the ad completely.
Here are points you can modify for split testing:
The landing page
The product and feature images
The headline copy
Order, mix, and number of products
Customer experience
Split testing your ads occasionally gives you the information you need to make necessary improvements to your ads. If you are split testing, adjust the components on your ad one at a time to determine if they have any effect on performance. Modifying too many elements at a time will make it difficult to know what change made the difference.
Before evaluating the data, run the test for up to two weeks. Your campaigns should stay long enough to generate results before you can determine whether your changes have made any difference or not.
In addition, if you want your test to be more comprehensive and thorough, and you have a large budget, you can set up multiple campaigns to run simultaneously using different modifications. You can then check which modification performed the highest after two weeks.


Metrics Help
Although there aren't many metrics available on Amazon ads, there are a few that can help you make informed decisions on your marketing campaigns and avoid running into losses with unprofitable ads.
The search term report on seller's central has data reports for cost per click, impressions, average spend, and generated sales. The following metrics could help.
Ad clicks: If no one is clicking on your ads after seeing them, there is an issue with your ad setup. The reason your ads are not getting clicks may be any of the following:
Unappealing images
Incorrect or mismatched keywords
Unpopular products
Unattractive products
Expenses vs. Revenue
Make an evaluation of the amount spent on headline ads and the results generated over time. Your ACoS (advertising cost of sale) is important to your success with Amazon Ads. ACoS is the data used for checking the profitability of your ads. The lower the value of your ACoS, the better the performance of your ads. The value of your ACoS will help you decide if you need to keep running the ad or cut your budget.
When calculating your ACoS, you need to consider your entire cost structure, as opposed to comparing your expenses and revenue alone. The calculation is done by dividing your ad spend by the price of your products, ignoring other overhead costs like storage, shipping, salaries, and levies. With this, you will get the correct information on the performance of your ad campaign.
Product Details Page Views
If you are getting many clicks on your ads but sales are not improving, the issue may be with your landing pages. Even if your ad is appealing, it is useless if users don't end up making a purchase. Check for missing info or details that need to be updated on product landing pages.
You may also consider including product reviews, cutting shipping costs, or uploading better images to make improve the page. Your page must also be simple and straightforward. Your customers must have all the details necessary to make an order, including choosing product preferences. If the process is proving difficult, buyers will leave your page and buy from another vendor. The fact is that ad visibility is not good enough, making sales is key.
Ensure you stay up to date with the performance of your Amazon ads and make modifications whenever necessary. This will help you stay on top of your game amidst other sellers in the marketplace.
Amazon Ads: Conclusion
Amazon is an excellent platform for marketing your products. You can leverage its popularity as the world biggest marketplace to reach potential customers. Yet, your success on Amazon will not happen by magic. It is a combination of effort, consistency, and strategy.
You will not be able to make sales if your Amazon ads are not appearing to the right audiences. In addition, your products will not sell automatically just because you have the best quality or lowest price. What you need is exposure, and that is what you can get with Amazon ads.
Amazon ads will help you sell your products, and in larger quantities too. As you continue with your campaigns, pay close attention to the details and make improvements as you go.