Chapter 10 – Sponsored Brands and Sponsored Display Ads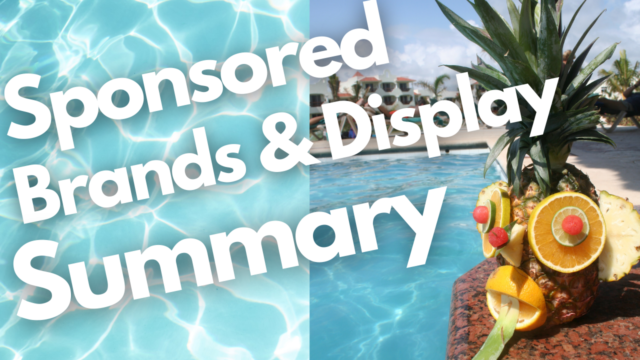 I want to purposefully keep this section short and to the point. Focus on what I have taught you previously with Sponsored Products. Only if you have budget leftover, go after both Sponsored Brands and Sponsored Display Ads.
Sponsored Brands
Sponsored Brands campaigns help customers discover and engage with your brand in prominent search placements, and generate awareness and consideration with customizable ads that link directly to a landing page or a Store.
Best Practices and Tips
Sponsored Brands cost a lot of money – they will have a higher ACoS and are great for branding, customer acquisition, and scaling, but they are not good for new companies.
80/20 Rule applies again – use the top 20% of search terms that are driving 80% of your sales
Read your customer's mind – make one ad per search term and use that search term in the headline of the ad
Make separate campaigns for Broad, Phrase, and Exact – keeping them separate again allows for complete customization of that campaign for that search term.
Ad Formats
Product collection promotes multiple products from a landing page of your choice

This is still our favorite as it still looks like Amazon search.

Store Spotlight drives traffic to your storefront if you have created it. 

Currently NOT recommended as they have led to higher ACoS from our experiments.

Sponsored Brands Video features a single product with an autoplaying video. 

Get these done ASAP
Ideas for SB Video

Simply record footage of your product
Use animated product photos
Make it benefit rich
How to video

Add captions
Sponsored Display Ads
Sponsored Display Ads grow your business by reaching relevant audiences on and off Amazon. Sponsored Display campaigns use auto-generated display creatives that help inspire purchase and have the familiar Amazon look and feel.
Based on the targeting options you select, your ads can run on Amazon desktop and mobile, both on detail pages and across other Amazon pages. Your ads can be configured to reach audiences off Amazon across third- party publishers.
Best Practices
Don't use SD ads until you have mastered and maximized Sponsored Products
Start with a low bid and low budgets
Product Targeting → Use the same ASINs as you mined from the search term reports for product targeting ads
Make individual campaigns on a per product and per ASIN basis
Don't use the category targeting option
Targeting
Audiences – Reach audiences based on shopping actions. DON'T USE UNLESS you have consumables, then turn on the Audiences → Purchases only

Views remarketing – Reach custom audiences who viewed product detail pages matching criteria you choose.

Two choices

Target people who looked at similar products (not great)
Target customers who looked at your product (good)

Low budget ($5-$25/day) and low bid ($0.10-$0.15) recommended

Searches – Shoppers who searched for keywords relevant to your advertised products.

Low budget ($5-$25/day) and low bid ($0.10-$0.15) recommended

Purchases – Shoppers who previously purchased your advertised products.

This is an ad that you should start immediately if you have consumables
Higher budget (ex. $25 – $300) higher bid (ex. $2-5)

Product Targeting – Choose specific products or categories to target your ads.

Use the same ASINs from Chapter 9

Depending on your budget can start with as little as $25 for Daily budget or as much as $100

Bidding: For Defensive SD $3-$10 For Offensive $0.25-$1.00 (Depending on how conservative or aggressive you want to be)
Don't use the category targeting option
Action Items for Chapter 10
Create Sponsored Brand VIDEO Ads ASAP for your best selling search terms.
Create Sponsored Display Product Targeting Ads for the ASINs found in your search term reports and the same ASINs you found from the product targeting ads chapter
Create a Sponsored Display Audiences Purchases campaign for your best selling product and all consumables to test it out