Amazon FBA Sellers Don't Get Shutdown Doing This [BREAKING NEWS]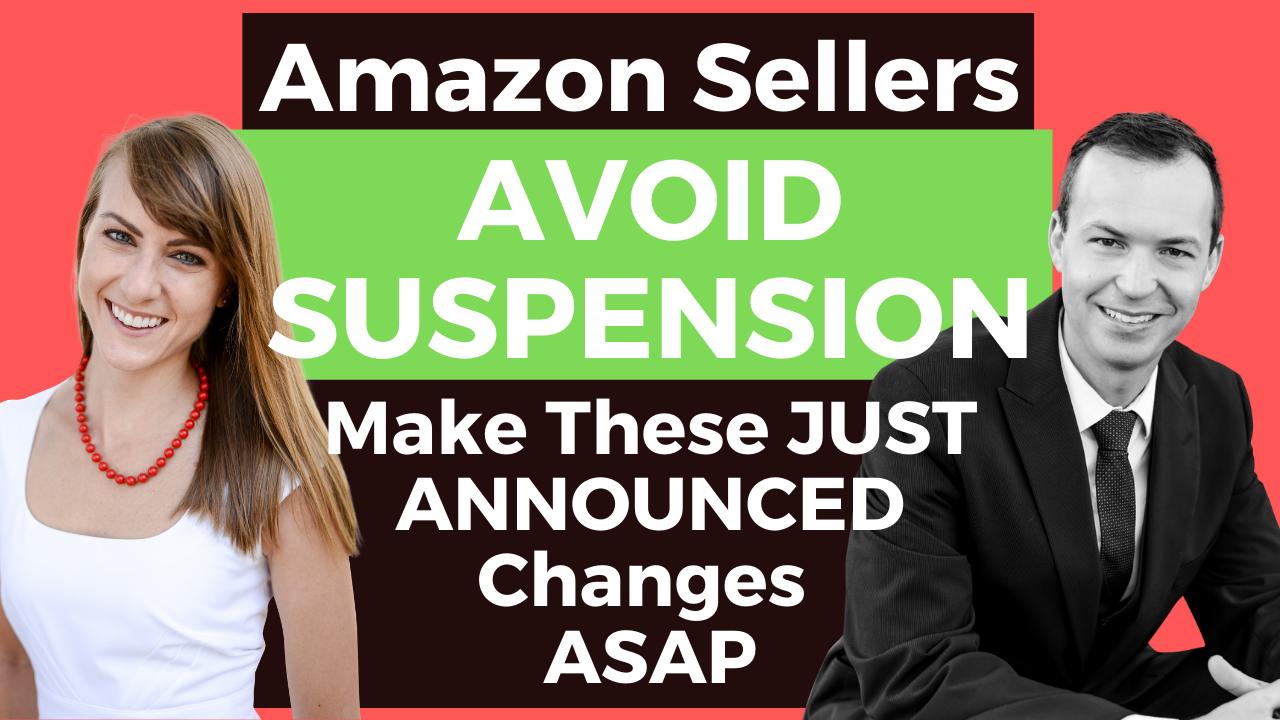 "The only constant in life is change" – Heraclitus
There is nothing further from the truth for an Amazon FBA seller. Amazon is constantly making improvements to their system, which can result in massive changes across their platform that is usually to benefit the buyer and the sellers that play by the rules, which is what we always recommend you do.

If it feels wrong, STOP DOING IT.

Building a business on a solid foundation and not on sand will pay off in the long run. You need to have a great strategy around all parts of business including Amazon PPC, Amazon FBA, website presence, social media presence, and email marketing. Stop relying on short term hacks and tactics, and instead rely on long lasting strategies.

With that being said, Amazon rolled out a rather sizeable update on to their terms of service regarding emailing customers, which might have a significant impact on your account.

If you follow the typical Amazon FBA post-purchase sequence, it went something like this.

Email #1: Thanks and welcome

Email #2: Leave us seller feedback

Email #3: Leave us a review

Amazon says no more bothering their customers (they are theirs not yours by the way), and you may only communicate with them ONE TIME and it has to meet their laundry list of stipulations. 


Let's jump in… (thank you to my attorney, Cynthia Stine, for informing us about this).
13 Rules to Follow When Writing Your Emails in Amazon FBA  
1. Only Send 1 Email
No more junk emails asking them if they received their order or to ask them how they are doing. Make this one email count. We recommend instructing them on how to use the product and that is it!
2. Only 1 Email Per Day
Unless the buyer initiates communication, you cannot message a customer more than once a day.
3. No Links
This is an older rule, but people still don't realize that they cannot include links in the email. This is a fast track ticket to suspension.
4. Unhappy Buyer? Too Bad…
We used to have an email to follow-up with customers that received a refund asking them for their feedback so that we could improve our products. We can no longer do that now. We also would see if we could send a free replacement if something was wrong with the product. NO MORE… 🙁
5. Tame Your Subject Lines
No using attention-getting words in your subject line like "Your Attention Required" or "Important"
6. No PDFs or Attachments
A TON of us used to attach little ebooks, recipe ebooks, and how-to guides in the form of PDFs to email messages to a customer. This cannot and should not be done anymore.
7. Only 2 Pictures Allowed
Only a logo and a picture of the product are allowed in the email to buyers. We used to include a picture of our SeeOO to increase repertoire, but we had to remove this and now only have a picture of the product.
8. No Upsells, Discount Codes, or Coupons Allowed
Our third email used to contain a discount code off their second purchase, but we no longer do this either. We also used to cross sell additional items they might like.
9. Do Not Lead The Witness
Avoid any questions that have a positive tone or invoke emotion in a positive way to the buyer that could be construed as influencing a better review.
10. Never Ask a Buyer To Change Anything
If you get a negative review, remedy the situation, and want the buyer to change something, you have to hope in good faith that they will. You can no longer ask them to.
11. Don't Influence the Buyer
This is an old one as well, but you cannot prompt for a positive review, which includes asking them to contact you if they are not happy or need help. We simply ask one question.

"How are you doing with XYZ product?"
12. No ManyChat or Facebook Ads Going to a Review
ManyChat bot courses are all the rage right now for automating your reviews. Amazon caught on and is shutting these down as well. Avoid asking for reviews through ManyChat or other Facebook Messenger platforms.
13. Can't Pay Influencers to Write Blogs That Link to Amazon
No more paying influencers to send you a link from their blog to your Amazon listing.
Click here to my favorite keyword research tool, Helium 10's Magnet Keyword Research Tool for Free (affiliate link)
What is Allowed?
1. Directions or How To
We now use this to give instructions only on the product they purchased. Our example is below.
2. Logos and Product Images
Only include a logo or product image in the message, as stated above.
3. Warranty Cards
Do not put insert cards asking for 5 stars or you risk suspension. Warranty cards are still allowed though.
Click here for a 14-day FREE trial and check out the Amazon FBA Tool that we use for sending emails to customers.
Amazon FBA Example Email to Buyer (use at your own risk)
Hi there,
Thanks again for purchasing the Heyedrate Lutein and Zeaxanthin!
How does it work?
The retina is important for capturing what you see on a daily basis, and the health of the macula determines our ability to read, recognize faces, drive, watch television, use a computer, and perform any other visual task that requires us to see fine detail. Lutein and Zeaxanthin are powerful carotenoids, which are antioxidants that work to enhance macular pigment. They may help prevent damage to the macula due to aging and overexposure to things such as blue light.
How to Use the Heyedrate Lutein
–Take 1 softgel per day, with or without food
–Softgel may be taken in the morning or evening
I'd like to thank you for buying from Eye Love because, with every purchase you make, we're able to give back to those in need of eye care.
One Love,
Dr. Jenna Zigler
SeeOO at Eye Love
Needs Support In Your Amazon PPC and Amazon FBA Journey?
Have you taken my Amazon PPC Masterclass? Click here to get all the Amazon PPC lessons emailed right to your inbox once per week. This is an actionable lesson every week to take your Amazon PPC to the next level. Each lesson is also below.

Step 1 – Track and Measure Your Results
Step 2 – Research Your Competitors
Step 3 – Simplify Your Amazon Keyword Research
Step 4 – Amazon Listing Optimization
Step 5 – Set Up Your Amazon PPC Campaign
Step 6 – SCALE your campaigns.
Step 7 – Optimizing Keyword Bids for Increased Profitability
Step 8 – 9 Best Amazon PPC Auto Campaigns Hacks and When to Use Auto Campaigns
Step 9 – Product Targeting Ads

If you want support in this Amazon PPC journey, this is where I can help.
How I Can Help Double Your Amazon Sales from Amazon PPC
I've set aside time in the next 48 hours to speak to you personally about how you can apply these ideas to your Amazon business starting TODAY.

Whatever your biggest challenge with Amazon PPC, I've seen it and know how to overcome it.

We will get on the phone for about 45 minutes and we will work with you to craft a step-by-step game plan to hit your business goals, whether that's doubling your Amazon sales, increasing keyword rankings, lowering ACoS, or simply just having more love for what you do every single day.

The cost? Absolutely FREE.

But this is not for everybody…
Who This Is For
You MUST have an incredible brand that you are looking to scale.
You MUST operate your business with integrity and great values.
You MUST be willing to take action to transform your Amazon PPC.
You MUST take accountability for your failures, avoiding excuses for why something can't be done.
You MUST be coachable.
Why I'm Doing This
I do this because I love helping others attain the financial abundance that we have achieved with our business.
Plus, I know that you might want help transforming your business (it's tough going it alone!). If so, we can discuss it and see if it's a good fit for both of us. And if it's not, I will point you in the direction that you need.

If you're willing to:
1. Take Action
2. Be Vulnerable
3. Be Coachable

Then I would love to chat with you…

This is what I love helping people do. This is why I was put here on this Earth… to help people like you grow their Amazon business.

I can show you, step-by-step, how to create efficient, scalable Amazon ads and free yourself from working hours on your ads and second guessing yourself.

All you need to do is book a call here: https://www.growto1million.com

Every day that goes by is more time wasted. Every moment you hesitate is you settling for being less than you were born to be. Let me help you turn your dreams into a reality.

Your future is waiting for you.
Talk soon,
Dr. Travis Zigler