5 Best Strategies for Sponsored Display Ads in Amazon PPC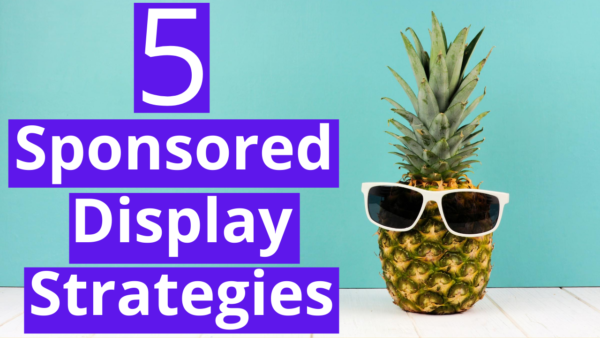 Sponsored Display ads are somewhat new to most sellers in the Amazon world. I say somewhat because some of the features have been available in the Vendor program for years. Amazon used to do this and pay for it themselves, but they are now passing this expense onto the seller. In this article and video, we will be going over four different types of sponsored display ads and the best strategies to use for each one (as well as IF you should use a particular type).

Before we get into the strategies, the first thing to know is what display advertising is. Display advertising is simply putting your product on OTHER websites to target your customer off Amazon. Recently, Amazon has opened their display advertising to also be on their website on other product detail pages. Let's take a look at Amazon's official definition of what Sponsored Display ads are:

"Sponsored Display enables you to reach relevant audiences browsing both on and off Amazon.

Sponsored Display campaigns use auto-generated display creatives that help inspire purchase and have the familiar Amazon look and feel. Based on the targeting options you select, your ads can run on Amazon desktop and mobile, both on detail pages and across other Amazon pages. Your ads can be configured to reach audiences off Amazon across third- party publishers. We use brand safety tools to help deliver your ads to trustworthy placements next to appropriate and relevant content. When shoppers click your ads, they are directed to the product detail page.

Sponsored Display ads are paused when items go out of stock. Once the item is back in stock, the campaign will go back to a running state, as long as this happens within the set campaign flight. There could be a delay of (generally) up to four hours for this to happen.

Sponsored Display is available to Amazon vendors and Amazon sellers who are registered brand owners."

The difference between all the choices of Sponsored Display ads on Amazon are the targeting types. Let's jump into each targeting type and how/when to use them.
How to Use Amazon Sponsored Display Ads
1. Sponsored Display Audience Targeting Purchases
Targeting audiences has three separate choices, which are searches, views, and purchases. We will go over searches and views later, but my favorite is purchases. If you have a consumable product, you MUST be running audience targeting with a purchases objective.

This targeting puts your product in front of one of the hottest markets you can advertise to, which is shoppers who have previously purchased your product. This will show up both on and off Amazon and you bid per 1,000 impressions.

Here is an example of $1.88 per 1,000 (no rhyme or reason behind $1.88) and it will get us 25k-125k impressions across Amazon and other websites.
Here is an example of $10 per 1,000 and it will get us 45k-225k impressions per day.
If your product has a great repeat purchase rate (over 20% is great), then this is pretty much free advertising as it runs at about a 10-20% ACoS, which is a return of $5-10 for every $1 you put into it. This is one ad that we run on ALL consumables.

My recommendation for this is to start around $1 per 1,000 impressions, with a low budget around $25, and watch it weekly.
2. Sponsored Display Product Targeting Ads Inside Amazon
Product Targeting ads used to be called Product Display ads inside of Vendor with one difference. These new product targeting ads show up in more places than the old product display ads. I create three campaigns for these per product, which I will go over later.

Let's first look at the definition from Amazon of Sponsored Display product targeting ads.

"Sponsored Display product targeting helps you build awareness among shoppers considering similar or complementary products and categories with ad placements that appear alongside customer reviews, shopping results pages, or on the far right side of product detail pages. And product targeting ads are enabled with deals and savings badges so shoppers can more easily spot special offers.

Pro tip: The size of your remarketing audience is dependent on product detail page views, so we recommend prioritizing products with the most page views for view campaigns. For new products without many page views, consider using Sponsored Display product targeting to grow page views and increase your total potential remarketing audience before remarketing with Sponsored Display views."

With Sponsored Display product targeting ads, you can choose to target a category (NOT recommended as you will spend a lot) or you can target specific ASINs.

First, you should target all your products with your other products. This is a defensive strategy that prevents others from going on your listing. Bid a little higher for these, like $3-$10 per bid with a high budget.

Secondly, build a campaign targeting ASINs that you pull from your search term report. To learn how to do this, check out this article and video.

These two campaigns should be incredibly profitable and if you are ready to expand more, I recommend going after the top five products for your top 5 search terms. To do this, download your search term report and find the search terms that are driving most of your sales. After that, go search Amazon for that search term and put the ASINs of the top five organic products and top sponsored ads. I use Helium 10's chrome extensions (affiliate link) to grab all the ASINs.

Put these top ASINs into their own Sponsored Display product targeting campaign.
3. Sponsored Display Audience Targeting VIEWS
Sponsored Display Audience Targeting VIEWS ads target customers that have been on your page, but didn't purchase. Amazon shows these ads across Amazon and off Amazon as well. This is great because this is a warmer audience that may have been distracted before they had time to purchase. BE VERY CAREFUL with these ads as they will spend a lot and eat up the entire budget every day. My recommendation is to stay away or start with a low bid, $0.25 or so, and a low daily budget like $5-$10. Watch closely and adjust accordingly.
4. Sponsored Display Audience Targeting SEARCHES
Sponsored Display Audience Targeting SEARCHES ads target customers that Amazon considers relevant to your audience across Amazon and off Amazon as well. Again, BE VERY CAREFUL with these ads as they will spend a lot and eat up the entire budget every day. My recommendation is to stay away or start with a low bid, $0.15 or so, and a low daily budget like $5. Adjust up accordingly.
5. Don't Use Sponsored Display Ads Until…
I don't recommend focusing on Sponsored Display ads until you have mastered and maximized your budget on Sponsored Products Manual campaigns. Your manual campaigns in Sponsored Products will bring you 80% of your revenue. Once you have these maximized, consider opening up Sponsored Display ads.

Check out my free Amazon PPC Masterclass to learn more about this.

If you want more automation and have about $1,000 or more per month to invest in software to automate your Amazon PPC then check out my Amazon PPC automation course.

Want the experts to handle your Amazon ads? We can take Amazon PPC off your plate. Go spend your new free time enjoying life, growing your business, launching new products, and profiting more. Spend more time with your family and friends while we use our Amazon PPC system to scale your company. WARNING… You will probably stock out, so make sure your inventory systems are ready to go 🙂

Click here to fill out my Amazon PPC Application form and I'll be in touch with next steps on scheduling your appointment.