eGrow Software Review – An Amazon Product Research and Keyword Tool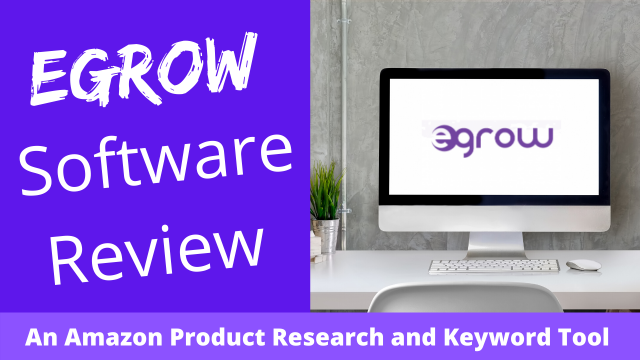 With an Egrow subscription, you get quite a few tools that allow you to dig into product ideas and keywords that you may not have ever thought of. It's a great tool for beginners and advanced sellers alike, and we'll walk through just a bit of the functionality in this article.
Database Research for Beginners
This is a great tool to begin searching for ideas of products to sell. This homepage is clean and simple to use, with categories on the left that allow you to narrow down certain product categories. You can even add a sub category if, for example, you're already selling and interested in a similar niche. When you're starting out, it's recommended to leave it on a broad category to get more results.

There are tons of different ways to filter the results you'll get. As a new seller, you'll likely want the price at a minimum of $20. $20-50 is common. One trick to try is to set average review to a max of 4.0 so that you're filtering out the great listings and can then dig into why customers aren't loving certain products. This gives you room to improve on their complaints with your new product.

Set the search for at least 300 sales per month (which would be 10/day), so you know the products are selling well and consider setting the weight low (under 3 pounds). You could always go for a heavier product, but these tend to be tougher for first time sellers.

With this tool, you can even narrow down to products that are only sold by FBA sellers (removing merchant sellers and Amazon from the results).

With this all being said, there are a million ways to filter down products, and you can always add more filters as you go to narrow down the search. You also have the ability to save past searches, so you won't have to spend time populating the same filters again. This is great!

When the results are populated, you'll see information about best seller rank (BSR), price, reviews, sales, and something called the Listing Quality Score. 10 means a very high quality listing, while 0 is a low quality listing. Ideally, you're looking for lower numbers so you know there are improvements able to be made. All of this information can be exported as a CSV file to further manipulate the data.

When you open up each individual product, it'll give you all of the above information as well as dimensions of the product, better photos, and information on their BSR in more detail (both categories and subcategories). At the bottom of these pages, there are a few helpful graphs that will allow you to see how the product is performing over time.
Product Tracker for Informed Decisions
Once you find an interesting product, you can copy the ASIN into Product Tracker. This tool allows you to track data for products over a long period of time. You'll be able to gather and analyze weeks or months of data to determine if that product is the right fit for your brand.

You can use tags (Exp: fitness) to easily group products you're interested in. You can sort them many different ways and even select which columns you'd like to be displayed (or hide others). As you keep a product in the Product Tracker, it will collect more and more data. BSR, sales data, rating of the product, price, and other metrics can all be tracked with this tool.

The real benefit of this tool is the ability to make more informed decisions. While you may be able to easily find data for one day (the day of your search), this tool allows you to see changes over time and notice little intricacies that may be beneficial in your product selection. You'll be able to save all of your data either as an image or a CSV file.
Rank Tracker for Optimal Results
This tool allows you to determine how products are ranking in your niche and can really give you a leg up in launching a product. You'll simply copy the ASIN from the Product Tracker into this tool to begin. This tool gives you sales rank, trends in sales and BSR, average search volume and position, and the ranking of the product for top keywords.

To identify what keywords are relevant for a particular product, click on Tools and Reverse ASIN Search. Paste the ASIN in and you'll get a list of keywords that the product is ranking for. If you're doing product research you can export the list and place all of the keywords into Rank Tracker.

Once you decide to track a particular ASIN, you'll want to click Track Parent Product and Variations so you encompass all colors, sizes, etc. Paste all of the keywords you wish into the tracker, and click Add Project.

When you go back to the main dashboard for Rank Tracker, you'll see the product you just added. Once a bit of time has gone by, you'll be able to click on the product and see the search volume, number of competing products, trends, and organic position, among other important information. You have the ability to click into each piece of information and dig in deeper as well.

With this tool, the longer you allow it to work, the clearer the picture you'll get over time. What I love about this software is that there really is no fluff. Everything you need to successfully start and run an online business is right there for you, without all of the extra tools (and expense) so many business owners don't need.
The goal of Egrow is to provide opportunities for everyone interested in starting an online business and achieving financial freedom away from the 9-to-5 grind. All features in Egrow are built with user feedback in mind. From newbies looking to launch their first product to ecommerce business veterans, they always strive to meet their clients' needs and are continuously asking for feedback on the tools that are needed and working well.

With Egrow, you can quickly identify product opportunities and keywords which rank products in Amazon's organic search results. Adding more keywords for daily tracking is made even easier from the product details page. For over three years, Egrow has been developing a unique algorithm used to calculate estimated sales for products on the Amazon marketplace. And it's only getting better every day.