What Is Infusionsoft | Overview, Features and Examples | Sales Funnel HQ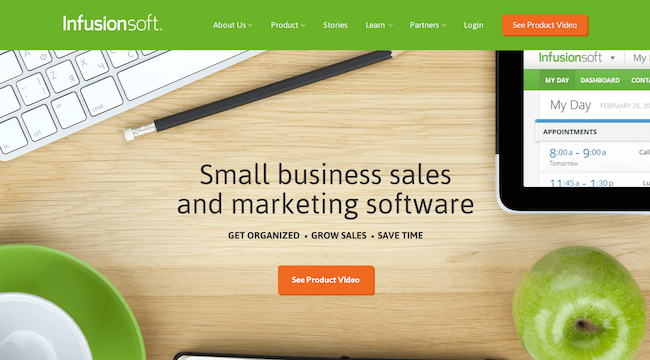 If you are running an online business that is growing rapidly and starting to overwhelm you, you are not alone. Many small business owners try to manually complete mundane tasks while simultaneously trying to grow and sustain their business. While this may work for a while, you will quickly find out that it is impossible to keep up. Infusionsoft can help you automate the tasks that you need to get done. Spend more time nurturing your passion and less time worrying about contacts falling through the cracks. But first we need to ask the question – What is Infusionsoft?
Top Related Article: Infusionsoft CRM Software
Infusionsoft is a CRM (Contact Relationship Management System) that is an all-in-one software for marketing and ecommerce. It has 15 years of experience helping small businesses and over 125,000 users.
Infusionsoft was created for companies with less than 25 employees. It helps small businesses that cannot afford to grow their staff automate sales and marketing tasks. Infusionsoft is able to link leads to relevant sales funnels, saving you employees, time and money.
The automation that Infusionsoft is able to maintain helps you build an army of paying customers that will keep coming back. The seamless integrations help guide customers and give them what they need, whether that is a quote, a current order form or just purchasing products.
What is Infusionsoft Used For?
Infusionsoft helps you scale your business. If you are still using traditional email marketing companies, free or paid, you need to consider switching to Infusionsoft. The features it provides is worth the monthly cost and will save you money in the long run.
Infusionsoft Grows Businesses
If you want your business to grow fast or it currently is growing fast, you will need software that automates mundane tasks and helps you make sales while simultaneously not leaving any potential customers behind. You will also need automation after you make a sale to keep customers coming back.
Customers today expect personalized marketing. A single person can receive hundreds of emails per day. If yours does not stand out, your email will get lost along with the potential sale. Your customers are smart. If you want to scale your business, your emails need to be customized to every lead and automatically delivered when they have money in hand.
Wish you could clone yourself? Worried that 24-hour days are not enough? What if you could complete all the tasks you need to on a daily basis without burning out or hiring more staff? Infusionsoft can automate all of your online business tasks, log every job it does and then give you a report whenever you need the data.
Infusionsoft Provides Solid Analytics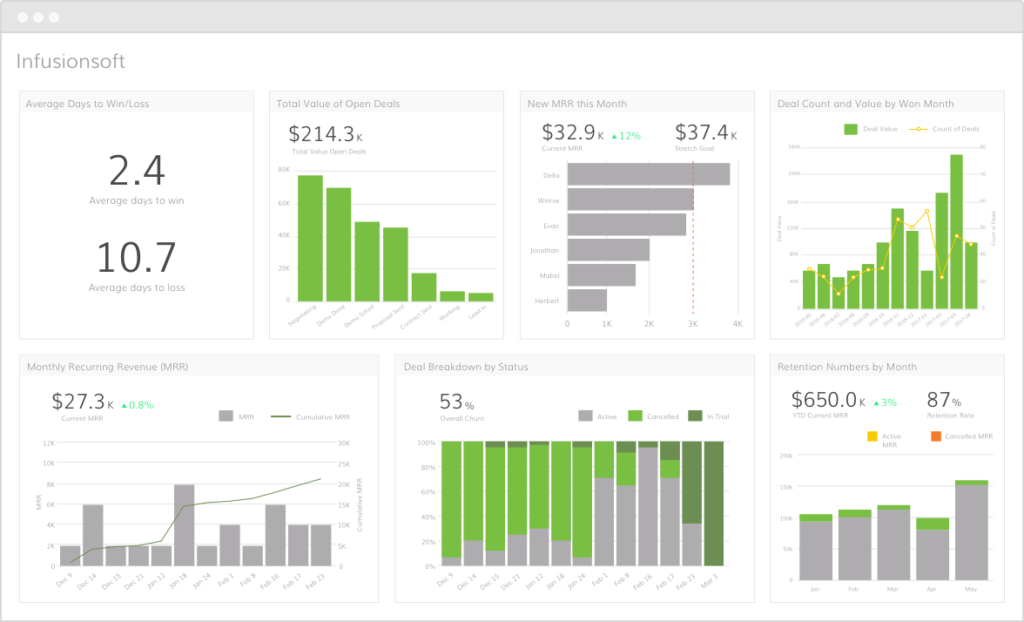 The marketing analytics inside Infusionsoft are worth their weight in gold. Use Lead Source tracking to calculate every quarter, month or day to be able to analyze the amount of funds that came from leads and where those leads are hanging out. You might be surprised that one of your social media platforms is outperforming the rest.
In order to grow your business, you need targeted emails. Sure, you could send a promo email to everyone on your list. But what if the majority of that list is old leads or outdated contacts? Personalize targeted emails to the leads that buy your products on a consistent basis and are excited to receive your emails.
Behavior-based marketing is catching on and the companies that are able to capitalize on it are growing exponentially. You can even segment your target emails based on who clicked on a certain link or the subscribers that opened your email with a catchy title. Use this behavior to upsell, cross-sell, dow nsell and side sell. No matter what funnel you come up with, Infusionsoft can handle it.
Choose a company that appreciates small businesses. Infusionsoft has competitors but how many of them are devoted to helping small businesses? The customer support is incredibly caring. You can contact them by phone, email or live chat.
Infusionsoft Supports Integrations
Infusionsoft has many integrations but one of the most useful is its integration with WordPress. With the majority of online businesses using WordPress to at least host their online blog, you will be amazed at the features Infustionsoft can bring to WordPress.
One of the best contact features Infusionsoft offers is the ability to tag your contacts based on specific behavior(s). This is so critical for personalizing email campaigns and segmenting your list. Tags help you categorize your contacts while you are initially entering in information and that information is fresh in your mind. Search by tag to segment by geo location, by relationship and more.
Infusionsoft is not going anywhere. With 15 years' experience and financial backing from large investment capital firms, you can rest assured that the system that you set up today will still be around tomorrow.
Now that know the answer to "what is Infusionsoft?" and you are convinced you need Infusionsoft in your life, what are the features that make it stand out from its competitors? We cover its main features, pricing, tips for signing up and more.
Lead Capture
Tired of remembering to send a sales email to a new lead? What about sending your intro sales funnel to a contact you met at a trade show?
Automation Software
Infusionsoft can help you automate the process no matter what the circumstances. You can create email triggers based on form submission, email opens or clicks and payment history. Use the automation process to continuously close sales while you are onto the next big thing.
Infusionsoft automates the mundane tasks so you can focus on the passion part of your business. Take care of your repeat customers the way you want to instead of spending all of your time babying new leads that may not pan out.
Infusionsoft Landing Pages
Landing pages can take up a lot of time if you make them yourself. Use Infusionsoft's ready-made templates for quick work flow. Drag and drop elements make it easy to customize your landing page to your exact needs. Can't find what you are looking for? Drag and drop a completely new template.
And it doesn't stop at landing pages. You can customize your email templates too. Infusionsoft has a great interface to keep all of your email campaigns in one place for easy search and copy capabilities. Send an email response to new customers immediately after they purchase. Use A/B testing to find your best ROI email. Infusionsoft lets you build up to five unique variations to weed out the lackluster emails quickly.
Build an email campaign report so you can continue to improve on your stats such as open and click rates.
Trigger Emails
Need to build up your customer reviews? It's easy with trigger emails. Use the trigger email option to boost leads from search engines. People generally buy more often and purchase more when a product or company has high reviews.
Sales Funnels
Many small businesses try their hand at sales funnels. They may master the first steps of getting people to open their intro emails and even click on their landing page, but unfortunately most of the time the sale can fall short.
This is not due to the lack of effort of the desire for the product. It is due to the lack of time to follow-up with a lead and keep them from falling through the cracks. In order to build a successful sales funnel (and be able to sleep at night too) it's a good idea to use marketing automation software.
Infusionsoft Creates Sales Funnels for You
A sales funnel is a fairly easy concept to grasp. You start out talking to leads that you have pulled from all directions. Then you weed out the people who are not interested in learning more about your product or service. Finally, you focus your efforts on the people who want to buy your product after learning more about it.
During the process, as the people you are talking to get fewer and fewer, this creates a funnel effect. You want the funnel to get smaller in the end so you can make repeated sales to the people who need you the most. Once you have completed one funnel, you can create a second and a third, etc. To have a sustainable business you will need to keep getting new leads and paring them down to the ones that will purchase.
The challenge with a good sales funnel is that it takes a lot of work. Once those initial leads are found, they need to be taken on a journey to help build a relationship. They need to trust your business and feel comfortable buying from you.
In order to have a healthy relationship with your customers, you need to follow up with them. And not just once or twice but perhaps several times before you make that first sale. You will need to create professional-looking sales funnels to increase your conversions.
It is possible to do this on your own but not feasible. That's where Infusionsoft can help by automating all of the correspondence for you. So even if you take a day off from work or need to spend the day doing other business tasks, your best leads are still getting emails encouraging them to buy.
How to Fix the Leaks in Your Sales Funnel
Infusionsoft can also help you fix the leaks in your marketing funnel. Lost the most customers after a demo or a pricing email? Fix the leaks by adding in automated emails that fill in the gaps. It is important to follow up with a new lead as soon as possible. The quicker you follow up with a new lead, the more likely they are to purchase from you.
E-commerce
New to e-commerce? There are many things to monitor including inventory, billing, shipping, subscriptions, promos and more.
Infusionsoft helps you manage everything from one platform. Need to check inventory? Product tracking? Send a promo to your best customers? Check, check and check. The automation possibilities are endless. You have never been so organized. Plus, with every new feature you run, you can then run a report that details the marketing and sales findings. Continue to improve your business with a click of the mouse.
If you are always focused on bringing in new customers, you will miss out on the opportunities you have to sell to your existing customer base.
Increase AOV with Infusionsoft
Three ways to grow revenue of any business is to increase the amount of interested customers, increase the value of each order you receive (AOV) and get your customers to purchase products from you on a more frequent basis.
While most businesses will choose the first option (increasing the number of customers), the other two options are more cost effective. While getting the word out to new leads regarding your business is important, it is less time consuming and cheaper to interact and sell to your existing customers than it is to continually find new ones.
One of the easiest ways to increase AOV is to raise the price of your products. This may seem like a drastic move if you are a small business in a competitive market but there are ways to raise your prices without killing your business. The best way to try this method is to raise the price of a few of your products.
Then do split testing to see if there is a drop in sales or a rise in sales. If you do not see a drop in sales, people are willing to pay more for your product and you can continue to raise the prices on more of your products.
If you see a drop in sales, simply lower the prices again. You could even raise the price of another category of products to see if the effect is different.
Either way, this tactic is worth your time to see if you can get your customers to pay more for the products or services you are offering. Many small businesses undercut their prices and never bother to increase them until it's too late.
Upsells and Cross-sells
If the pricing strategy is unsuccessful, you can try a more modern marketing approach by providing your customers with cross-sells and upsell options.
Upselling your customers allows you to get customers to switch to product with a higher value than the one they originally put in their cart. This is often achieved by offering a product that is larger in size or quantity. The quality of the item can also be improved through upselling. The upsell is often at a discounted rate compared to the original value. This entices customers to upgrade when they were only planning on purchasing the cheaper product.
However, keep in mind the value of the upsell has to be enticing enough for the customer to spend more money out of their own pocket. If you fail to provide the customer with a better alternative they cannot refuse, your upsell might be unsuccessful.
Cross-selling is more of an excess tactic. Once a customer places a product in their cart, you can offer additional related items that go with the original. This is often referred to as a bundle deal. You can provide a discount the bundled items to cross-sell meanwhile increasing your AOV. You will still make additional revenue since the customer was only originally going to purchase one item. This is a good time to introduce your customer to your extended product line as well since they may not have known about your additional products. For example, if you are selling jewelry and your customer is buying a necklace, you could offer them a matching ring, earrings and bracelet to complete their look. The added jewelry coordinates with the original item. The customer gets a small discount for bundling and you sell four products instead of one.
Segmenting Customers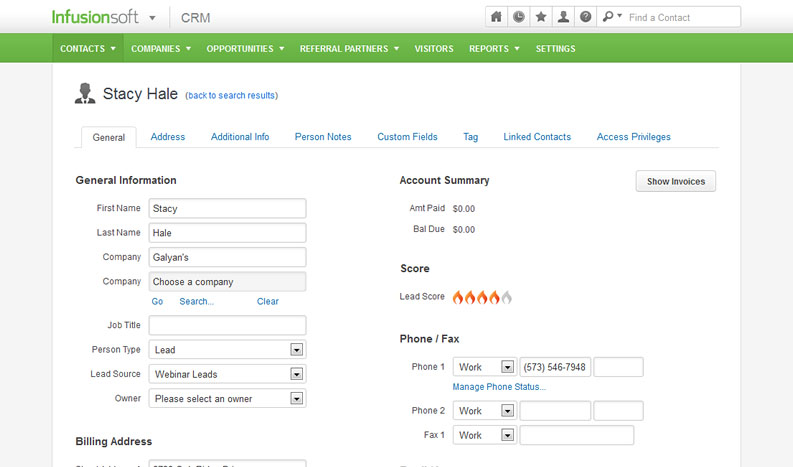 Once a customer, always a customer. If you take care of your customers, you will have sustainable sales. Getting a customer who has purchased from you in the past to repurchase is easier than reaching out to a cold lead.
A past customer has knowledge of your company, tested the quality of your products, and can probably remember your customer service. If their experience was positive, you can simply ask them to come back by sending them a few quick emails, offering them a discount code or reminding them of your business by asking for an honest review.
Infusionsoft can not only pinpoint past customers and segment them so you can send a follow-up after purchase, but the software supports subscription services. Subscription services are a great revenue stream since they charge customers on a regular basis for things like warranties or special product releases.
Using the subscription automation capabilities of Infusionsoft, the software will automatically email your customers when it's time to renew. You will never have to remember how long a customer's contract is, since Infusionsoft keeps track of your customer's subscription packages and keeps all of the information in one place.
Finally, leverage those returning customers by cross-selling to them through their purchase receipts. You are already sending them an email receipt as soon as they order so why not sprinkle in a few products that they could benefit from? This is great for getting customers back to your site and making another purchase.
Infusionsoft's CRM Capabilities
If you want to continue to grow your contact list and get more people excited about your products, you will want to take advantage of the powerful CRM (Customer Relationship Management) software that Infusionsoft provides.
The more you interact with leads and contacts, the better your CRM tracks it. It works similar to a face to face relationship. The more you know about a particular person, the better you can interact with them and the more you know about their likes, dislikes and needs.
Once you identify contacts that want to know more about your business and products, you will be happy to find that they more times than not will want to know more. They will also be excited to receive your next email and curious about your product launches.
However, gathering contact information is sacred these days as spam emails are all the rage. In order to get a contact to hand over their main email address and phone number is not so easy. In order to get this information, you will have to prove that you are worthy of receiving it.
This means you need to provide relevant, educational content that makes their lives better.
Gathering their information after a sale is probably the easiest way to get the most amount of information. The first sale could provide their email address, phone number, geographical location and even their credit card information. All of these details can be segmented into different list (geographical location for example) to run specific sales or provide more personalized content.
Use your website to get more contacts. Every page on your website gives you a chance to add a "subscribe to my newsletter" graphic. Once people start subscribing to your newsletter, make sure you have great content ready.
Interested leads and repeat customers are waiting for your correspondence. If you do not have anything to send them, they may unsubscribe or forget you even exist. Use your email list to poll them for product ideas, educate them about why they need your products and offer exclusive sales that are only given to the people who signed up.
Lead Magnets
Lead magnets are crucial if you want to grow your email list fast. While people hesitate in giving out their information when they are on a new website, a free lead magnet can make it impossible for them to say no.
Provide them with a well-designed educational PDF, a discounted product or service or even offer to call them personally.
No matter what you offer, make sure it is valuable enough to be worth the exchange of personal information. The less known you are, the better your lead magnet needs to be.
The lead magnet should also be available for instant download after you collect their information. There is nothing worse than giving a new website your contact information and then waiting hours or even days to receive the free lead magnet.
In order to use a lead magnet to grow your business, you need to create a freebie that people will want to download. It needs to be relevant to your audience and give them better information all in one place that is more cohesive and with more value added than a simple Google search.
Sales
Information is widely available on the Internet but a lot of it is not accurate and does not provide value to the reader. Your lead magnet should educate and provide new information that a reader has not come across before. It should also be well-designed and a file that is small enough to easily download (even on mobile), save and print.
Creating a good lead magnet is only half the battle. You may have a freebie that has incredible value but if no one knows about it, it will not gain you more subscribers.
Infusionsoft Landing Pages
You will have to create a landing page to entice your traffic and visitors to exchange their information for your awesome download.
The landing page should be very easy to read and have a single call to action. It should provide enough information to inform the reader but not ask for too much from the reader.
It is recommended that you start by asking for a name and email. Once you have this information, you can use the CRM and automation Infusionsoft provides to gather more information from your leads such as phone numbers.
Once your landing page is complete, you should begin the process of blasting your social media pages and blog with links to your landing page. The more traffic you can generate to your landing page the better. You can even invest in paid advertising if you want to increase the chances that your landing page gets seen or you want to speed up the process and get more subscribers faster.
If you have a lead magnet, an engaging landing page and continuous traffic to your landing page, you should begin to see an uptick in the number of visitors. The goal is for your visitors to sign up for your lead magnet so you can collect their initial contact information.
Once you get people to sign up via your landing page, those sign-ups will expect to hear from you. Whether you automatically give them your lead magnet after signing up or you send the lead magnet in an email shortly after, it is important that all of your new contacts receive a quality welcome email.
Quality Welcome Email
A quality welcome email provides trust in your company and starts to build a critical relationship between your online business and your potential customer. Make sure that welcome email contains quality content or your new contact that you worked so hard for may unsubscribe prematurely.
All new contacts that subscribed through your lead magnet should get content that is related to your lead magnet. If the new contact is received through a sale, congratulations! That contact skipped the initial sales funnel and trusted your product enough to purchase without prodding. That contact should receive an email that contains additional products they can purchase whether it be upsells or cross-sells.
Remember that each subscriber is on their own journey with you. Some will buy immediately while others may take longer. It is important that you do not treat every customer the same. Each customer should be able to have a personalized relationship that follows their purchasing pattern. While doing this manually is nearly impossible, with the power of automation through the Infusionsoft software makes keeping track of all of your contacts' stages a breeze.
Automated Marketing Campaigns
Now it is time to run a marketing campaign that will bring you consistent revenue. There are a few types of campaigns that are proven to engage your customers across several industries.
Having issues with customers abandoning their carts? Although this can be frustrating, it is the perfect opportunity to reach out to your customer and remind them of your wonderful products. Send them an email with a photo and description of the item(s) they left in their cart. This simple reminder can get them to buy fast.
You can offer a discount or exclusive promo code to your email subscribers. You can even offer an even better promo for customers who purchase a large quantity of items or purchase frequently.
Contact customers who have not purchased from you in a while with a "we miss you" email. It's important to let the customer know that they are still on your list and remind them of why they signed up with you in the first place. This can either create a sale or an unsubscribe. Either way it is beneficial to your business in gaining revenue or weeding out contacts that are no longer interested.
Conclusion
If you are running a thriving online business, you are already in need of marketing automation software. Although the cloud-based software is an additional monthly cost, it can take care of your current and new customers better than a human marketing team. The automation it provides is consistent and accurate.
You will not be disappointed with Infusionsoft. What is it that takes up all of your time running your online business? More than likely you are trying to manually do all of the tasks that you can easily automate. And now that you know the answer to the question "what is Infusionsoft?" you can let Infusionsoft help you organize your business, as well as save you time and money.
Related Article: Alternatives to Infusionsoft
Organize Your Business
Infusionsoft helps you keep track of your day to day tasks. Keep track of appointments and enter in new contacts even when you are on the road. The cloud-based software works from any computer with an Internet connection. Work from home, the office or the coffee shop.
You can even store and rank your leads so you know which ones are ready to buy. Stop wasting time with leads that do not respond. Infusionsoft automates the marketing and sales funnel process so none of your potential customers fall through the cracks.
Every transaction and every interaction are logged. You will be able to correspond or setup an automatic reply right in the software.
Time Saver
Once Infusionsoft has closed the sale for you, take the marketing automation one step further by having the cloud software create follow-up sales correspondence. You can even have Infusionsoft do appointment setting and reminders.
Once your sales are in, use the software to create detailed revenue reports.
No more mundane tasks to worry about. The software does all of them for you. Set it and done.
Pricing
Infusionsoft runs on a subscription-based model. Since they help you set up a customized system that meets your specific business needs, it has an upfront fee. This can run in the $1K – $2K range on average. The monthly fee is based on the number of emails you send, the number of contacts you need to store in the cloud database and what features you choose.
If budget is a concern it is recommended you speak with one of Infusionsoft's current customers. They often can provide preferred pricing that is better than signing up with Infusionsoft on your own.
Infusionsoft is cloud-based software that requires an up-to-date computer and an Internet connection that is fast enough to stream video. Since the software is cloud-based, you can use a Mac or Windows computer. The software runs best on mainstream browsers such as Chrome, Safari or Firefox. Microsoft Internet Explorer is not recommended.
Great for Online Business Novices
Even if you are not tech savvy, you will find Infusionsoft intuitive. Easy to follow tutorials will have you up and running in a flash.
What are you waiting for? If you are overwhelmed with small business tasks, it is important that you take action quickly. Doing nothing will just get you even farther behind. If you are need of marketing automation software to give you a helping hand, try Infusionsoft. Their personalized CRM, attentive customer service and wide range of features will help your business grow and thrive.
Disclosure: I am an independent ClickFunnels Affiliate, not an employee. I receive referral payments from ClickFunnels . The opinions expressed here are my own and are not official statements of ClickFunnels or its parent company, Etison LLC.