Unbounce | Landing Page Builder Reviews And Insights | Sales Funnel HQ

Unbounce.com was founded in 2009 by a team of six. The goal of the company was to produce and perfect the use of landing pages while helping online businesses quickly create and develop their own landing pages without the need for a developer. Over 250 million conversions have taken place around the world using Unbounce. The Unbounce team continues to grow and their connections continue to expand past the current 15,000+ customers they maintain. With 4 data centers throughout the world, Unbounce is committed to keeping your pages up and running.
Top Related Article: How to Maximize Conversions with Unbounce
Downtime is lost revenue and Unbounce has a 99.99% server up time, so down time is almost non-existent. Unbounce is an effective and proficient company when it comes to setting up landing pages. They have unparalleled support options and have relationships with several large app makers that allow their customers to excel. Using Unbounce to make your landing pages will allow you to separate yourself from your competition. You may be new to marketing or you may need some innovative ideas to bring in more leads. This article is set to tell you what a landing page is, how and when to use one, and what a good landing page should look like. Increasing revenue and getting value for your advertisement dollars begins when you get a visitor to your landing page. Let's start by explaining exactly what is a landing page.
Unbounce: What is a Landing Page?
A landing page is a page independent of a consumer's website. A landing page is where a visitor "lands" when they have clicked on a Google AdWords ad or something similar. Landing pages are designed with a single focused objective know as a Call to Action (CTA). Most of the time, landing pages are used for marketing, but they can be used for other things. A major use of a landing page is to catch the traffic from a certain online campaign. These campaigns can be an advertising campaign, an email campaign, or a social media campaign. It can have a totally different look than your company's website just to respond to that campaign. A good landing page experience can improve your Google AdWords score. Improving this score will lower the cost-per-click and get your site better ad placements. Lowering costs without having to pay for better ad placements will allow you to reduce your overall marketing budget.
Types of Landing Pages
There are several different types of landing pages. A standard type of landing page fits in the top of the marketing funnel. After your initial advertisement, the next stop for a consumer should be your landing page. The standard landing page is what will be described the most in this article. We will quickly cover a few other types of landing pages.
The next type is a lead capture landing page. This type of landing page fits in the top or the middle of your marketing funnel. You can start with a lead capture landing page that collects some information from potential leads. Once you have their information, you can send them links to other landing pages that can collect additional information. The more landing pages you can get a visitor to, the more information you can collect about your target audience. The more valuable your offer is, the more information you can ask your site visitors to give. The information capture form should be short but should collect enough information to obtain a good lead.
Another interesting landing page is a click-through landing page. A click-through landing page describes your product or service on one page and allows the visitor to buy that product on the next page. Much like a standard landing page, the click-through landing page should contain infographics and descriptive text. A click-through landing page will not collect much information about a visitor, but it will prepare them to fill out lengthy forms on the next landing page.
A newer landing page phenomenon is the webinar landing page. Webinar landing pages feature a preview of a webinar about your product or service. This page can include information about the speaker that is relevant to your visitor. It should include the speaker's name, title, and any accomplishments. A good webinar landing page will include the date, time, and length of the webinar. This will help your visitors put it on their calendar. You can add a timer to make it appear as if this offer is expiring and is too good to miss. You can use a webinar landing page anywhere in your marketing funnel. No matter where it is in your funnel, you must have content that will keep your visitor interested in purchasing your product or service.
The last unique landing page we will cover is the mobile landing page. The most important aspect of a mobile landing page is that it responds to the screen size of different devices. No visitor will continue to browse a page if it isn't fitting on their mobile screen. Make your page responsive or revenue will be lost. Another feature that must be used on a mobile landing page is social media auto-fill forms. The visitor can fill in their personal information by linking their social media profiles. This will help reduce the amount of work a visitor has to do because they will not have to type on a small touchpad. Mobile landing pages are an easy way to convert visitors to buyers. Quality landing pages, no matter what type you choose, are important!
What Makes a Quality Landing Page?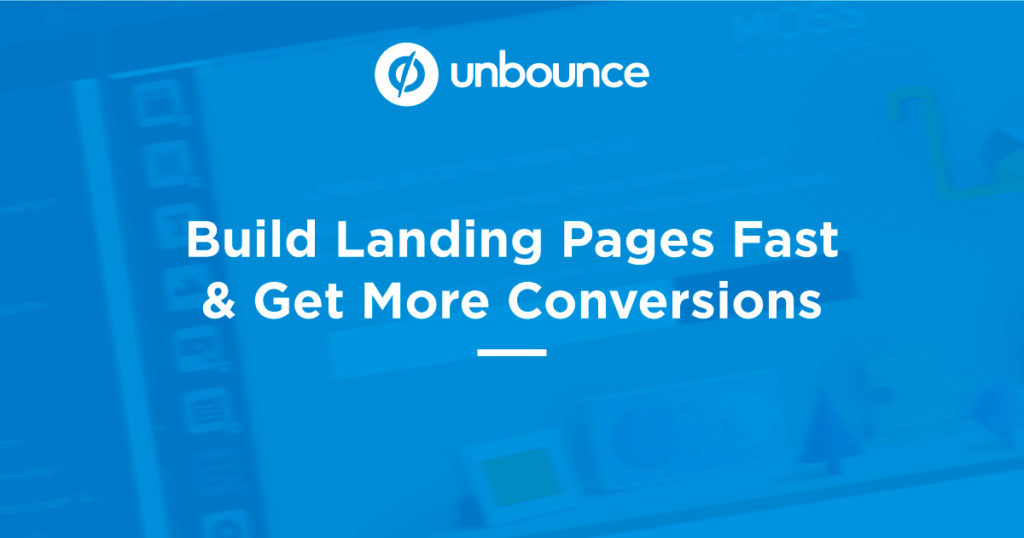 A landing page is generally free of distracting links that lead to other pages. Many times, your website may contain dozens of scattered links and messages. Your landing page exists to intentionally draw attention to one specific goal. That goal can be newsletter sign-ups, information downloads, or even a product to purchase. With Unbounce.com, there is no need to change your current website. Their innovative technology allows you to build and publish landing pages without having to add code or anything else to your current website.
Unbounce has made it easy for you to create content by providing templates. They put together the ideal templates using an AI analysis of over 64,000 other landing pages. Using user-friendly drag and drop creation, you can easily add text, photos, and graphics to your landing page. It takes the guess work out of coding and it can be done quickly and efficiently.
Another way they have made it easy for you is that they have a copy and paste feature. This allows you to create multiple pages with slight adjustments on each to match your intent and concept.  
Unbounce is aware that most of people's browsing and shopping habits occur on their mobile devices. As a result, they have designed features that make their landing pages more mobile-responsive. Unbounce has many options to personalize, test, and protect your landing page. Testing and protection will be talked about later, but let's talk about landing page personalization. Everyone wants a personalized experience when responding to a campaign. Unbounce can do that for you, so that your customers feel welcome.
Unbounce: Landing Page Personalization
A major option that Unbounce uses for landing page personalization is dynamic text replacement (DTR). DTR is a feature that allows you to tailor the text on your landing page to match keyword parameters using variables you attach to the URL. This feature allows you to change the wording on your landing page based on what a user puts in to a search engine or what type of device they are using.
If a user is viewing your landing page from a mobile device, DTR could change the message to "Free Shipping For Mobile Users". This draws the attention of the mobile user and they may be more likely to purchase a product from your landing page. If a user searches for "bargain", DTR could direct them to your landing page and replace keywords on that page with "free" or "discounted". Dynamic text replacement is an amazing personalization feature than can keep users at your landing page long enough for them to read specifics and choose your services over your competitors.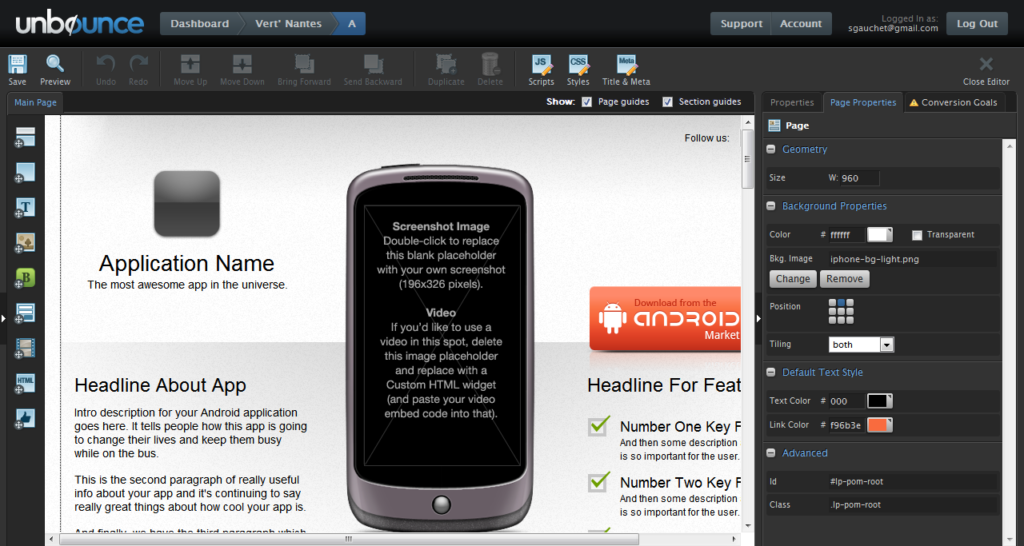 Another personalization feature is pop-ups. When most people hear the word "pop-up ads", they are immediately turned off from that website. Pop-ups can actually prepare users for what your website has in store for them. Unbounce has been able to make pop-ups unique and directly targeted to your audience. Much like building a landing page, Unbounce has made building pop-ups easy. It only takes minutes to add a pop-up to your landing page without a developer. Unbounce creates templates that use the same drag and drop features as their landing pages. With Unbounce, you can create a pop-up and schedule a time for them to go live. This means you can create numerous pop-ups and have them go live at different times. Unbounce has several different options as to when a pop-up will actually pop-up on your website, including:
On exit – pop-up displays when user is attempting to exit the page
On arrival – pop-up displays as soon as the user lands on the site
After delay – allows time for the user to read and browse before the pop-up displays
On scroll – pop-up displays when the user scrolls to a specific spot on the page
On click – pop-up displays when the user clicks a link or anywhere on the page
These features allow you to personalize your pop-ups based on the browsing and reading habits of your target population. Unbounce also makes it easy to formulate a pop-up strategy. Not every user that comes to your website will get a pop-up. You can determine which user gets a pop-up depending on several different factors.
Referring URLs – target visitors from specific traffic sources
Frequency – pop-up may only display on a user's first visit or every third visit, and so on.
Geo-targeting – show or hide pop-ups based on a user's country, region, or city
Cookie targeting – display pop-ups based on a user's past behavior such as browsing history
As stated earlier, pop-ups are generally an annoyance to consumers. However, with Unbounce's timing and strategy, they can keep users interested in your site and promote purchases.
Unbounce: Sticky Bars
Along the same lines as a pop-up, there is a relatively new phenomenon known as sticky bars. Sticky bars are mobile friendly popup banners that "stick" to the top or bottom of any page on your website. They are easily customizable, elegant, and can be featured rather prominently without blocking your website. Using sticky bars through Unbounce is just like setting up pop-ups.
They can take just minutes to create using templates and the drag and drop feature. Much like pop-ups they can be scheduled to go live whenever you choose. Unbounce sticky bars have the same properties as their pop-ups. You can determine when you want them to be featured and whom you want them to target.
Unbounce: Security
In the news today, we frequently hear of data breaches and the loss of consumer's personal information. Unbounce is doing several things to ensure that their users' information is secure.
The first thing that Unbounce does to give their users a sense of safety is automatic back-ups. This allows multiple people to work on a project simultaneously. It also features audit logs and user activity logs. This allows the user to pinpoint where something went wrong if it ever does. The next security feature is session timeouts. Session timeouts automatically log users out of their web sessions to make sure that if a computer is left unattended, the account will secure itself.
A third security feature is password protection. If someone tries to break in to your account by repeatedly guessing your password, Unbounce will lock the account and notify you. Along with password protection, Unbounce is working on a single-sign in feature. This will allow easier access when a user is located at a secure computer. You will be able to manage all usernames and permissions from that secure computer.
With Unbounce's Enterprise Plan, which will be discussed later, users can opt in to an extra secure login. This extra secure login relies on two-factor authentication. It requires the use of a trusted device along with a password to gain access. Currently, Unbounce is the only conversion platform using two-factor authentication.
Displaying trusted security certificates on a landing page can put the visitor at ease. Visitors are more likely to purchase from a page that they feel is secure. All Unbounce landing pages will feature automatic SSL encryption. They will display the "HTTPS" and a green padlock next to the URL. This will help ease your customer's mind if they need to enter sensitive information. As with many companies, Unbounce is working on compliance with the General Data Protection Regulation (GDRP). This legislation requires some additional precautions to be placed in their software so it is still in progress.
Unbounce: A/B Testing
Unbounce.com allows you to test your landing pages to get the best results. They utilize A/B testing. A/B testing runs simultaneous tests between two or more pages to see which one converts clicks to sales. Even though A/B appears to only represent two pages, it can be used on as many as you create for testing. Once you have determined what page or pages will work best, you can create copies of these pages. The page that "wins" the A/B testing is known as a Champion page. Further testing is done by modifying the champion page and placing those pages in A/B testing against the champion page.
There are several ways to approach an A/B testing session. Traffic or the number of visitors can be assigned anyway you choose. If you have 2-page variants, you can assign traffic 50/50 or even 75/25. Most of the time, visitors have had cookies stored and they will consistently visit the same page no matter how traffic is weighted. Several factors decide how much weight should be assigned to the page variants. The biggest factor is timing. Other factors include how many variants are being tested or how many new ideas are placed on variant pages.
Related article: Unbounce vs Leadpages
New customers to Unbounce may not have any existing pages so they will not have a champion page. If you have several ideas, you can create several different landing pages and assign equal traffic weight to each page. After a certain time, you can determine which variant achieved the most traffic and conversions. Based on a quick analysis, you would be able to determine what your champion page would be moving forward.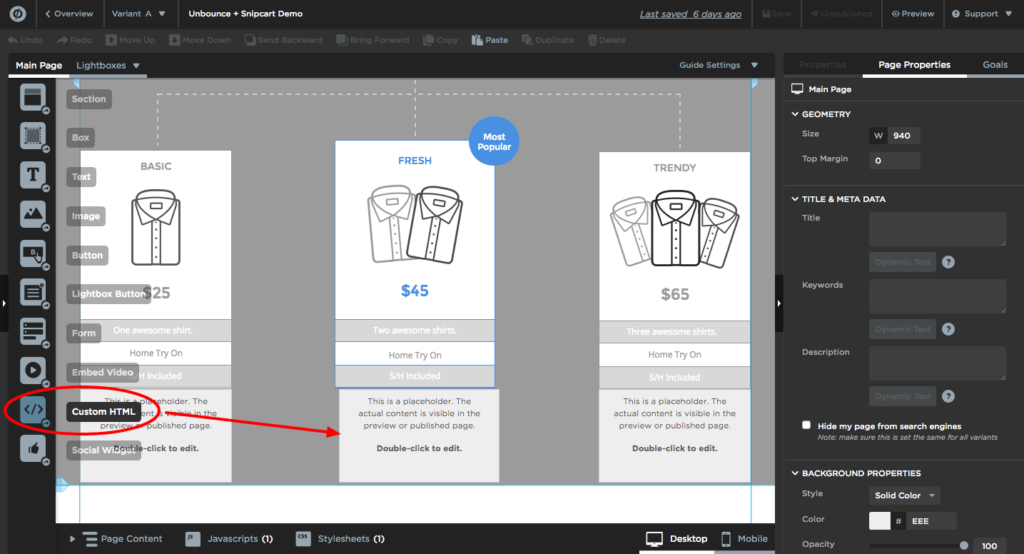 Another way to test variants against a champion page is to create these variants and assign a low amount of traffic to them. This reduces the risk of driving traffic to an ineffective page and missing out on conversions. New doesn't always mean better, but testing variants with low traffic can help determine if a new idea will replace the old idea. There are several pieces of your landing page that you should test. Those pieces are:
Main headline – shows the product, offer, or service that was advertised
Call to action – text on a button that will convert clicks to sales or leads
Main photo – this is also known as the Hero Shot; shows the product or service in use
Button design – these can be used to highlight the call to action, many options exist
Button color – orange and red elicit emotional reactions, green means go, and blue is a link
Form length – minimize the amount of information required from visitors, A/B testing can help determine which length is necessary to paint a complete picture
Long copy vs short copy – shorter is better, but longer may be necessary for complex products or services.
A/B testing is not going to disappear any time soon. There are people that believe that more effective methods for testing exist. Some individuals in the technology sector believe that AI or artificial intelligence can perform the same as A/B testing faster and more efficiently. AI can operate faster than A/B testing and requires less resources to complete those tests. Not only can AI be used to test landing pages, it can help develop other tests for your landing pages going forward. Unbounce uses AI to analyze their templates, but have not made the leap to use AI to analyze your individual landing pages. A/B testing is currently the best way for you to test your landing pages and to optimize conversions. Before we get in to the why, when, and how to use landing pages, let's talk about pricing.
Unbounce Pricing: Annual vs. Monthly
All Unbounce.com price plans include the same amount of support and tools. They all feature unlimited phone, email, and live chat support. The support lines are open 7 days a week and nearly 24 hours a day. Hours vary by the day of the week. The price plan is separated in to three different categories: Essential, Premium, and Enterprise.  
8 pop-ups and sticky bars
16 pop-ups and sticky bars
Month to Month – $499+/mo
40+ pop-ups and sticky bars
As you can see, there are several plans to choose from based on the size of your business. Not only will Unbounce help you create your landing page, they can grant you access to courses, webinars, and their partner apps.
Unbounce Extras
Unbounce has several different features outside of just helping you build a landing page. Using Unbounce allows you access to some helpful analytical tools. CallRail is a system that allows you to track phone numbers as leads in conjunction with your landing page. If you need access to over 500 apps, Unbounce has partnered with Zapier to automatically export your leads to other apps. This will allow you to track leads more effectively and fine tune your landing page. Another great Unbounce partner is MailChimp. Using Unbounce in conjunction with your MailChimp account will allow you to send and store leads.
Unbounce also has a plethora of marketing resources built in to their webpage. There are "smart marketing" courses and lead generation courses. Unbounce has several webinars that cover topics such as keyword insertion, optimizing marketing, and how to write effective product descriptions. The courses and webinars that Unbounce shares are targeted to all team levels. Some resources are perfect for beginners, while other resources will help veteran marketing teams stuck in a rut. You should be able to find any information you need to effectively convert leads to sales.
Unbounce Insights: Why Should I Use Landing Pages?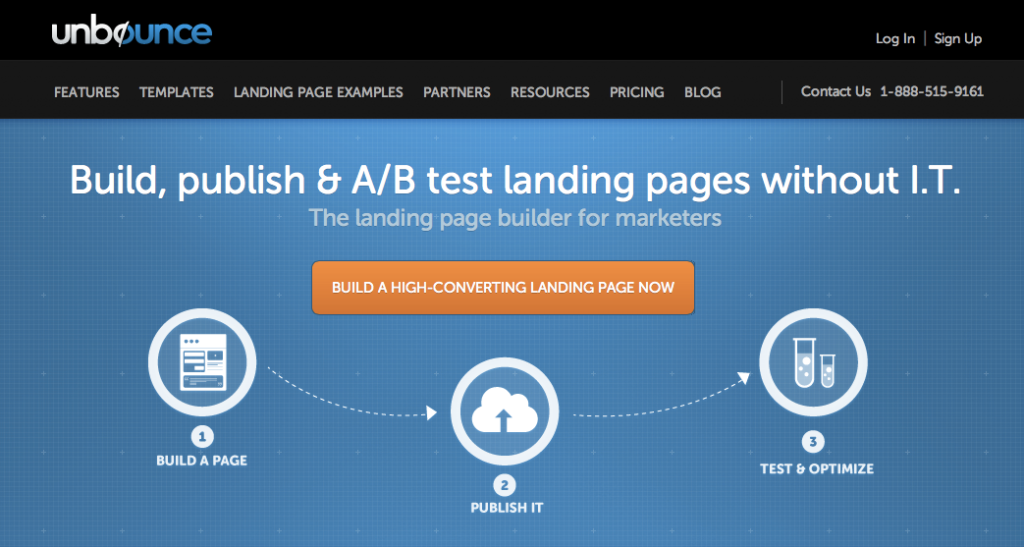 There are many reasons you would want to use landing pages. A short answer is that landing pages help increase conversion rates. A conversion rate is the percentage of people that follow your campaign to your landing page and then become sales. The main reason you would use a landing page is that it is focused on one specific objective. This objective matches the intent of the ad that your visitors clicked on to reach your page.
Related: Best Sales Funnel Software
A landing page is different than your homepage because your homepage is branded with a more general purpose in mind. A landing page provides a visitor a better user experience because you are giving those visitors a page that is tailored to exactly what they searched for. Your homepage usually tells the story of your overall brand, corporate values, and is loaded with links to other information. If links on your homepage are distracting and take your visitors elsewhere, they are not helping improve your conversion rate. If you aren't improving your conversion rate, you are not going to increase profits.  Landing pages keep your visitor focused on that ad so that they are more likely to buy what the ad is selling.
There are five major reasons why you should use a landing page.
Local content – One of the best ways to get your site to rank higher when people search locally and on mobile devices is to have locally-targeted content. Creating landing pages that feature localized, down to the neighborhood perhaps, content is a great way to start building the local content and link necessary to have your pages move up in the search index for local search.
Social content – Sending your LinkedIn, Twitter and Facebook connections to landing pages that are personalized to each network is a great way to deepen the connection. By running Twitter and Facebook feeds on these pages and acknowledging the connection with those that come from social networks, you will find a much higher degree of engagement.
Smart content – By creating landing pages that address the specific market segments, product segments or key content segments for your business you can begin to better funnel people to the specific types of content they desire. Using a tool like Survey Funnel in conjunction with your landing pages could allow a visitor to tell you what they are looking for and be directed to specific content based on their choices.
Lead capture – Landing pages are your lead capture workhorse. If you have a great eBook or free workshop to promote you may want to create signup forms for most of your web pages, but your signups will soar when you create a page that details, sells and demonstrates the benefits of acquiring your free report. A landing page with video, audio, images, descriptions and an intuitive call to action is a must for lead capture campaigns.
Advertising conversion – Any form of advertising will be much more effective if it is targeted to a page that contains nothing but content that supports the message in your ads. The more relevant the page to the ad, the more effective. Smart marketers constantly experiment with ad and landing page combinations, including creating keyword optimized pages for specific groups of pay-per-click ads.
Using highly focused, relevant landing pages is a smart strategy for any business wanting to compete in today's competitive market place. So, when should you use a landing page? Let's find out.
Unbounce Insights: When Should I Use a Landing Page?
You should use a landing page for every advertising campaign you undertake. You may be selling multiple products or setting up promotional offers for different sections of your website. The style and effectiveness of your inbound marketing will also vary according to the source (pay-per-click, email, social media, or display banners). You should also use a landing page that is dedicated to individual services or products. Remember, combining too many things on one landing page is a recipe for disaster.
Another reason to use a landing page is if you need to communicate discounts to various classes of customers. You may have people that are subscribed to your newsletter or people that have never heard of your product follow your advertisement. The simplest way to reach various classes of customers is through the creation of separate landing pages. This will enable you to keep your messages private and personalized while not interfering with the general purpose of your homepage. After all, not all promotions are for all people.
A third reason to use a landing page is to keep your customer focused. Perhaps your homepage is diluted and lacks a clear focus. That is a problem when a company like Google decides to rank your page against a competitor. If you advertise too many things on your page compared to your competitor, your competitor will outrank you. Being near the top of a Google search result is worth its weight in gold.
If your advertisement takes your customer just to your homepage, they may begin to navigate to various other pages from that page. This navigation will take them away from the advertised products. The original intent of the customer is now lost and they will not make a purchase because they feel uninformed. With a landing page, your customer will remain focused on the item that the advertisement brought them to the site for. If you find your customers wandering from landing pages and losing interest, it's time to work on message matching and dynamic text replacement.
One more reason for using a landing page is based on how you get your message to your consumer.  Customers arriving via a short tweet, for example, may have heard very little of your product and need a lot more detail to further their progress. This is very different to someone who might have clicked through to your page from your monthly newsletter. As such, you should try to use separate landing pages for each source. Message match is much easier to manage this way: social media traffic can have an associated icon placed on the page for reinforcement and affiliate or partner traffic can be co-branded.
A separate benefit of segmenting your traffic to different landing pages is measurability. This will allow you to fine tune your pay-per-click strategy, your email campaign, and/or your social media campaign. Driving your consumers to different landing pages will make data analysis much easier.
Below are ten practical reasons to use a landing page:
Direct every ad to a landing page

Get more people to your events

Use a landing page for people to sign-up for your email newsletter

Promote your new products or services

Use a landing page to promote your free manuals or eBooks
Give away a free printable guest pass or coupon for a service
Use a landing page as a personalized destination from a guest blog post
Create a landing page as a personalized destination from a contributed article in your hometown paper
Offer Facebook or Twitter users a printable coupon
Personalize your social media profile and pictures
The last, and maybe the best reason to use a landing page, is to maximize the money you spent in a pay-per-click advertisement. Basically, a landing page will give you more bang for your buck. When you mention a certain detail in your advertisement, you can carry that exact same detail through your entire landing page. This allows visitors to understand that they are on the right path. That path leads them to make a purchase.
Unbounce Insight: Anatomy of a Landing Page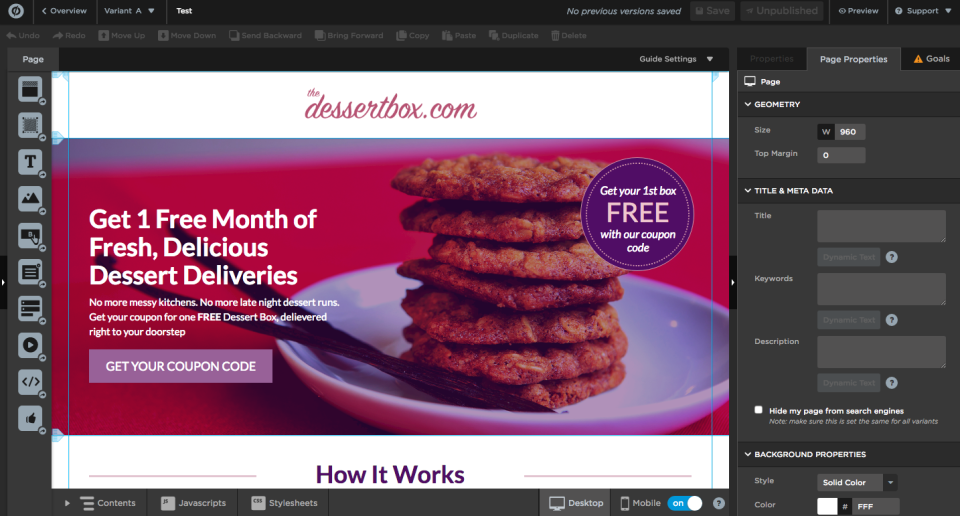 Your landing page is uniquely yours. It can contain what you need to sell your product or get people to sign up for your services. There is no exact formula to make a perfect landing page, but there are some rules that increase your chances of making a good one. Some of the appeal of your landing page will be its outward appearance, it may also be a psychological reaction from the visitor. It is all how a person responds to the colors and layout. As a reminder, you can always create several different landing pages and test them against each other. The tips below will help you make a landing page that will become your champion page in the future.
Layout
No navigation

The easier a visitor can find their way around, the faster you get conversions

Landing page should say "make a decision" in one way or another
Page headlines and ad copy

Landing page headline and advertisement wording should complement each other

Consistent content between the ad and landing page will improve AdWords score
Clear headlines

The headline is one of the first things a visitor will read, it should be compelling

Catch the visitors' attention with specific and content related points
Impeccable grammar

Trust of the customer is compromised if words are misspelled and grammar is poor
Trust indicators

Incorporate testimonials, press, guarantee seals, and a third party security certification
Use a strong call to action

After reading the headline, visitors must know what to do next
Buttons and call to actions should stand out

Identify key words people interested in your service/product might be searching

Conversion button should stand and be placed near the call to action button

Orange or yellow buttons can catch a visitor's eye
Use links sparingly

Too many links are distracting and will take a visitor off the landing page

Simplicity is key
Use images and videos

Videos of user testimonials, motivational speeches, and product images will have a positive impact on visitors
Keep it before the screen break

Keep most content above the screen break, where a visitor must scroll to see more

Place call to action buttons where the viewers' eyes will be drawn, make it easy to find
Test, test, and test some more

Continue to run A/B tests to find a champion
Colors
Colors elicit all sorts of emotions. Choosing the right colors will draw in traffic and set the mood of the landing page. Picking the incorrect colors may scare or bore visitors in to going someplace else. Here's what different colors mean:
Yellow – optimistic, grabs viewers' attention
Orange – aggressive, call to action, grabs viewers' attention
Red – energetic, creates urgency
Pink – romantic, usually used to market products to female customers
Blue – trust and security, often used by banks and other financial businesses
Purple – soothing and calm, often used for beauty or anti-aging products
Green – wealth, easiest color for the eye to process
Black – powerful, often seen as luxurious and sophisticated
Headlines
As stated above, headlines and ad copy are an important part of landing page layout. The headline is the second most important wording on the landing page next to the call-to-action. If the headline isn't great, visitors are not going to look at the rest of the page. A good headline will show the visitor your unique selling proposition.
The USP is the thing that sets your product or service apart from your competition. It should convey that you are faster, more affordable, or better quality than any one that competes against you.
There are four types of headlines that you can use to get the visitors' attention.
News – these types of headlines introduce a new solution to an old problem
Self-interest – these types of headlines apply to visitor interest
Quick and easy – these types of headlines appeal to a visitor's desire for a quick fix
Curiosity – these types of headlines pique visitor interest
You do not have to choose between one of these headlines, you can make a hybrid for you landing page. Remember, a headline must be well written. A well written headline will build trust with the visitor as soon as they arrive on the page.
Images and Videos
Humans are much faster at processing photo images than they are at processing text. Images and videos are a perfect way to show how a product works rather than just describing how it works. Whatever you do, avoid stock photos. Your landing page should use something known as a "hero shot". A hero shot gives the visitor a chance to see how your product will affect their lives.
If you have the capabilities, create a short video. This video can explain how a product works and focus on the benefits to the consumer. Another great thing a video can do is show satisfied customers. Adding customer reviews and a description of the product doubles your value.
Social Proof
When most people purchase a product offline, they have spoken with their closest friends about it. They are willing to buy a product when their friends are willing to vouch for that product. The same thing happens online. Research shows that over 90% of people value recommendations from a peer, and nearly 70% of people will trust a recommendation from a person they do not even know. An easy way to get a person to press the call-to-action is to add social proof. Authority badges from other companies displayed on your landing page will entice visitors to press the call-to-action button.
If you have a large social media following, you can display the number of likes, followers, and pins you have received. This shows visitors that other people trust you, so why shouldn't they. The most powerful piece of social proof is the customer testimonial. This can be placed in a video on your page or it can be displayed as quotes throughout the page. You will need to get specific quotes from people. Displaying the names, titles, and photos of people being quoted will go a long way with building trust with visitors.
Succinct Text
On your landing page, you will need to describe your product. Everyone wants to describe their product using buzzwords like "innovative" and "cutting edge". You should avoid these words. They do not describe the quality of your product or service. You need to show the visitor why your product or service is right for them. Briefly and clearly describe how your product or service will meet their need. They followed your ad to your page, make them want to buy what you advertised.
If a visitor does not find what your product does to help them within 8 seconds, they are going to lose interest. Use bullet points to divide your text into easily readable sections. Avoid using too much technical speak or acronyms when describing your product. This may be great for other people in your industry, but it will not translate well with visitors that are viewing your product for the first time.
Call to Action
Everything on your landing page leads to this moment, a click on your call to action. The only reason you have put in strong headlines, social proof, and videos is to get your visitors to press the call-to-action button. It has to jump out to the visitor. You might think that having a big, red, flashing button will entice that visitor to press it. That is simply not the case. You should study the color theory and find a hue, tone, tint, or shade that stands out from the rest of your page. Use your USP to make your call-to-action unique and effective. The most important thing is to make sure that your call-to-action button actually looks like a button. If a visitor does not know how to find and click your call-to-action, your landing page is useless.
Contact Information
If some things on your landing page are a bit complicated, visitors may need to talk to a company representative. Include a contact form for the visitor to fill out. This will allow you to keep a complete record of visitor questions so that you can adjust your landing page going forward. With the majority of traffic to a website coming from mobile phones, having a click to call button is a necessity. This will allow the visitor to stay on your page while talking to a representative.
Unbounce is a global company that can support you in the development of building landing pages. They have been able to convert 1 in 10 exiting visitors into leads. This means that their resources and advice should be taken. They are experts in the field of converting leads. By partnering with them, you can almost guarantee an increase in revenue from your advertisements.
If you have taken your time to read this article, you will understand the absolute necessity of having an effective landing page. Using Unbounce will help you make that effective page. You do not have to take my word for it, you could listen to the 15,000+ brands and agencies that use Unbounce's services. An added benefit to listening to those brands, many have completed studies to show the effectiveness of using Unbounce to convert their leads. Remember, you may be a veteran in the marketing business or a newcomer, either way Unbounce.com has the ability to help you convert leads. In a cut-throat business world, building effective landing pages will separate your company from the competition.