Unbounce VS LeadPages | Comparing Leading Landing Page Builders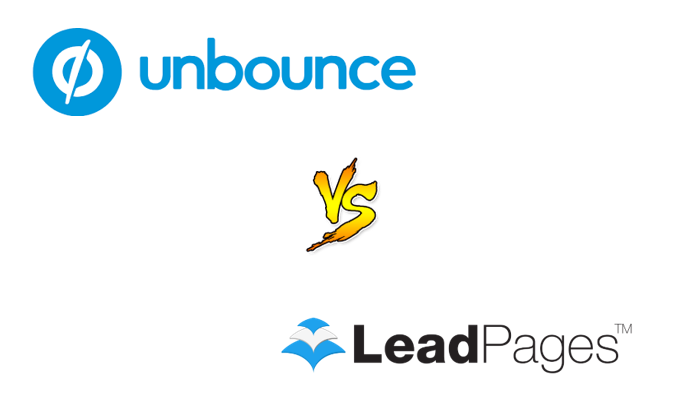 Unbounce vs LeadPages – which one can help you create more effective landing pages? A landing page also known as "lead capture page" or "destination page" is a common term in digital marketing, it is a standalone webpage particularly designed for marketing or advertising purposes. It is simply a page where a visitor can land on in response to a search engine result or an online advertisement.
Top Related Article: Instapage vs. Leadpages
A well-designed landing page does one thing very well, it converts web visitors into leads. However, landing pages can be used for various reasons such as promoting an event, advertising a product sign-up, or a survey. A report by Marketo stated that 68% of B2B businesses make use of landing pages to acquire leads. With the right landing page tool, you can design your own functional landing pages in no time.
Why do you need a landing page builder tool such as Unbounce or LeadPages?
It helps you create excellent web pages quickly and without hassle.
There are lots of elegant templates to choose from featuring proven methods to convert more web visitors to leads
You can design quality web pages without having foreknowledge of coding
Unbounce vs LeadPages: Your Guide to Building a Better Landing Page
Landing pages are used mostly for online advertisement campaigns. For a landing page to convert visitors into leads, it must contain a spot for user information such as name, contact address, email, phone numbers, etc. You'll also need a click-through link or a call to action button that redirects visitors to the next step in your funnel.


In addition, landing pages can be linked to other forms of marketing strategies to improve effectiveness. Examples of these strategies include search engine optimization marketing, social media and email advertisement campaigns.
A landing page must be optimized in order for it to achieve its aim. Ways of optimizing a landing page include:
Your call-to-action button should be strategically placed so web visitors can easily see it. This is perhaps the most important part of a landing page because this is what actually converts visitors to leads.
Make your content clear and concise with a persuasive undertone.
Your landing page design should be as simple and elegant as possible. Landing pages with minimal images and larger fonts are more likely to convert than ones with lots of images. Also, landing page design should allow a smooth transition to your main website.
Related: Best Sales Funnel Software
There are lots of landing pages tools which make designing leading pages very easy. Unbounce vs LeadPages—these are two of the leading landing page builders. So, which is the right one for you to ensure the success of your business? This article carefully reviews and compares b Unbounce vs LeadPages to help you find the right tool for you. The LeadPages vs Unbounce competition is pretty evenly matched, but let's take a closer look.
We are evaluating Unbounce vs LeadPages in four major categories:
Building Pages and Templates
Ready-made templates make landing page building faster and easier. Although you can start building a landing page from scratch, it's easier to use a top-notch landing page template that just needs a little fine-tuning.  Knowing the number and quality of templates provided by each landing page builder will assist you in selecting the best landing page tool for your business.
Some landing page tools have features that make them easier to operate and handle than others. Some require a little knowledge of coding while others have interfaces that can be understood by anyone.
To be successful in digital marketing, you need a lot of specialty tools that will help you optimize your online campaign better. You should choose a landing page builder that has plugins which support a lot of integrations.
Cost is a major factor to consider when selecting a leading page builder. You should opt for the one that offers great value for money and falls within your budget.
UNBOUNCE VS LEADPAGES: AN OVERVIEW
Starting with just six people in 2009, Unbounce is a leading landing page building company with thousands of customers. Unbounce's landing page platform has made building high-impact landing pages easier with features allowing you to create and test landing pages, popups, and sticky bars without foreknowledge of coding.
See Also: Clickfunnels Vs. Infusionsoft
LeadPages is one of the best-known landing page builders on the planet. However, when you look at its full range of features, you'll realize that building landing pages is just the tip of the iceberg.
Building Pages and Templates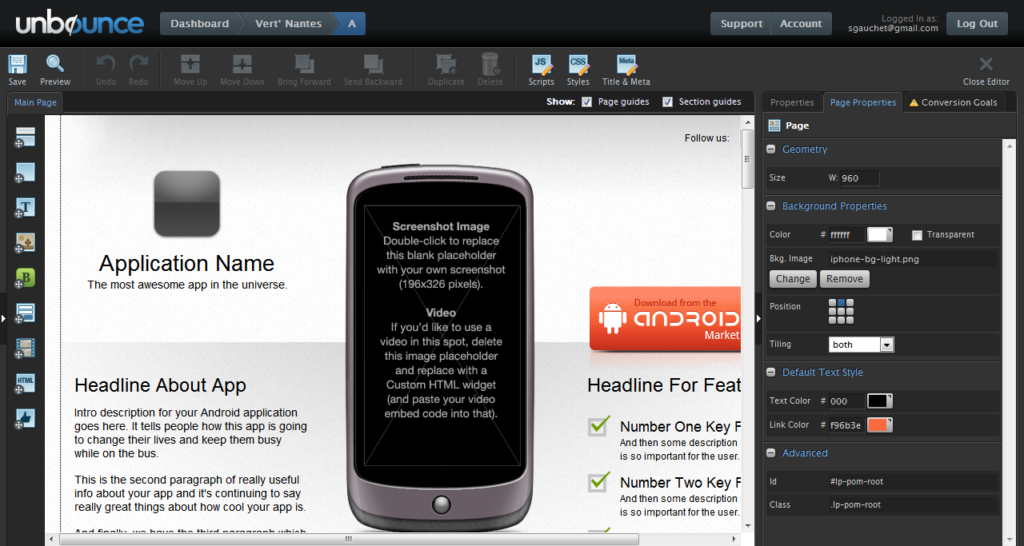 Unbounce allows you to introduce dynamic content, this consequently increases your Adwords Quality Score for Pay-Per-Click (PPC) Campaigns. Dynamic content also allows you to build your landing page based on keywords your audiences are searching for.
Apart from the feature to create a landing page from scratch, Unbounce also offers over 125 handcrafted samples designed by their team, to aid you in building your landing page faster and easier. The templates are integrated with features that will help your landing page covert. You just need to do some minor fine-tuning after selecting the template that's best for you. This is made easier with the drag and drop interface which allows you to drag and drop elements that you need to add or remove.
Unbounce also comes with features such as lightbox popup forms and email capture forms in which you can directly add your lead capture form to your landing pages. This helps in converting leads faster from your landing pages.
A major fault in Unbounce landing page tool is that pages are not automatically mobile responsive. You need to create a mobile version of your landing page by moving and resizing elements in order to make all the elements fit into the mobile viewport.
UNBOUNCE: EASE OF USE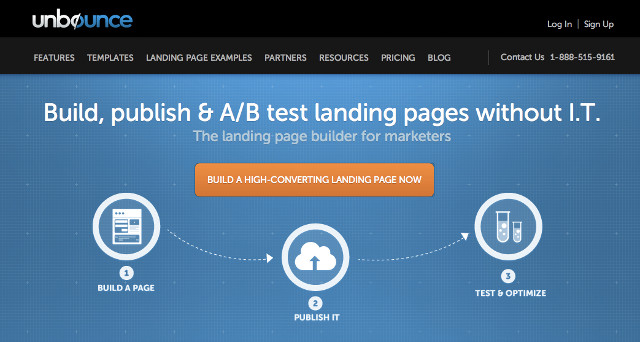 Unbounce landing page builder is very easy to use and requires little foreknowledge on how to set up a landing page. The tool offers a lot of customization options and functions with a large array of templates to choose from. However, some functionalities require some basic landing page building skills which you can easily gain over time. Unbounce is suitable for people who need to build a lot of landing pages.
Unbounce uses a pixel-precise drag and drop editor (PPDD) which allows free movement of elements, overlapping of elements and dragging to size. This editor is better than static editor and column-based drag and drop editor.
Unbounce has a very active user community, you can get an answer to almost any problem you encounter while using the tool.  Some custom code options recommended by community members and their staff require some knowledge of coding which might be a problem to non-coders.
UNBOUNCE: INTEGRATIONS
Unbounce has made sure their landing page platform works well with almost every tool on the market. Below is the list of Unbounce's landing page tool integrations on different categories.
Utilities

: Digest by Zapier, Excel WordPress, MySQL, Podio, Parolu, Picatic, Google Sheets, Webhooks by Zapier, UberFlip, Thankster, Zoho Creator, Qualaroo
Customer relationship management (CRM)

: Close.io, HubSpot, Agile CRM, Capsule CRM, Bizible, LeadSquared, Follow Up Boss, Mirabel's Marketing Manager Hubspot CRM, Solve CRM, Salesforce, Infusionsoft, Microsoft Dynamics CRM, OnePageCRM, Outleads, Pipedrive, Automational, Base, Pipeline Deals, speak2leads, Stream, SugarCRM, Zapier, Zoho CRM, Hatchbuck
Chat:

 123 Contact Form, Slack, LiveChat
Email:

Active Campaign, Woodpecker.co, Email by Zapier, AWeber, Benchmark, Betasend, BriteVerify, Mandrill, MarketVolt, PepiPost, Campaign Monitor, Constant Contact, MailChimp, MailerLite, Mailgun, Emma, Freshmail, GetResponse, Gmail, Rare.io, ReachMail, SendGrid, SharpSpring, Vero, Droppler
Marketing Automation

: LeadsRX, ActiveDEMAND, Autopilot, Pardot, RocketResponder, Vision6 Comindware Project (Delio), Drip, E-goi, Jumplead, Kick-Tipp, Marketo
Analytics:

Google Analytics, Kissmetrics, Google Tag Manager, Crazy Egg, Formisimo, Mouse Flow, SwiftType, FullStory, Geckoboard
Customer Support:

 Intercom, Groove, Zendesk Olark
Call-Tracking:  

CallHub, CallRail, Myphoner, Twilio, Callingly
Education: eFront Pro
Webinar: GoToWebinar
Optimization/Testing:  Optimal Workshop, Hotjar, UsabilityHub, UserTesting, VWO
UNBOUNCE: PRICING
Unbounce is a little more expensive than LeadPages, the pricing is determined by the features in a particular plan. They offer three plans: enterprise, premium and essential.
The Essential plan, priced at $79 per month, offers 75 Published Landing pages, 8 Published Popups and Stick Bars, and other basic features such as Dynamic Text Replacement, GDPR Compliance, SSL Encryption, Zapier Integration, A/B Testing and so on.
The Premium plan, priced at $159 per month, offers 150 Published Landing pages, 16 Published Popups and Stick Bars, and 5 Client Sub-Accounts. Other extra features in this plan include Marketo Integration, Popup and Sticky Bar Scheduling, Page Redirects and Salesforce Integration.
The biggest plan which is the Enterprise Plan is priced starting from $399 per month. It offers 375+ Published Landing pages, 40+ Published Popups and Stick Bars, and 15+ Client Sub-Accounts. Other extra features include Page Migration Services, Audit Logs, Two-Factor Authentication (2FA) and Customer Success Manager.
UNBOUNCE: PROS
Great features that support complex landing page needs
The drag and drop interface make it easier and faster to build a landing page
Unbounce has free templates to get you started.
Handy WordPress integration

Excellent analytics suite
You can design separate feel for the same landing page for mobile vs desktop users
You can customize your domains, popups and Stick Bars.
Cons:
Some functionalities require prior knowledge of landing page building
UNBOUNCE vs LEADPAGES
Building Pages and Templates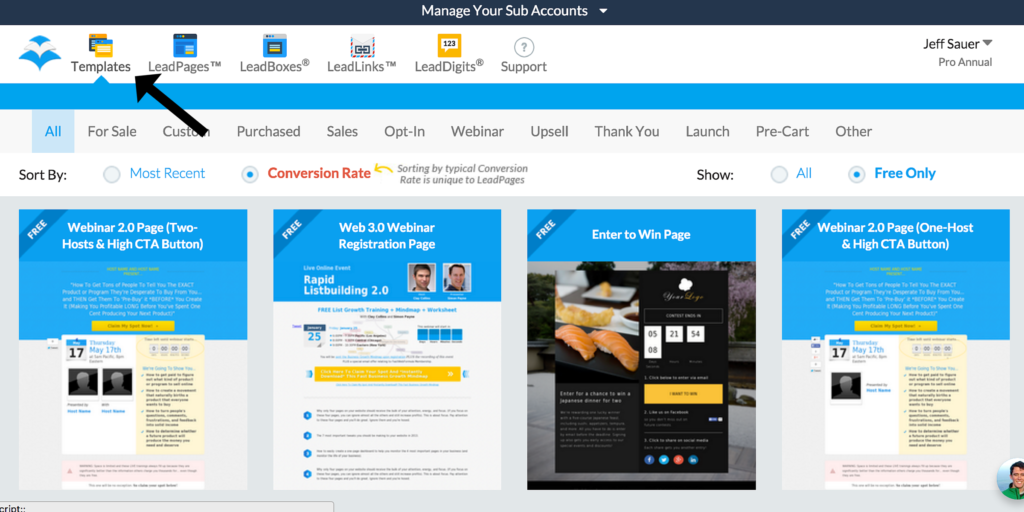 LeadPages offers a lot of extra features that make building landing pages a less stressful experience. A prominent feature is an integrated countdown timer to let you know when your pages expire, and an automatic and SMS text messaging for lead generation. In addition, it has a Zapier-like automation center, allowing you to get data from a connected app to be dropped in another.
LeadPages offer one of the largest libraries of landing page templates, with over 200 free templates and 300 premium templates that can be bought from third parties. Out of the 200 templates, 76 are for the drag and drop editor while 132 are for standard landing pages.
LEADPAGES: EASE OF USE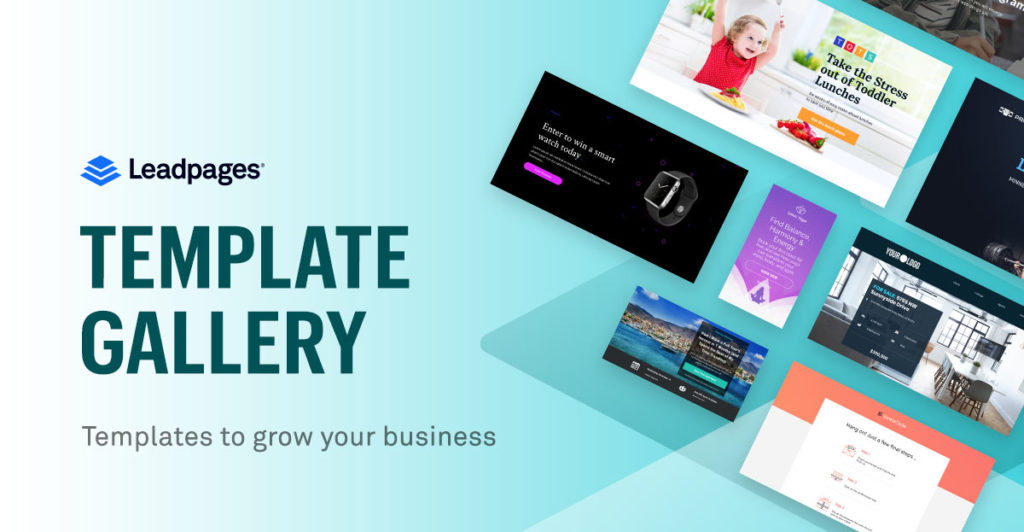 LeadPages comes with two editors, A static editor and a column-based drag and drop (CDD) editor. The static editor offers a few customization options but is limited in options. This is done so as not to allow people to alter a template that's already laid out. The CDD editor is a more customizable editor offering more flexibility by allowing you to add more elements (text and images) and move them around.
The countdown timer, icon library and customizable Leadboxes are all features that make the tool easier to use. They recently added dynamic actions to the countdown timer which performs an action when the counter reaches zero. However, over time it is likely that they will add more features to improve accuracy and predictability.
LeadPages also gives you more flexibility on how you interact with your customers through their SMS text message conversion program, Leaddigits. Single conversion email can also be sent to your customers, allowing them to sign up for email newsletters on their email inbox.
A little design error is that the exit button is easily mistaken for a minimize button on the sidebar. However, LeadPages is a relatively new tool that has the potential to improve and meet up with other leading landing page tools.
Pricing
LeadPages provides one of the most affordable landing page building services on the market, with three available plans including a standard, pro and advanced plan.
The Standard Plan is priced at $28 per month and includes 160+ free templates, 40+ integrations, unlimited pop-up forms with click, exit intent & timed display triggers, and free hosting on secure custom subdomain.
The Pro Plan is priced at $59 per month and offers extra features such as online sales and payments, 10 SMS campaigns, 1-click signup links, unlimited A/B split testing and special discounts with partner companies.
The Advanced plan priced at $241 per month is good for marketing agencies and enterprises. Apart from the basic features, it offers extra features such as Hubspot, Marketo, and Salesforce integrations, as well as 50 extra SMS campaigns, 5 free sub accounts and free virtual workshops
Integrations
LeadPages landing page platform offers over 40 integrations that assist you when working with other platforms. They include:
Analytics:

Google Analytics, JavaScript Analytics Platform, Google Tag Manager

Digital Advertising:

Google Adwords, Facebook Ads, and Other Advertising Platforms

Email:

AWeber, Constant Contact, Convert Kit, Get Response, iContact, Drip, Emma, MailChimp, ActiveCampaign

Customer relationship management (CRM):

Infusionsoft – Salesforce

Marketing Automation

: Marketo, Zapier, HubSpot, Ontraport

Social Media:

Google Plus, LinkedIn, Twitter

Webinar:

GoToWebinar, WebinarJam

Website:

Drupal, Joomla, Squarespace, Weebly, Wix, WordPress

Live Chat:

chat.io, LiveChat

Scheduling:

Acuity, Timetrade, Calendly
PROS:
Their drag and drop interface makes it easier and faster to build landing pages
It has a very large library of templates
It is well integrated with WordPress through their WordPress Plugin
Beautiful template designs that need little customization
LeadPages offers very affordable subscription plans
Templates can be sorted out by conversion rates, making it easy for you to choose a template.
The Leadlinks feature gives you more control over how you relate with your customers
Popup and Leadbox features are very good for lead capture
Cons:
LeadPages templates do not offer much customization controls.

Once you choose a template, a particular arrangement is chosen for you to which you can make little customization.
There have been complaints that the autosave feature doesn't work well and your work might be lost.
LeadPages doesn't offer the ability to start building from scratch, you have to start from a template.
Unbounce is suitable for marketing agencies, enterprises, established businesses and those who want to build complex landing pages.  
It comes with a pixel-precise drag and drop editor which offers a lot of flexibility when building your landing page. It requires some prior knowledge of coding for you to operate it effectively, but once it is mastered it can be a very powerful tool, although it comes at a significantly higher price than LeadPages. Also, it has a lot of integration plugins, making it easy for you to link up with other platforms.
LeadPages, on the other hand, is very easy to use and comes at a lower price than Unbounce. It is suitable for startup businesses and solo business owners that are looking to boost their products or campaign through digital marketing.
It uses two editors, a static editor and a column-based drag and drop (CDD) editor. Both editors are not easily customizable and do not offer much flexibility as the pixel-precise drag and drop editor. It doesn't require any prior knowledge of coding before you can operate the tool effectively. It also has features that offer more control over how you relate with your customers. The large number of ready-made templates that LeadPages offer makes it stand out among other leading page builders.
Both leading pages builder offer great features and tools that will help you build converting leading pages. You can easily make your choice depending on your budget and the features you need in a leading page builder.