Unbounce Landing Page Platform For Conversions | Sales Funnel HQ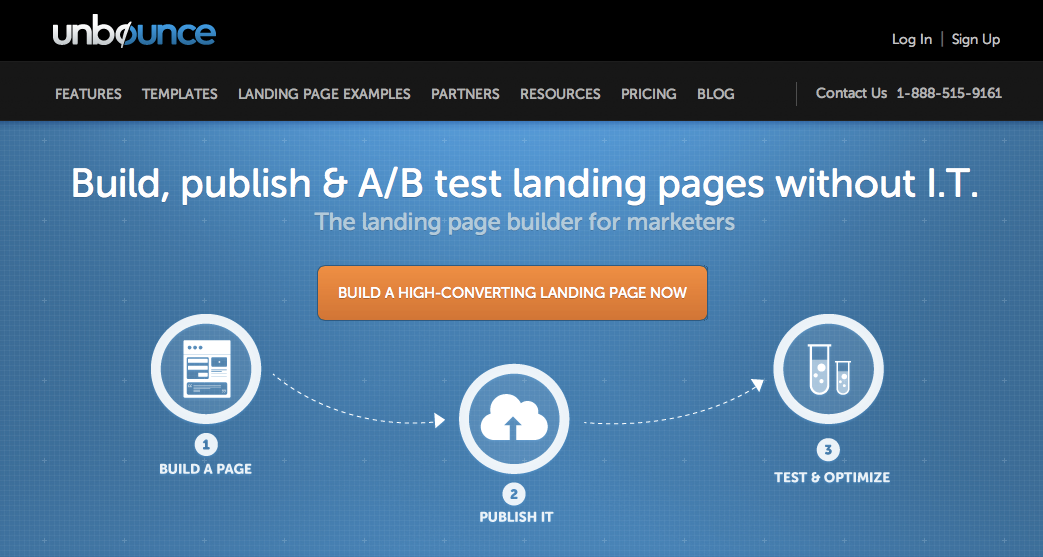 One of the top ways to create an online business that generates income passively is to create landing pages to sell products or services. With a little bit of marketing, you could soon find yourself with more traffic on your sites than you previously imagined possible. If you are looking for a new tool to help you simultaneously create and market multiple landing pages, one of the best platforms for you to pursue is an Unbounce landing page. With the ability to host over 300 landing pages, this website is the dream of many internet entrepreneurs.
Creating a Successful Unbounce Landing Page: Main Components
Before you are able to create a successful Unbounce landing page, you need to first be aware of the many different components of a successful page. Much like how you need to carefully plan and do your homework before investing in a stock or any other type of potentially lucrative activity, anybody who wants to make a landing page to sell a product or service must start with some very basic background information. Otherwise, you may find yourself quitting before you find the opportunity to succeed in this profitable industry.
Top Related article: Unbounce vs Leadpages
A Valuable Product or Service
Hopefully it goes without saying that you need to have a valuable product or service if you want people to buy it. If you simply create a landing page using minimal effort, thought, planning, and research, it will show. The average person who purchases items on the internet is pretty intelligent. Accordingly, don't design a landing page that is geared towards fooling people into handing over their money. This is a business model that is destined for a quick and miserable failure.
Interactive and Noticeable Call-to-Action (CTA)
The call-to-action is perhaps the most important part of your landing page since this is the place where your potential customers will feel encouraged to take action and express interest in your product or service. Accordingly, those who create an Unbounce landing page need to put some extra attention into ensuring that the CTA is attractive, located front and center of your landing page, and encourages interaction. Those who choose to use a CTA to collect something like an e-mail address can then choose to conduct something like a drip campaign to convince those who are still on the fence to purchase your product.
Successful Underlying Marketing Plan
Without any sort of marketing plan, you should never expect to have any visitors on your website. Sure, it is possible to attract organic visitors using SEO tactics, link building, and other common strategies. However, those who want their results fast (and not in a matter of months or years) need to be creative with how they attract their customers. With the right marketing plans that find your customers as they are and immediately lures them in, you can get your business rolling fast. Some of the most basic ideas include a presence on social media, PPC ads on places like Google and Facebook, and so on.
Clear Description of Your Product's Value
Having a valuable product is only part of the struggle in creating a successful Unbounce landing page. In reality, you also need to have a way with rhetoric. You don't necessarily need to hire the spawn of Shakespeare to create effective content, but you shouldn't hire the polar opposite, either. As you are creating an Unbounce landing page, make sure that your content displays a clear reflection of your product's value. After all, if there is no value in your product, you shouldn't expect anybody to purchase it.
Quick & Easy Sales Funnel Process
Once you have your Unbounce landing page draft constructed, it's important that you are able to test and go through all of the steps of the process that you designed your Unbounce landing page to have. To do this, simply try to purchase the product or service on your own, sign up for your e-mail marketing campaign, or whatever funnel process that you have designed for your landing page. If you are able to easily navigate through your funnel, then try to have a friend do it. If both you and the person who previously knew nothing about your landing page are able to work with it, then so will the average Joe who finds your landing page.
Unbounce Landing Page: What is Unbounce?
Of course, anybody who wants to create a Unbounce landing page doesn't need to create one with Unbounce. To put it simply, Unbounce is a platform for hosting your landing pages. Those who want to have a company to host and help manage multiple (75 or more) landing pages should consider using the Unbounce landing page platform. If you do, you can end up saving lots of money on hosting each of your own landing pages separately. Best of all, any Unbounce landing page can quickly be pulled up along with any other landing pages you may have, providing a platform to host all of your landing pages in the same place for a more affordable price.
Template Based Landing Pages
Unless you are a professional web designer and have some experience in coding, you are probably going to need some assistance in creating a landing page. Thankfully, designing a landing page these days is a lot easier than it was in the '90s. Each landing page Unbounce published is made on an interactive drag and drop platform, which takes away the need to have any sort of technical knowledge. If you are capable of using interactive software (like your typical computer game), then you should be able to easily create template-based landing pages using the Unbounce landing page creator.  
Related: Best Sales Funnel Software
Very Simple to Create & Publish
If you couldn't create your landing pages within an hour or so, there would be little sense in trying to create and maintain over 100 different landing pages simultaneously. Each Unbounce landing page that you create will be very easy to create and publish since the online system is completely interactive. Typically, an experienced user should expect to spend about an hour or so on each landing page. However, new users should expect to spend some more time on each Unbounce landing page. Once you learn how to use the interactive platform, you will quickly be able to pump out lots of pages.
Easy to Create & Publish Multiple Landing Pages
After you create a landing page Unbounce will automatically post it on the internet for you. This means that you don't have to worry about the hosting fees associated with publishing individual websites and domains for each of your Unbounce landing pages. Although many experienced online entrepreneurs might otherwise choose to host multiple sales funnel landing pages on a single domain, each landing page Unbounce publishes goes on its own website. This means that you won't even need to stress over hosting fees and the many other fees involved in having your own website.
Unbounce Landing Page: Why Use Unbounce to Make Landing Pages?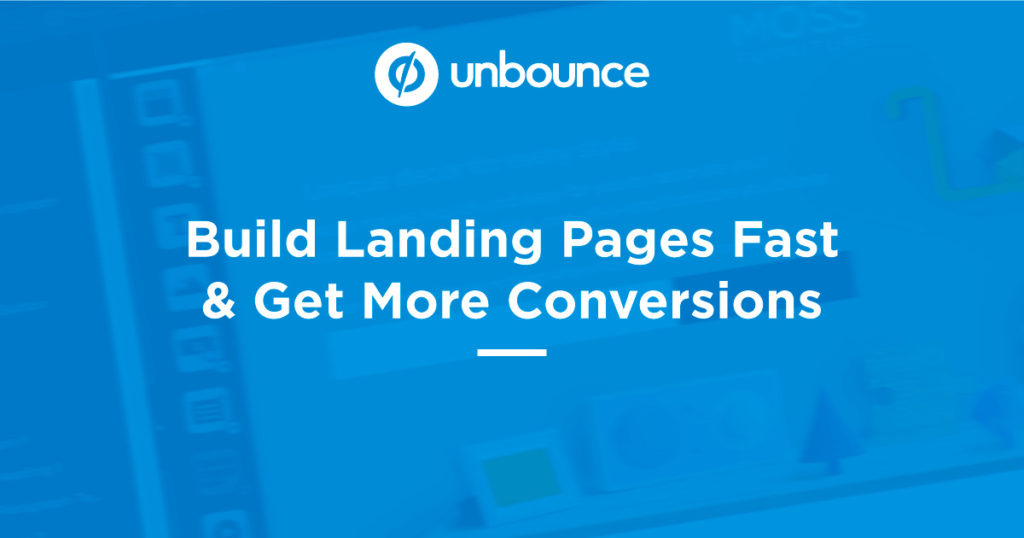 If you want to create a source of income online, sales funnels and landing pages are just a couple of the best avenues to start generating more passive income. Of course, anybody who is a business-minded person might see a platform like Unbounce and immediately question whether or not it is worth investing in. Accordingly, let's go ahead and break down some of the main reasons that you might choose to try making each template landing page Unbounce offers one of your go-to landing pages for selling your new product or service.
Reasonable Price for Having Many Landing Pages
Many people who choose to create websites using one of the template-based landing page Unbounce offers will soon discover that they have the extra time and money to invest in an additional one. Then, this can turn into 10 different landing pages. Thankfully, you can host multiple landing pages on Unbounce without racking up the fees for hosting and paying for your domain names, as you would if you did things manually. For this reason, anybody who wants to maximize the profits from their Unbounce landing pages, while simultaneously providing themselves with countless chances of success by creating multiple pages, will absolutely love this platform.
Comes with a Free Trial Period
Many people who would otherwise immediately distrust a company like Unbounce can have many of their fears alleviated by the fact that this service comes with a free trial period. In other words, you can try using the service and seeing what it would be like to generate income off of it before you ever even send a penny to the managers over at Unbounce. This means that you can be completely confident that you like the platform, that it works for you, and that you know it will be your go-to platform long before you send your first payment.
Templates with a Proven Track Record
Those who are savvy online entrepreneurs are well aware of the fact that the quality of a website's design has a direct effect on the level of success which you should expect to experience with it. Although many of us are taught to overlook how something looks and search for the inner beauty, successful landing pages are a huge exception to this idea. With each landing page, Unbounce provides you a template that has been demonstrated time and time again to be successful. In all reality, all that you need is a wonderful product or service and a marketing strategy to get things rolling.
Easily Integrates with Other Tools
There are many people who are already using tools like WordPress and MailChimp for their existing landing pages who might be sitting there wondering if they can even feasibly consider making a switch to Unbounce. After all, these people likely already have all the pieces of their online business puzzle fitted together. Although anybody who is comfortable with their current situation should consider staying where they are, these people should also be aware of the fact that Unbounce will also integrate with tools like WordPress and MailChimp to allow an easy transfer in service.
Enterprise Plan Comes with Human Assistance
When you have well over 150 landing pages at your disposal, you will likely have already considered pursuing professional help for maintaining your online business empire. With the Enterprise landing page Unbounce plan, you can create well over 350 different landing pages. Best of all, you will also have access to your own Success Manager and Launch Specialist who will work with you to maximize the return on your investment (ROI).
Manage an Online Empire on One Platform
In the '90s, anybody who wanted to create a list of websites would have a difficult time managing each of their individual pages. For this reason, the advent of platforms like Unbounce for making each of your landing pages conveniently located on one platform makes it a lot easier to be an online entrepreneur. To put in perspective how much of an impact this can have on your life, Unbounce allows you to publish and host 375 landing pages at the same time with their Enterprise plan.
Unbounce Landing Page Best Practices: 10 Tips for You to Consider
If you made it this far, you are probably past the initial interest stage. Clearly, Unbounce is a platform which has plenty of value for anybody who likes to create and simultaneously manage multiple sales funnels. However, anybody who is seriously interested in an Unbounce landing page or currently using the service needs to be prepared to succeed. Accordingly, here are 10 Unbounce landing page best practices for you to consider.
1. Consider Using All the Landing Pages your Plan Allows
Of the many Unbounce landing page best practices we will discuss, this one may be the overall most important one. As an entrepreneur, you need to set yourself up to succeed. Although most people who sign up for a service like Unbounce with a plan to create multiple landing pages, not everybody has the motivation or ideas to do so. If you want to succeed using an Unbounce landing page, make sure that you have plenty of landing page ideas at your disposal.
2. Place Your CTA Front & Center on Each Landing Page
There is no sense in creating any sort of landing page if the CTA is not the focus of the page. Without a CTA, you will have much fewer sales. This isn't to say that you have a bad idea for a product or service, but if your customers don't know how to receive more information (or even find the purchase page), then there is no reason for hosting the landing page in the first place. As you design your landing pages, make the CTA one of your first considerations.
3. Improve & Upgrade Your Marketing Strategies
As we have stated, a landing page without any sort of marketing strategy will likely fail before it ever takes off. Of course, there are many ways to increase your visibility on search engines without ever spending a penny, as well as ways to share your landing page for free. However, anybody who is serious about really taking off with their sales should get creative with how they conduct their marketing. Some of the most popular methods include PPC and social media advertisements.
4. Ensure Your Landing Page is Professional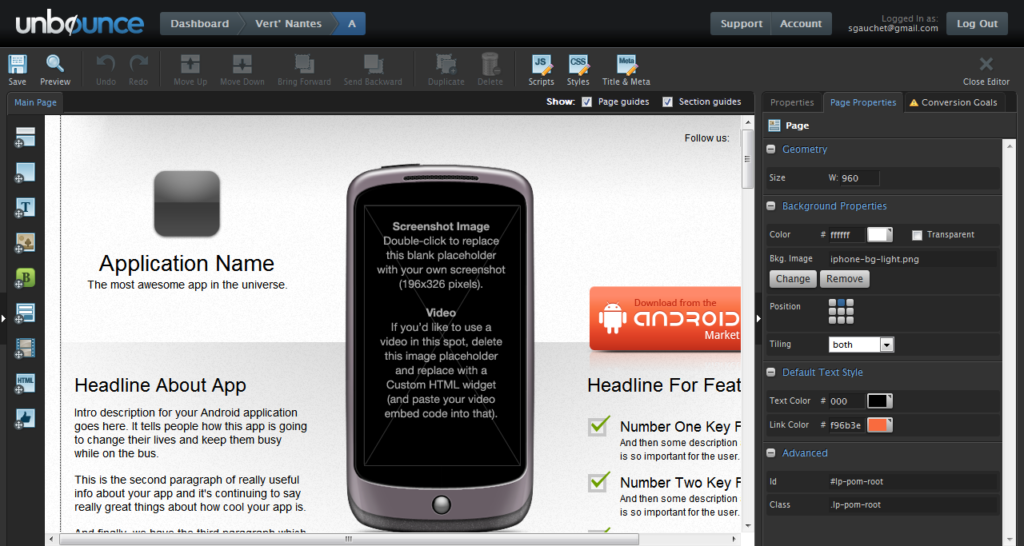 Put yourselves in the shoes of one of your potential customers. Imagine that you visit a landing page for a product that looks interesting, but you can immediately tell that an amateur designed the website. You might immediately start to question the credibility of the company selling the product. After all, if they don't take their website seriously, how can you know that they took the design and construction of their product or service seriously? You probably wouldn't be confident that this is the case.
5. Have Clear Funnel Steps Which Encourage Quick Sales
Outside of placing your CTA in a position which is easy to spot out and interact with, you should also consider the steps that your customers need to take afterward. Ideally, a customer can navigate through your landing page, purchase your service, and then receive and start using it without ever having to talk to a real human being. If you set up your sales funnel in a manner that's easy to navigate and understand, not only will you generate more sales, but you will also save lots of time to do bigger and better things.
6. Consider Using Multiple Forms of Content
Maybe you have a Unbounce landing page that contains nothing but text. With the right setup and content strategies, this can be a successful way to run your landing pages. However, you should also consider creating multiple types of content for your landing pages. With multiple types of content, including videos, you start to put a face to your product. This helps to make your site more engaging, while also making your customers feel like they are dealing with a much more professional company.
7. Make Your Product Descriptions Short & Easy to Understand
When you are putting text on your Unbounce landing page, the idea here is to value sentences and bullet points over essays. You could be the most prolific writer ever and still lose your potential customers quickly if you post text-heavy content on your landing pages. For best results, set up your websites in a manner that describes the product or service in a short yet effective manner. This will help make it a lot easier for your customers to skim and quickly discover everything they need to know about your product or service.
8. Post Reviews and Proof of Customer Satisfaction
If you have a great product or service, it should be able to speak for itself. Those who have a product with a track record of sales should already have a collection of positive reviews and other customer-created content that should help you to sell your product. Take advantage of these things. Of course, make sure to ask your customers if you can use their reviews and videos on your website before posting them though.
9. Consider Upgrading to Enterprise to Have the Extra Assistance
With many premium services that are available, there are packages suited for people of all budget ranges. As a business, Unbounce does a pretty great job providing a price and set of features that all budget ranges can accommodate. If you want the ability to have things like your own Success Manager and Launch Specialist, 375 different landing pages, and so on, spend the extra money and get the Enterprise package. Of course, anybody who doesn't have the ideas for 375 Unbounce landing pages may instead choose to start with one of the more affordable options.
10. Consider a Free Trial of Some Sort
As a potential customer, everybody loves a free trial. As long as you have some sort of system in place to end the free trial and encourage customers (who might otherwise be freeloaders) to pay, having a free trial period for a service can be a deal-maker for many customers. Most people who act on free trials only do so with the intention of perhaps purchasing your service afterward. Take advantage of this.
Unbounce Landing Page: Major Points & Summary
As a whole, Unbounce is a platform that allows you to host and simultaneously manage multiple landing pages all in the same place. Those who wish to host up to 375 landing pages with Unbounce also receive the benefit that comes with having human assistance ensuring that you reach your ROI. Although the Unbounce landing page platform may be considered expensive to some, consider the fact that this platform eliminates the need to pay the many fees associated with hosting your own website. Accordingly, anybody with lots of different ideas for landing pages and a little bit of time and money to invest will fall in love with Unbounce.