Unbounce Coupon Code | Comparing Pricing and Rates | Sales Funnel HQ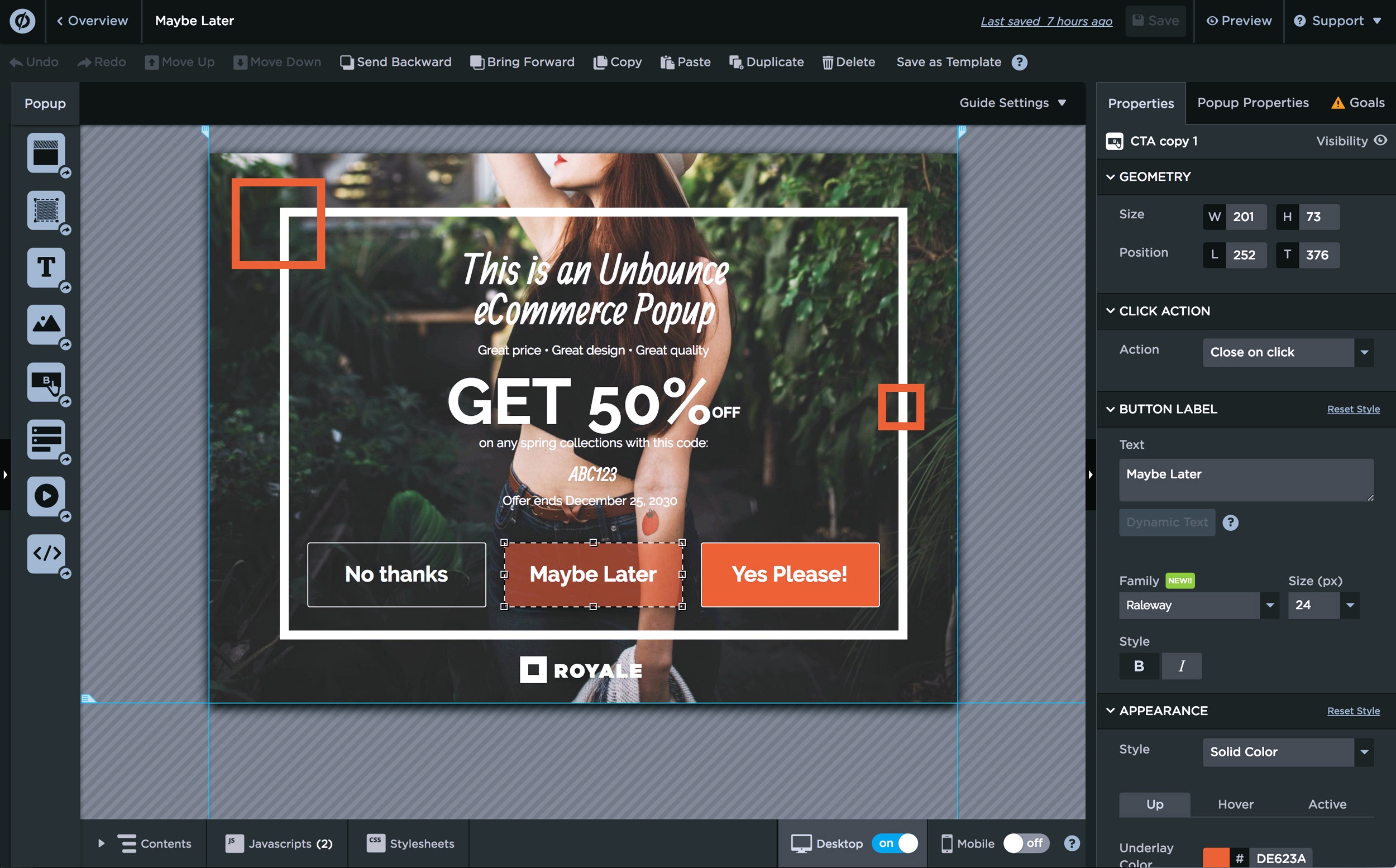 Looking for an Unbounce coupon code? Want to compare pricing for this platform as well as other similar platforms? Read on because you've come to the right place.
Unbounce is a platform that was created for individual marketers and for the marketing teams of businesses. It offers conversion support and is also a landing page builder. You can use it to improve your own business marketing skills or utilize it for your company to improve marketing by getting higher post-click conversion rates and gaining the ability to launch better, faster campaigns. Unbounce is an easy and great way to not only build, but also test website popups, sticky bars, and custom landing pages.  
Unbounce does tend to be expensive, with plans ranging from $49-$199 per month. Many of its subscription plans are available to be paid monthly or annually. While the cost is definitely worth it, especially as it will bring you or your business more clicks and therefore more customers, many people may find this price difficult. Luckily, a lot of coupon websites offer an Unbounce coupon code or they contain Unbounce discounts, so you can find the perfect plan for your business at a price you can afford.
The reason behind Unbounce's name, and the goal behind the platform, is to put a stop to website visitors who "bounce" away from your website–visit it or look at it briefly, then close the browser window or open something else. Unbounce aims to help you land more worthwhile and unique visitors who will stick with your website. This platform has completely revolutionized the way landing pages are used.
Several years ago, Unbounce burst onto the scene and has turned internet marketing on its head, as it helps both businesses and individual customers to achieve their very best landing pages, both through creation and through permanence, so that they see the best results they've ever experienced.  
What Exactly Does Unbounce Do?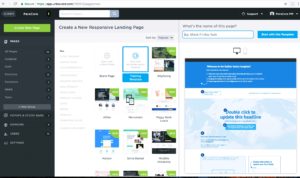 Unbounce offers the right conversion tools to help you with all of your marketing problems. The current cos- per-click can make it difficult to get efficient results, no matter whether or not you have a large budget for your advertising. Luckily, Unbounce is here to aid businesses. With the platform, custom pages can be created quickly and efficiently by any marketer.
The platform mainly provides aid in three ways–by helping you build and manage your landing pages, popups, and sticky bars.
Landing pages

can help lower your cost-per-click and make your budget for ads stretch as far as possible. Plus, better landing page experiences for your customers can bring better AdWords Quality Scores.
Popups

help you target visitors who are most likely to convert and trigger customized offers for them. You can add popups to any page on your website in mere minutes.
Sticky bars

provide a mobile-optimized and Google-friendly way to achieve as many conversions as possible. You can add sticky bars onto any page of your website.
With Unbounce, you can build quickly and efficiently, no matter your budget or business, and you can do it all without resorting to reliance on developers. The platform also provides you with the freedom to experiment with ideas for your campaign and to launch everything faster, all without needing to adapt or redesign your website.
Features That Only Unbounce Offers
If you're on the lookout for features that are completely unique and provide excellent conversion that you won't find anywhere else, Unbounce has everything for you. Its unique features include: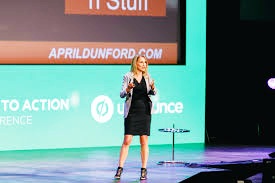 Templates that are powered by AI (artificial intelligence).

With these, you can take mere minutes to publish a campaign. They're also completely customizable, so the end product is tailored uniquely to you.
Absolute creative control.

There's no coding experience or knowledge required in order to collaborate, edit, and build with complete precision.
A design that protects data privacy.

Unbounce makes sure that it follows global security and data privacy standards, including PCI-DSS, CASL, and GDPR, so you know for sure that your protection and data is valued by the platform, just as much as you value it yourself.
Dependability that's outstanding.

If you paid for ad clicks, you should make sure they don't go to waste. Unbounce's support ensures that your sticky bars, popups, and landing pages are always on and operating efficiently with a 99.995% uptime.
Top Related article: Unbounce Landing Page
You can convert and build with features such as:
A platform that's all-in-one.

You will save lots of time as you streamline your work by having all of your conversion tools within the same platform; no more tab switching and multiple accounts with multiple platforms will be necessary ever again.
Mobile friendliness.

With the Layout Assistant feature, you can get ahead on adapting your landing pages and other creations to fit to mobile device screens, so your customers can always have an optimal experience, no matter which device they're accessing your services from.
Completion through a simple drag and drop.

You can use Unbounce's intuitive and unique drag-and-drop builder function to create custom sticky bars, landing pages, and popups that will also stay true to your brand.
Duplication that's efficient and quick.

Are you working on building something that you'll be coming back to and using a lot? Duplicate this in order to create campaigns very quickly.
Optimize and track using features such as:
Adding scripts in a fast way.

You could copy and paste scripts all day, one at a time. Or you could just embed Google Analytics into your page. You can also add Javascript, CSS, HTML, or any other script that's completely custom.
A/B testing.

You can improve the conversion rates of all your landing pages by testing more variants at a single time.
Version control.

Just in case something happens, all versions of your creations are automatically saved, and you can organize them or use them however you wish.
Unique messages that will adapt to each visitor.

Provide your visitors with a personal experience and increase the likelihood that they'll convert by enabling your page's copy to automatically adjust and match their search terms. You can accomplish this through Unbounce's Dynamic Text Replacement feature.
Connect and collaborate with these features:
Page groups that are completely custom.

You can organize your pages by groups such as campaign types for easy organization and tracking, so you can navigate your own information efficiently.
Account transfers that are conducted efficiently and smoothly.

You can archive campaigns that are idle and not going anywhere and save them for later without deleting any data or information. You can also transfer client accounts to enable those who are ready to move forward without any worries of accidentally losing anything.
Privacy settings that are tailored to you.

It's great to have as much privacy as you want and to be aware of how far that privacy extends, whether or not you're working with clients. You can keep all of your campaigns completely secure with Unbounce's designations for users, such as "viewer" or "admin."
Leads that will no longer disappear.

You no longer have to worry about missing leads as you handle multiple clients or projects at one time; it won't be a problem at all. Leads that are collected through Unbounce can be easily organized, exported, and tracked through integrations to your email client or CRM.
The Content Builder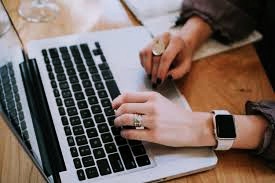 You can build custom landing pages through Unbounce's specialized and easy-to-use content builder. Landing pages will include:
The ability to showcase your awesome and unique products
Location section with map screenshot
Dotted lines to guide you and help you center the elements of your page
A section to show off your team
A section for testimonials
Optimal placing for contact information
Unbounce's content builder does require a payment plan, but you can try it out for free for 30 days with a trial and experience full functionality as you explore all it has to offer.
Top Related Article: Instapage vs. Leadpages
How Unbounce Gives a Boost to Ads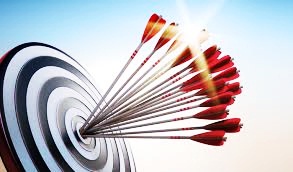 Besides offering help with popups, sticky bars, and landing pages, one of Unbounce's biggest services is the way it helps businesses and individuals lower their ad cost while boosting user/customer experience. Unbounce can help you lower your CPA with landing pages.
Face it: the way many advertisers currently match up their ads with destination pages isn't very effective. The reason for this is because people don't take user experience into account after they make that first click. Most advertisers focus on the ad platform side exclusively, adjusting audience targeting, tweaking keyword bids, automating small changes, and testing ad copy.
This approach leads to a diminish of returns over time. Getting ads to convert is becoming more and more expensive. However, the best businesses are outperforming and gaining more returns because they understand that the key to lowering ad costs is to improve the overall experience for website visitors.
Just how important is experience? Take into consideration that in real life, people often click through your ads, which leads them to your inadequate destination page and:
They can't find what they are looking for and wonder if they're in the wrong place.

If a potential customer finds you in their search and clicks on your ad for 20% off electronics, then they're unable to find this same exact offer on your generic website page that shows all of the electronics you have available, they become frustrated and "bounce"–meaning they leave your website to go to another one.
They become convinced that your offer is not right for them.

If you have a generic page from your website functioning as a catchall for your advertisements, this page probably will not be specific enough for the offer that was just made. The generic page probably doesn't:
Help your visitor establish trust.

Confirm and highlight the details as to why your offer is the best one available

Present a single, simple call to action in order to minimize distraction
How You can Drive Your CPA Down with Custom Landing Pages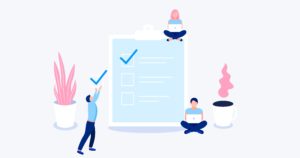 So, what's the fix? The solution that Unbounce offers is the ability to match your ads with landing pages that are tailored to exactly what you're offering. You can lower your CPA by building landing pages that are completely tailored, instead of going with the most generic option which is to match your ads to the page that you happen to have at the moment.
You may think that you're already using landing pages. To clarify, the term "landing page" can refer to really any page that a visitor or customer may "land on", whether they're looking for your website specifically or are Googling services that you offer. However, for the purpose of this article, a landing page is officially defined as a web page that stands alone and:
Contains a single, focused call to action.
Was created with the intention to convey details for one specific offer, product, or service.
Using landing pages to improve the experience of your visitors can give you great advantage over your competition because only the most savvy digital marketers are even aware of this tool currently, let alone use it. You'll also be able to see the benefits compound as you utilize tailored pages. A great benefit is a better Ad Rank and Quality score indicating that you're set in the best ad positions. You'll also see improvement to your Search Impression Share, meaning that you appear for more queries than your competitors.
You may think that you need to create custom landing pages for each Ad Group you have (which would take a long time), but fortunately, you don't have to. The great news is that you only need one page in order to handle all your Ad Groups.
Unbounce also understands that most companies don't have someone who builds tailored landing pages quickly and efficiently to carry on your brand. This is where Unbounce steps in to help. The platform has an incredibly easy drag-and-drop builder that allows you to make an on-brand page fast, instead of having to code multiple landing pages by hand. This'll save you time and energy, and you can set ads live before you leave the office for the day. These custom pages are doing the trick for many savvy advertisers.
Top Related Article: Unbounce VS LeadPages
Unbounce's Customers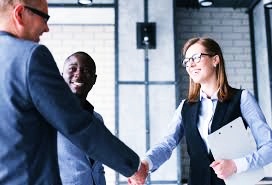 Unbounce helps businesses and individuals lower their cost per lead by more than 70% through landing pages that are built and customized through the Unbounce platform. All 15,000+ of Unbounce's customers have a secret: instead of their paid traffic being sent to their own websites, the traffic is sent to Unbounce landing pages that are high-converting and are lowering the cost per lead.
More than 15,000 brands utilize Unbounce to drive their value and improve their marketing. These brands include:
If you admire these large and successful companies, you can manage your marketing and advertising in just the same way by using Unbounce.
What is Unbounce's Pricing?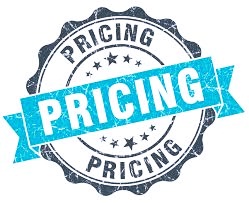 Unbounce has a pricing page on its website that details all the plans that are available to you. Are you just starting out? Considering paying for the service for a couple of months, before committing to an annual plan? Do you need only a few landing pages and sticky bars rather than hundreds? These are all things Unbounce has taken into consideration to lay out its pricing plans. Plans include:
The Essential Plan.

This is a great plan for you if you're just starting out your business, are new to entrepreneurship, or are new to utilizing conversion tools. It starts at $99/month, and you can save 20% by selecting annual billing for $79/month. It'll bring you eight popups and sticky bars and 75 landing pages.
The Premium Plan.

This plan is perfect for you if you have a well-established business and are looking to increase advertising or to better your marketing. The Premium Plan provides double the popups, sticky bars, and landing pages than the Essential Plan, with 16 popups and sticky bars and 150 landing pages. You'll also receive premium integrations and the option for client sub-accounts as well as access to better conversion tools. It's $199/month or $159/month if you select to have annual billing.
The Enterprise Plan.

This plan is great for successful businesses that have plenty of customers and for professional business owners. It allows you access to Unbounce's entire platform as well as a Success Manager and a Launch Specialist to help you achieve maximum ROI. These plans are also customized in order to suit your unique needs. They start from $499/month or $399/month with annual billing. You'll receive service for more than 40 sticky bars and popups and over 375 landing pages.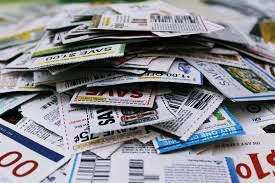 Unbounce, like other sales funnel softwares (ClickFunnels being another example) almost always offer you a free 14-day trial and no coupon code is needed. 
Click here to get your first 14-day trial with Unbounce for free.
Conclusion
Boost your ads and manage your popups, sticky bars, and landing pages with Unbounce. Unbounce is a relatively new platform and came onto the scene just a few years ago, but it has already found major success with over 15,000 customers. It aims to help people increase their business and launch better marketing tools. You can ensure that your potential visitors and customers don't look at your website, then bounce away–with Unbounce, you can make them stick.
There are many subscription plans available with Unbounce, and these are tailored to whether you're a professional or a new entrepreneur just starting out with your first big business. To manage these plans, you can find many Unbounce coupon codes and Unbounce discounts on several discount websites. From lower pricing on plans to certain percentages off your order, you can begin your plan for better marketing with a very manageable price.
Disclosure: I am an independent ClickFunnels Affiliate, not an employee. I receive referral payments from ClickFunnels . The opinions expressed here are my own and are not official statements of ClickFunnels or its parent company, Etison LLC.