Squeeze Page Software | Landing Page Builder | Sales Funnel HQ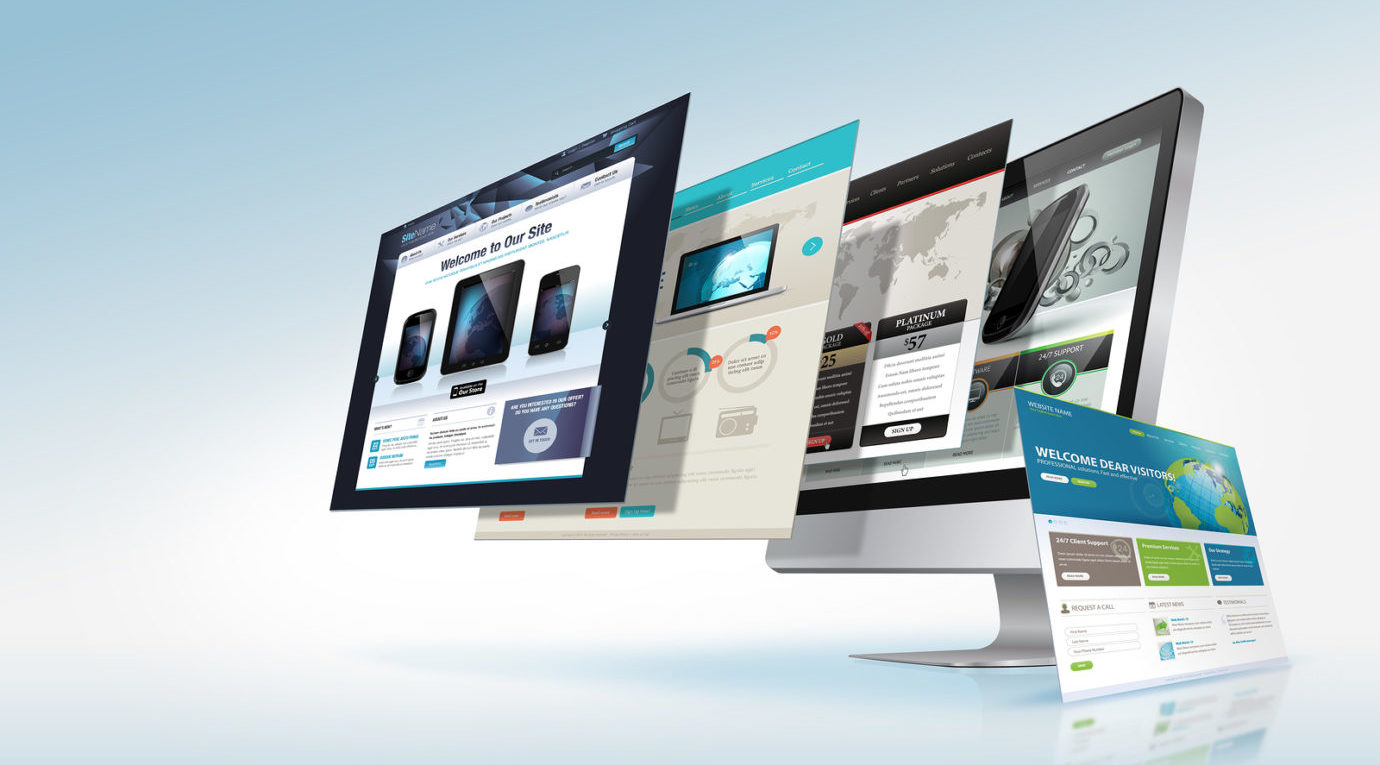 Squeeze page software should be part of your routine marketing strategy. Squeeze pages build your customer base and, in turn, your sales.
What are Squeeze Pages?
A squeeze page is a landing page that focuses on one common goal: getting information from a website visitor. The most common information is the visitor's name and email address. Squeeze pages are used as a part of an online marketing strategy to improve conversion rates.
Squeeze pages are short and to the point. With only one goal, which is to acquire the visitor's name and email address, the landing page should not be filled with any external links or long form copy. It may contain a freebie or an enticing gift in exchange for the visitor's information but only if the freebie increases the conversion rate.
Related Article: Leadpages Alternatives
A good squeeze page will give the visitor a simple decision to make: either take the offer and give up your email address, or leave the landing page.
Many people will opt-in since they were probably interested in the content. Those that leave the page might not identify with the freebie or have a fear of getting slammed with multiple emails.
If your squeeze page conversion rates are low, consider providing another relevant freebie or having multiple squeeze pages that cater to different segments of your target market.
Keep It Simple
Squeeze pages need to be precise, have as little copy as possible, and a single call to action. Squeeze pages should not contain any fluff. Once you get a visitor to sign up, you can email them additional offers but these should not be a part of your main squeeze page.
Depending on your website layout, you should also consider removing sidebars, widgets, footers and main navigation menus. These extra graphics on the squeeze page only confuse and distract from your main goal: getting that email address.
A squeeze page should also have a follow up webpage that thanks the visitor for giving you their information. You can also take this time to welcome them to your email list, offer them a coupon or invite them to sign up for your next webinar. The thank you page should be filled with gratitude and focused on your new potential customer. It should reassure them that you are a real business and you value their interest.
Squeeze page software is very common and you can pay a monthly fee for premium programs or if you are just starting out, consider using one of the free programs to get your feet wet. You should find software that is comfortable for you to use and matches your business needs and budget.
Squeeze Page Software
There are several software options for building squeeze pages, but not all software is the same. Squeeze page builder software options can vary in features and price. Check out our top picks to see which is the best squeeze page software for you. While there are free options available, the paid software versions offer premium features and support to help your business stand out in the crowd.
Instapage has a drag and drop page builder that is very responsive and easy to manage. The software includes over 200+ templates to customize to your own needs. This is great for people who do not know where to start. A landing page is already designed; just enter your own information and go.
You will also have access to over thirty million Bigstock images. No matter what niche you are in, they have images to suit your needs. Create forms, integrations, countdown timers, and widgets that quickly build your call to action.
Need real time analytics? Instapage provides heatmaps, A/B testing, Google tags and more. You can even save specific sections of your landing pages so you do not have to custom build them again.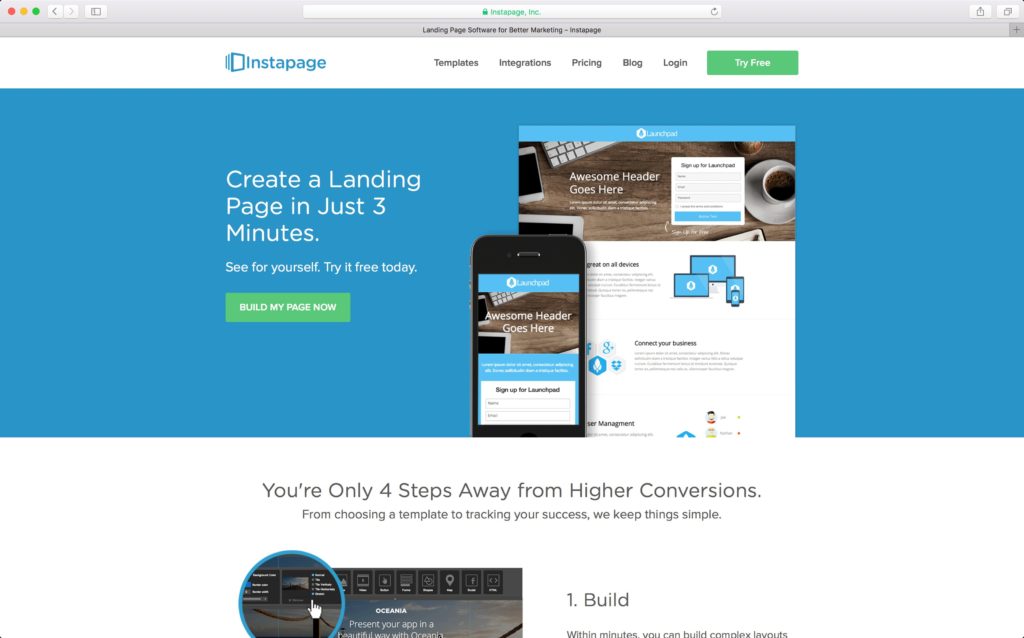 One of the advantages of Instapage is its ability to manage landing pages from multiple websites under the same account. Easily manage multiple product landing pages or multiple business landing pages all with one software.
Instapage can also host your lead magnets. This is great for segmenting your visitors by easily uploading and editing your lead magnets.
If you are using Instapage with a larger company or group of marketers, you will appreciate the software's visual collaboration capabilities. Easily comment on any part of the landing page. Other team members can respond or resolve with a click of a button.
Instapage is not for casual bloggers or marketers. The monthly cost starts at $69 and goes up to $99 for advanced analytics. However, if you are a business owner or work for a large business that is pumping out several landing pages, you should consider using Instapage.
Clickfunnels is an all-in-one marketing tool to create simple or complex sales funnels. With manual sales funnels you have to set up website hosting, landing pages and autoresponders yourself which can be confusing and time consuming. Clickfunnels has integrations that do all of this for you in a single software.
Clickfunnels offers a variety of templates that have already been A/B tested so you do not have to waste time trying to figure out which one to use. Just pick a funnel and then a template(s), customize and go. Clickfunnels offers sales funnels that include easy opt-in, membership, webinar, upsell and more.
Related Article: Clickfunnels vs. Leadpages
If you currently use a lot of sales funnels in your online business, Clickfunnels is a great option. It is pricey but plans include all features so you can experience the power of the software. Use the startup program (starting at $97 per month) or the enterprise option ($297 per month) for more funnel power and priority support.
If you are worried about the monthly cost and whether it is worth it for your business, check out the free trial to see if it's the best fit for you.
If you are a newer business or have a tight budget, you should look into Leadpages for your squeeze page needs.
Leadpages offers ready to use landing page templates for different applications and niches. Simply pick the template that is applicable and customize with the easy to use drag and drop options.
Related Article: LeadPages Templates
The landing page templates at Leadpages are built with responsiveness and SEO in mind. Stay on the top of search engine results and create fast loading pages that include countdown timers, popups, plug-ins and more to keep your visitors engaged.
Leadpages has a standard plan that will only run you $25 a month. This is a great price considering it includes a multitude of templates, software tools, WordPress-friendly plug-ins, unlimited traffic support, Q&A coaching calls, Facebook community access and more. Go pro for $49 a month or advanced for $199 a month. Leadpages offers a free trial if you would like to try before you buy.
With landing page expertise since 2009, Unbounce allows you to test your squeeze pages before you use them for your online business.
Unbounce has no domain restrictions; you can publish your page to as many domains as you own.
Unbounce includes over eighty mobile ready templates which is great for the rising number of users who make purchases with their mobile phone. Have your own design? Unbounce allows you to start with a blank page to fully customize your branding needs.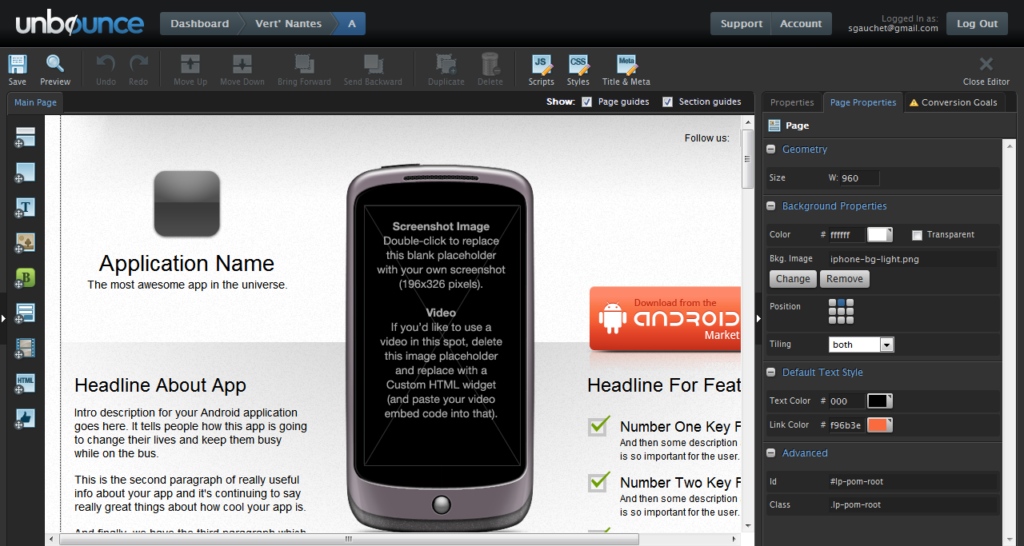 Unbounce also guarantees a 99.99% uptime. They have different centers around the world to ensure your next sales campaign will run faster and be up and running for its full duration.
There are three plans with Unbounce. The starter plan, titled "Essential" is $99 a month and does offer A/B testing and software integration (Zapier, WordPress, HubSpot, Infusionsoft) in the package. Premium will run you $199 a month and Enterprise is $499 per month. The more expensive the plan, the more published landing pages Unbounce will organize for you. A free trial is available.
Landingi provides its users with personalized landing pages that produce high converting PPC campaigns and capture a target audience.
The software uses Amazon Web Services (AWS) for dedicated encryption and a 24/7 uptime guarantee.
No coding is required. Use the page builder to drag and drop all the elements you need to build a custom landing page fast. If you enjoy writing custom code, Landingi also provides an HTML editor.
The templates are responsive and are built to look good on any device.
If you are looking for a powerful software that does not break the bank, you should consider Landingi. It might not be as well-known or as advertised as similar software, but its features and price pack a punch.
The base level "Create" package is $29 a month and includes unlimited landing pages, visitors, leads and custom domains (something that will always cost you more with more well-known companies). It does include integrations; however, the base plan does not include A/B testing.
Three more plan levels include "Automate" ($49 per month), "Agency" ($109 per month) and "White Label" ($185 per month). The advantage of spending over a $100 a month with Landingi is that you can add your own branding at that level, removing Landingi's information and creating a more custom feel.
Landing Lion is a super intuitive squeeze page generator. Customize your pages with drag and drop. Then A/B test your pages for maximum impact.
You can even watch video playback of people who visit your site. This is an extremely effective marketing tool. By viewing how your visitors see and interact with your landing page, you can focus on the areas that interest your viewers and trash the sections that are skimmed.
Sign up for a free trial with no credit card required. Plus, there is a free version that allows you one workspace, a Landing Lion domain, 10,000 views and 1 GB of storage.
Once you are comfortable moving up the food chain, there are three options that range from $29 per month to $249 a month.
Visual Composer is a highly sought-after tool that allows you to quickly and easily build pages in WordPress. All you have to do is create a WordPress website and Visual Composer will help you do the rest. No coding is required and the drag and drop software provides you with premium templates and extensions to create a professional squeeze page.
A free version is available. If you would like to go pro, the software starts at $59 per month (for one site), the middle tier is $149 (for three sites) and $349 (for developers). Each paid tier offers premium software support and support for Woo Commerce, which is great if your business sells products through its own website.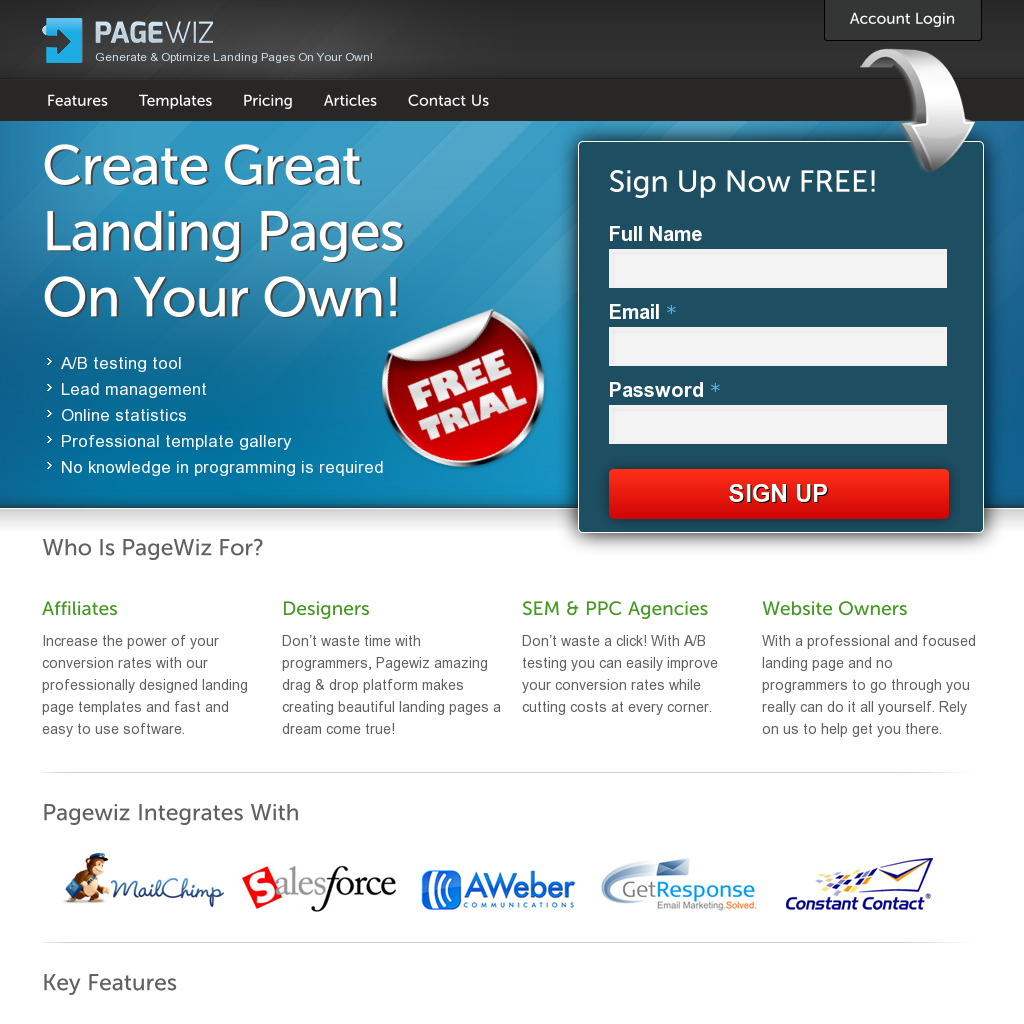 Pagewiz is great for all major industries, providing landing page templates for each. You will also receive A/B testing in all plans, no need for upgrade. Pagewiz integrates with your existing services such as Salesforce and Mail Chimp.
Pagewiz supports Google Analytics and external widgets like maps from Google Maps and videos from YouTube. If you are into web coding, Pagewiz supports custom HTML and JavaScript.
Pagewiz is also affordable. However, the pay structure is based on unique visitors so it may not be suitable for larger businesses or businesses that are already seeing a rise in traffic.
For $29 a month, you will receive their basic plan which includes 5,000 unique visitors, 2 custom domains, A/B testing, and integration support. The best part is every plan includes unlimited landing pages so you can create as many as you need. This is great for online businesses that segment their lists for multiple product lines, etc.
Other plans include: Standard ($49 per month), Plus ($99 per month), and Pro ($129 per month). Price increase is less about the features you will receive and more about the number of visitors.
Wishpond is a great software option if you are clueless about landing pages and need a tool that will save you time and money.
It specializes in SEO-friendly tools and integrations with your current marketing tools such as Salesforce, Mail Chimp, GetResponse, AWeber and many more.
Pop up forms on your landing pages are highly effective. Wishpond makes it easy to add these to your website. You can also run Facebook and Instagram contests on Wishpond.
Track your lead's activity as they surf your website. Wishpond records navigational patterns of your visitors so you can improve your landing pages and home in on your sales funnels.
Wishpond offers a three-tier monthly cost structure. For $45 a month you will receive the base plan; pro plan for $78 and growth plan for $129. It is worth noting that the basic plan does not include A/B testing and the growth plan includes unlimited users and up to 1 million active contacts. A free trial is available.
Free Squeeze Page Software
If you do not have the budget just yet for squeeze page software, there are many free squeeze page generator software options available.
You can either start with a squeeze page software that is paid but has a free option such as Landing Lion or if you are using WordPress you can choose a free plug-in integration such as Elementor or Visual Composer.
Elementor's free version is easy to download for WordPress users. You can also upgrade to a pro version If you are in the market for more professional looking options and higher conversion rates. The pro version will cost you $49 per month (one site), $99 per month (three sites) or $199 per month for unlimited sites.
Visual Composer can also be downloaded for free when you choose the WordPress platform to build your website. Since a free version is available, there is no free trial on upgraded packages. Pro packages start at $59 per month up to $349.
Often, email marketing companies such as MailChimp will also offer landing page templates for free. This is a good option if you have already chosen an email marketing company and feel comfortable customizing your company's marketing materials within their platform.
Always research to see if the squeeze page software you like the best has a free trial or a free version available. If you like the free version of the software, it will be easy to integrate your already existing designs into a monthly paid version of the same software.
Free squeeze page software should only be used for beginner entrepreneurs or small businesses that lack the budget for professional marketing tools.
Conclusion
Once your sales have increased and your conversions are improving, consider budgeting for squeeze page software. The software will save you time and add a higher level of aesthetics and design to your pages. The software should increase your conversions and sales to the point where it is paying for itself month to month.
Squeeze page software is very beneficial to busy business professionals that lack the knowledge of traditional web coding. Building squeeze pages is as easy as drag and drop with quick editing tools that offer custom colors and fonts and even adding your own logo and promotional videos and product pics.
Increase Sales with Squeeze Page Software
It is easy to get a professional look with squeeze page software. Most software options have templates already created that have been tested for high conversions.
Having a highly effective squeeze page is important since squeeze pages are the easiest way to collect email addresses. Collecting email address via your own squeeze page will help you grow a sustainable business by gathering genuine leads.
Build Your Email List with Squeeze Pages
Once you have a strong email list and you provide that list with regular relevant content, your traffic will increase. With any rise in traffic, there is a rise in potential sales. By selling more you are increasing your profits and are able to expand and sustain your online business.
Squeeze page software is definitely an area of your marketing budget in which you need to spend money to make money. To take advantage of all of the features, you will most likely choose a squeeze page software's paid plan. If you are using the software correctly and on a regular basis, it should pay for itself, especially if you are accounting for the time you save by using a drag and drop editor over having to code the page yourself or hiring a web designer.
Squeeze Page Features
When you are searching for the perfect squeeze page creator, you should consider what features are needed for your specific business. Put those features on the top of your list and discard companies that are lacking in those features. Also, take a look at your budget. Do you have money available for a pro software or will you need to start out with a free version?
Aesthetics plays a big role in high conversion rates. Choose a software that offers a wide variety of design tools and even provides templates that are specific to your niche.
Analytics are also important. Being able to A/B test your custom templates and find out where your traffic is coming from is essential in improving your connection with your customers.
It is imperative that your squeeze pages are responsive. While some people may buy your product or service at the office, most are making purchases on a cell phone or tablet in their free time.
Other important features include lead capture, online support and outside software integrations.
What is your favorite squeeze page software?