Do You Need To Get Off Amazon and Diversify to Shopify? [CASE STUDY]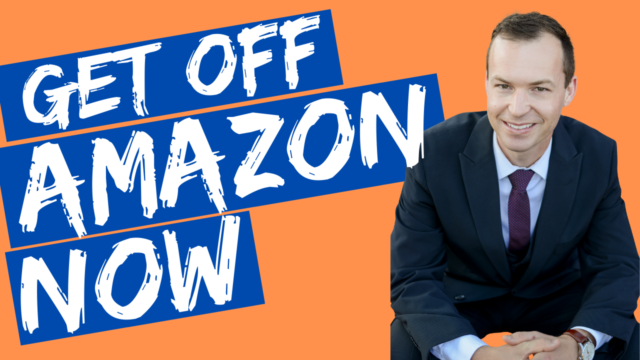 Are you selling on Amazon right now and feel the pressure or the need to create an "off-Amazon" presence? I hear this all the time in our group and via email. In today's show and article I am going to walk someone through whether or not they should focus on starting a Shopify or Clickfunnels website.
We also discuss whether they should focus on collecting emails, Facebook messenger subscribers, or text messaging subscribers. Make sure to watch the full episode and let me know if you agree by commenting on the video.

What's The Problem We Are Trying to Solve in Today's Case Study?
1- What is your most persistent and present problem today? Or what has your most persistent problem been for the last year?
Have been selling on Amazon (and some eBay) for 7+ years. Now our business is way too reliant on Amazon to the point that we are severely limiting our eCommerce opportunity. We badly need to diversify outside of Amazon.
2- How are you going about solving that problem now?
We have a Shopify site for our main brand. Some sales (automatically fulfilled by Amazon), but no traffic strategy to grow the site. Have tried some FB advertising in the past but we don't have the expertise or time required to do it effectively.
3- What happens if you don't solve it?
No growth.
4- If you could wave a magic wand or have a dream solution, how would you solve it?
Outside expertise to address the entire opportunity OFF Amazon. We would need a solution for 1) external traffic 2) landing pages and 3) 3PL fulfillment (we already fulfill from Amazon but now we need to also fulfill using our main 3rd party fulfillment source.
5- Would that be worth paying for? If so, how much?
Of course. But don't know how much as it depends on the expertise and scope of the solution.

If you're interested in being featured on our show and having a free coaching call with me, fill out this form.
Why You Should Diversify Outside of Selling on Amazon
The most common reason I hear for Amazon sellers to want to diversify off Amazon is FEAR. They fear that Amazon is going to shut them down and therefore their income will be gone. While this is a legitimate fear to have and I think all Amazon sellers fear this somewhat, you should not let this be the motivation behind getting off Amazon.

As a mentor of mine once said, you must stack S-curves in your business or you will die. An S-curve is just a source of income for you and your business. All sources of income for you and your business will be gone eventually (when is the last time you saw a buggy whip roaming the streets?) This simply means that you must diversify your income beyond just one source.

This can mean diversifying off Amazon with a Shopify site or just a simple one-page landing page website with ClickFunnels, which is what I recommend as it is a lot less maintenance. ClickFunnels is simple to set up and great if you have fewer than three products. If you have more than that, Shopify might be better to set up for this.

ClickFunnels is also a great place to set up a simple landing page to start collecting emails for building your audience.

There is a huge BUT in this situation though…
Why You Should NOT Diversify Outside of Selling on Amazon
Amazon sellers usually start feeling the pressure of getting off Amazon when sales are around $20,000 per month on Amazon. This is truly a disservice to your company. You are learning the Amazon engine and you have created a pretty significant revenue focusing only on Amazon. Now you are going to spread yourself thin by switching over to another channel which requires a completely new skillset, which will then take most of your energy and time.

This happens time and time again. Amazon sellers will lose focus on what built their business in the first place.

When Eye Love (my business) accelerated from $80k the first year to $3.2 million in year three, we started to "diversify our income" and "mitigate the risk" of selling on Amazon. So we focused on building out our Shopify store and landing pages with ClickFunnels.

Big mistake.

We grew our off Amazon revenue, but our Amazon sales and, most importantly, overall company profit went down. Year four in business we did the exact same $3.2 million while doing a fraction of the profit. Don't make this mistake and learn from our misfortunes.

In 2020, we decided to refocus on what made us successful in the first place…

Launching products on Amazon to our audience.
What to Do Instead to Grow Not Only Amazon FBA Sales, But Also Your Own Website
We fired our Shopify team and ClickFunnels team and brought all website management in-house. We simply do a few things for our website that we trained someone internally for.

We drive traffic to a blog post from Google ads, which then has links to buy our product on Amazon, which Amazon loves because it is external traffic.

We then do a very simple retargeting strategy with Facebook ads that invites previous purchasers to buy our other products. We also have a retargeting ad for abandon cart as well.

That's it.

To summarize
Write a blog post solving the problem that your product solves. Then drive low cost Google ad traffic to this blog post, which then has them purchase your product on Amazon. Check out this free 3-part training I have on this.
Retarget visitors with your product offerings on Facebook.
Retarget previous purchasers with your other products on Facebook.
Retarget abandon cart on Facebook.
Since Refocusing on Amazon…
Eye Love has started to refocus on Amazon and launch more products. We not only are launching more products, but we brought a brand on May 1st that allowed us to add 5 more unique product offerings to our audience instantly.

As of May 25th, 2020, we are up 15% from last year. Yes I know this says 7%, but that is because the new company not shown here is in another Amazon account until we can transfer everything over to Eye Love's account. Also, through April 2020, our profit is more than double what it was for the entirety of last year.

Something else to note is that this is in the middle of the Coronavirus depression and we are still growing.

We are getting ready to launch another product in June and two more by quarter four of this year.

In the meantime our PROFIT has skyrocketed and we are on pace to have almost TEN TIMES the profit of last year, all while paying ourselves and our team more than we ever have out of the business.

Final Thoughts on Getting Off Amazon
One more thing to focus on, that is by far the most important, is building your audience and serving a particular person. We help dry eye sufferers heal their dry eye naturally. In our Amazon PPC Agency, we help brands scale their sales on Amazon (apply here).
Disclosure: I am an independent ClickFunnels Affiliate, not an employee. I receive referral payments from ClickFunnels . The opinions expressed here are my own and are not official statements of ClickFunnels or its parent company, Etison LLC.