PPC Entourage Review – Taking A Look At PPC Entourage For Amazon Advertising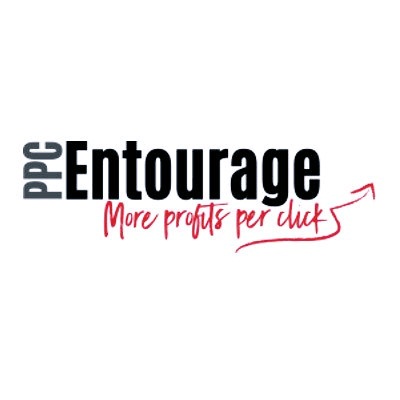 As an Amazon seller, all you want is for more people to purchase your products, and this can only be achieved if your products are seen by Amazon shoppers. (People can't buy what they've not seen). Making your products known through advertisement gives you a significant competitive edge over other competitors that sell the same products as you.
Amazon PPC advertisement can be very tedious to manage when done manually. You have to spend countless hours going through heaps of boring data reports. People who started with Amazon as sellers had no choice but to go through these methods. Most times, they got frustrated with the process because they are not sure whether the data they have pulled from these reports are useful for improving their Amazon PPC campaign. At the end of the day, they might have wasted their time, effort, and money.  
This is why many agencies have been established just to handle Amazon PPC advertisement. With the aid of their various algorithms and software, they can help you sift through the data and advise you on what decisions to take for you to have a high-performing campaign.
These Amazon PPC management agencies' softwares offer different features that vary from one another. Some are excellent, while others might make PPC management more tedious and require you to spend more time and money on it.
One of the best Amazon PPC Advertisement management agencies is PPC Entourage. It was founded by a group of Amazon sellers who were tired of spending hours trying to understand the data of reports to optimize a campaign. That gave birth to PPC Entourage. We'll be going through some of the features and how it can help you get ahead of your competitors as an Amazon seller in this PPC Entourage review.
OVERVIEW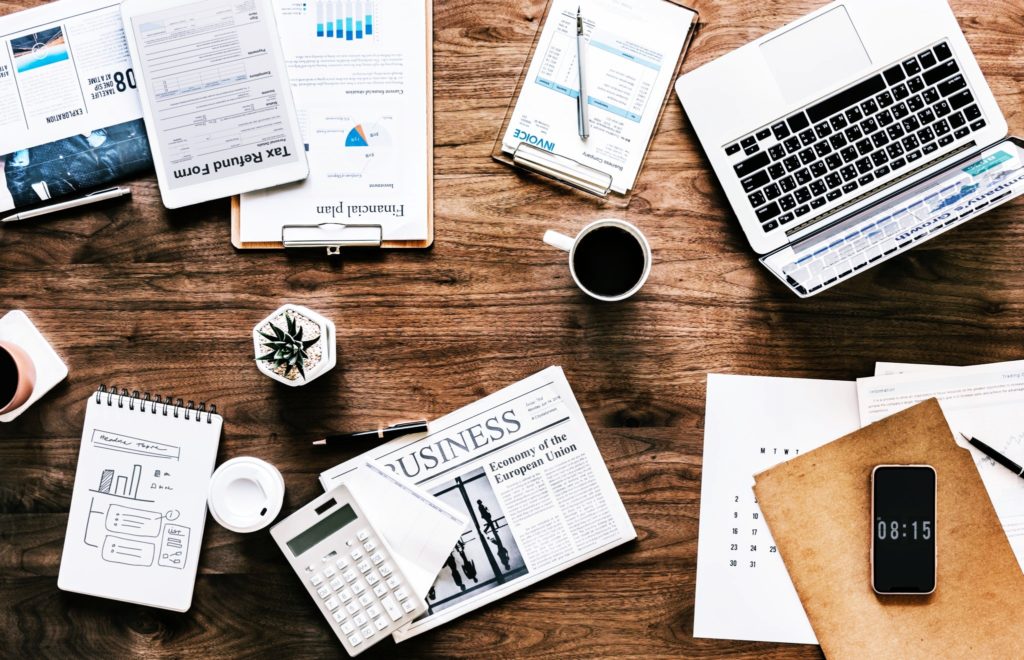 PPC Entourage is a software for Amazon Sellers that helps you optimize your ad campaigns after analyzing all of your sponsored ads' data.
Key Insight Analysis: Some of the key insights provided by PPC Entourage include:
Low Revenue Items: With this, you can get a quick insight about your products that aren't performing and make key decisions concerning them.
High Revenue Items: You can as well see how well your products are being priced in the marketplace.
Profit Analysis: This helps you to know how much you are making.

Loyal Customers: You get to see the people who purchase your products more and offer them coupons through their unique Amazon email addresses.
PPC ENTOURAGE INTERFACE
The PPC Entourage interface is easy to understand and takes you through a journey of PPC management even without prior knowledge of how to use the software.
Upon logging to PPC Entourage after getting your data, the dashboard immediately shows all your metrics that correspond to the active campaigns you have in your seller account currently involved in your PPC campaign. Some of the metrics shown include profit, gross revenue, ACoS, ad spend, conversion rate, and impressions.
AcoS (Advertising Cost of Sales):

This is the most important metric, it shows how much you have to spend on ads per sale.
Impressions:

Impressions denotes the number of times Amazon shoppers see an ad during the chosen time frame. It is not affected if the ads were clicked or not.
Ad Spend:

This the amount of money on clicks on your ads within the time frame you selected
Clicks:

This denotes the number of times users clicked on your ads during the chosen time frame.

Conversion Rate:

This refers to the fraction of people who clicked your ad and purchased the product compared to those that saw it and didn't click.
Also, on the dashboard, there's a link to help new sellers and people that just opened an account with PPC Entourage. It entails an instructional video that gives a brief overview of how to understand the layout of PPC Entourage and links to PPC Entourage's fundamental course and blueprint series.
The fundamental course contains in-depth tutorials that cover topics on PPC Advertisement Management and how to apply that information on PPC Entourage. The Blueprint series also entails core strategies for building profitable campaigns and instructions on how to research keywords and search terms, set up campaigns, and reduce AcoS and ad spend.
PPC Entourage has three major components on the dashboard that we'll discuss in this PPC Entourage, which include Listing Optimization, Campaign Optimization and Power PPC.
LISTING OPTIMIZATION TAB
This shows you essential details about your listings to improve your conversion rate. You can set your profit margins and track listing change impacts on PPC with A/B Split Testing.
Top Related Article: Amazon PPC Tips
CAMPAIGN OPTIMIZATION TAB
While listing optimization is where you go to improve your conversions; campaign optimization is where you reduce ad spend. You can decide to optimize your campaigns independently or optimize your campaigns in bulk. The Bulk Campaign Optimization has four modules, which include SKU Bulk Optimization, Keywords Bulk Optimization, Search Term Bulk and Negative Words Bulk Finder.
It shows you all your SKUs, keywords, search terms, and negative words in all your campaigns and ad groups that are not performing and wasting your ad spend and allows you to pause them in bulk based on the criteria you set.
Auto Pilot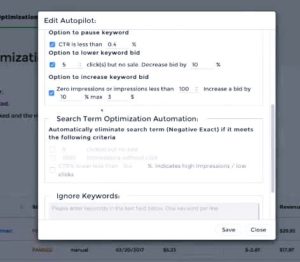 Auto Pilot is a feature on PPC Entourage that works only on manual campaigns in which your target AcoS is compared to individual keywords within your campaign; the individual keywords are then automatically optimized to hit that target AcoS.
For this feature to work, the minimum clicks you must have on a keyword is set default to 10. However, this can be adjusted to five to suit your purpose. Other parameters that can guide the Auto Pilot are the number of impressions and number of waiting before starting the Auto Pilot. The minimum number of impressions is set to 1000, and the number of waiting days is set to 14. You can set the number of waiting days to zero if you wish to start immediately.
The Auto Pilot runs every night and examines 90 days' worth of data to know whether to raise or lower the bid price on the individual keywords within a campaign based on your target AcoS and other parameters you've set.
The advanced settings in Auto Pilot look at individual keywords and for specific information about those keywords and take actions based on the information. There are options to pause keywords and lower or increase keyword bids based on the parameters you've set to reduce wasteful ad spend.
The Auto Pilot can also optimize your search terms based on the criteria you selected and remove ones that have many impressions without clicks. You can also blacklist some keywords that you don't want the Auto Pilot to optimize.
POWER PPC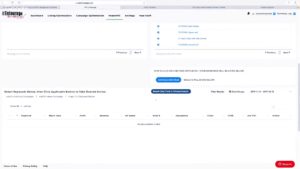 The Power PPC tab allows you to create new campaigns, search for new keywords, and expand keywords, search terms, and match types. You can download a set of keywords carefully from competitors that sell the same product and use them in your campaign or a different ad group inside one of your research campaigns.
There's also an option to add a brand-new campaign using Keyword Expansion. This makes the process of creating new campaigns quite easy and straightforward, as we've noted in this PPC Entourage review.
Top Related Article: PPC Automation Tools
PPC ENTOURAGE ADDITIONAL SERVICES
PPC Entourage offers lots of other services to Amazon Sellers to help them advertise their goods and consequently grow their businesses. This includes Amazon Seller Consulting Services, Amazon PPC Management Services, Amazon Headline Search Ads (HSA) Management, and Campaign Optimization and Expansion Services.
Entourage Amazon Seller Consulting Services:

 The Amazon Seller Consulting Services is where you are offered new insights and innovative strategies that help Amazon sellers optimize their PPC Campaigns while reducing cost and generating higher profits.
Entourage PPC Management Services:

PPC Entourage helps you research innovative campaign creation strategies, management techniques, and new keyword opportunities. Some of the services include:
Keyword Research and Extraction:

PPC Entourage provides you with a set of keywords carefully gathered from a number of competitors' listings. You can then analyze them and pick the ones you want.
Search Term Expansion

: They then analyze various search terms and pick the most likely profitable ones. PPC Entourage then converts them into keywords and begin bidding on them. You can also extract a larger set of keywords from the seed keywords using the PPC Entourage's extractor tool. These keywords can then be used to optimize your campaigns.
Campaign Optimization:

PPC Entourage also helps you to optimize your bids and budgets to ensure you're using your ad spend profitably. They also perform search term optimization from time to time to locate and remove unprofitable search terms. This helps to reduce your ACoS and improve your ROI.
Listing Optimization:

PPC Entourage reviews your listing and back end data, and they make suggestions to help improve your conversion rate.

Auditing of existing PPC Campaigns

: They do not only start new campaigns but can also optimize existing PPC campaigns to remove wasteful ad spend and make sure they are directed to profitable ones.
The Entourage, PPC Management Services, is available for all Amazon sellers. However, they recommend having at least at least ten predominantly positive reviews for a product before starting the product with Entourage PPC Management Services. This is because reviews affect ACoS, conversion rate, and overall performance of a campaign.
After signing up for the Entourage PPC Management Services, you're given a monthly report identifying key performance metrics and the overall state of your account.
Amazon Headline Search Ad (HSA) Management: Headline Search Advertisement is a different form of advertisement, it is significantly placed most times at the top of a page, so it costs a whole lot than Sponsored Products Ads. Entourage's Headline Search Ad Management Services offer you different strategies to design your HSA ads without you having to try every technique about this form of advertisement thus saving you a lot of money. Some of the HSA management services offered by PPC Entourage include:
Auditing of existing Headline Search Ad:

This service entails reviewing and optimizing your existing HSA campaigns to reduce wasteful ad spend and make the most of profitable keywords.

Crossover Research:

Your sponsored products' campaign data are being scrutinized to find keyword and search term data that can be used in your Headline Search Ads.

Creation and Testing of Ad Variations:

They create and test different ad variations for each SKU group to see the best combinations that will bring more performance.

Product Ads & Brand Ads

: Apart from creating Headline Search Ads, they can also create brand-building advertisements for you as well.

As with the PPC Management Services, they also send a detailed progress report at the end of every month to identify key performance metrics and show you the overall state of your account.

Campaign Optimization Blitz
Entourage's Campaign Optimization Blitz services offer an optimization program for both beginner and advanced Amazon sellers who don't have time consistently focus on optimizing their sponsored products campaigns and would rather focus their time on their core business.  It includes:
Review by their Amazon PPC expert
Bid price analysis and adjustment of poor performing keywords to save wasteful ad spend and ensure the saved ad spend is reinvested into your performing keywords.
Search term optimization to help you remove the unprofitable search terms in your campaign that's making your ACoS rise.
Budget allocation review of all the budget set for your campaigns. They also make sure the budget is optimized to make the most profit.

Analysis of campaign data to be sure your campaign is not being affected by non PPC related problems.
PPC Entourage states that the optimization turnaround time is usually one business day but can be extended by an additional day if there are complications with the account. Results are expected to be seen within 5-7 days of optimization.
However, they are unable to make guarantees of performance due to other factors that may be affecting an account performance not relating to the changes made during the Blitz program.   
PPC Entourage offers the Campaign Expansion Blitz to Amazon Sellers that are new to sponsored products ads and also experienced sellers that wish to create more targeted and advanced advertising but don't have the time to do that. The Campaign Expansion Blitz services include:
Keyword Expansion:

They perform keyword research in your niche and check those keywords against existing campaigns to know which ones are performing.
Search Term Expansion:

They scrutinize your high performing past and current search terms and remove anyone you already found through keyword research. They then convert the rest to keywords to be placed into appropriate campaigns.

Match Type Expansion:

They analyze the best performing and underperforming keywords across different match types, and improve on those that should be at the forefront of your PPC strategy.
As with the Campaign Optimization Blitz, they also state that the optimization turnaround time is one business day and may be an additional day in cases of any other complications with the account. There are also no guarantees of performance due to other factors that may be affecting an account performance not relating to the changes made during the program.
PRICING
Cost depends majorly on the number of SKUs divided into four billing plans. The Successful Seller Plan allows for up to 5 SKUs requires you to pay $47 per month. The Advanced Seller Plan allows for up to 21 SKUs and requires you to pay $97 per month. The Leveraged Seller Plan allows for up to 52 SKUs and required you to pay $147 per month while the Strategic Seller Plan, which is their highest billing plan, allows more than 52 SKUs, but you are required to pay $247 per month.
All their billing plans' subscribers have access to the same set of features, including Organic vs PPC Comparison & True ACoS data, Advanced Reporting Metrics, Automated Daily Bid Adjustments, Automated Negative Optimizations, Finding Brand New Keywords, Keyword Ranking Tracking & Indexing, and Bulk Campaign Optimizations, Track Listing change impacts on PPC with A/B Split Testing and Match Type Expansion.
They offer one-year money back guarantee if you are not 100% satisfied at the end of 12 months.
Top Related Article: Amazon PPC
FINAL THOUGHTS
PPC Entourage is an excellent option for new and advanced Amazon sellers because they don't only create new tools, which would have taken hours of effort and tedious work to complete manually, but they also give you a detailed strategy to follow in order to achieve the best from those tools.
Their dashboard style is more of a traditional style that requires you to stay 100% hands-on, but it's straightforward to understand as we mentioned in this PPC Entourage review. Their stand out features which are Automated Daily Bid Adjustments, Automated Negative Optimizations, and features to Find new keywords make them one of the best among Amazon Seller Programs. Their Fundamental Course and Blueprint series is instrumental in helping new Amazon Sellers ease into PPC Ad Management.