Leadpages | Grow Your Blog & Online Business | Sales Funnel HQ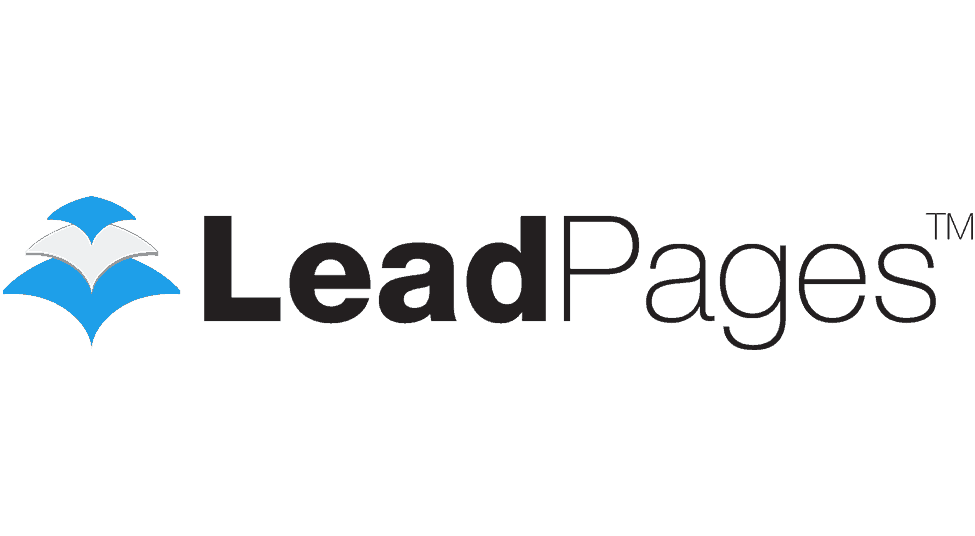 Whether you have a blog or an online business that you want to grow, Leadpages can help you. With the freedom of being self-employed, many people are turning to home-based jobs so they do not need to go to an office and answer to someone else. Depending on what you do, this could turn into a lucrative business that more than pays the bills. There is a lot that you can do to make your online business and blog grow, and you may wonder how Leadpages pricing would factor into your revenue.
Top Related Article: Best Leadpages Templates to Use
When dealing with online customers, it's important to do everything you can to keep them a repeat customer. This is true whether you want people to visit your blog or to shop your store. The more views you get, the more revenue you end up making. Blogs usually get money by showing ads on their page, but this only works if there is a high volume of views and visits to your blog. Online businesses make money by customers purchasing their goods or services. If you're just starting out, don't be discouraged. Everyone has to start somewhere. If you find that you are only getting one or two views a week, there are some things you can do to increase the number of customers coming to your site.
Know Before You Grow
Oftentimes, people want to grow when they have just started out. The reason this might not be such a great idea is because you need to have a seamless idea of what you are before you are pulling other people into your space. Your vision today may not be the same vision you have a week from now, so it's best to know what your blog or business is before you try to grow. This means taking the time to really understand what it is that you are trying to do.
If you are trying to get people to buy product, then get a good storefront set up with product that is relevant and cohesive to your vision. If you want people to sign up for a service, know what service you are selling. Are you selling your knowledge? Your ideas? Whatever it is, get it established before you are inviting people to sign up for your subscriber list.
The reason we recommend this is because you can lose subscribers if you are not cohesive in what you are doing. While it is definitely important to grow your business, try to grow organically first. This means posting great things that people will be interested in. Don't purchase a ton of ads or anything like that when you're first starting out. Let it be until you have truly established yourself as a good website that has something appealing to offer to readers.
How to Grow
When you want to grow, you need more people. Someone looking at your site once or twice isn't going to help you out in the long run. Blogs and businesses need people to keep coming back for them to make any money from their website. If this is something that concerns you, you need to learn how to grow. There are plenty of ways out there that you can grow your customer base.
First things first: you need to have quality work. If you do not have content on there that people want to see, you are not going to get customers. Make sure your blog is relevant to the world right now, and your business should be something that people actually need or want. Then, once you know you have a good base, you need to add some great content. Content is a wonderful way to help your blog and business grow. If you have relevant articles that will grab people's attention, then they are going to keep coming back to read more.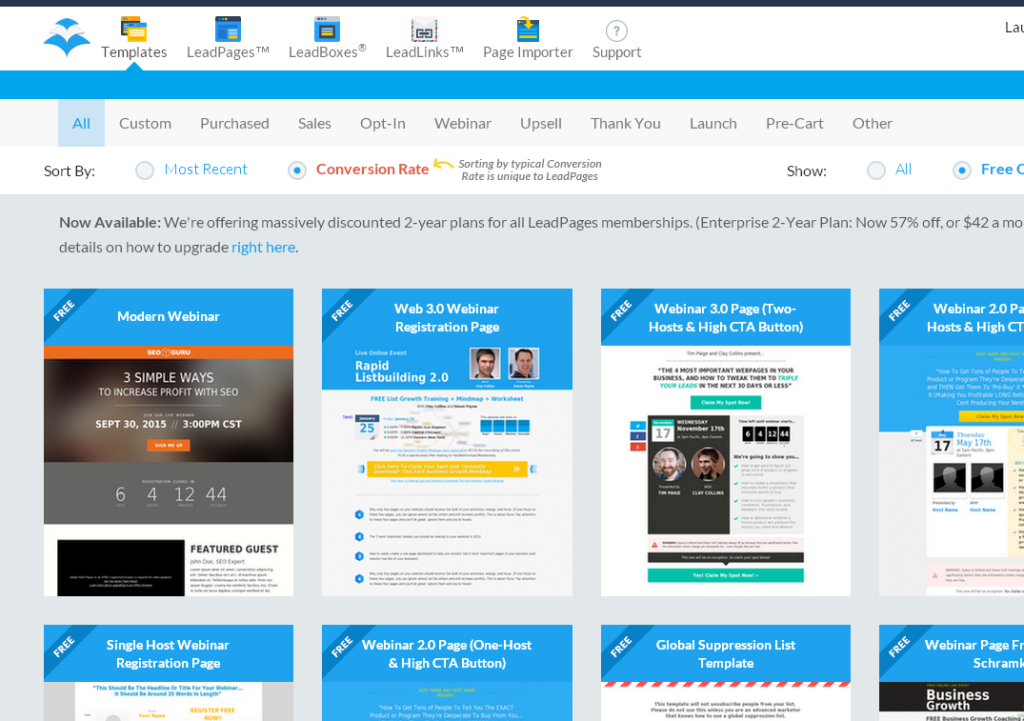 Creating content is something that you can do yourself or something that you can outsource. It's not hard to hire someone to write articles if you don't want to do it yourself, but if you are a blogger, content is going to be the only thing that gets people to your page. Whether you are blogging about recipes, life, or business, make sure the content is good and relevant. It needs to be well written without mistakes, and it should also have keywords or phrases that people will search for online. If you have an online business, your blogs should focus on what you are selling. Whether it is a service or a product, get people excited about what it is that you have out there.
Related Article: Instapage vs Leadpages
Another way to grow is to give out something so that you can get subscribers by email. Having an email list is one of the most important ways to grow your company. When you are sending out an email every week to people, it makes them think about your company more. Subscribers keep the lights on, so the more you can have, the better.
A lot of people get subscribers by offering up something free in exchange for their email. It can be something as simple as a document or small e-book that your customer base would be interested in. For example, if you are a food blogger, you could offer up a week or month of meal planning ideas. If you sell jewelry, you could offer a free shipping code to those who signed up for the email list. This is going to vary depending on what your company is, but most people aren't going to give up their email for no reason.
Of course, refreshing your product—whether that's content or material goods—is always important to keep your customers engaged and interested. It might not be the most exciting thing to do, but making sure your website looks great when you first start out can be a huge help in getting your company off the ground.
One of the best things you can do is to get emails from your customers. This is completely different from your email marketing software that allows you to send out your mass-market emails to your subscriber list. However, Leadpages does work with your marketing software for a seamless transition. The main thing that Leadpages is going to do is help to grow your email subscriber list. It collects the customers' emails for you and puts them in your marketing software. So, how does it do this?
Well, growing your email list isn't always as easy as 1, 2, 3, unfortunately. Most of the time, you are going to need to do some work. And working online, how can you really reach out to the customer and tell them to sign up for your email list? It can be hard, and it's something that most new businesses struggle with. It's not the easiest thing to set up on your website, but Leadpages makes it so it couldn't be easier. They give you tons of different templates to choose from that are proven to work and will help you collect more emails from your customers. Leadpages makes great landing pages and splash pages that will help to grab the emails from your customers in an easy way.
Related: Best Sales Funnel Software
When you click on a website, you are often taken to a landing page that gives more information on whatever it was you were looking for. Depending on the site, there are tons of landing pages that talk about the products or services you are going to offer. However, landing pages only have one purpose, which is to get the user to click on that Call to Action. That means that they will click on it and get asked for their email. It's not the easiest thing to build, and if you are not using the right words or phrases, it's almost impossible to get your readers to willingly hand over their emails. The best option is to go with Leadpages, which has plenty of templates to choose from so that you can get the emails quicker.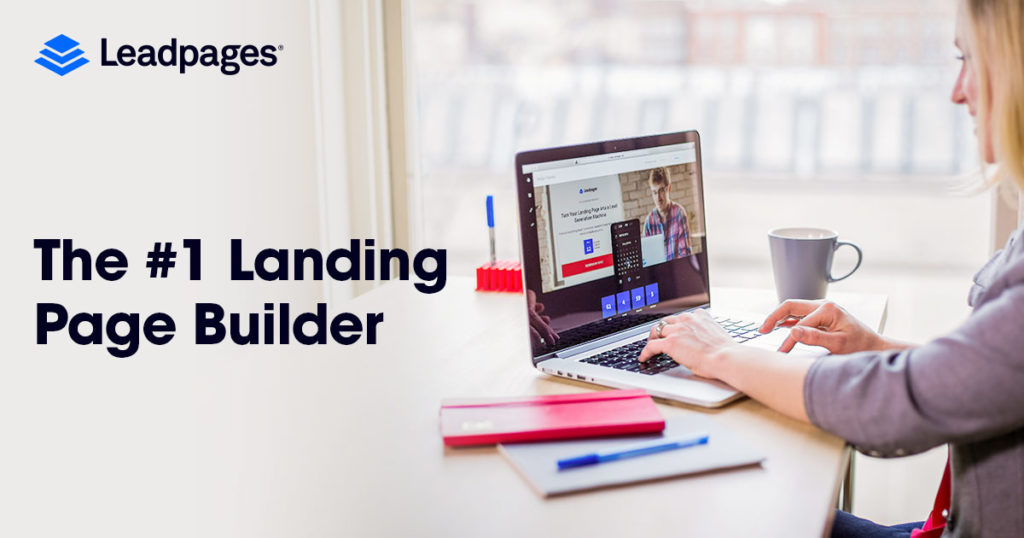 Landing pages are meant to be simple, and this increases their conversion rates when a customer clicks on one of your ads. Depending on what your needs are, Leadpages can help you to create a landing page that makes sense for your business. While it helps you to get more subscribers, it's not going to send the emails out for you. You'll have to use an email software, like MailChimp, for that. However, it does seamlessly integrate with many email services, making your job easier!
While this is the main way that Leadpages can help you, it's not the only way. There are a lot of things that you can do on Leadpages that make using the software worth it. For one, you can host webinars. Maybe you don't think you'll do that, but it's actually a great way to generate more traffic. Webinars gets your customer base interacting with you, and the more they see you, the more they are going to buy from you.
Leadpages makes it really easy to set it up in a template and embed it, which saves you a lot of money. Webinar software is just an additional expense that you don't need to have if you are using Leadpages. If you think you're going to do one or two webinars to start, it makes sense to go with this option. You can even add in a chat box so that those attending the webinar can interact with you. Remember, getting your customer base to interact with you is a huge way to make your business grow.
Another way Leadpages helps is that it can send your content upgrades without having to pay more in your email software. A content upgrade is what we talked about earlier. This is what is going to entice your readers to sign up for the email list. It can be difficult to integrate this into your email software, and it can also be expensive. Leadpages pricing includes things like this, so you don't need to pay for your subscribers more than once like your email software might lead you to believe. This makes it easy for everyone to grow their email list, even when you don't know a ton about the technology behind making a website work!
Leadpages can also help you to create buttons within your blog posts for readers to sign up for your email list. If you are not big on HTML and don't know how to code, Leadpages can take the guesswork out of it. There's no need to work the subscription into the blog post because you can have a button from Leadpages that will lead your readers to the spot they input their email. This all happens in the Leadpages software, and it couldn't be easier to figure out.
Again with the landing pages, Leadpages can actually create forms within your landing page so that people can sign up for your email list. It's really easy for customers to sign up, and it looks extremely professional on your site.
If you don't have a web designer working on your site, Leadpages can help your site look professional without it looking too clunky or cluttered. A sales page is important, especially when you are selling a product. You want it to give out more information without being too wordy or busy. Leadpages has multiple sales page templates for you to choose from, and you can even customize them beyond that to make it more personalized.
Since we are all about getting new subscribers with Leadpages, this software can also help you to get email subscribers through texting a certain phrase to a specific number. This is a great feature for if you have a physical business site where people will be walking by. By putting the number and phrase in your store, they can text it and learn more about you. It's also great if you are a speaker somewhere. When speaking, or anywhere else they will put your sign, you can put the phrase and text messaging number that people should text. They'll receive a text back letting them opt-in to your brand. This is an easy way to get subscribers and Leadpages does it simply!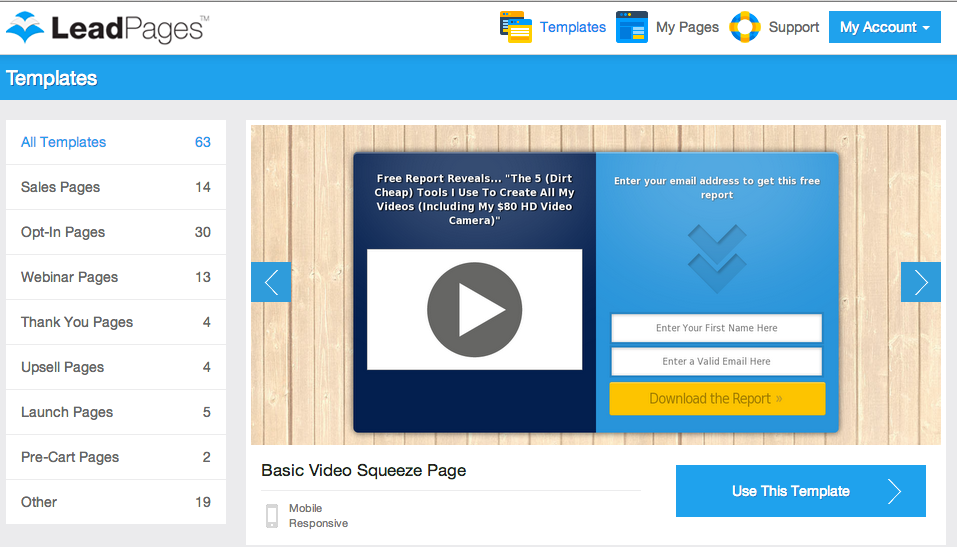 Once you get your subscribers, you shouldn't just drop them completely. They need to be led to another page that thanks them for their subscription and gives another Call to Action. This Call to Action can be sharing the page on social networking sites or liking the pages. It's an easy way to grow across multiple platforms. Leadpages will help you to create a thank you page that will help you to get even more subscribers and grow your business.
The ability to do A/B testing is another huge benefit to this software. What this means is that you can see what version of your campaign is working more successfully. It's not hard to set up, and you can see the real-time analytics on your campaign with this testing. When you know what is and isn't working, you can change the parts and make the best campaign so you can grow it.
Finally, Leadpages makes it easy to embed videos into your post. This is sometimes a hard thing to do on other software, but with the templates that are available, it's quite simple. It's an easy way to make your pages even more appealing.
Leadpages Pricing
Leadpages is going to charge you for its use, but it's a fairly modest amount when compared to other similar software. If you plan to pay monthly, you'll pay around $40 for a standard membership, $80 for a pro membership, or $325 for an advanced membership per month. However, this is the most expensive way to get this software. If you purchase a one-year-in-advance membership, you'll pay $25 a month standard, $48 a month pro, and $199 a month for advanced. And, if you purchase at their two-year subscription rate, you'll pay just $17 a month for standard, $42 a month for pro, and $159 a month for advanced.
You'll get a lot for the money you are paying, but if you are unsure whether or not you want to commit to Leadpages, try their 14-day free trial. It doesn't cost you a thing and you can see whether or not it is the right software for you.
What Leadpages Does Differently
When you purchase the membership to the software, you are getting a lot more than you would with other companies. You will get unlimited landing pages and pop-ups, unlimited leads and traffic, Facebook ad builder, analytics, sub accounts, A/B testing, lead magnet hosting and delivery, and mobile responsive pages.
Why Choose Leadpages
Leadpages is known for being really easy software to use. They also have great customer service that will help you whenever you need it. Because the software is so popular, it's easy to integrate with the software that you are already using. You won't have to spend hours building modules because they have so many high quality templates to choose from and customize. Even though they use templates, with the customization, there's no limit to what you can do. It looks so personalized and unique that no one will know that you did not pay a good web designer to do it for you.
What People Like
The software is really easy to use, even for those people who are not used to looking at web page designs. The landing page templates are designed well and look unique. They are also sorted by the conversion percentage, so you can choose which one you think will work best for you and your business.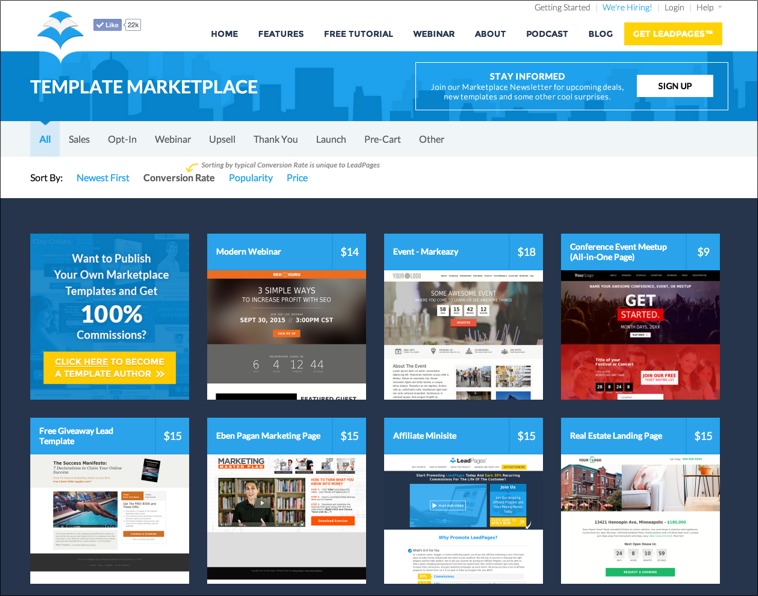 Other users mentioned that they have a drag and drop editor, which is so much easier to use than other editors. You can pick and choose what you like and don't like and integrate those choices into your template. Their customer service is also extremely responsive if you ever have a problem. Getting these templates up and running is extremely easy, and it's a great beginner software for anyone who wants to increase their traffic and sales without paying a web designer.
The pages that you build are very quick, and they have a lot of flexibility among them. This is especially useful if you plan on doing smaller campaigns frequently because you won't have to spend hours on an email that will be sent out once. Because of its ability to integrate with other software, it makes the whole process easier.
It is definitely the best beginner software out there for increasing the number of subscribers to your site. Because it offers other features like the webinar ability and the video embed, it's definitely something to consider if you do not know code.
What People Dislike
A lot of people don't like that these are such simple pages. If you plan on building a ton of different campaigns and you want them to be intense and unique, it will be a bit hard to do it on this software. You could outgrow it in the long run, and switching over to something else might be hard. This is a problem if you have an exact vision of how you want every page to look because you can only work with templates here.
Is it Hard to Use?
It is by far one of the easiest products to use. It is definitely made for beginners, and you don't need to know any code to get Leadpages up and running. Additionally, it is made for those people who are just starting out and wanting to grow. Their support is really great, and a lot of users have raved about the support they received when they had an issue. Even if you don't know what you need to do, just call their support! They can walk you through the beginning steps to get started on Leadpages.
How to Get Started With Leadpages
First things first, sign up for the trial if you haven't already. It makes it easy on you, and it's completely free so you might as well. When you create an account and log in, there are a few different templates that you can start with. There are even more if you choose to browse through them all. Some of them will have higher conversion rates than others, but you have to know your blog or business. If one has a high conversion rate but it doesn't seem to work with your site, don't choose it. You're better off going with a template that will match your page.
Once you choose a template, you then get to edit it. You can edit the widgets, page layout, page style, and page tracking. Even while just in your trial period, you will get to explore and see how it would work for your business.
Obviously, if you like it, the best thing to do would be to sign up for a two-year subscription. However, that might not appeal to you because it is such a long term commitment. Our advice is try the trial out for the full two weeks and see how it works for you. If it seems like it will truly help your business grow, sign up for a year membership and reevaluate once the year is over. You can always upgrade to a different software if you've outgrown it after 12 months.
The Affiliate Program
One thing that is appealing on Leadpages is that they have an affiliate program. What this means is that you can encourage others you know to sign up for the free trial under your name and you will get a discount on the membership. This is a great opportunity if you are a business or blog that plans on telling people about Leadpages. You end up earning 30% on the members that click your affiliate link and end up signing up.
Things to Remember
It's important to know what you are before you start sharing your vision with the world. If you do not have a solid vision of your business, get that set up before you do. However, if you are ready to grow, Leadpages can be a great tool for you. While Leadpages pricing might seem a bit high at first, it's actually one of the cheapest and best tools out there to help you grow.
Leadpages main focus is to help you to grow your email subscriber list. There are a lot of different ways to do this, but that's the ultimate goal of this software. If you feel like you are knee deep in words you don't understand, going with a software like Leadpages can help. They specialize in landing pages and sales pages, and they have all the tools you need to create successful marketing campaigns that will generate more traffic and emails in your subscriber list. This is really what is important when you own a business and want to grow.
Landing pages can be incredibly expensive to build if you are doing it with a web designer. Paying a monthly fee and using the templates that are available on Leadpages is an exciting way to create a professional look without having to spend too much money. However, the only downside to that is you will not be able to customize everything to exactly how you like it. It's great for those who plan on building a lot of smaller campaigns—which is something you should do when you are trying to grow—but for larger or established blogs and businesses, it may not be the best approach.
There are so many reasons why Leadpages is one of the highest rated software out there, and it can help you grow in a quick and effective way. With the A/B testing and the incredible templates that are available, there's nothing that will stop you from growing and getting the customer base that you need.
That being said, Leadpages is not a one-stop solution. You won't be able to do everything from here, and you will need to outsource things like email marketing. While it does seamlessly integrate with a lot of software, it can take a while to get used to using them together for an effective campaign. Even with all the features that Leadpages has available to its users, it is up to you to actually set it up and get it done. If you are concerned whether or not you can do that well, try hiring it out so that someone can do all that work for you. But for those who want to keep it in-house and easy, it can help.
Leadpages comes with customer service that is amazing. Whether you need help with their templates or some advice on which features to use, their customer service is always happy to help. This is a great thing to keep in mind if you are going to use Leadpages for your business. Ultimately, you are going to know what is best for your business.
If things aren't working out on Leadpages, you could always try out a more advanced software. That's why their 14-day trial is so generous. It is completely free and you can check out all the features that are available to you while using it. While you may not get to experience everything that Leadpages has to offer on their free trial, it is a great way to familiarize yourself with the features that could help your business grow should you decide to go with them.
Your needs are going to tell you which program on Leadpages is right for you. If you are just starting out, the standard membership may work the best. If you have a larger company, consider the pro or advanced. They all come with different perks and privileges, so make sure to research which one will work best for you. When it comes to growing your business, nothing makes it easier than Leadpages.