Leadpages Templates To Optimize Your Page | Sales Funnel HQ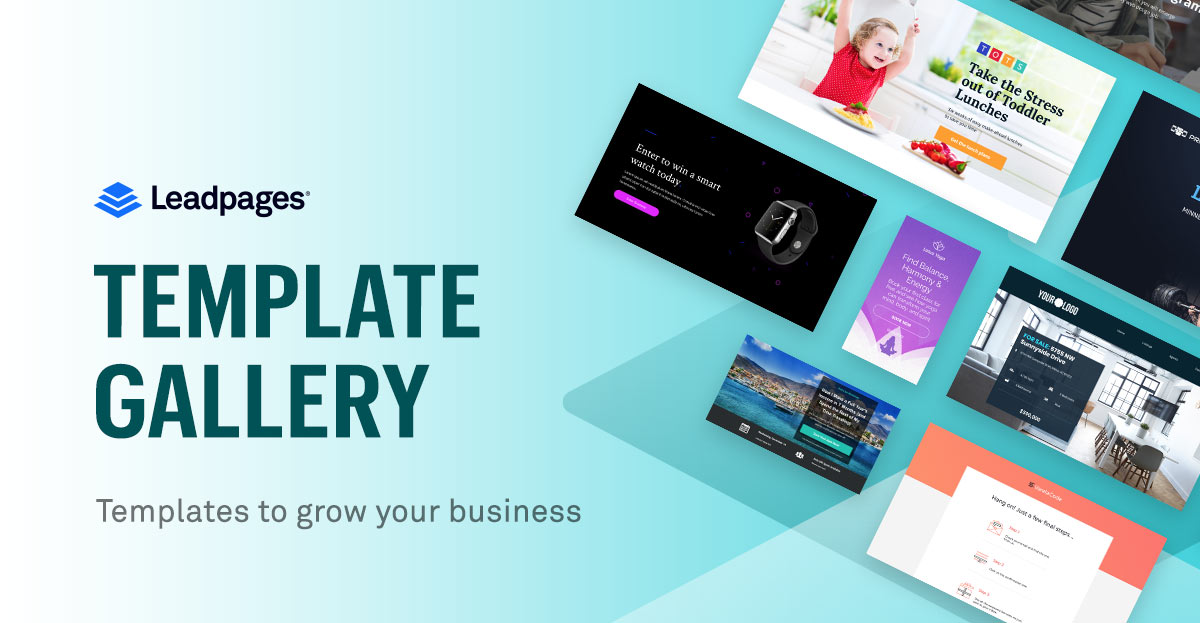 Leadpages templates can help you optimize your landing pages. A landing page is essential for growing a blog, promoting a company or gathering email subscribers. Since a landing page features a specific call to action, people who find your landing page are most likely already interested in what you are offering. These visitors are also ready to opt in.
The landing page helps you connect with genuine leads. It also helps build trust when you provide them with direct, relevant content. If you merely sent them to your main website, it might be difficult for the reader to find the content they were looking forward to receiving or the main page might be too busy.
Landing Pages Increase Conversion Rates
Sending them to a landing page will increase your conversion rates, but only if the landing page is properly optimized. That's where Leadpages templates come in handy. It can also help your search engine optimization (SEO) by providing evergreen content. Evergreen content is as relevant today as it will be five years from now. This content should be readily available on your site as it will help you create sustainable, passive income.
The more you connect with your customers' needs through targeted landing pages, the easier it will be to reach them when you have a new product or service to sell. Landing pages are quick to create and using Leadpages' proven templates, you can create a different landing page for each segment of your email list.
Top Related Article: Clickfunnels vs. Leadpages
As long as you have an end goal in mind, you can create a killer landing page. Decide what you want the visitor to do or sign up for, create your landing page around it and as long as you have a steady stream of traffic, you can confidently grow your email list.

Catchy Titles Increase Views
A good landing page needs a catchy title. Getting a person who has never visited your site before to take the time to read your landing page and give up their email address is no small feat. You will need to A/B test different titles in order to find the one that has the best conversion. It would be unfortunate to send a large amount of traffic to your landing page only to find out that people are not opting in.
You will need to make sure your landing page looks professional. This is easy to do when using Leadpages. The more information you can provide such as social media accounts, the more legitimate your site will look and the easier it will be to get conversions.
If you are having trouble getting people to opt in, take a look at the amount of traffic your website is receiving. Not everyone will sign up so try to keep increasing your traffic so you will have more chances of adding new leads to your email list.
Finally, take a look at your freebie. Does it add value? Does it align with your website to target readers who would buy your products or services in the future? Keep your landing page copy short, simple and on point.
While you could design your own landing page and code its contents, many people lack the time and skills to complete this process. This can leave a business owner frustrated and delay the time it takes to launch a product.
Leadpages is an online tool that has more than 150 free design templates. Stop getting frustrated and spending all of your time trying to design your own landing page. You can quickly choose from the library of Leadpages landing page templates, customize it to your brand and drag and drop sections with a simple click.

According to Leadpages, 38% of people will ignore or click off your landing page if it's ugly. Considering that statistic is nearly half of your visitors, that is a staggering number. Do yourself a favor and choose a premade template that has proven conversion. You can even sort Leadpages templates by conversion rate so you know that the template you choose is already appealing to a large audience.
Leadpages best landing pages provide several professional designed templates for various industries including blog, ecommerce, fitness, real estate, startup, travel and more. Once a relevant design is chosen, you can also select your campaign type.
Leadpages free templates can help you create a killer landing page whether you are promoting an ebook, newsletter, opt-in, product, promotion, video, webinar, upsell or want to capture leads.
Leadpages Webinar Template 
With over 15 options, Leadpages provides its users with cutting edge webinar templates. There are landing pages for hosting a webinar, a 2-host webinar, webinar replay, thank you, offer ended and more.
Our favorite Leadpages webinar templates are the "Offer Ended" and the "2-Host".
The Offer Ended template creates a swift call to action. The visitor might be disappointed that they missed out on the current offering they seen in a recent email or web search, but this lead page keeps them engaged. It immediately offers a popular free webinar that is just as enticing. Quickly capture leads and fulfill the needs of your online community with this template. The template also features a well-designed information section to detail what the visitor is signing up for.
The 2-Host webinar template is great for when you want to collaborate with a friend or colleague. It includes days and times available and a modern countdown to indicate urgency. A great template when both hosts are equally matched in their field of expertise and professional enough to send through a corporate email.
Leadpages Blog Template 
It can be difficult to find the time to properly maintain a blog. You need to design your blog, write the content, add the content to social media and then spend time getting people to your blog.
We highly recommend checking out the blog templates on Leadpages. A couple of our favorites are the "Enter to Win Page" and "Thank You with Recommended Reads".
Providing a relevant giveaway for your visitors makes it easy to capture email addresses. If people are interested in your giveaway, they might be interested in your content too. In order to promote your giveaway, you will need a landing page that looks safe and makes entering the contest easier than a game of Internet hide-and-seek. People are busy and if your contest is appealing to them, they will click with the intention of entering. If they get to your page and cannot find where to enter or suddenly find themselves on a page that is irrelevant to the contest, you have just lost a visitor and a lead.
Use Leadpages' Enter to Win template to gain your visitors' trust and provide them with a contest they will want to share with their friends, both online and off.
Related Article: Quick Funnels
The Thank You with Recommended Reads template is perfect for websites with great content. You have spent countless hours researching and editing your content, so why not promote it every chance you get? Once a visitor signs up for an opt-in, email newsletter, webinar, etc., direct them to this thank you page. You can properly thank them for their time by providing them with relevant content. This is a great way to promote your most popular posts and segment your thank you landing pages for different opt-ins for a more personalized touch.
Leadpages Lead Capture Template
Another way to increase your web traffic and grow your audience is using a lead capture landing page. This type of template is perfect for showcasing your best freebie. Maybe you have a well-researched PDF, a free email course or a private Facebook group to offer.
Simply choose your template, add your own unique content and upload your lead magnet. Your visitors will get an aesthetically pleasing page to enter their information and the freebie and the delivery is taken care of. You will not have to worry if they receive the lead magnet or spend hours testing the delivery to make sure everything is just right.
Our favorites are the "Post-Event Bonus Page" and the "Challenge Invitation Page".
With the Post-Event Bonus Page, you can easily send your attendees a unique url that goes to a one-click landing page. Once clicked, the attendee only has to enter their name and email to receive your selected freebie. Once the attendee has received their bonus, they are now on your email list. You can segment these sign-ups into a new list that only includes your event attendees or simply add them to your main mailing list.
The Challenge Invitation Page allows you to collect your visitor's name, email and phone number. It has a seamless call to action right when you enter the landing page. It also provides visual representation of the content you will be providing and a second call to action once the visitor has fully understood what they are signing up for.
This is the perfect template for sharing your most popular knowledge through a series of auto-emails. Fully customize this page to your needs; it's great for a wide variety of niches.
Leadpages Newsletter Template 
Email subscribers are the gold standard for a genuine online customer base. Keeping your subscribers engaged takes great content and a professionally designed newsletter template.
Need an incentive for new subscribers? Use Leadpages to deliver a signup bonus via their built-in Lead Magnet Delivery option.
Our favorite Leadpages newsletter template includes a simple squeeze page. Squeeze pages are built to increase a user or business' subscriber list.
The Best Squeeze Page Templates
The squeeze page usually outlines the company's privacy standards and a small gift (generally digital) that the subscriber will receive in exchange for their email address. This type of webpage eases customer concerns and gives them something essentially for free from a company they are interested in.
A squeeze page does not have any links to external sites therefore "squeezing" the subscriber into signing up. The page usually only contains the call to action or at least highlights it and can use special colors, copy or deadlines to entice the subscriber.
This simple page allows the reader two simple choices, sign up for the company's offering or click off the page. If the reader has landed on the page intentionally, chances are they will provide their email address in exchange for the freebie.
Advanced squeeze pages can also provide a visitor with a freebie on the top of the page and additional resources on the bottom that might require a small fee to purchase. Squeeze pages are very popular in modern marketing and can help the website owner gain more email subscribers without investing a lot of money for acquisition of the information. It is also helpful for specific targeting or segmenting a sales newsletter list. 
Leadpages Opt-In Template 
Leadpages provides many opt-in templates. Choose from double opt-in thank you pages and post event bonus pages.
Double opt-in pages allow you to confirm your leads and provide a direct download to your free bonus content.
Post event bonus pages are a great way to stay connected with the people who attend your events. Offer them an exclusive bonus or discount. Thank them for attending your event and supporting your business.
There are even opt-in pages that are specialized for your niche including fitness and real estate. 
Every business should have an opt-in landing page. If you were ever to lose your social media following or a social media platform that you gained massive followers on suddenly shut down, you would still be able to rely on the email addresses you received on your opt-in page. These emails should be treated like gold. Each one is a potential customer that is already interested in your product line or company values. When you need to announce a new product, have a friends and family sale or need feedback on a new idea these are the contacts that you will be polling. 
Leadpages Product Template 
Product landing pages create a swift call to action to give a sense of urgency to your product and service(s) sales.
Use the sold-out landing page to generate interest around your product. Your initial offer may be sold out but the Leadpages product template(s) let your customers know exactly when your product will be back again by collecting their email address on this simple landing page.
This is a great template to collect additional leads to increase your sales for the next round. It is also a great page to let new visitors know how popular your product is and get them to learn more about your company.
Use a single call to action for maximum effectiveness. Too many links can confuse the visitor and cause them to click off your landing page. Once a user clicks off, it is highly unlikely that they will visit your page again so you will want to make sure you capture their attention clearly the first time. 
Leadpages Sales Template 
Leadpages helps you sell efficiently with its landing page sales templates. Use the templates to entice your customers to purchase your latest product or service.
This type of landing page helps you collect email addresses and credit card information. Having a sale? You can customize your page to reflect that too. Feature product videos, pictures and descriptions that sell, all with drag and drop capabilities.
Create a Different Sales Landing Page for Every Product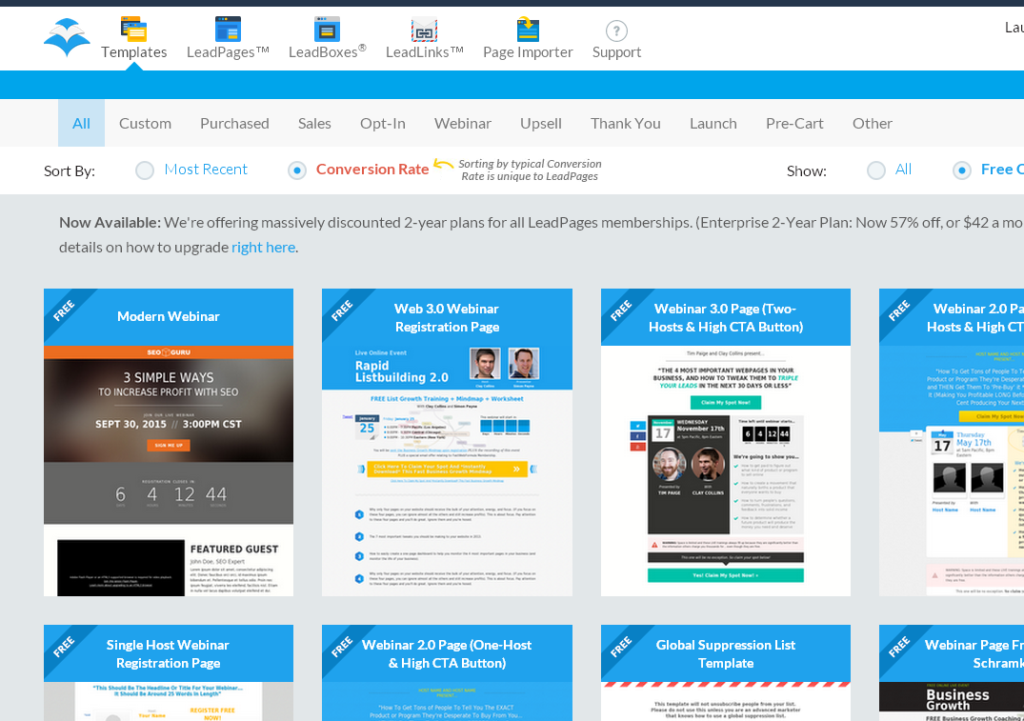 You can even create a sales landing page for each of your products so you can link to a new page every time you create a product. This helps cut down your bounce rates. It also helps you fix an ecommerce error quickly and easily. With separate landing pages, when one page is down you are only losing money on one product and still sell your other products while you fix the glitch.
Integrate your sales landing pages with analytics, PPC campaigns, CRM's and more. Automating the sales process will not only save you time but dramatically increase your conversion rates as well. This will in turn cut your customer acquisition costs so you can focus on your product and not day to day lead searching. 
Leadpages Thank You Template 
Whether you run webinars, sell digital products or have an exclusive once a year sale, thank you landing pages are a necessity. Thank you pages show the customer that you run a real business and you care about their patronage.
A well written thank you landing page can even create a sale after a sale. Even if a customer has just purchased one of your products, you can easily get them to buy again instantly or in a short time period by offering them a discount on their next purchase. Who wouldn't like to receive free shipping? Or a well-targeted BOGO offer?
A great thank you page should be filled with gratitude. It should be valuable to the customer and make them want to tell their friends about what a great company you are. 
Leadpages Video Template 
Videos are a marketing trend that is on the rise. Using a video on a landing page can increase your conversions by 80%. People are very visual. Vision is the most dominant sense and people respond better to pictures than text. Video is an easy way to become more relatable and trustworthy, just by telling your story and developing a relationship with the visitor.
The best part about video is that is does not take a lot of money to see a return on your investment. While you could hire a video team, actors and editing, you could also take a genuine video with your smartphone and see the same results. Do not sweat if your video is not perfect. People care about the content and are exposed to various forms of video media through the news, social media and tv. Explain your product or service clearly and in detail and the general public will forgive your lack of lighting and editing skills.
Video Improves SEO 
Want to improve your SEO? Add a video to your landing page. Visitors will generally stay on your page longer to watch your video(s) and Google views time spent as a direct correlation to the value of content on your page. Videos are especially important now that Google owns YouTube.
And if YouTube is hosting your landing page videos do not forget to consistently improve your SEO titles and description on YouTube. You can provide links to your landing pages and website directly from YouTube. A relevant video on YouTube can go viral much faster than trying to get your new product video out to your social media or email subscribers. Utilize YouTube to create another passive income stream. YouTube is a very popular app and platform for all types of niches and many users watch videos on the go.
Videos Can Persuade Potential Buyers
While product reviews are important, explaining your product in detail via an informational video can be more persuasive for a potential buyer. If a potential buyer is unsure whether or not they really need the product or unclear of how many features it has, a video can easily clear up any questions and convince a potential buyer to pull the trigger.
If your product or service is difficult to understand, consider making an animated video. Before you complete your video, take the time to research similar videos to get a feel for what works and what doesn't. Stay true to your company's values and the reason you are selling the product in the first place. Do not try to be something that you are not. You want the video to be viewed in a positive light. If your video is too long or too short, it might not be enough to captivate your audience and convince them to purchase your product.
Animated Videos Boost Sales
Animated videos can help explain your concept without cheesy acting or video quality issues. There are affordable software options available to create animated videos. Once your animated informative video is complete, it can be used as evergreen content that can be viewed over and over, year after year.
Video is also easy to share among friends. Some great products and services can be hard to explain, but videos can be easily linked in text and email. The recipient is also way more likely to view a video than read a long email or take your phone call in the middle of the day. Videos can be easily viewed multiple times and saved for later viewing. It is also much easier to share a video when you are having a face to face meeting than trying to explain a new product (especially if it is not right in front of you).
Live Videos Connect with the Consumer
Videos can also be used to convey compassion and support in customer service situations. Live videos will also become more popular. Posting a live video can bring all of your potential customers to your product at one specific time. Live video streams bring a sense of vulnerability and trust. Use live video for product launches and Q&As to help engage your customer base and sell larger quantities of product in a short amount of time.
Even live video streams can be added to your landing page. Worry less about perfect quality and more about relevant sales content that will sell your product. Videos are great for sales because they allow the potential customer to think less and impulse buy more often.
Conclusion
Whatever type of landing pages you use, consider which one goes best with your product type. Videos may be more relevant for products that need an explanation in use or features, while a thank you landing page might be better if you have recently attended a trade show with your product and want to remind the potential customer your product is ready for purchase.
Landing page links can come from multiple sources such as your own website, social media, paid ads or even direct mail.
All of your landing pages should have one simple goal, to align with your business' success plan. Need to add a new niche segment? Grow your mailing list? Have visitors request a quote on your products or services? A landing page should provide your business with conversions and preferably increased conversions over time.
A good landing page should contain one clear call to action that engages the reader and creates a relationship bond for future opportunities. The landing page should also generate individual insight into what is working and what is not.
If you take the time to create an engaging landing page, it should be able to grow your email list 24/7, just by having a simple opt in form.
Landing Pages Promote Business Credibility
Well-designed landing pages also give you more credibility. If you are able to funnel targeted leads to the right landing page, people will trust your company more. It is important that you do not waste anyone's time but point them in the right direction. Saving your readers time and money will keep them coming back for more.
Sometimes, a landing page is the first webpage a new visitor will see regarding your site. The landing page should reflect your current branding standards. This will help visitors recognize your brand and come back to buy from you.
Try using a landing page to promote your newest product or service. You will be amazed at how it integrates with other platforms such as analytics, CRMs and PPC campaigns.
Consider who you want your customer base to be. If you only want to sell your product once to the consumer, your business will not be very profitable. However, if you build a lead base that are potential repeat customers, you will have a sustainable business and not have to spend all of your time gathering leads.
Once you nail down your target customer, you will need to understand what opt-in copy gets your potential customer to give you their email address, phone number or even their credit card information.
For example, if you simply want your opt-in page to provide you with genuine email address leads, make sure your single call to action supports that goal. That means no external links, no side bar, no distracting videos or photos.
Always remember the less information you ask for the more sign ups you will receive. So only ask for the information you truly need on your initial opt-in page. And always offer a free incentive for gathering information up front. People love gifts and giving them useful information for providing their email address is a feasible exchange for most people, especially if they are interested in your product or service.
Keep it simple with a catchy headline, to-the-point copy and one easy to understand call to action. Frequently test your landing page to make sure it is working properly and there are no glitches. If a visitor to your site is unable to opt in, many times they will not take the time to let you know and just go on to the next webpage. It is very important to consistently test your landing pages, especially if you notice a drop in traffic or engagement.
Use Leadpages free templates to create landing pages for your business. Leadpages templates will save you valuable time and provide you with a landing page that looks like you hired a professional.