13 Best Leadpages Alternative and Competitive Options | Sales Funnel

Are you searching for a Leadpages alternative? For many years now, Leadpages has been the industry leader in cloud-based software that enables online business owners to grow their email lists and cultivate new client leads for their goods and services. Multiple leaders in online business entrepreneurship have become advocates for Leadpages. Leadpages has managed to stay up to date with many of the major features needed to successfully capture leads in online business.
Top Related Article: LeadPages Templates
But Leadpages is no longer the only option out there. As the online business sector has grown, so have the services that business owners need to stay competitive in the space. Some were developed simply to be a cheaper alternative to Leadpages. Others were focused on providing new features or more online support. There are now over 15 different Leadpages alternatives on the market. In this article, we will detail the options you have when you are looking for a new way to capture leads for your business. The various companies offer starkly different price structures, features, and tech assistance depending on which service you choose. Because capturing leads is so essential to a successful online business, it's essential that you choose a service that fits your specific needs and can help you reach your business goals.
What is a Lead Page?
One hurdle that online business owners who are just starting out have to overcome is getting to know the lingo of the online marketing world. A lead page is one of these terms that it's important to get straight right away. Simply put, a lead page is a webpage that is built to attract potential clients to your website and encourage them to give you their contact information so that you can begin to pitch them your goods and services. There are a huge variety of strategies and approaches to first attract customers to your lead page and then create a lead page that "converts," i.e. gets the person who visits the page to actually give you their email address.
What is a Sales Funnel?
So, what should you be looking for your Leadpages alternative? There are a variety of options to choose from for a cheaper alternative to Leadpages. One thing to consider is what your overall goal is with your business. If you are primarily just seeking to grow your email list, you may not need all of the features offered by these various programs. But if you also wish to guide your new email list subscribers into a sales funnel, then you'll want to explore the particular features of each program and find a dynamic set of tools that can truly maximize growth in your business.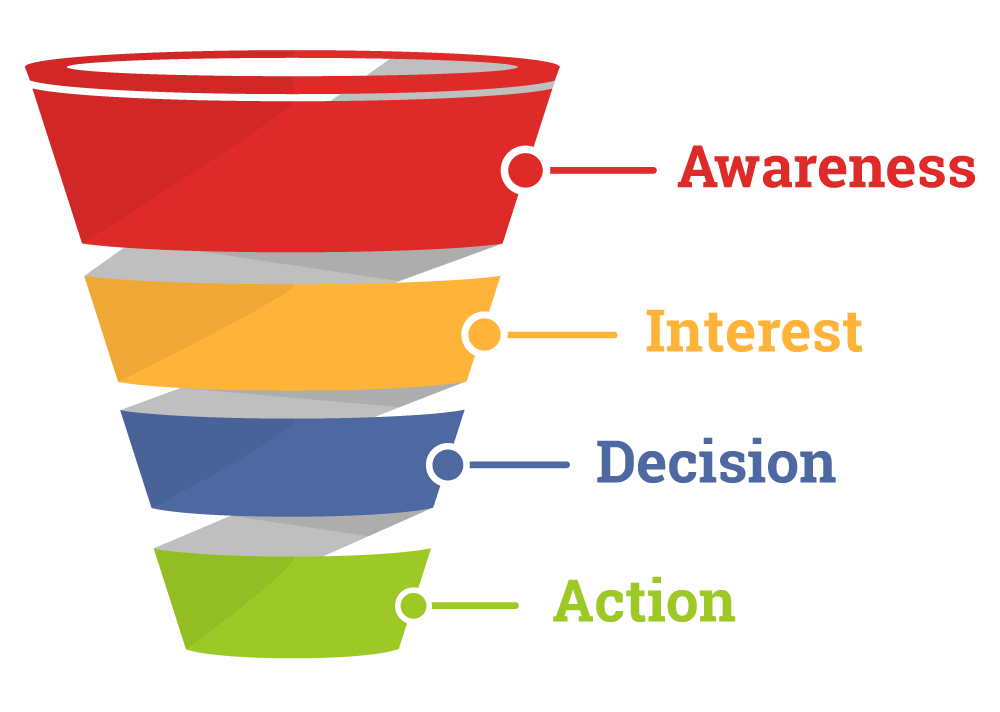 Unsure what a sales funnel is? A sales funnel is simply a sequence of emails or pages that guide a new lead into potentially purchasing one of your products or services. You can also create these funnels when you are offering free webinars or other programs to your followers. Basically, there are three central functions these services offer. They allow you to create a landing page, or a place where your potential client or customer can insert their email address in order to receive a freebie or sign up for a webinar. They can then deliver your freebie and to varying degrees manage the emails you send back to the potential client after they sign up.
Parts of a Sales Funnel
Depending on the structure of your online business, there are a variety of structures that your sales funnel can take in order to generate leads for your business and ultimately make sales to your ideal clients or customers. That said, there are a few essential parts to a basic sales funnel.
The Landing/Lead Page
This is the page that offers some kind of bait, or "lead magnet" for the potential client, encouraging them to provide you with their email address in exchange for some freebie or content you offer. Most landing page software will automatically deliver your "lead magnet" once your potential client has offered up their email address.
The Email Automation/Email Marketing Phase
Once you have captured the email of a potential client, most sales funnels include some kind of follow up email sequence that encourages your potential client to purchase your goods or services.
Sales Page
This is the page where your clients or customers come to make a purchase from you or sign up for your services.
Other Features Included in Lead Page Software Bundles
The basic offerings above are the core of what you need to create a functioning sales funnel that channels traffic from your website into sales for your business. Beyond the basic framework above, there are a wide variety of other tools you can employ for online marketers. These include tools like:
Facebook Ad / Google Ads Optimization
Some of the services and tools below include bundles to support you in creating ads on various platforms to attract traffic to your landing page.
Pop-Ups / Sticky Bars / Creative Approaches
Beyond the basics of a landing page, there are many other widgets and tools offered to make your website "sticky"–i.e., increase the likelihood that when individuals visit your website, you are able to capture their email address and begin a marketing sequence with them.
Data Analysis / A/B Testing
Many of the tools below also offer a variety of ways to analyze the traffic to your lead pages and other lead attracting mechanisms so that you can determine quickly and easily what's working and what isn't. These tools make it possible to pinpoint what's truly working in your business and simply drop what isn't.
Offering Delivery Templates
A few of the systems below offer tools and templates for delivering your services. Many online businesses offer educational courses and services that require membership sites. Others sell products. These kinds of tools make it easy and simple for your clients to receive the goods or services that they paid for.
Choosing the Right System for You
All of these various tools and services illustrate the range of options that are available through the online marketing companies below. There is a huge variety and range of what's being offered. To make the right decision for your business, you need to hone in on what your particular needs are, and weigh that with two important factors: your tech-savviness, and your budget. Truly, there are so many options on the market, there is certainly something that could work for you.
For example, if you are just starting out with your business, most marketing experts would say that you should put your emphasis on building your email list. A more basic model, that includes some kind of email follow-up to turn your leads into customers or clients, would probably be sufficient for you. It's important that you work within your budget, especially at the beginning. There are quite a few options that are a cheaper alternative to Leadpages, so that you can be certain you stay within your means when you're just beginning.
On the other hand, if your business is already growing quickly, you should look for services and tools that will help you grow. You may even want to consider some of the offerings that include personalized consultations and advice, so you can receive some outside perspective on how to use the latest online marketing trends to grow your bottom line.
Finally, the factor of your tech savvy and usability issues is crucial to choosing a tool. If you are going to become extremely frustrated trying to implement the tool that you purchased, then it very well may cost you much more than the price tag. It's important that you get a feel for the tool you select and make sure that you are able to use it effectively and efficiently. The majority of the websites below provide you with the opportunity to engage in a trial period with their services. It's a great idea to take advantage of this offer so you can confirm that the set of tools you select are going to be easy for you to utilize.
Below is an index of the large variety of companies that are offering services that overlap with and expand what you are offered when you work with Leadpages. First, we will detail what you get when you invest in Leadpages, and then go through what these Leadpages alternatives have to offer.
Leadpages is an industry leader for a variety of reasons. Their overall focus is specifically on lead pages, or landing pages, rather than the wider variety of sales funnel functions. For example, Leadpages does not offer drip email marketing services. Leadpages offers three packages that cost $29, $48, and $199 a month respectively.
Their basic package includes unlimited pages and leads collected, which is unique in the field. They also have a huge number of templates to choose from. Because they are an industry leader, they can provide data and statistics on their templates, providing robust data that informs customers how effective their various lead page templates are.
Leadpages also offers a Facebook ad builder within their lead page builder, so you can simply integrate your lead page into an ad on Facebook to attract leads. They also provide their clients with the opportunity to create SMS marketing campaigns with their trademarked Leaddigits offerings. And because they have been in the field for so long, they offer a huge variety of integrations with all of the leading email and e-commerce platforms for online marketing.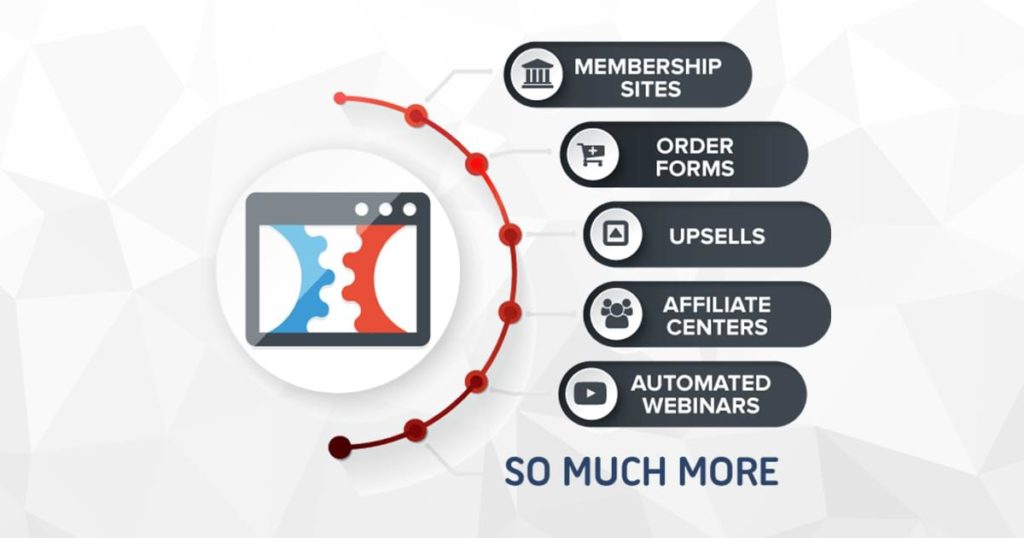 Click Funnels is probably one of the most popular Leadpages alternative. Because of the breadth of features that it offers, it is in many ways a cheaper alternative to Leadpages. Click Funnels offers a drag & drop editor for the lead pages that you seek to create. You can also sell products and services directly from the pages you create, unlike Leadpages. Finally, you're able to create basic follow up emails that are automatically connected to the leads that you gather. These are some of the features that set Click Funnels apart from what's offered by Leadpages.
Related Article: Clickfunnels vs. Leadpages
Click Funnels is also unique because of the variety of add-ons that they offer to customers. The other functions associated with collecting leads: developing email marketing sequences, coding complex and dynamic pages, as well as creating affiliate programs and membership sites are all offered as add-ons to the Click Funnels platform. This makes it possible for customers to integrate all of these functions on one platform, which truly streamlines the work associated with all of the marketing and distribution activities occurring within an online business.
Another reason Click Funnels stands out is because of the quality of their templates. They have a wide variety of funnel options that are catered to the specific details of your industry. Click Funnels can also personalize your funnel depending on the particular goal of your business. For all these reasons, Click Funnels is one of the most popular Leadpages alternatives on the market today.
Thrive Themes is another company offering a wide variety of options for website owners who are looking to grow their business. What makes Thrive Themes stand out is that their offerings are sold as WordPress plugins. This means a couple of things. First, you need to have a WordPress website in order to utilize the Thrive Themes platforms. Second, you'll want to have some understanding of how to install and use plugins on your WordPress website in order to properly use their offerings.
What's really neat about what Thrive Themes offers is that unlike the vast majority of Leadpages alternatives that offer only monthly pricing structures, Thrive Themes offers their platforms for a flat rate. You can access one of their offerings for just $67–for life! Alternatively, if you want to access all of their plugins and receive the consistent updates that they offer, you can join their website for just $19 a month making it a much cheaper alternative to Leadpages.
Similar to Click Funnels, there are a variety of plugins that Thrive Themes offers to assist you with achieving your goals. To start, they have Thrive Architect, which is a drag and drop lead pages builder to helps you create amazing lead pages. They also have the Thrive Leads, Thrive Quiz Builder, Thrive Ovation, Heading Optimizer, etc. All of these individual plugins add up to most of the features you'll find in the bundled services, but they come at a much lower price and they are consistently being updated according to the latest trends. Thrive Themes is a great Leadpages alternative if you are looking for a way to steadily grow your business, and you have a WordPress website that you know how to update yourself.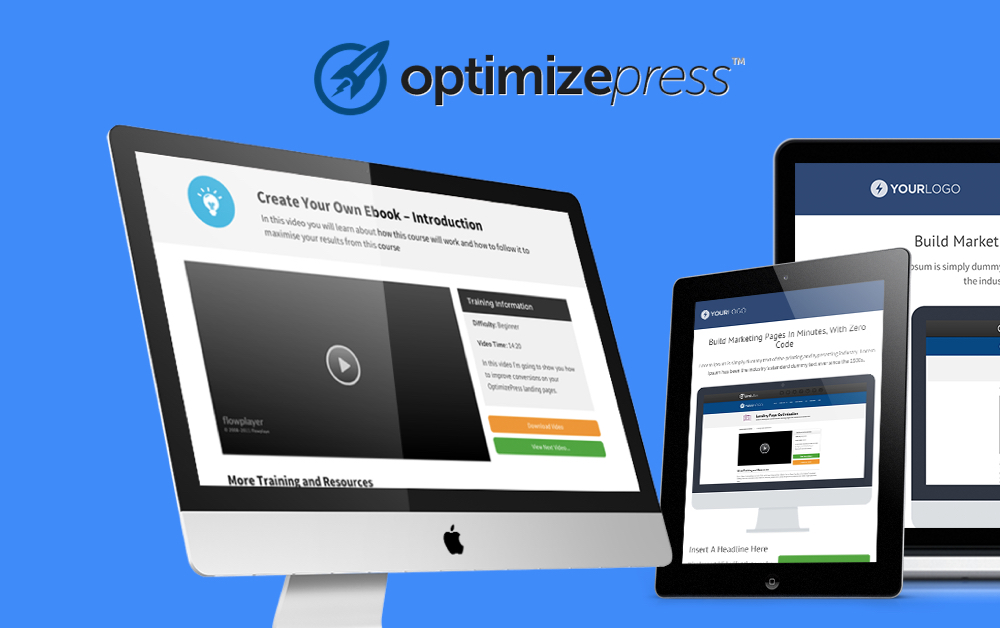 Optimize Press is another excellent choice, and it is a cheaper alternative to Leadpages as well. Like Thrive Themes, it allows you to pay a one-time price to access their software and utilize it for your website. The cost is $97 for a solo license, and a one-time $197 fee if you would like to utilize their tools on multiple websites. Unlike Thrive Themes, Optimize Press focuses primarily on the creation of landing pages. It offers hundreds of ready to use templates for lead pages and boasts that their pages have collected over 4.5 million opt-ins since they created the platform.
Optimize Press also provides the software capable of creating sales pages so that you can make sales right from their platform. They also offer WordPress themes in their packages. Themes are framework for the creation of your website. Optimize Press's themes are developed specifically to convert your blog posts into new members of your list.
Optimize Press also offers plugins and templates if you are seeking to create a membership site and/or sell a course or other online offering. They have a large variety of elements and styles that are up to date with the latest trends, ensuring that you have what you need to create a highly responsive lead page. They also offer data and statistics on every page you create so you can determine which pages convert for you best, which makes Optimize Press a good Leadpages alternative
Sumo is a full-service site that helps create landing pages that are geared towards both growing your email list and selling your products or services. The price is along the same lines as Leadpages. The most basic package is offered at $29/month, and then a more deluxe package with additional features is added for $79/month.
What makes Sumo unique Leadpages alternative among the offerings is the fact that they are focused on assisting online business owners with making sales. They have special lead pages that attempt to reduce cart abandonment, increase the value of orders, and convert window shoppers into buyers. The platform also provides ways to create a drip email integration, meaning once the potential customer gives you an email address, they will continue to receive a series of emails encouraging them to make a purchase.
Related Article: Quick Funnels
Sumo is also developed to work seamlessly with some of the most popular online shopping plugins, including WooCommerce and Shopify. If you go for the more deluxe offering, you also have the opportunity to create A/B testing for your pages, so you are able to determine which design of your lead page creates more conversions. They even have features that allow you to cultivate visitor targeting, making sure that the traffic to your site is collecting leads for you.
Another popular Leadpages alternative is Hello Bar. Hello Bar offers a pretty robust free starter package for individuals looking to check out their software and determine whether it clicks with their business. This free offering provides you with an unlimited number of pages and subscribers, some basic design features, integrations, and even an A/B test offering. The one hitch is that your pages will have Hello Bar branding present on it.
Their $29 a month package is a cheaper alternative to Leadpages and enhances those free offerings making it possible for your landing pages to be viewed up to 50,000 times a month. Another excellent feature of the Hello Bar service is that you will be offered a dedicated marketing expert to advise you on the use of the platform for your first three months of use. And of course, once you pay for Hello Bar, the branding will be removed. They also dramatically increase the design templates and options at the $29 a month level, ensuring full customization of their pages.
At $99 a month, this Leadpages alternativegives you access to that marketing expert full time throughout the time you pay for your membership. This allows for users to have a sounding board for their questions and discuss options as long as you are using the service. Hello Bar also offers a variety of targeting features for you to discover the clients that you need to draw to grow your business.
Get Response also offers three membership models that grow in their flexibility in terms of features. It is in the business of offering all three stages of an online marketing sales funnel: the landing page phase, where you are seeking to collect email addresses, the marketing automation, in which you send a series of emails encouraging leads to purchase your services, and e-commerce features, focusing in on making sure the sale happens once the client makes clear that they are interested.
Get Response, a cheaper alternative to Leadpages, offers expert advice on all of these areas as you continue up their offerings ladder. Their packages range in price from $15 a month to $1,1999 a month and is catered towards the current size of your email list. In this sense, Get Response is a set of services that offers you room to grow your business. When you begin it their initial service, you focus on growing your list. Once the list is growing, then you can expand into the marketing automation services and connect it to your e-commerce platforms.
Get Response streamlines the process of developing your sales funnel by offering a wide variety of services that build on each other seamlessly. The advantage of this Leadpages alternative is that you can focus all of your marketing efforts through the same set of software, cutting down on the drag time of developing your own systems.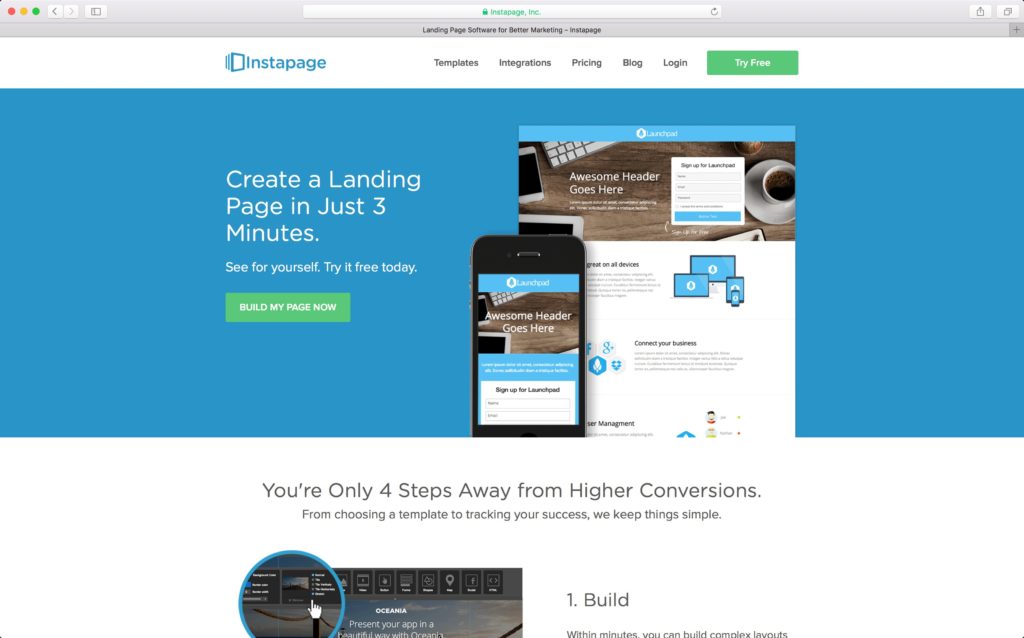 Instapage is a dynamic set of options and a great Leadpages alternative. It offers a wide range of features that include some of the most cutting-edge elements necessary for success in today's online business environment. The cost of Instapage starts at $99 a month, with an option to create a personalized plan with a full-time marketing advisor at your service.
Instapage prides itself in leading the industry in terms of success, and they are focused on creating landing pages that are optimized for mobile phones. On Instapage, you can be certain that your landing pages will load quickly and maintain their design elements on desktop and mobile.
Another stand-out feature of Instapage are the variety of specific products that are offered by the program. This Leadpages alternative provides full optimization data collection, allowing customers to make highly informed decisions about what is working best in terms of their lead pages. They also advertise a unique feature called heatmaps, which gives you highly specific information about visitor behavior on your page. The heatmap informs you about where the mouse is moved on the page, where your potential clients click, and how far they scroll down on the page.
Instapages also offers a trademarked feature called Instablocks that offers users an easy way to streamline the design of their lead pages from page to page. Basically, users have the opportunity to create page blocks that can be inserted again and again and ensure that all of the various pages you develop have a cohesive design.
Unlike the various departments of Thrive Themes, Instabuilder is a distinct company from the package of services and tools provided by Instapages. But similar to Thrive Themes, Instabuilder offers a one-time fee for their services and their tools can be installed into your website directly, but only if you use WordPress as your hosting service.
Instabuilder is a Leadpages alternative that is entirely focused on building lead pages. They feature a dynamic builder and a variety of add-ons, including a countdown timer, notification bars, social sharing buttons, and even animations. The focus of this service is to assist you in creating lead pages that are dynamic and capture your customer's attention. They also offer a tool to help you automatically make your lead page legally sound through their disclaimer, privacy policy, and TOS page generator tools.
Instabuilder also boasts that it connects with basically ever other autoresponder on the market. With this Leadpages alternative, you'll be able to start collecting email addresses and adding them to your list quickly and efficiently. Instabuilder is a cheaper alternative to Leadpages when all you are looking for is to create great landing pages to generate leads, especially if you already have the other pieces of your sales funnel in place.
The Landingi is an intriguing new Leadpages alternative that has a cheaper starting monthly price of $29 a month. Like many of the other services, Landingi has a robust tool for creating and designing lead pages, including a dynamic drag and drop builder as well as hundreds of pre-made templates, fonts, images, and icons for its customers to utilize.
Landingi stands out as a cheaper alternative to Leadpages because it also includes a unique inbox feature to help you manage the leads that you collect through their pages. They advertise it as a miniature CRM, making it simple to manage the needs of the leads that you are receiving into your business. This feature helps businesses prevent potential clients and customers from falling through the cracks.
They also feature a wide variety of integrations with other services including a scheduler for the landing page and a lot of ways to analyze data from their pages. Landingi also provides a variety of special features for individuals who work in web development. Their offerings include tools that create flexibility for advertising agencies, designers, and developers so that they can offer top-quality services to their clients and customers. This Leadpages alternative makes it easy to collaborate with clients and one another as well as provides a place to create custom templates for their clients. The cost of Landingi for the wide berth of features includes $49 a month for the full automation features, and $109 for professionals who are using the software when developing a site for their own clients.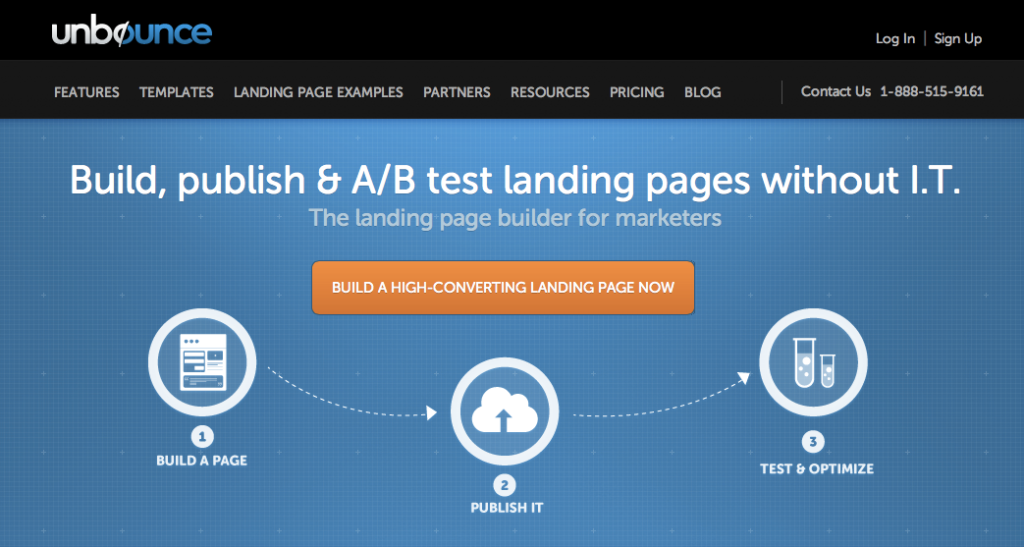 Unbounce is a suite of tools to help you optimize your lead pages and convert them into clients and customers. It has a variety of pricing structures and features depending on the size of your business and whether you seek to pay for the services per month or pay an annual fee. But the general range of the price of this Leadpages alternative ranges from $79-499 a month.
Unbounce includes seven different tools for clients looking to grow their email lists and ultimately their businesses. They offer Unbounce builder, a dynamic drag and drop builder that is elegant and easy to use. They also offer a wide variety of landing page templates, pop-ups, and sticky bars to add to your website. Their conversion tools include unlimited A/B testing to determine which ads are serving you the most. It also offers a text replacement feature that allows for swapping out keywords so that you can make sure your page is being found by the clients that are searching for it.
Unbounce also offers a wide variety of security and safety tools, so that you can be certain you are following all of the latest legal protocols for online business. This includes automatic SLL encryption, data privacy protection, and I.P. Filters. Like many of the Leadpages alternatives, Unbounce offers these features depending on the level of membership to the site that you select.
Kyvio is a three tier Leadpages alternative that offers packages that range from $29 a month to $149 a month. Their basic offering is a single landing page that will retain the Kyvio branding on it. From there you'll receive access to a variety of marketing tools beyond landing pages, including sales funnels, product pages that can be integrated with Stripe or PayPal, membership tools for use with membership sites, as well as email integrations.
Their email integration feature, called Smart Mailer, offers a number of unique features that make Kyvio stand out among the various cheaper alternatives to Leadpages. The Smart Mailer allows you to take the email addresses that you collect through the page and then create specialized groups and send them a series of email automations to encourage them to buy.
Kyvio also offers tools for affiliate marketing, allowing its users to associate their products or services with other marketers and a variety of built-in promotion tools. Kyvio gives you a full range of tools for your email marketing so that you can build a robust marketing system that consistently funnels new customers into your offerings.
Fieldbloom is a streamlined Leadpages alternative that focuses primarily on developing creative approaches to lead generation. It is a cheaper alternative to Leadpages and provides the tools necessary for business owners to experiment with new strategies and ultimately succeed in growing their business.
Fieldbloom offers specialized features for individuals who seek to capture their audience's attention in unique ways. They have a robust pop-up tool to make sure you get your customer's email before they leave the site. They also offer a quiz builder, which can draw your customers to your site by asking them an interactive quiz to help them understand how your products can help them specifically. Additionally, they offer built in templates for those who are interested in using a contest to build their email lists.
Fieldbloom also offers options for those seeking to convert their leads into customers. They give templates to create a VIP event service, easy ways to create testimonial requests, and generate surveys to make sure you keep the clients you already have. Fieldbloom truly takes a unique approach to the offerings they create and live chat support to make sure you understand how to implement their pages in a way that works for your specific online business. The cost of this cheaper alternative to Leadpages is between $39 a month if you pay for a year, or $49 a month if you pay by the month.
Wishpond stands out among the variety of Leadpages alternatives because they offer the choice to have their tools be implemented by their in-house professionals. This effectively provides their clients with the opportunity to have their marketing experts do the majority of the labor for you. Wishpond incorporates landing pages, social contests, pop-ups, and email drip campaigns into their basic services. This Leadpages alternative makes it easy for you to create profitable sales funnels. These features are offered to clients for $49 a month if they agree to be billed annually.
Wishpond also offers a $99 a month plan that includes more flexibility in the design of your lead pages and landing pages. At that level, you also receive JavaScript options, ensuring that you have the most modern designs possible for your lead pages. Their $199 a month package is the one that includes the implementation coaching, which means you will have a personalized coach to guide you through all the steps of creating your email marketing funnel. This degree of attention is one of the primary factors that makes Wishpond stand out among the crowd of lead generating software companies as a Leadpages alternative. They even offer a free demo of how their services could be used to enhance your business goals.
Wishpond is a great bundle of all-in-one tools to create a lead generation campaign that translates into sales for your business. Its personalized support services basically make it possible for you to hire the experts at Wishpond to execute the campaign you seek to launch. This comes at a price, but it is well within the range of other services that do not offer as much specialized attention.
Evaluating Alternatives to Leadpages
If you have a business that is primarily online, then you know that developing a dynamic and responsive email list that truly represents your ideal clients and customers is essential to success. There is such a huge variety of tools out there to help you do just that. When you are new to the space, it can feel overwhelming to try and determine which tool or set of tools is going to fit your needs best. To make this decision in an informed way, you will want to consider what the specific needs of your company are. What are the particular goals of your company? How and where do you think you will attract the most customers? What growth benchmarks are you going to utilize? What are your particular skills and talents, and what areas could you use more support and assistance with?
Once you have determined the answers to those questions, you will then be in a better position to evaluate which Leadpages alternative is going to work best for you. Truly, without a robust system for collecting leads, your online business will not succeed. And when you have to follow up those leads with a professionally designed and executed sales funnel, your chances of success increase exponentially. Determining which service or bundle of tools to use is a very important aspect of your business. This article gives you the overview of the various offerings out there and the details you need to make a smart decision for your business. Whether you're looking for a cheaper alternative to Leadpages or just want a Leadpages alternative for other reasons, there is a huge range of services available out there to meet your needs!
Disclosure: I am an independent ClickFunnels Affiliate, not an employee. I receive referral payments from ClickFunnels . The opinions expressed here are my own and are not official statements of ClickFunnels or its parent company, Etison LLC.