Building A Lead Funnel | Putting Together Best Practices To Drive Results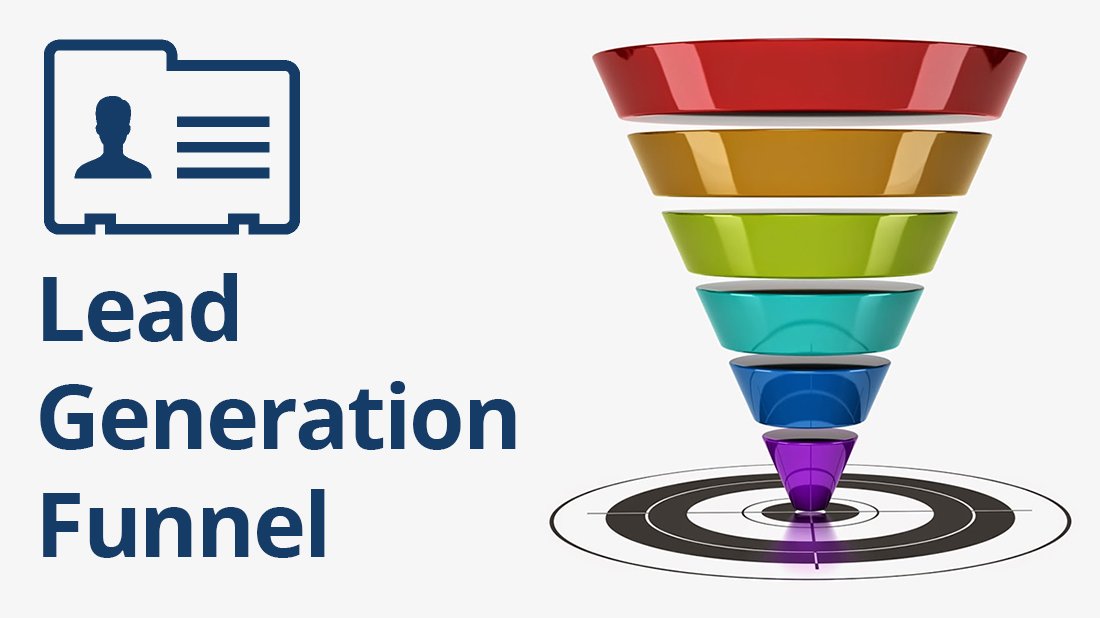 It takes some time before you will have a healthy understanding of lead funnels and know the best ways to go about building a lead funnel. First, those who wish to make a sales funnel need a basic understanding of how internet marketing and sales work. It's not like you need to go to college and take courses to start generating serious income, instead it takes some self-education and lots of trial and error.
Building a lead funnel is something which can be very intimidating as a beginner. But keep in mind, many people who want to make sales funnels are those who were once victims of a sales funnel themselves. Therefore, you naturally know what a good sales funnel looks like. So, in part, we are here to remind you that you've got this! Anybody who wants to consider making their own lead funnel for the first time should continue reading on.
What is a Lead Funnel?
To put it plainly, this term can be understood by breaking down the two words that are used. A lead is the initial expression of interest a customer makes. A funnel is a device that drags other objects through it to reach another stage. In this case, a lead funnel is an online website which instantly presents customers with the ability to share their personal information. In most cases, this is an e-mail address.
Additionally, a lead funnel is something which has a service or product which is valuable. Without it, a customer would never supply their personal information in the first place. Many sales funnels will take the e-mail address of a customer and start a drip campaign, or in other words, a series of e-mails targeting at illustrating the value of their service. The email includes a reminder to buy the product or service.   
Easily Collect Information
As stated, part of a successful lead funnel needs to collect your customer information easily. To be clear, we aren't talking about taking people's information against their will. The process we are talking about is having a wonderful product which really sells. When you have this, people will willingly give you their e-mails and express interest in your service.
Once you have their interest, you need to take advantage of it. This is the point of having a lead funnel in the first place. Attract a whole lot of interest and then follow up on everybody interested. This is the heart and soul of your lead funnel. This needs to be something simple, easily found, and ideally front and center on your home page.  
Lead Funnels and Wonderful Products
There simply isn't much better than having a wonderful lead funnel and a valuable product to sell with it. When this happens, all you will need is a little more persistence and hard work to make it visible to the larger audience. Of course, a little online marketing experience will help here but is not necessary. In fact, lead funnels are actually pretty simple to create when you know what you're doing.
Those with little-to-no experience building websites or creating online marketing can still compete if they have access to the same tools and ideas. If you have a wonderful product, the quality and amount of time spent on the lead funnel becomes less of a concern. After all, a great product will always sell. All it takes is a salesman to inform you of its value.
Continue Your Sales Automatically
Sometimes, the best thing you can do is sit back and let your business take care of itself. When it does, this is the point where you can start generating the passive income that you were initially seeking. To do this, you will need to have a nice page and product, great content, and automated systems for processing payments and deliveries.
Of course, depending on your product, each of these things is possible. Especially when the possibility arises of generating enough income to hire other people to work with you. Of course, you may not make it there right away, but it can be done. The idea at the end of the day is that you won't need to be there to do something each time you make a sale. This will save a lot of time for working on other things.
Why Create Lead Funnels?
The truth is that anybody with the extra time to invest, lack of money in their pocket, and skills for making websites should treat lead funnels as one of their top ideas. Since they can be made by just about anybody with basic technical knowledge and can turn to be lucrative with the right strategies, many online entrepreneurs will choose to make some of these to add to their portfolio of investments.
Lead funnels are easy to create and maintain, can sell a lot of products rapidly, and are a wonderful asset to add to your portfolio. Best of all, the success of lead funnels can increase throughout time if they are constructed and planned well. However, don't expect to simply create a lead funnel and for it to be successful. Although they have the potential to be lucrative, failure is always a possibility.
Easy to Create and Maintain
The best part about lead funnels is that they are very easy to create and maintain. Especially if you know what you are doing. Considering that making a website doesn't require any sort of coding knowledge with the assistance of online tools like WordPress and Wix, anybody who is curious about doing this on their own should continue with confidence.
There is an art into designing a lead funnel. It takes a wonderful marketing scheme along with a simple, but to the point, web page. You need customers to be easily informed of what you want and instantly interested in providing their e-mail address. A website like this can be made within a day if you have your idea straight. Although, maintaining it and keeping up with trends may prove to be a chore.
Can Sell A Lot Quickly
Don't expect this to be a get rich scheme, but you can definitely make some money with a lead funnel. Especially if you have a valuable product which finds itself in high demand. When you have a lot of exposure, a wonderful service, advertisements running, and e-mails coming quickly into your inbox, you better be prepared.
Although it may be your dream to reach this point, know that it can be done with a little persistence. When a lead funnel really works well, the sales of your service can start escalating higher than you expected them to in the first place. Since lead funnels, when done correctly, can lead to quick sales, many people become addicted to them and eventually opt to create many more.
Excellent Asset to Create
Having an extra asset that you can continue to improve and develop is one of the exciting parts of getting into lead funnels in the first place. It should go without saying that having an extra asset which you can depend on for income is something which is wonderful. When added together, lots of assets give you a considerable level of comfort and stability.
Since lead funnels require a short amount of time to set up, and very little amount of time to maintain, they are a wonderful asset to consider adding to your portfolio. Put together, they have also proven to be a top source of income for many people. Just don't expect life-saving sort of money to come right away. It will take some time to learn to do things right. Unless you have a great idea and funnel design, in which case you might get lucky.
What You Need to Make a Lead Funnel
Making a lead funnel is actually rather simple. In all reality, with the right plan it can be up and running within 24 hours. If you are handy with all the components needed for quickly making a simple website and have some extra time to invest, there is no reason to try and get one started today while you are interested in the topic. Then, you can see how well they work for yourself. Here is a snapshot of what you need.
Web page with an easy to find call-to-action
A valuable service or product
A demand for your service
Marketing plan to gain interest
Time and/or money to invest
As we have made clear, you simply need to have a call-to-action on your website in a clear manner. For best results, place a slot to input an e-mail address right front and center on the page. If you would rather generate leads a different way, place in a visible and clear portion of the page. Then, you simply need to have a valuable service, a wonderful marketing plan, and the time to invest. Put it all together and you have a recipe for success.
Building a Lead Funnel in 7 Steps
As we have mentioned, building a lead funnel is something which isn't entirely difficult. However, if you follow some simple steps and continue to inform yourself you will be able to construct professional lead funnels in less time. From here on out, we will describe to you the 7 steps to building a lead funnel and using it to become more successful.
Step 1: Find a Need on the Market
You need to start with finding something which is necessary for the market. Think of it this way; you may want to sell fish hooks but if there are no fishermen in town you are wasting your time. Before you even go to the drawing board and think of your lead funnel page and how you will market it, start by making sure that there is a demand for your product or service on the market.
Without a need, you are simply offering a service or product which nobody will buy. However, if you take some time and research what is in high demand, you will soon be able to find something which you can offer. However, don't get mad at yourself if you don' t come up with the greatest idea right away. These things often take time.
Establish Your Customers
Once you know who your customers are, your lead funnel becomes much easier to build. However, an extremely delicate part of the process is finding your customers. Once you have customers, developing a product and a means of reaching them becomes much simpler. Regardless, finding them and labeling them is an important part of the process in getting your lead funnel started.
Many people start with a need that they can fulfill, and then think of where other people are with that same need. These people are usually the first people that you label and study ways of reaching out to. Remember, these people are your potential customers. Sooner or later, you will need to be able to present yourself in a non-intrusive manner of the valuable product or service you have.
Create Your Service or Product Idea
There is no point in building a lead funnel without first determining what your product is. To fulfill a need that is on the market, you will need to have a product or service in mind that will be able to sell out to a massive audience at a potentially fast rate. Think of it this way, the internet can sometimes provide you with more customers than you can handle if you aren't ready.
As a result, make a great deal of your development process a plan as to how you will handle a lot of traffic. Since each customer needs the proper attention and care to be satisfied, be ready to also have human responses available. Those who have a tested and wonderful product minimize the time they spend working. In other words, customers have all the tools they need without needing to make contact.
Determine How Customers Will Call-to-Action
Customers who are interested may not have as high of an attention span as you might think. On the contrary, most people recognize what sales funnels are rather quickly. Sadly, people can even put them aside as a useless expense before even seeing the full value that they may provide. This is the reason you need to have an easily seen call-to-action that your potential customers can complete right away.
Without this, you may lose your customers as quickly as you there was a possibility that you had them. This is how fragile the sales process can be sometimes. The main idea here is to make sure that the call-to-action collects your preferred means of contact, which is an e-mail address in many circumstances. Once you have it, you have a lead that successfully graduated from your funnel.
Step 2: Build Your Lead Funnel Web Page
A necessary component of a having a successful lead funnel is getting a separate website that you can direct your interested audience to. This is one of the ways that you can cut back on the time that you personally spend with each customer, advancing them through the lead funnel process. A website with a nice domain and quick call-to-action will help set you up for success. Most importantly, you need the website to look professional.
Visibility of Your Product or Service is Key
There is no point in making a lead funnel website if the first thing that a customer will see, front & center, is something where they can sign up for your service. It is very important that anybody who clicks on a link to your website will easily be able to see what it is and input their information. Those who do this will get a lot of e-mails, and in turn, leads for their product or service. That's why it's important to send customers to a landing page instead of your standard homepage.
Think of it this way: if a potential customer doesn't quickly figure out what your website is, and how to sign up for more information, they will simply navigate elsewhere. This is why the visibility of what your service and value are becomes important. If you place it front and center in a manner which makes it the first thing a potential customer sees, you will optimize your chances for each website visitor turning into a lead.
Do You Need a Domain Name?
Having a domain name is something that just about any professional website with a lot of subscribers has. Think about it. In a sense, it's almost as if you need to purchase a domain name in order to succeed. In all likelihood, there may be some truth to this. Although what we may simply perceive as this need to have a domain name may not actually come from any sort of basis.
For example, those who advertise well and have a simple product and service that they offer may instead opt to use a website with a free domain. In certain cases, this can be just as successful, but in other cases it is important to consider spending the extra money on a domain name. This will make your website look that much more professional.
Making a Website Within a Day
When you know what you are doing, you can easily create a website within 24 hours. After you have the idea in mind, you can start and complete the process of making a website rather quickly. Although a complete beginner may not be able to accomplish this feat, anybody with a general idea of how to create a web page will be able to do this within 24 hours. As long as they have their idea straight.
Think about it, it is not as if you need to construct an elaborate page with many different pages and an entire blog. In many cases, all that you need is a place for potential customers to input their e-mail address and a few other pieces of content. If you know what your plan is, then it may quickly come to fruition without otherwise getting caught on worthless tasks.  
Step 3: Develop Content
The content part is something which may require a little bit of time. Internet content isn't entirely complicated, but it is a delicate part of the lead funnel process which should be addressed. The content which you put on your lead funnel is a direct reflection of the effort you thought your service or product was worth. Additionally, it demonstrates how valuable the author believes the service or product is.
Accordingly, it's important to develop content for your website which is both effective and to the point. Since visitors can have a rather low attention span, try to make things interesting. Spice things up by making your page easy to scan. Add videos, pictures, and other things which you have rights for. Remember that you can't just take another person's work and use it for your profit on your website. They are strict copywrite laws in place that you must be familiar with.
Home Page Content
Getting the home page correct is probably the most important part of your lead funnel. As we have asserted, the home page needs to be somewhere where your customer can quickly play into the call-to-action and give you their e-mail address. Of course, you should also have other attractive content on your home page to accent this main function. This is what will help generate leads, which are what you need the most.
Many customers will be introduced to your service or product on this page. As a result, you should focus on creating high-quality content which will both inform the potential customer of your value and encourage them to sign up with their e-mail address. In some circumstances, many people may choose to just make a home page or a couple extra additional pages and then publish the site.
E-mail Series
Drip marketing is something which many successful lead funnels use. This process is simply described as having a series of e-mails that are sent to e-mail subscribers over a short period of time in order to encourage paying or premium services or products. This is something which, if done correctly, can be very effective towards customers which would have initially otherwise turned down your service.
However, making an e-mail series isn't exactly a clear-cut process. You should respect the artistry it takes for a someone to prepare a set of e-mails which convert over to sales. For this reason, many people who choose this path may hire professional copywriters to assist them. Since an e-mail series is something which is effective at turning clients from being on the fence to interested, they are worth checking out.
Product & Service Descriptions and Imagery
Alright, whatever it is that you are selling, you need to have it described down to the core. The problem with internet shopping as a consumer is that they need to be fully informed about what something is before they are willing to invest in it. Those who create lead funnel websites with clear service descriptions and imagery which is to the point will, no doubt, experience a great chance at success.
If you are selling a service, tell them why you are valuable. Show them ways your service will assist their life, illustrate the daily benefit they will receive. Those who want to sell products may decide to do something similar. Except, in this case, it may be better to focus on all the fine details which make your product stand out from your competition. If there is any competition in the first place.
Step 4: Attract People to Your Lead Funnel Web Page
Once you have published your lead funnel, don't expect customers to magically come to it. Without search engine optimization and establishing yourself as some sort of niche authority, it will be difficult to have any sort of outreach to your customers with the help of a search engine. This doesn't mean, though, that you can't experience a large number of people over to your lead funnel quickly after publishing.
You have to remember that those with a valuable idea that is in high demand solely need the exposure and the sales will come. Of course, this requires a great means of marketing and reaching your audience. Although advertisements are a popular means of getting people to click on your website, there are a couple other methods to explore as well.
Pay Per Click Advertisements
Pay per click (PPC) advertisements are something which is a great way for those with both limited and large funds to compete for extra exposure. They basically work by finding keywords your customers are searching to find your product, or something similar, and then you 'pay per click' to rank high for those keywords. Additionally, a PPC advertisement may place you outside of the search results and on a separate part of the page.
In whatever means that you use them, you need to be conscious of what your competition pays for their PPC advertisements. After all, if you want to experience a similar level of success, this is one of the easiest ways to instantly boost your visibility. Just keep in mind that PPC advertisements and the process for constructing them can be different depending on where you place them.
Online Videos
Online videos, when used strategically, can be a great method of marketing your product and service. Think of it this way, some people prefer to digest content in different manners. There are people who will watch a video and listen to somebody speak before they read a few paragraphs describing your service. To reach these people, online videos is one of the best ways. They are relatively simple to make and monetize.
Of course, don't expect the videos themselves to make any more than what you may gain from each viewer. In this case, it is a click on your lead funnel link and then a subsequent new subscriber to your e-mail list. Online videos are a great way to generate clients without focusing on too much writing. That is, unless you think something like a podcast would be better.
Contests & Giveaways
Contests and giveaways are a mark of a wonderful lead funnel. Don't get confused here though. You need to have a certain group of subscribers which you know you can depend on in order for your contests to generate attention in the first place. However, if you already have some attention on your lead funnel than a contest or giveaway is a wonderful way to add some more subscribers, and hopefully, sales.
One sort of giveaway which is common these days is having people do some sort of review on an affiliate link, and then have people send in free articles as submissions for a contest. The winner could then be given a generous sum of money. Ideally, the company is able to generate more money in affiliate link sales.
Step 5: Gather Information from Website Visitors
Getting immediate feedback from your site's visitors and leads is important. If we haven't made this clear at this point, let's break it down in a little more depth so that you can understand. One thing which absolutely needs to be optimized is the percentage of people who subscribe to your drip campaign (e-mail series), inquire about your service, and so on. This is why you built the lead funnel in the first place.
Whatever the purpose of your lead funnel is, it is important that your website has an effective means of harnessing customer information that might be interested. Although e-mail campaigns may be the best way for many ideas to function the most efficiently, others also prefer telephone and verbal communication instead. Those who offer recurring services also sometimes choose to have customers create accounts.
E-mail Collection
E-mails are something which can be automatically sent with the right tools. In fact, since many automatic e-mail tools can be used easily, e-mail collection is perhaps still one of the best ways of turning almost-customers into customers. If you have a wonderful service, all it takes is a little verification that it is real and that you can instantly access it after paying for the service it provides.
Since the rise of internet shopping, those who make a living off the internet have consistently chosen e-mail collection as one of the most effective ways of turning a prospective customer into a paying one. Those who put an e-mail address form in an easily seen part of their website will be able to collect new leads for their e-mail list and/or drip campaign.  
Order Forms
Order forms, in certain circumstances, are a better way of engaging with prospective customers and turning them into sales. Since order forms can be more precise in the details they provide, they have the benefit of allowing the lead funnel owner to receive many different potential pieces of information before they ever make contact back with the client.
Those who have a lead funnel which may provide a service locally may prefer order forms since they can grant insight into all aspects of what the merchant needs to know. This can include things like a phone number, personal address, and other information which may be relevant to that niche. Order forms can also be effective for those who wish to include their e-mail address for a drip campaign.
Create Customer Accounts
There are many websites which will grant customers the ability to create a personal account, and then, online features which would otherwise be inaccessible to other site visitors. If your lead funnel needs to provide certain features which you can also provide online, then having a system with personal accounts is another wonderful idea. That is, if you have the know-how and are capable of doing this on your own.
There are many online tools which you may consider helpful in creating accounts like this, or you can simply do the coding yourself. Those who are well-versed in online coding have the inherent blessing to be able to construct features like this with little difficulty. Although, clearly you can still have a successful lead funnel which doesn't prompt users to construct customer accounts too.  
Step 6: Improve Your Lead Funnel
Once you have your lead funnel live, some of the hard work may start to kick in. Depending on how well it was constructed, you may have to do some routine maintenance on your lead funnel to ensure it stays healthy and active. Here are a few things to keep in mind.
Don't Leave Your Lead Funnel Alone
One of the worst things you can do as a business is develop a website and automatic system of sales and then just to leave it alone. On the contrary, you should always be searching for ways to make it better and to improve it.
Those who leave their lead funnels alone may soon discover that the interest in their product or service has been outbid or outdone by a competitor when they should have otherwise quickly adapted to the change in the market.
Improve Your Products and/or Services
Once you have your lead funnel live, it's important to keep in mind how you will continue to improve your products and/or services. You need to remember that the business world is fleeting, and things can change rapidly. However, if you are quick to improve your products and services and keep up with the times, you should be fine.
Consider Hiring Others to Maintain it
One of the best luxuries is having other people willing and able to do things that you would otherwise have to invest a considerable amount of time into. If you hire other people to maintain your lead funnel, it can be an expense which is very reasonably priced. After all, it doesn't take too much effort to maintain a lead funnel and keep the content fresh. In either case, you should continue to observe trends in the niche.
Step 7: Invest in Further Lead Funnels
Finally, the final frontier for those who become successful with lead funnels is to continue coming up with great ideas and expanding upon their assets. Creating new lead funnels is a wonderful way to increase your monthly profits. Take the time to dedicate to new ideas, services or products.
Possible When One Really Takes Off
In all likelihood, you won't be able to invest in several different lead funnels initially because the amount of time you spend on each would soon become overwhelming. However, if you start to generate some extra income from one or more of your lead funnels, or even another source, you can quickly get a lot of lead funnels live and ready for the marketing stage.
Require Continued Persistence and Dedication
It's not like once you really have one good lead funnel that you will be comfortable and happy for the rest of your life. You will probably consider getting more of them if they work out well, though. When this does happen, don't immediately assume things will get easier simply because you have more assets. You will probably have to work just as hard, if not harder, and stay dedicated to doing it well.
Building a Lead Funnel: Summary
Those who want to construct a lead funnel will, in most circumstances, have an online product or service which they want to sell. To do this, you will first need to make sure it is one which is both valuable and in a certain degree of demand. Then, you will need a find a way to attract people to your lead funnel.
Typically, the best way of making a lead funnel is to make a website. From this website, you can use online advertising or your ingenuity to find a means of having people click into your sales funnel, and hopefully, purchase your service or product.
Disclosure: I am an independent ClickFunnels Affiliate, not an employee. I receive referral payments from ClickFunnels . The opinions expressed here are my own and are not official statements of ClickFunnels or its parent company, Etison LLC.