InstaPage VS Unbounce | Pros, Cons, and Comparisons | Sales Funnel HQ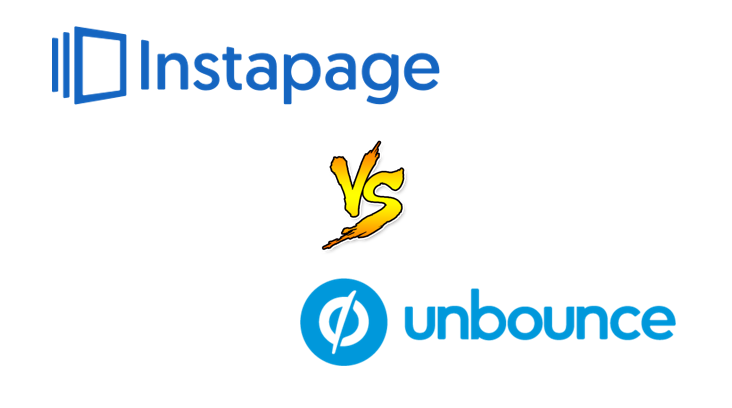 When considering Instapage vs Unbounce, how do you decide which landing page creation software will work best for your digital marketing needs? Ease of use, design features, customization, collaboration, conversion tracking, data analysis, integration, security and price are all factors to consider as you compare Unbounce vs Instapage.
Personalization makes digital marketing work, but in the race to find customers, your time is your money. How can you personalize your marketing, fast? How can you get the most useful information for your time and money, and turn that information into paying customers? This leads many to the conundrum of Unbounce vs Instapage.
Top Related Article: What is Unbounce?
Customized landing pages that allow you to use message matching, search engine optimization, geographic, demographic, income, and interest criteria, and specific offers all coordinated to the ad that a potential customer clicked on, lead to higher conversion rates and more efficient spending of advertising funds. The more data you can gather, and the better your analysis of it is, the better your results. The better your results the more your business grows.
At the same time, digital advertising is still just advertising. Visual design is important, and failure to be brand-compliant could undermine the good results you were hoping for. Most businesses spend money on graphic design for the perfect logo, website, and image, for good reason. A digital marketing tool that delivers the data but not the design is only half the picture, so to speak.
A digital marketing tool must be efficient and easy to use. It must allow you to generate lots of variations quickly and then analyze the responses that you get. It must fit with your existing brand in order to enhance and expand it. Create, analyze, revise, adapt.

Design and Layout
Unbounce has an easy drag-and-drop design setup. Also, it allows for custom HTML and style pages. This means minimal frustration no matter what your level of technical know-how. If you can use InDesign or Photoshop, you will be able to use Unbounce's content builder. The tool bars will look familiar and you will be able to set up your objects, backgrounds, and layout in a way that will feel intuitive. If you have never used design or layout software, you may think it looks like an airplane cockpit at first glance, but it is actually very easy to use.
Customization
Unbounce is fully customizable, a necessary feature in a landing page software package. Each unique version of your landing page can match the customer demographics, desire and needs, messaging, and single offer of the ad it is coordinated with. A/B testing allows you to refine which version of a landing page works best to create conversions out of ad clicks.
Collaboration
Unbounce allows you to add multiple users, and you can create client sub-accounts in the Premium and Enterprise versions.
Conversion tracking
Unbounce allows you to set up multiple conversion goals, including form completion, clicking on a link or a button. At the moment, Unbounce does not separate the conversion statistics but plans to add that feature in the future. External conversion tracking, meaning that the conversion action happens on a different page than the landing page, is also available. However, the embedded external conversion script does not work on WordPress without additional support.
Related Article: How to Maximize Conversions with Unbounce
Integration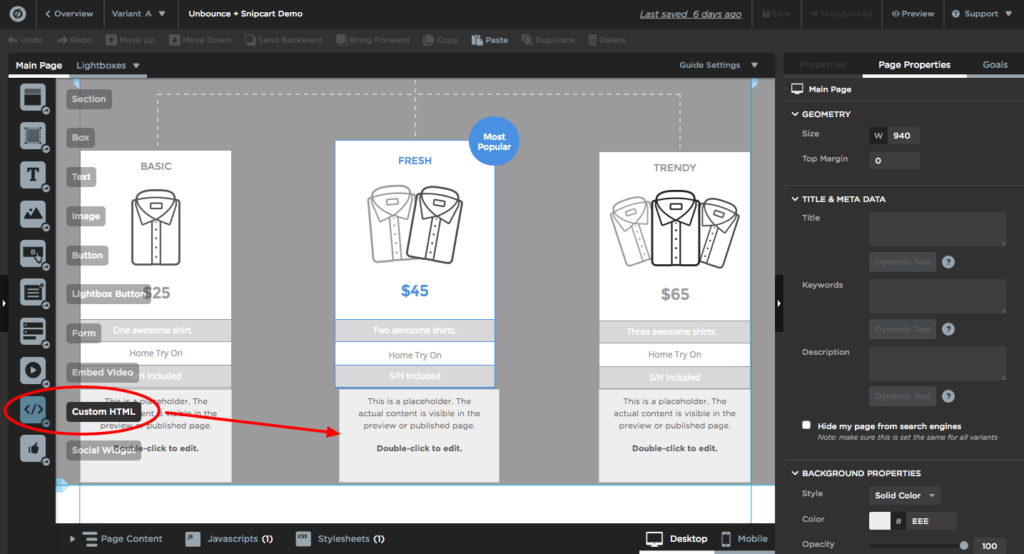 Customer Relationship Management tools
Analytics including Google Analytics, Google Tag Manager, Google AdWords, KissMetrics
Security
Private virtual network within Amazon Web Services
Communication between servers Secure Sockets Layer encrypted
Payment Card Industry Data Security Standard compliant
Level 1 PCI-DSS compliant payment processor used for credit card payments
Encryption of user passwords
Landing pages served from multiple countries to protect against disaster
General Data Protection Regulation compliant
Pricing
Essential plan at $79 per month billed annually
Premium at $159 per month
Enterprise plan for $399 per month and up.
Trying it out
Unbounce allows you to try out their content builder from their webpage, without signing up for anything first. However, if you want to unlock all of the features, you must sign up for a 30-day trial with a credit card.
Related article: Unbounce vs Leadpages
Answers to most questions are easy to find in the blog and FAQs, and if that fails a customer service chat bubble is available. It's a bot that will find articles for you, but you have the option to leave a message for a human if the articles aren't enough.
Unbounce's website is very accessible and interactive, which may indicate something about their customer service mindset. Online reviews of their customer service are slightly higher, which reinforces that impression.

Design and Layout
Instapage offers a blank page or templates rather than tool bars. The design setup looks more like a word processor or a blog page and seems intended to be user-friendly but is relatively clunky. Tools and functions can be difficult to find. Paradoxically, the simplicity of the template approach is undercut by the way page creation is set up. It's less intuitive but with fewer options.
Customization
Instapage makes it easy for you to tweak and propagate different versions of your landing page to different custom domains. In the more expensive Enterprise plan, Instapage allows you to create an AMP landing page for mobile devices.
Collaboration
All levels of Instapage include multiple users and client sub-accounts.
Conversion Tracking
Instapage allows separate conversion goals but is slightly less flexible. There is no mention of separating conversion statistics even though Instapage has analytics tools built in. On the other hand, those analytics tools allow you to create heat maps and other high-level analysis tools from within the software.
Integration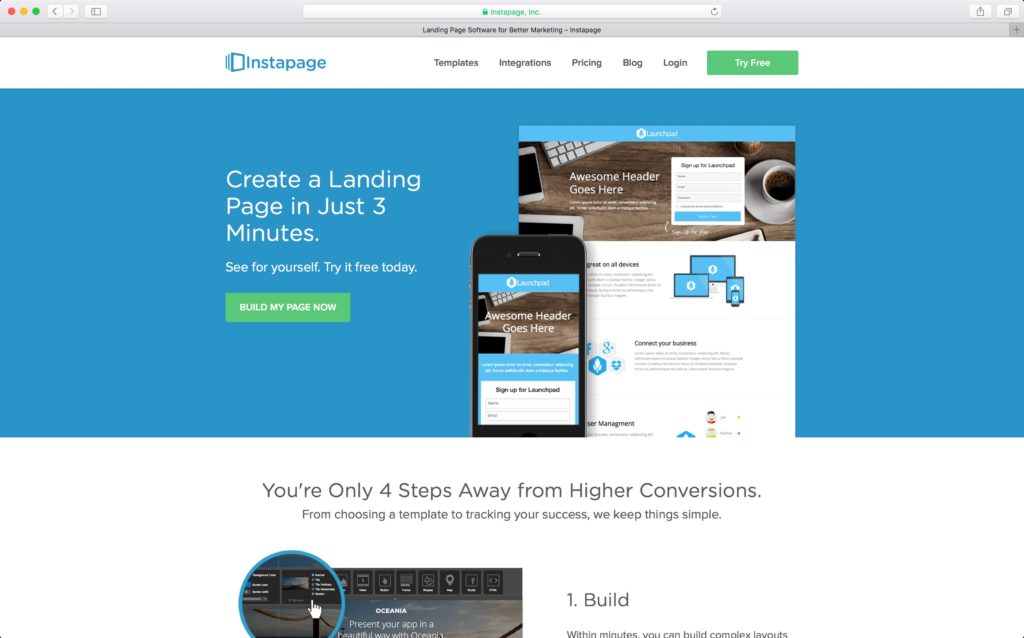 CMS token that allows publication to Drupal or WordPress.
Digital advertising such as Google Ads, Facebook Ads, LinkedIn Ads, Twitter Ads, AdRoll, BrightRoll, Perfect Audience, Taboola, Bing Ads, RollWorks, MarinOne
Analytics including Google Analytics, Google Tag Manager, KissMetrics
Customer Relationship Management tools
Shopify, Stripe, and Paypal
Security
Information Security Policy based on ISO/IEC 27001 standard
Google and Amazon cloud services. Stored and transferred data encrypted
Secure Sockets Layer certificates available on custom domains at no extra cost
Unique session identifiers for each user login
Regular review and updates of network architecture and firewalls
Customer data kept private
Data replication and disaster recovery protocols
General Data Protection Regulation compliant
Pricing
Core plan at $99 per month billed annually
Customized Enterprise plan at a negotiated price based on customer needs.
Trying it out
Instapage allows you to sign up for a 14-day trial with just an e-mail and password. This allows you to generate pages, save them, install widgets, add users, and see all of the features as they really function. Instapage makes it easier for a prospective customer to play around with their software without committing to anything, which implies greater confidence in their product. Instapage's website is informative on how to use the software and how to do digital marketing in general, though a bit static.
Related Article: Instapage vs. Leadpages
---
Design and Layout
Both are usable by professional web developers to create exactly the look they want. Both will allow the relatively inexperienced entrepreneur who is doing everything him or herself to get it done as well, if more slowly.
Instapage's page creation looks easier to use at first glance but is actually more difficult even for someone with some design experience. Unbounce combines easy drag-and-drop elements with a familiar design tools configuration and the ability to import style pages and other pre-designed components easily.

The verdict: Unbounce wins. Instapage is going to be (slightly) more difficult to use without being more flexible.
Customization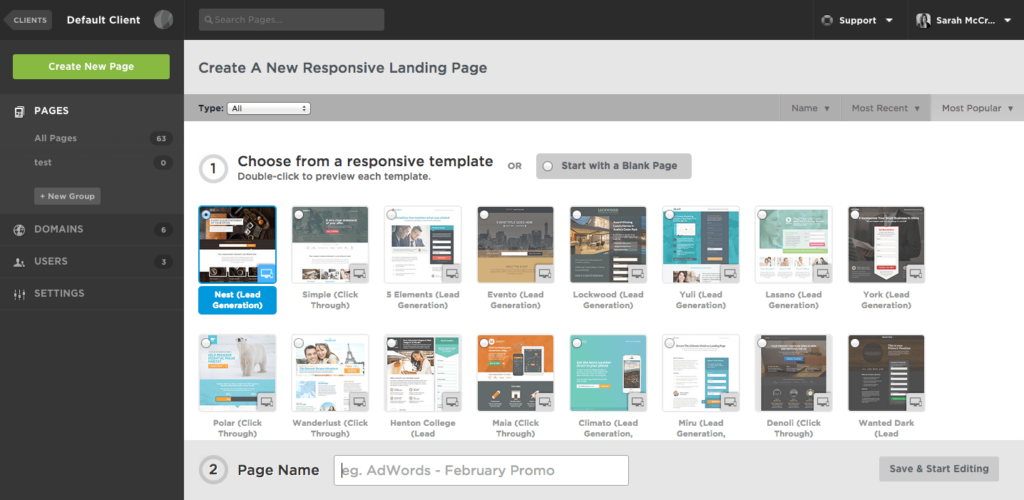 Both Instapage and Unbounce allow you to tailor multiple landing pages to match each ad campaign, including laser-focused offers, message matching, geographic and SEO data, and multiple versions of the same landing page for A/B testing. This means that your personalized digital marketing is reflected in what customers find after the click. Customers see exactly what they are looking for and expect based on the ad they clicked on.

Both have a variety of custom widgets already available that will help you create the landing page that you want. If you can't find a widget that already exists for what you need, both allow custom HTML, Javascript, and CSS to be embedded in your landing pages with relative ease. Both include jQuery with every published page.
Both Instapage and Unbounce enable you to create pop-ups and sticky bars. The more expensive Enterprise version of Instapage allows you to use AMP to create mobile-friendly pages.
The verdict: Instapage wins for mobile AMP (but only in the Enterprise version).

Collaboration
Instapage is set up to allow easy collaboration and review in a team of any size. Plus, it has client sub-accounts even in its Core version. Unbounce isn't as clearly designed for collaboration, but it does have client sub-accounts for the Premium and Enterprise plans. Unbounce seems like it was designed for a small marketing team and then scaled upward, while Instapage seems like it was designed for a marketing team at a large organization and then offered in a scaled-down version to make it easier for a start-up to purchase and use.

Both Instapage and Unbounce allow for multiple users and collaboration between team members and with clients, but Instapage is easier and more intuitive to use for that purpose.

The verdict: Instapage wins.
Conversion Tracking
Both Instapage and Unbounce are fully integrated with Google Analytics and other analytics tools. Both Unbounce and Instapage allow you to do A/B testing with different versions of a landing page. You can see conversion statistics for each version, and quickly adjust to the information you are gathering about what is effective and what isn't. Instapage's more sophisticated built-in analytics allows you to adjust your baseline and toggle easily between different sets of goals associated with an ad campaign.
The verdict: Instapage wins, but Unbounce is competitive.
Integration
No software is an island, especially since a landing page is usually associated with an existing website. Integration of various digital tools means you can go on using what works and combine your landing pages smoothly with the rest of your existing digital marketing and online business.
Instapage and Unbounce have strongly overlapping but slightly different constellations of integrated tools: website creation, ads, CRM, analytics, e-mail marketing, e-commerce, basically anything you might want to do with your landing page and a few things you hadn't thought of.
Advertising and analytics are probably the most important; Instapage has its own fairly sophisticated analytics but integrates most other common analytics tools. Unbounce generates traffic and usage reports but seems to rely on Google Analytics for more complex information. Both will allow you to integrate pretty much any digital advertising tool you might wish to use. This also allows you to experiment.
Your call to action could literally be anything from signing up for a newsletter to buying a product immediately, from taking a training to joining a webinar, because MailChimp, Shopify, eFrontPro, and GoToWebinar are all available to drop into your landing page.

The verdict: both are good, depending on your specific needs.
Security
Both companies emphasize how important data security and your company's information are to them. Both are GDPR compliant and they encrypt passwords. They also both seem to have a plan in case of emergencies. However, Instapage is the only one to mention HIPAA or other reasons that your company might be required to be cautious with data by law, and to offer SSL (Secure Sockets Layer) on customer domains. Unbounce uses SSL but only mentions it for communication between their own servers. Unbounce is probably fine for most users but if you are required to be HIPAA or FERPA compliant, or otherwise handle sensitive information, Instapage might be better. However, the rule of thumb is that if you are the kind of company that needs someone in charge of data security, do what that person recommends.
The verdict: Instapage wins, but Unbounce is plenty secure for most needs.
Pricing
The Unbounce Essential plan includes seventy-five published landing pages, while the Instapage Core plan only includes thirty. Price comparison as you go up the scale gets trickier, as it will depend very much on what your organization needs. However, for a new business the Unbounce Essential plan seems like a better deal, especially since it allows you to scale up relatively slowly as your needs expand. It's difficult to estimate what the progression for Instapage might be, since the price for their Enterprise level plan is an asterisk, but the jump from $79 to $159 per month – and then from $159 to $399 per month, is absolutely manageable if your client base and marketing campaigns are keeping pace.
The verdict: Unbounce wins
Unbounce vs Instapage: How Easy is it to Try Out?
You want to find the right software, but you're also very busy. How difficult a company makes it for you to try out their product is an issue up front. It may also give indications of how their customer service relationship will be going forward.
The verdict: a draw. Take the 30-day trial for Unbounce, only if you're pretty sure that's the one you want anyway, and sign up for Instapage at the same time just so you can see the difference first hand before you commit to either one. Both are informative and helpful, but in slightly different styles.
Summary
Unbounce vs Instapage: Both digital marketing landing page creation software packages have the basic features needed to create customized landing pages integrated with digital marketing campaigns. Both have adequate customization, integration with other digital marketing tools, and data security. Both do design and analytics well.
Unbounce is stronger on design and layout and seems easier for a one-or-two-person shop with multiple clients to use. Design seems so integral to the purpose that it outweighs some of the other considerations, but that may be a matter of perspective. If design aesthetics are important to you or your brand, and you don't want to import every layout from InDesign, Adobe Framemaker, or Quark, consider Unbounce.
Instapage assumes a little more knowledge and skill on the part of the user on the data side, less on the design side, and seems easier for a marketing team at a larger organization to use. Instapage's analytics, another core piece of what the software is supposed to do, seem slightly superior especially for an organization which is generating many similar ads on different custom domains.

The custom "Enterprise" version of both software packages will only be comparable based on your specific business needs and a quote. Prices for the basic versions are similar, but Unbounce seems like the better deal for a small business hoping to grow, while Instapage may be a better choice for a large organization with an existing customer base and marketing team trying to refine and expand its digital marketing footprint.