Instapage VS Leadpages | Landing Page Builder Comparison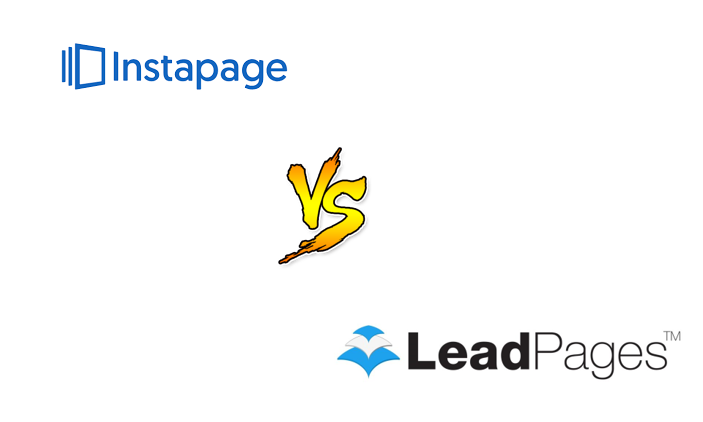 Instapage vs Leadpages – we get a lot of questions about these two landing page builders and how they stack up. When you want to build an online business that can eventually run itself, one of the best ways to get this done is to create landing pages which sell a product or service. Of course, it may be impossible to make passive income like this without any sort of effort or planning, which is why it's important that you consider many different avenues of success before you stick with the one that you think will work the best for your individual needs and goals.
This page will compare Instapage vs Leadpages to help you understand the features of some of the most popular landing page builders. This way, anybody who is interested in potentially building your own landing pages will leave this site feeling informed about how to be successful in this niche.
What is a Landing Page? 5 Basic Components
Before we break down and compare Instapage vs Leadpages, it's important that we start with some very basic background information. Specifically, this information should include what a landing page is exactly, so that you can look through the various services that create and host them for you and accordingly know exactly what you want and the features you need. As a result, here are 5 basic components of a successful landing page that everybody should make sure they account for when comparing options like Instapage vs Leadpages.
Visible & Easily Noticeable Call-to-Action (CTA)
When you create a landing page, one of the most important things for you to account for is how your potential customers will act once they decide they are interested in your product or service. With a CTA (call to action) that is noticeable, encourages quick interaction, and is the feature of your landing page, you will be a lot more likely to get e-mail addresses, orders, or whatever it is you are looking for. In any case, make sure that the CTA is easily noticeable and attractive.
Simple & Clear Funnel Steps
Think of your landing page like this. If you have ever tried to purchase something online, but couldn't find the checkout page, as an example, you probably weren't the only person who found themselves in this position. This is why it is crucial that all the steps of your sales funnel on the landing page need to be simple and straightforward. There shouldn't be any questions as to how you purchase the product or service. In all reality, those who have questions about how to find the checkout page will simply go to Google and search for one of your competitors with a simpler and more professional checkout process.
Valuable Product or Service
The prime ingredient in making any sort of landing page successful is having a valuable product or service. Without this, you might as well set up a nonprofit charity website and ask for donations to help a certain cause. After all, without a valuable product or service, there is no reason for anybody to send money your way. However, if you are creative and find a product or service which meets a key demand in a certain market, you may be on your way to success. In any case, make sure that you consider the product or service and exactly why people will give you money in the first place.
Related: Best Sales Funnel Software
Professional-Looking Website
Most people who purchase products on the internet are quite aware of the many different types of websites that there are out there. Specifically, the ones that clearly took some time to create and develop, and the ones where you can obviously tell that whoever was designing them should have perhaps hired a professional. If you want people to take you and your product or service seriously, start by taking yourself seriously. Spend some money hiring a web designer if you need to. Or, you might simply choose to compare Instapage vs Leadpages and find the best premium service to do this for you while still being able to retain the rights to your landing page.
Marketing and Advertising for Leads
Finally, once you have all the components of your landing page put together, you are ready to begin finding your customers. Unless you have an aged website with at least 6 months of time in the internet and put forth the effort to optimize the website and content for search engines, you will need to do some marketing to get people to your landing page. Thankfully, marketing is rather easy these days. Especially for those who want to simply run a couple advertisements and see how things go from there.
What is a Landing Page Builder?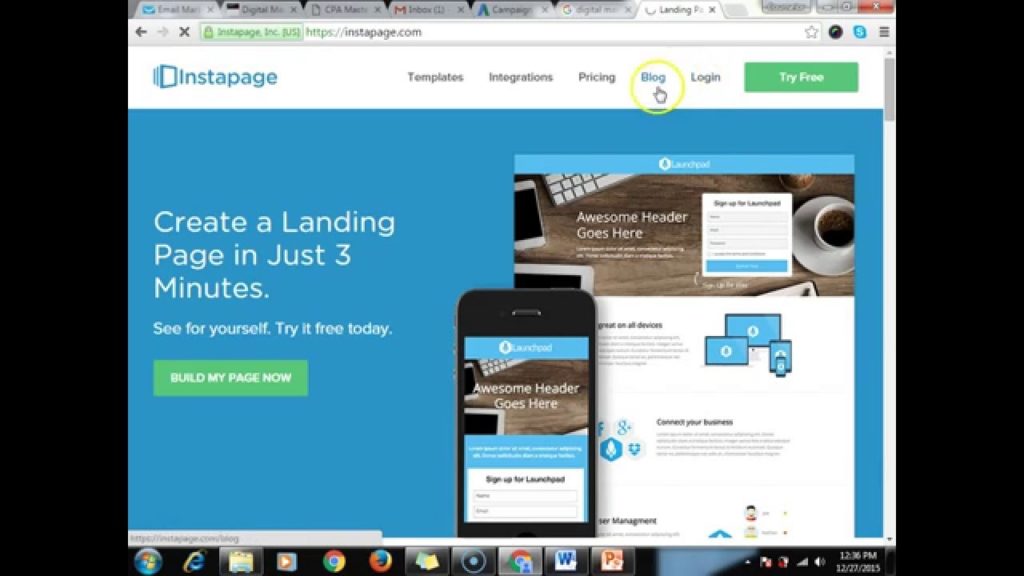 Right off the bat, it's important to note that a landing page builder is a premium platform which you typically pay monthly fees for in exchange for having a platform for creating, publishing, and hosting many different landing pages. In all reality, a landing page builder can allow one person to theoretically control and manage several hundreds of landing pages and online passive income streams. Although many people may initially strike them down as perhaps being too expensive, the benefits that one can receive from a high-quality landing page (in terms of potential income) is ginormous.
Free Hosting & Domain Names
If you get a high-quality landing page builder to host your sales funnels, this typically also means that you will not have to worry about all the fees that are associated with owning and hosting a website. Best of all, anybody who already has their websites hosted on a platform like WordPress will be pleasantly surprised to know that they don't have to move their entire website just to use a landing page builder. Instapage, for example, allows you to publish straight to your WordPress account using their online landing page creator.
No Web Design Knowledge Necessary
If you don't have a lot of web design experience or background knowledge there's no need to worry. This is actually more and more common these days. Thankfully, technology has increased to a point where anybody can feasibly design their own website and expect it to be as professional as your top competitors. Since most websites these days are designed straight from templates, having a professional website made from a landing page builder has never been easier than it is now.
See Also: Clickfunnels Vs. Infusionsoft
Can Host Hundreds of Landing Pages on the Same Platform
If you are serious about making it big and becoming successful with landing pages, then you might consider creating and hosting well over 10 of them simultaneously. This will increase your odds of success. Although many people may stick with just one and really make it perfect, others will choose to go on the route valuing quantity over quality. If you are the type of entrepreneur who would prefer quantity over quality, or you have the resources to handle hundreds of websites, then a landing page builder is a great place to go.
Two of the best options for creating and hosting landing pages are Leadpages and Instapage. On this page, we will break down the similarities and difference between these two landing page builders so that you can decide if either one is the right option for you. At the end of the day, though, these are very similar platforms. This is what makes it easy to compare Instapage vs Leadpages.
Instapage vs Leadpages: Main Features of Instapage
Instapage is one of the best platforms for creating and hosting your landing pages. Best of all, it is much more than a simple service for helping you get your websites on the web. In reality, they can help you with all of the steps required. From the minuscule details all the way up to the things which might otherwise make you pull your hair out. There is no advanced knowledge required to use Instapage. Only an entrepreneurial mindset and the motivation to press yourself.

Some key features of Instapage include:
Ability to incorporate multiple types of content
Drag & drop landing page builder
Premier customization features
Incorporates with other popular software
Limits on pages and number of visitors
Reasonable prices for each package
As you can see, there are many wonderful features that one should expect if they decide to use Instapage. It is worth noting that some of the best features in terms of customization of your fonts, layouts, and so on, are found with Instapage. If you are the type of person who is a perfectionist with your designs, then Instapage may be the better choice right off the bat. However, it's important to note that there are many reasons to also consider their competition.
Instapage vs Leadpages: Main Features of Leadpages
If you are an entrepreneur who already knows how they want each of their landing pages to look and function, and you want many of them, then you might choose Leadpages. Leadpages provides you with the platform for hosting an unlimited number of landing pages. In other words, if you can find yourself able to create hundreds of landing pages, then feel free to do so with Leadpages.

Key features of Leadpages include:
Unlimited leads & traffic
Ability to incorporate multiple types of content
Works with many of your favorite software
Drag & drop landing page builder
Pages are responsive on all devices
As a whole, this is an overall great platform since it provides you with many unlimited features while still holding up many of the standards of quality that you would expect from a platform like this. With many beautiful page templates to choose from, flawless functionality, and reasonable prices, Leadpages has consistently been one of the best competitors to match up against Instapage. When we look at the above features, it's easy to see why. After all, who doesn't like having an unlimited number of pages at their disposal?
Instapage vs Leadpages 2017: Comprehensive Instapage Review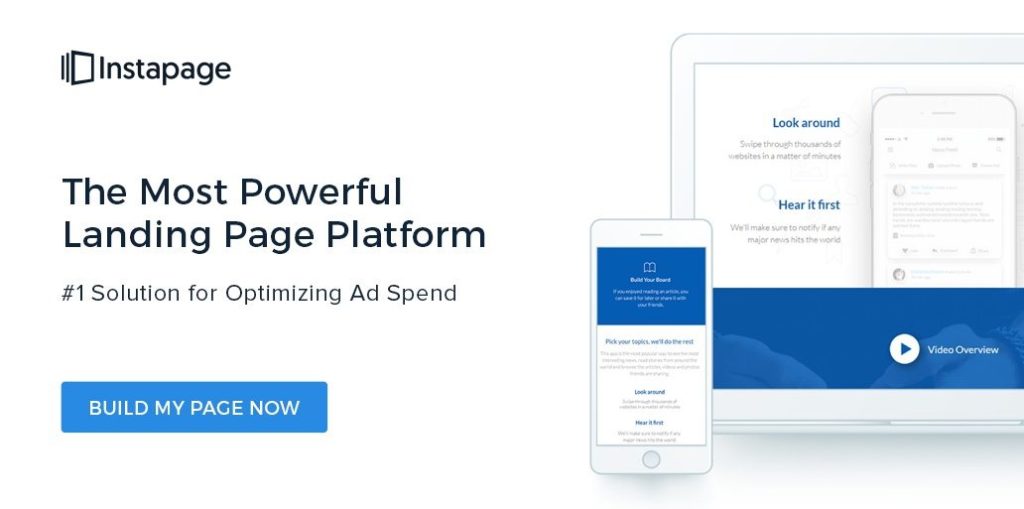 Now that we have broken down the highlights of Instapage vs Leadpages, let's go ahead and take a more personal look at both of these wonderful services. After all, it is difficult to break down and compare Instapage vs Leadpages without taking some time to highlight what makes each of these individual services unique and worth pursuing. Starting with Instapage, let's go ahead and look at both of these services a lot more up close and detailed. Here are some of the main features of Instapage broken down for you to reference.
Drag-and-Drop Editor with Precise Placements
Creating a website with a landing page builder like Instapage is supposed to be simple. If they didn't have a nice drag-and-drop editor, which is better than some of the top competitors like WordPress, then it would be difficult to become sold on using Instapage for creating professional websites. One feature which really stands out regarding their page design features is that you can precisely choose where you want to place each of your page's elements. This means that you don't have to conform to any sort of grid pattern and have more room for creativity.
Over 200 Different Customizable Templates
Anybody who is serious about having multiple professional landing pages probably doesn't want to stick with the same template for each of them. In all reality, different niche services require different template themes. If you choose to go with Instapage, you will have a lot more space for you to customize each of your landing pages since there are more templates than you will probably even consider using. As we want to make clear, the potential of customization really stands out with Instapage.
Easy & Quick Access to Premium Images
When you have a professional landing page that you want to use for selling premium products or services, it helps to have some premium images located on your page. This helps make the site look more attractive and engaging. With Instapage, you have immediate access to over 33 million premium images from Bigstock, one of the world's most popular premium image providers. However, keep in mind that although Instapage provides easy access to their ginormous database of images, you must pay for each image you wish to use on your landing page.
Free Hosting on Instapage Servers
There would be very little sense in using a landing page builder like this one if there was no ability for you to host your websites on the Instapage platform. Hosting and domain names can really start to rack up in price. Also, you can embed them on your WordPress blog if you aren't quite ready to make the switch. In either case, one of the biggest perks in using a platform like Instapage is that you can immediately receive free hosting and not have to worry about paying those pesky monthly payments to your hosting provider.
Works Great if you Have Employees
Many people who wish to establish an empire of landing pages, sales funnels, and so on, quickly learn that you can't handle the stress of doing everything on your own. Accordingly, anybody who either has staff ready to assist them, or is considering getting one in the near future, will love using the Instapage platform. Multiple people can edit the same pages, leave comments on specific parts of a draft, and so on. If you want a platform which encourages and works well with collaborative creativity, then Instapage will definitely continue to stick out.
Plenty of Fonts, Layouts & Stylings
Having the ability to create the best page ever, complete with the most unique fonts and styling possible is something that really requires you to have some knowledge of coding and HTML. However, those who choose to use Instapage will notice that there are so many different fonts, templates, and stylings for the most miniscule features that they won't even bother trying to learn how to do things like this manually. If you want the platform which has the absolute highest number of creative features and customization, then Instapage is definitely the landing page builder to use.
Attractive and Highly-Converting CTAs
One thing that is so important when you are designing your landing pages is to encourage some form of customer interaction. Without an immediate point where customers can pinpoint as the location where they act and connect with your business, expect to lose a rather large number of your customers right off the bat. If you want to ensure that this possibility is minimized as much as possible, spend plenty of time playing around with your CTA until you are absolutely sure that it is attractive, easy to find, and collects the contact information that you are after.
Analytics & A/B Testing
Although you will have to upgrade out of the Core Plan in order to take advantage of these features, Instapage also provides you with the opportunity to have A/B split testing and precise analytics for each of your landing pages. This will help you to create the absolute best converting pages possible while simultaneously retaining your ability to monitor your site's traffic and statistics. With Instapage, each step to prepare your website for being published is covered so that you can ensure each landing page is nothing short of perfect. Best of all, once you have your landing pages set up and running, you can quickly catch up with how they are doing.
Instapage vs Leadpages 2017: Comprehensive Leadpages Review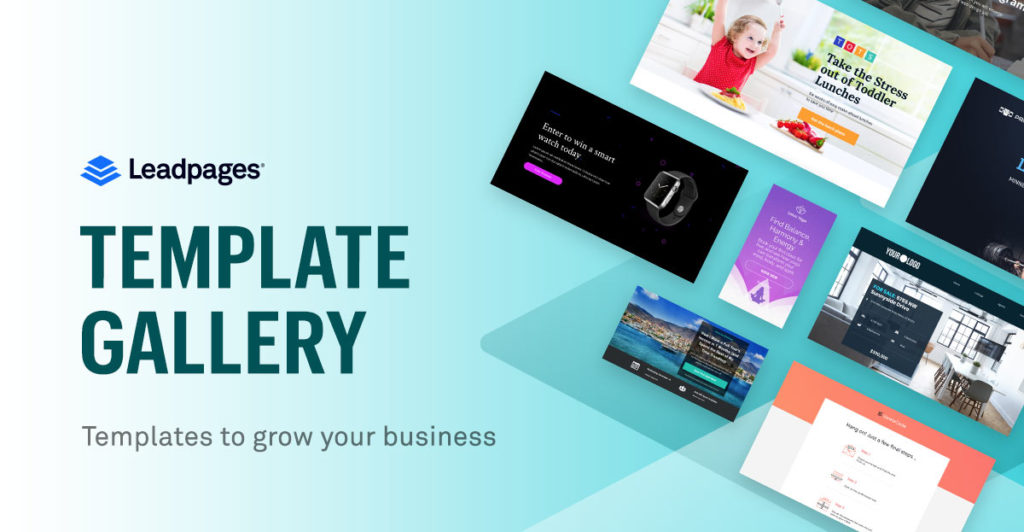 Now that we have broken down most of what you need to understand regarding Instapage, let's continue to break down the differences between Instapage vs Leadpages by elaborating more about what makes Leadpages an elite landing page builder, and perhaps, worth considering over Instapage. If you are interested in the differences between Instapage vs Leadpages but not sure which one is better, you should also become informed about Leadpages. In all reality, Leadpages is a high-quality service with its own set of perks. When you see the benefits of this service, you may prefer it over Instapage.
Unlimited Landing Pages & Hosting
As we break down and compare Instapage vs Leadpages, one of the most prominent reasons to notice Leadpages that you will notice is the fact that there is an opportunity to have an unlimited number of landing pages, and all the hosting that you need to keep them on the web. With this sort of freedom, some of the most prolific online entrepreneurs find themselves a new home on this platform. After all, they can host and publish as many landing pages that their heart and soul desires without worrying about extra fees and/or limitations.
Unlimited Leads & Traffic for your Pages
When it comes to various online landing page builders, there is usually some sort of cache when the word "unlimited" starts to get thrown around. This is why it's important to note that there are not only an unlimited number of landing pages and hosting that you have access to with Leadpages, but also the ability to have an unlimited number of leads and traffic for your pages. Imagine having a company with an unlimited number of landing pages and hosting at your disposal, but then a limited number of traffic. In reality, then, things wouldn't be unlimited. Thankfully, this is not the case with Leadpages.
Easily Add in Multiple Forms of Content
Although the written content is one of the most important facets of creating a successful landing page, it is also something which you should try to balance. With Leadpages, the landing pages which you design are not necessarily going to be limited to an unlimited number of landing pages with bad content. Since you can easily incorporate content like videos and pictures onto your landing pages, there are fewer concerns of quality as we compare Instapage vs Leadpages. Of course, Instapage is great when it comes to customizing your content, but it's worth noting that Leadpages also is also pretty great in this department.
Works Flawlessly with Many of Your Favorite Online Tools
If you are an internet entrepreneur, you have likely heard of premium tools like WordPress and MailChimp by this point. As we compare and break down Instapage vs Leadpages, one feature that remains constant is the freedom to use your favorite online tools like WordPress and MailChimp if you choose to make the switch over to one of these services. In the case of Leadpages, the platform has even been specifically designed to incorporate other tools like this. If this weren't the case, it would be a lot easier to pass by both of these services and continue running your online business how you are already accustomed.
Simple Drag-and-Drop Landing Page Creation
When you are designing a landing page without any sort of knowledge of coding, it really helps that you are able to see what you are doing and make any changes to your page visually. The best part? You don't need to know any coding. However, this really depends on the platform's ability to take your changes and instantly apply them to the website's coding. After all, even if you don't know how to code your landing page will still need some coding. When you use a drag-and-drop editor like the one that Leadpages offers, you can bypass the need to study code and simply make changes using visual tools.
Search Engine Optimization (SEO)
Search engine optimization (SEO) may not be a prime concern for those constructing landing pages. However, if you want your landing page to have some longevity and be able to start ranking organically in search results for Google, Bing, Yahoo, and so on, then you will love that Leadpages helps you to optimize your pages for search engines. In particular, it will handle some of the most minute details like meta tags, descriptions, and so on. For the best results possible, pair this service with your own SEO-specialist or tactics. Then, do some basic things like link building until you are happy with your placement on popular search engines. Ideally, this process never stops.
Responsive Landing Pages – Works Flawlessly on All Types of Devices
The biggest nightmare of the amateur web designer is to spend days and days crafting their website only to turn around and quickly figure out that they can't even use their website on a mobile device, tablet, and so on. In all reality, making your website visible and interactive on multiple websites is an entirely different topic of web design altogether. Accordingly, one of the benefits we notice as we compare and contrast Instapage vs Leadpages is that you can use the platform on all types of devices after it is published. In other words, you won't lose a single cent on customers who visit your site using smartphones & tablets and discover that the site isn't mobile-friendly or responsive.  
Can Be Much More Affordable
Affordability depends depend on what type of package you purchase, what features you need, and so on, but Leadpages tends to be the more affordable option. The main reason for this is that Instapage has more features for customization than Leadpages does. However, as we mentioned, there are still plenty of customizable features with Leadpages that many people will find suitable. However, as we compare Instapage vs Leadpages in terms of prices, those who want to get the best deal possible should go with Leadpages.
Instapage vs Leadpages: 5 Reasons to Use Instapage
As we have illustrated, there are many reasons why one should consider using either Instapage or Leadpages. After all, both of these platforms are very high-quality and capable of assisting someone with minimal web design knowledge in creating and hosting many different landing pages. However, there are certainly individual perks that each of these platforms provides for their customers.
Here are 5 reasons why Instapage should be your top choice.
1. More Customization Features
When it comes to customizing things like page layouts, fonts, styling, and so on, Instapage really separates itself from its competitors. Anybody who is really frivolous while designing things will love the amount of freedom for creativity that is provided by Instapage. Additionally, there are over 200 different templates to choose from in the first place. Although this is a platform which prides itself on allowing its customers to quickly create and publish websites, users may find themselves easily lost in all the different aspects that you can customize. Of course, this isn't a bad thing either.
2. Built to Incorporate Well with Facebook Advertising
Facebook is still the largest and most popular social media site on the planet. Accordingly, this is a great place to advertise your landing page once you publish it, since after all, there is a large audience available there. Anybody who already advertises their products on Facebook, or wants to, will find it easy to use Instapage for their ads. There is even an entire section on the Instapage website dedicated to helping you place effective ads on Facebook.
3. Some of the Most Beautiful Landing Pages Possible
When it comes to the overall quality of each page that you publish, you have a better chance at appearing to be a professional web designer by using Instapage. Since this service has more options for templates, more features for customization, and so on, it has been considered by many to be the better-quality service. Of course, you can still create professional-looking websites which lead to sales on other platforms, but the difference in quality is definitely noticeable with Instapage.
4. The Best and Most Precise Page Builder
When it comes to the editor that Instapage offers, there is little comparison between Instapage vs Leadpages. The drag-and-drop editor that we have with Instapage is much better and higher quality than most advanced page builders on the market. Period. The reason this is the case is that you don't have to follow any sort of predetermined grid. In other words, when you want to place a picture or element off-centered or in a certain position, you have the liberty to do so. This helps those who are creative and can make your page much more organized than any sort of grid-based page editor will allow you to do. This feature alone makes their drag-and-drop editor better than WordPress.
5. Professional A/B Testing for your Pages
As the owner of your landing page, and perhaps the designer, you have little ability to objectively notice whether or not your page converts as well as it could. This is where A/B testing comes into play. To put it simply, A/B testing is a crucial part of developing a landing page since it is a process where you actually test the conversion rates of your landing pages. With Instapage, the platform will help you to test multiple versions of each of your landing pages, compare their conversion results, and eventually, finish with a final draft for each landing page that you know leads to the most sales and conversions possible.
Instapage vs Leadpages: 5 Reasons to Use Leadpages
Leadpages is another great option to consider since it has many of the same features as Instapage and comes with the benefit of helping those with many different ideas to publish each of them without worrying about hidden fees and extra charges. Although it may not have quite the same number of customization features, it is nevertheless a very high-quality service which you can use to start generating some serious passive income. If you want the platform which allows you the freedom to publish an unlimited number of landing pages, this is probably your best bet.
Here are 5 reasons to use Leadpages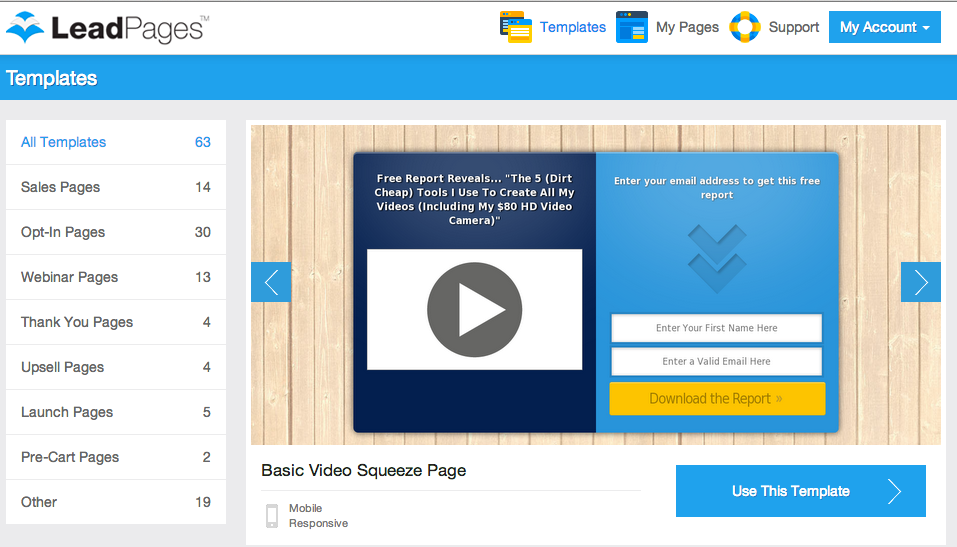 1. Unlimited Pages, Hosting, & Pop-Ups
Features like unlimited landing pages, traffic, hosting, and site pop-ups is not common. Not by any means. Accordingly, anybody who wants to create a large number of landing pages, and fast, will probably prefer Leadpages. Of course, you shouldn't expect the quality of your websites to take a huge toll. In all reality, the professional look that you desire for each of your landing pages will still be easy to accomplish. Since there is a drag-and-drop editor designed to give you complete control over the aesthetics, you will never have to publish a page until you are happy with how it looks.
2. SEO & Analytic Features
Search engine optimization (SEO) is one of the most commonly overlooked things when it comes to generating passive income online. When it boils down to the many different facets of SEO, things can get complicated and confusing really quick. For this reason, you will be glad to know that Leadpages will assist you in some of the most basic (but necessary) SEO components of your landing pages. You can also quickly and easily access the analytics and monthly reports for your landing pages when you use Leadpages.
3. Can Come with Human Help
Sometimes we need a little extra motivation or assistance when it comes to dealing with business matters. Although you will need to purchase the Advanced Package to take advantage of this, the ability to receive human help is definitely be a big deal for those who might otherwise freak out and give up as soon as they are faced with a technical problem. If you have Leadpages' Advanced Package, you can access human help whenever necessary. Additionally, they will provide you with a 1-on-1 conference to get you started once you sign up.
4. More Pages for a Lower Price
Typically, services like Instapage or Leadpages, which are premium landing page builders, find a way to force their more successful users to pay a more proportionate price for the service. Typically, this is done by limiting the traffic your page can receive, the hosting, or even the number of pages which you can create. Since Leadpages offers you the ability to create an unlimited number of pages, and has very reasonably priced packages, this is probably the better option for those who want to have the highest number of pages for the lowest possible price.
5. Connects with Many of your Favorite Tools
As we compare Instapage vs Leadpages, one thing that becomes clear is that the average user would like to use more familiar tools along with their new platform. Since Leadpages is designed to work with many existing services like WordPress and MailChimp, you won't necessarily have to change all aspects of your online business in order to use this platform. In all reality, a platform like Leadpages would be worthless if it didn't open itself up to accommodating those who use other services. After all, anybody who uses Leadpages likely already has lots of background experience with other premium online tools. Thankfully, you can still use most of your favorite tools with Leadpages.
Instapage vs Leadpages: Top Choice & Summary
As we compared Instapage vs Leadpages, our goal was to highlight the fact that both of these services are wonderful platforms for publishing your landing pages and generating online income. Additionally, these are both platforms which could feasibly help you generate a livable income. With the right product or service ideas, websites, and marketing tactics, this is always possible.
If you want the highest quality websites for each of your landing pages, you will definitely appreciate the fact that Instapage comes with some more customization features and templates. However, those who want the ability to host as many landing pages as their heart desires will definitely love the unlimited features that are provided by Leadpages. In the end, the platform which is best for you is a matter of personal choice.