Infusionsoft vs Mailchimp Side By Side Comparison | Sales Funnnel HQ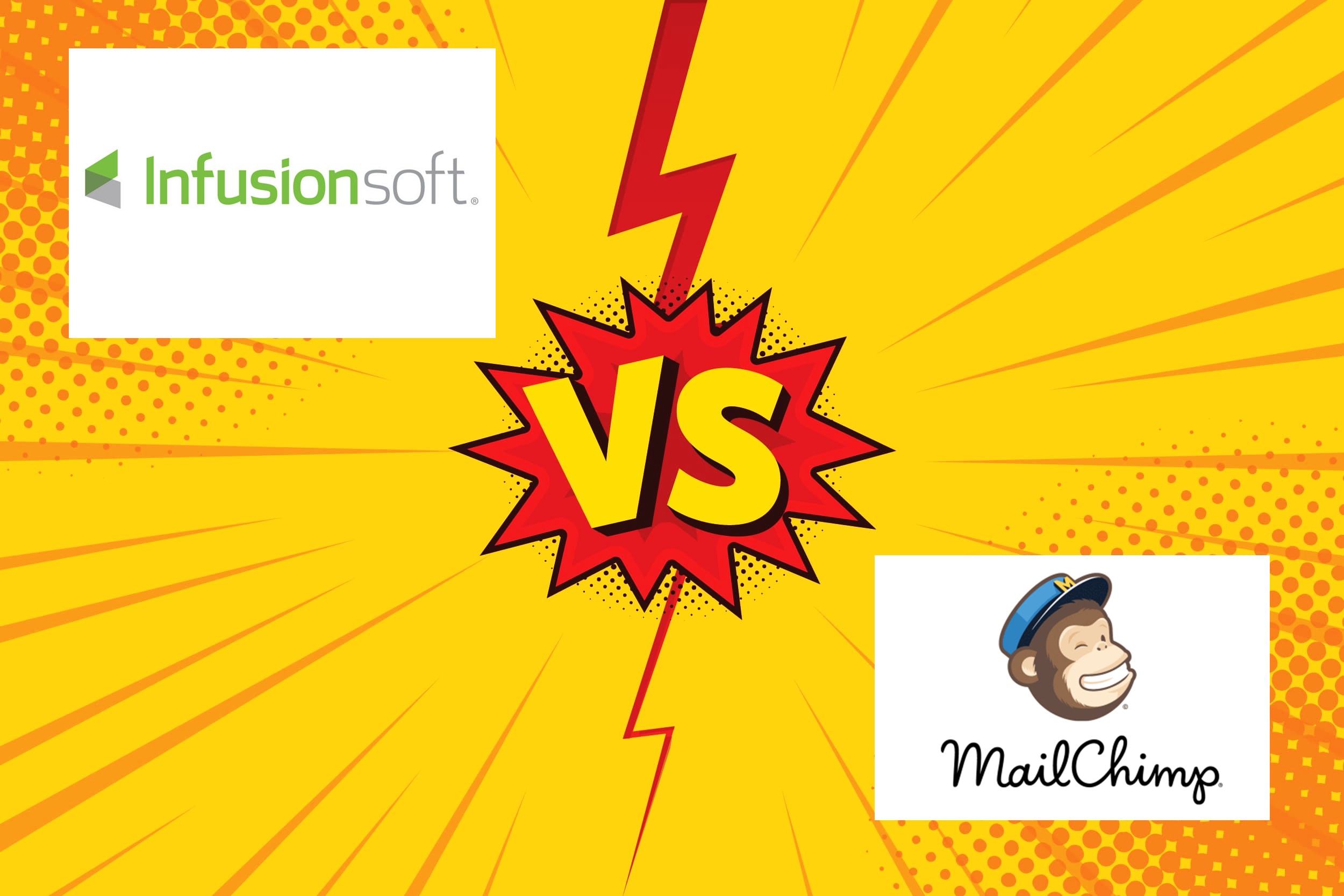 Online marketing has been touted as one of the best ways to reach new customers. Both Infusionsoft and Mailchimp can help you reach more customers but when comparing Infusionsoft vs Mailchimp, which is the best option for you?
One part of a successful marketing campaign is email marketing. Email marketing helps engage and re-engage customers. Landing pages are another critical gear in the sales funnel machine. A landing page helps drive sales for your product or service. Once you have the landing page, it's time to use a chatbot to engage and convert visitors.
Top Related Article: What Is A Sales Funnel?
Online business aren't the only ones using these tools. All business models can utilize automated online marketing. By automating your marketing campaigns, you can focus on more important tasks. The mechanisms described here help businesses drive sales, engage customers, and collect valuable information.
Many people become overwhelmed with the options and may ask: How do you start a campaign? Which service is best? What can you afford? Diving into online marketing can be overwhelming and time-consuming. Going to each site and comparing their services can take hours. So, save some time and money by reading this review of the top two services: Infusionsoft and MailChimp.
Design and Layout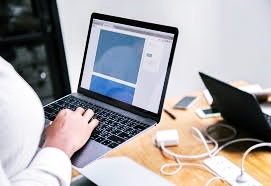 When you go to the Infusionsoft homepage, you will see several training videos. Next to the videos is a button to sign up for free. The site has a modern aesthetic, and it is easy to navigate to the basic features. The block-like interface makes it easy to view upcoming tasks and observe how your campaigns are doing. When you set up your first campaign, Infusionsoft will ask you a few questions about your company, engagement goals, and why you are using their product. After answering these questions, an entire campaign is laid out in front of you!
If you aren't a fan of premade campaigns and have experience with online marketing, there is the option to create your own customized campaign. For those new to online marketing use the premade campaign feature. This feature not only recommends a course of action but also divides the plan into multiple tasks. These tasks are readily available for you or a team member to complete.
Top Related Article: What is Infusionsoft?
Customization
Creating a custom marketing campaign is easy if you know what you are doing. The drag and drop design is simple to use but does require some training before it can be used to its full potential. Basically, you create a flow diagram of your campaign. This is done by dragging and dropping action items and connecting them in a sequence. So, start with your landing page and then connect it to a form. From there, the form or landing page can link to an automated sales page. And just like that, you have your own sales funnel!
Collaboration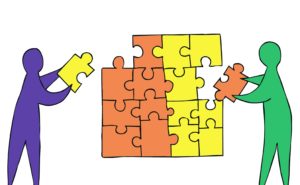 The amount of cooperation depends on the level of membership. For $29 a month you are allowed an additional user. This feature is great for larger companies but probably outside the price range of smaller ones. The pro premium package includes up to 10 users, this option will cost a hefty $399 a month. The cheapest pro plan is $299 a month and comes with 3 user accounts. If collaboration is important for you and you have a tight budget, Infusionsoft may not be for you.
Conversion Tracking
Infusionsoft has excellent features for conversion analysis. Their marketing reports provide real-time feedback on conversions letting you know the lead source that brought in the sell. They also offer real-time tracking for user engagement. Monitoring in real-time lets you see when someone has performed an action. If someone opens an email, fills out a form, or clicks on your landing page you will know immediately.
Sales reports are also available. These reports show you how much money each lead has brought in. Sales reports also track the sales team members have made. Infusionsoft also has a great projected sales feature. Analyzing the projected sales, lets you know when to change campaigns to convert more people. The amount of information Infusionsoft provides is remarkable. If you like seeing your entire business described in numbers Infusionsoft is a great option!
Integration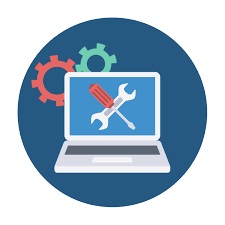 Infusionsoft has over a thousand services you can integrate. The integrations are done through Zapier, if you are familiar with Zapier, then you know how useful this tool can be. Here are a few of the Zapier integrations:
Facebook integration lets you automatically update your contacts in Infusionsoft

Automatically add rows, for new contacts, into your Google sheets

Survey integrations by SurveyMonkey

E-commerce integrations for Shopify

Great calendar tools like Google Calendar and Cronofy to keep you and your team organized

Quickbooks so you don't lose track of any relevant data

Paypal, Square, and other payment processors

Robust project management tools like Asana and Todoist

Use the chatbots from Instabot and TapRight to engage customers

GoToWebinar, Webinarjam, WebinarGeek, and EasyWebinar are all integrated with Infusionsoft
With over 1000 possible ways to integrate through Zapier, Infusionsoft stands out in the Infusionsoft vs Mailchimp debate. They have you covered whether you are a selling a webinar, digital goods, or physical goods. Zapier also lets you create your own custom automated processes creating even more possibilities.
Security
Information Security Policy based on ISO/IEC 27001 standard

Google and Amazon cloud services. Stored and transferred data encrypted

Secure Sockets Layer certificates available on custom domains at no extra cost

Unique session identifiers for each user login

Regular review and updates of network architecture and firewalls

Customer data kept private

Meets OWASP standards

Data replication and disaster recovery protocols

General Data Protection Regulation compliant
Pricing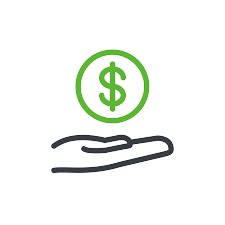 Infusionsoft is a bit pricey. There is an initial $299 training fee along with the usual monthly price, andadding users to an account will also cost an extra $29.
Infusionsoft offers a 14-day free trial.

The first level costs $49 a month with 500 contacts. If you need more contacts, you will need to upgrade.

Infusionsoft Pro level is for bigger businesses and is priced at $199 a month for 3 users and 2,500 contacts.

The Plus version will run you $299 a month for 5 users and 5,000 contacts.

Finally, the Premium package comes in at a whopping $399 for 10 users and 10,000 contacts.
Trying it out
One of the best ways to pick between Infusionsoft vs Mailchimp is to try it out for yourself. Infusionsoft has a 14-day free trial. You have access to most of the features with the trial, and they also provide free training resources, so you can get familiar with their tools fast. The support team is available for questions, and they may even give you a call to see if you need any assistance.
While the trial is short, you quickly realize why so many businesses are utilizing Infusionsoft. 14 days is enough time to complete the free training and start using their tools. The best part is that you don't need to put in your payment information to start! So, there won't be any accidental renewals.
Infusionsoft has so many tools it may be hard to learn them all in 14 days. There is no free version of Infusionsoft, so once the trial is over you either pay or leave.
Design and Layout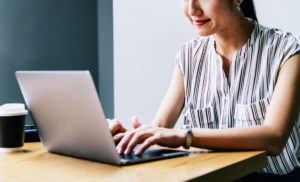 When it comes to Infusionsoft vs Mailchimp, there are several differences between the experiences. MailChimp provides a smooth and intuitive user experience. Setting up your marketing campaign has never been easier! MailChimp will ask you a few questions and viola — your first automated campaign. The layout of the site is easy to navigate, with most of the tools you need located at the top of the page. While MailChimp is easy to use, that doesn't mean it doesn't pack a lot of custom options and advanced features.
Customization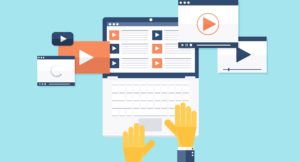 MailChimp has many pre-made templates for selling products, announcing sales or events, and various other activities. While these presets are helpful for beginners, what does MailChimp provide for advanced users?
For those that have been doing email marketing for a while, MailChimp does provide a custom template tool. For both premade and custom templates, you can select a theme that matches your brand and vision. You can even create custom themes for different times of the year. If that is still not enough customization for you, MailChimp has also included the option to code your own email template.
MailChimp's landing pages are also customizable and easy to use. Landing pages are a critical part of a good sales strategy, so the ability to create a landing page that converts is crucial. MailChimp provides a few templates for these pages for those uninterested in customization.
Collaboration
MailChimp makes collaborating easy. Just click on your name and go to settings. From there you can invite other users and assign them to a role. Have someone looking at your conversion rates or other reports? Invite them as a viewer. Need an outside marketing expert to take a look at your campaigns? No need to give out your email and password, just invite them as an author. You can also assign people manager and admin roles. With MailChimp, collaboration is a standard feature even for free accounts.
Conversion tracking
MailChimp offers many ways to track the success of your campaigns. Comparative reports, multivariate testing, and A/B testing are all options for pro users. Free users, however, are limited to just A/B testing. You can also easily integrate MailChimp with google analytics. This is a powerful combination for online marketing. It is also possible to view the revenue that one part of your campaign has brought in. For instance, if you want to see how successful your landing page is, MailChimp will break it down for you.
Integration
MailChimp offers integration with hundreds of other websites and apps. Here are just a few examples:
Shopify, Square, and WooCommerce integration

Google integration, including ad words and Google analytics

Bookeo integration for reservation-based companies

Burst SMS integration for engaging customers on their cellphone

CASH Music for those looking to market their unique sound

Canopy Labs allows you to create personalized marketing tools

Wordpress also connects with MailChimp

Fyrebox Quizzes will enable you to create and mail custom quizzes that engage potential customers and clients

Many more integrations through Zapier!
The number of websites and services you can use with MailChimp can be overwhelming! If you are new to email marketing look, through their list of services to integrate. It is an excellent place to get an idea of how powerful MailChimp can be when used correctly.
Security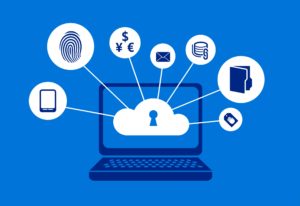 MailChimp takes security seriously. Here are some of the features they use to protect you and your customers:
Protection from data loss or corruption

TLS Encryption

SOC II credit card protection

Mandatory employee security training

Encryption of user passwords

Data backups
MailChimp offers a lot of security features to keep you safe. The best part is they protect all levels of account, including free accounts.
Pricing
The pricing for MailChimp is a bit confusing at first. Luckily, they have a tool where you enter the size of your list, and it will give you a quote. Here are the plans in general:
Free: $0 for up to 2,000 subscribers. 12,000 emails a month.

Pay as you go: pay $150 for 5,000 credits. These credits can be used to unlock several of the features included in the Grow and Pro plans. Predictive demographics and advanced forms are just two of these features.

Grow: $10 a month, more depending on the size of your email list. Includes unlimited emails every month.

Pro: $199 a month, more depending on the size of your email list. Includes unlimited emails every month.
Trying it out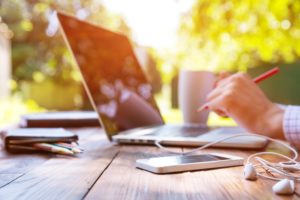 MailChimp lets you use their basic features completely free! Until you have reached 2,000 subscribers at which point you'll need to upgrade. You don't get the full features of the Grow and Pro plans, but you still have access to many of the tools you need to build your email list. The pay as you go plan may be attractive to those that are looking to upgrade but aren't sure if it's worth it.
If you are struggling to use MailChimp, then use the free email support. This support is only available for the first 30 days. To get premium support, you must be a Pro member. Grow members have access to email and chat support. If you are just trying things out, it's unlikely you will need help. If you do, you can always look up your problem in the search bar.
Related Article: Alternatives to Infusionsoft
The Comparison: Infusionsoft vs. MailChimp
Design and Layout
Infusionsoft has a layout that experienced users will love. The task feature is great for quickly viewing what needs to be done and when it needs to be done. Further integration with Asana or Todoist will make project managers everywhere rejoice. Infusionsoft's design and layout are easy to get used to, especially after completing the training courses. The chatbot is one flaw with their website.
MailChimp is designed for simplicity. It's straightforward for you to navigate and create your first email campaign. Your audience is displayed on your main page along with your campaign and its progress. Setting up a marketing drive is very easy, and you can have your first emails going out within 15 minutes. There isn't a chatbot constantly bugging you either.
The verdict: In this Infusionsoft vs Mailchimp aspect, MailChimp barely wins. Infusionsoft doesn't have a bad design; it's excellent once you adapt to it, but the number of features may overwhelm those new to online marketing.
Customization
MailChimp provides the option to code your own email template from scratch. Don't know how to code? That's ok too because the premade templates can easily be changed. Their landing page builder is a familiar drag and drop style that can be customized in every way.
Infusionsoft is highly customizable, which is one reason for taking a training course may be necessary. The landing page is fully customizable, though premade layouts are available. If you are building your own campaign Infusionsoft's flow diagram helps you create a unique strategy for your business.
Both sites offer customizable landing pages and email templates. Infusionsoft has more potential for custom automation.
The verdict: Infusionsoft wins. The amount of Zapier integrations and the flow diagram for campaign creation make Infusionsoft unique and useful.
Top Related Article: Infusionsoft CRM Software
Collaboration
MailChimp lets you assign security levels to those working on your campaigns. This feature is available to all membership levels from free to pro level. If you work with outside talent, this is going to be important for your campaigns. Infusionsoft lets you add users, for a price. For $29 you can add users to any account level. The more expensive options provide you with more users, for example, the $199 plan allows you to have 3 users.
It might be a good idea for large companies to pay for the extra users. If you are the sole employee or your business has yet to make a profit, then stick with MailChimp. Infusionsoft vs MailChimp both offer options to collaborate. The deciding factor here is how much are you willing to pay?
The verdict: MailChimp wins here. Adding collaborators is free and easy!
Conversion Tracking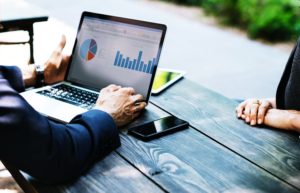 Infusionsoft offers more data then you can probably handle in one sitting. Tracking all aspects of your marketing strategy has never been easier than it is with their easy to read reports. MailChimp allows you to view conversions from landing page and email. The wealth of data isn't quite as impressive compared to Infusionsoft. Infusionsoft also enables you to automate and track sales. Both services can be integrated with Google Analytics.
The verdict: Infusionsoft wins. MailChimp isn't bad though, it really depends on what you need and how much you are willing to pay for it.
Integration
Integration is one of the most important factors when choosing a platform to run your campaigns on. You want to automate everything possible to save yourself time and money. The less time you spend entering new leads into Google Sheets the better. Integrations also help you create a business exactly how you want it. Having multiple options for forms, e-commerce, and chatbots is vital for running a high conversion webpage.
Infusionsoft understands your need for integration. There are thousands of possible combinations through Zapier. Zapier makes adding integrations fast and easy and without knowing how to code. You can even integrate with a MailChimp account.
MailChimp is also strong when it comes to integration. You can use Zapier to create complex or straightforward processes to automate just about anything. Since both Infusionsoft vs Mailchimp services use Zapier, it's hard to compare.
Either way, you go the possibilities are endless.
The verdict: Infusionsoft wins. Since Infusionsoft has some features, like predictive analytics and SMS marketing, not available to MailChimp users. These extra features make room for more integrations.
Security
Both Infusionsoft and MailChimp take security seriously. Both offer PCI DSS certification, so payments will always be safe. Both back up your data to offsite locations to assure there is still a copy. MailChimp and Infusionsoft also have plans in place in case of disaster.
The verdict: Both are secure. It's a toss-up, when comparing Infusionsoft vs MailChimp, both will keep you protected.
Pricing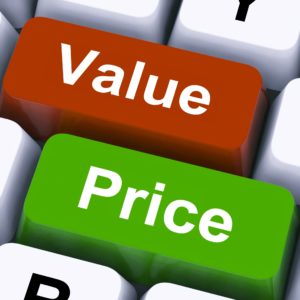 What are your needs? If you are a large or medium size company looking to grow even faster, then you will probably enjoy Infusionsoft. Starting at $49 and going up to $399 for the Pro version with 10 users. Even with the Pro version, you don't get unlimited contacts. Contacts start at 500 for $49 and 10,000 for $399. There is also an onboarding fee of $299.
MailChimp is much cheaper. You can have up to 2,000 contacts for free, and with the paid memberships, you can get unlimited contacts and emails for $10 a month. The price does grow as your subscription list grows, but at least you have the tools to make that happen. Another option is the pay as you go plan. The pay as you go plan really makes MailChimp stand out. The ability to use premium features only when you need them will definitely entice small business owners.
If you are looking for all the features you could want for automating and marketing online, go with Infusionsoft if you can afford it.
If you are new to marketing and looking at Infusionsoft vs Mailchimp, why not start with MailChimp? The free version provides you with the tools you need to get started. If you need more tools to try the pay as you go plan is excellent.
The verdict: MailChimp wins. MailChimp provides free marketing tools and a pay as you go option. Getting started at Infusionsoft is going to cost you.
Infusionsoft vs. MailChimp: How Easy is it to Try Out?
MailChimp allows you a free membership if your list doesn't exceed 2,000. Of course, when you go over 2,000, you will have to pay. For new entrepreneurs and those just starting to learn internet marketing a MailChimp account is accessible to try out, and there is no expiration date on your free trial.
Infusionsoft has a 14-day free trial, with some getting started training for free. The 14 days is enough to play around and see if you like it, but after that it's either sign up or cancel. The free training is helpful, but the fact that you need it for a trial version can intimidate new users.
The verdict: MailChimp wins this round. MailChimp wants a long-term relationship, but they aren't asking you to commit anytime soon. Infusionsoft is going to try and dazzle you into a commitment.
Summary
Infusionsoft and MailChimp are both great platforms to use for creating and implementing marketing campaigns. Both offer a plethora of integrations through Zapier. Deciding whether you should use Infusionsoft vs Mailchimp for your business is challenging. Everyone wants the full features Infusionsoft offers, but is it worth the price tag?
Infusionsoft has a fantastic campaign designing tool that connects your landing page, email list, sales pipeline, and so much more. They have so many options and tools that they require training when you sign up. Unfortunately, this training costs $299. Along with the $29 per extra user and the cost of the lowest plan at $49, you are paying a lot to have a few additional features. Landing pages are customizable, and they integrate with your marketing strategy. Customer support is readily available, and you might need it if you're new to internet marketing.
MailChimp isn't fancy. It is easy to use, cheap and has everything you need to get started. Signing up for a free plan is easy, and you get 2,000 contacts along with 12,000 emails a month! The Grow and Pro plans offer unlimited contacts and emails. All three versions allow you to have multiple users and to assign users a security level is elementary. Landing pages are perfect, and there is a $99 charge for a custom domain name. Customer support is available, but you probably won't need it with their extensive FAQ.
Both Infusionsoft vs Mailchimp offer a lot to you and your business. If it's just you right now, and you want to grow fast, use MailChimp. You will have all the tools you need to reach 2,000 subscribers, and once you are there, throw them a few bucks and build your list even further! MailChimp is also viable for businesses with more than one person, and it will be cheaper since adding new users is entirely free. Sure, you won't have access to a few tools, but you can use the money you save on more social media ads.
If you have a big team that's been making steady money for a while now, you might want to look at Infusionsoft. Their CRM helps manage your relationship with customers. Their custom campaigns are better than, and you can also automate sales, as well as marketing. Try the 14-day trial and do the training, so you understand this program's full potential. If you think it will help your company grow, go ahead and sign up.