Infusionsoft Alternatives & Comparative Features | Sales Funnel HQ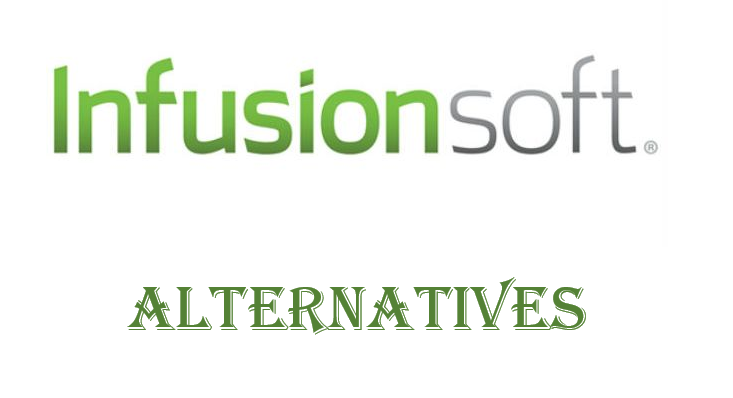 Small business establishments face numerous challenges in a bid to remain both competitive and productive. Infusionsoft is a critical tool that helps drive your online sales and marketing campaigns. There are Infusionsoft alternatives to consider as well, which we will get to in a moment, including free Infusionsoft alternatives. The size of a company can dictates the financial resources at its disposal, and smaller establishments tend to face a limitation on that end. However, there are smart tools that can improve efficiency and productivity in such a setup.
Top Related Article: What is Infusionsoft?
Infusionsoft is a software platform that facilitates the creation of a powerful marketing model while giving an impressive array of capabilities to the target business entity. The online presence of smaller businesses is greatly enhanced, with software that is designed specifically for smaller companies.
Online marketing tools are critical for business success where the global market has online marketing as a core business tool. The better your online platform is set up, the better you are likely to do as a business. Not everyone can afford to have software developed from scratch, and as such, a ready-made, customizable framework works perfectly. What one needs is to get a free trial, give it a go, and weigh the upside of having such a component as part of your business model. Picking a suitable online marketing tool brings about tons of advantages to small, medium, and large businesses.
Infusionsoft brings together all your company's social media accounts, and this goes a long way in aiding the exchange of information between you and your customers. This convenience may appear to be a minor factor, but cultivating an environment where communication flows with ease can improve your transactions and overall turnover. Along with an inbuilt campaign builder, your contacts have a system that is tailored to suit your business.
Infusionsoft vs. Infusionsoft Alternatives
Before we get into Infusionsoft alternatives, it's important to understand what Infusionsoft is and what it offers. Merely going by a recommendation is not enough, proper insight is necessary to make an informed decision when choosing business software. Here is a list of the principal things you need to know about this great software.
Infusionsoft goes beyond email marketing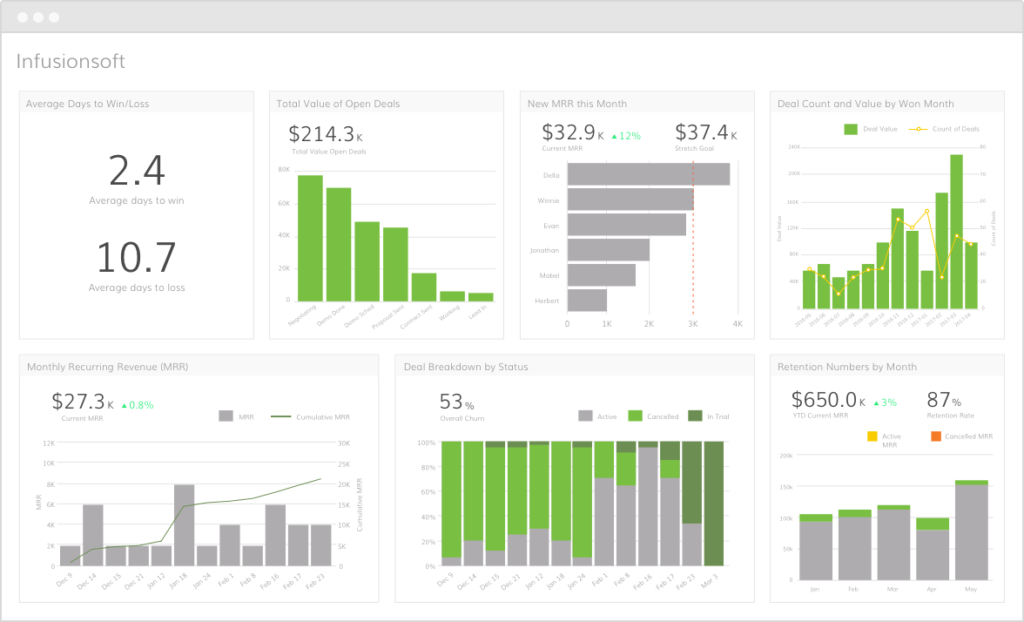 Email marketing is widely considered to be the critical functionality and a core selling point for Infusionsoft. However, this is a platform that does way more than send marketing emails. This software is, in itself, a complete and fully functional customer relationship management (CRM) tool. Content marketing is a different undertaking, and when buying this software, it offers beyond the conventional idea that all it does is send emails to customers. With Infusionsoft, you get a comprehensive tool that will push both the scope of reach as well as the efficacy of your marketing strategy.
It is perfect for small businesses
Huge corporations have the budget to assemble programmers to build their software from scratch. Smaller establishments, however, have to contend with the idea of getting off-the-shelf applications to serve similar purposes. On many occasions, some of the ready-made platforms fail to deliver as expected, may be riddled with bugs, or are just poorly made. Infusionsoft is a software platform with thousands of users and is designed specifically with small businesses in mind. As a result, you will not need to build or manage a custom system.
You will need to learn fast
Infusionsoft is a somewhat complex, sophisticated, and powerful tool. You will need to correctly understand its capabilities to have it running at peak performance. To truly appreciate and harness the power of this unique marketing tool, you must investment time, energy, and patience. The staff or personnel running the platform will need to understand it correctly. A good understanding enables the party in question to utilize all capabilities of Infusionsoft, and sometimes, time may necessitate that you do so within a limited amount of time to avoid unwarranted delays.
Like all software, it has its shortcomings
It is practically impossible to find software that has no bugs, glitches, or some minor issues. In this respect, Infusionsoft is no different. Glitches, bugs, and quirks are commonplace. However, the parent company is continually updating and redesigning the platform to minimize issues, as well as reducing the chances of unwanted issues in the future. New updates are usually available every one or two months, and this is a sure sign that the company is consistently working to improve and perfect the software. With the complexity and sophistication involved, minor issues are to be expected.
Infusionsoft works with augmentation
Software platforms can be advanced, comprehensive, and sophisticated. However, no software is perfectly thorough and all-inclusive. There are loopholes and special needs that apply to unique businesses. This slight incompleteness is remedied by employing other smaller components into your businesses' online presence. A more significant part of your processes can be centralized, with smaller or unique processes handled via a secondary avenue. One should be open to the idea of learning, adapting, and perfecting their business infrastructure by bringing in additional tools to correct the shortcomings of the primary software platform.
It is not out-and-out cheap, but it's well worth it
The implementation of this particular software platform has its expenses, with an initial payment of $2000 accompanied by monthly payments ranging between $200 to just over $300. Total costs depend on the added functionalities you may need. To the small business, this is a considerable financial input, and some may even deem it expensive. The reality though, is that as a tool that directly brings in business and improves the turnover, it is worth it. Businesses are advised to reinvest 30 percent of all profits into marketing, and this equation helps you see that this investment is a possibility even for the small companies for which it largely targets.
Automation is a big selling point
There are a lot of business processes that are done manually. The presence of manual procedures necessitates more work hours and subsequently additional personnel. For a small business, this translates to the unwelcome idea of higher costs. Software automation reduces the chances of having to pay more to get daily business operations carried out. Therefore, software automation is the way to go. Marketing automation dramatically eases the process of sending out customized marketing emails, reminders, along with any additional information that is deemed not to have reached the target audience.
Infusionsoft is convenient
Businesses have moved to include transactions beyond the conventional working hours, with online deals done at all hours of the day. With the globalization of company interests, even smaller establishments can transact with clients operating in different time zones. The fact that almost all buyers have mobile phones continues to drive businesses to expand from PC-based platforms to responsive platforms that can accommodate different size screens for mobile phones and tablets. Infusionsoft has a mobile app that allows you to do business on-the-go. You can collect money, update customer information, and carry other transactions with ease.
Many platforms with a size similar to that of Infusionsoft tend to lag and can be notoriously buggy. This lack of efficiency will cost you money if a client cannot get their order processed. In addition, there is the inconvenience involved on your end as well if payments don't come through in good time as a result of these unwarranted delays. Other times, a customer's patience will dwindle, and eventually, the app may be discarded altogether. With Infusionsoft, however, the operation is impressively fast and efficient, meaning that all transactions run smoothly without undue delays. Speed and efficiency are critical. The fewer bugs, the better.
Excellent customer support
Software purchases are sensitive. Occasional bugs and other needs necessitate one to reach out to the parent company for assistance. For there to be a response that can perfect the customer experience, the support staff must get some things right. The feedback has to be friendly, prompt, and there has to be a resolution to the client request. Infusionsoft has a support system that checks all the right boxes. The company ensures that all client concerns are resolved in a friendly and professional manner. This approach cultivates client confidence, and swift resolution mitigates losses that may come about in the event of an issue.
Related Article: Infusionsoft CRM Software
A lot of reviews have come about regarding client experience with the software. It is easy to remain skeptical even after a vote of confidence from so many entities. However, it is much easier to believe in tested quality when existing customers give positive, unbiased reviews regarding a market tool that works for small businesses. The truth is, Infusionsoft lives up to the hype. It is fast, smooth, and efficient. For potential clients, this is a software that offers real value for your money and gets the job done with minimal fuss. Plus, the customer service personnel swiftly resolve any issues along the way.
There are a lot of advantages to using Infusionsoft for your business. One factor remains constant though, a good understanding of the software is critical. With good knowledge, you can tap into the platform's true power capabilities and get real value for your money. Considering that it costs money to set up and run, it makes sense to do all one can to get fair returns. Sales and marketing software form a crucial component of business success since it is the main channel through which a company establishes and nurtures its relationship with customers. It is therefore imperative to implement a framework that genuinely works perfectly for your business.
Pros and Cons of Infusionsoft
Before we get into Infusionsoft competitors and Infusionsoft alternatives, here are some pros and cons to consider.
The upside to using Infusionsoft vs. competitors
It pays to have a healthy sales and marketing tool that works for you, especially if you are a small business or company. Modestly-sized enterprises don't have room to risk or gamble on business expenses, and as such, it remains crucial to make continually smart choices to increase performance and the chances of success.
There are some well-documented advantages of using Infusionsoft:
Universal tracking capability

– Infusionsoft is a tool that puts you in a unique position that allows you to monitor all critical business activity, ranging from actions, behaviors, to purchases made by all your contacts. With better data collection, you have credible insight on your performance as well as areas that need improving.
Smart email marketing

– the onset of online marketing tools has seen a metamorphosis of internet tools. Responsiveness in your online campaign is one of the key offerings of Infusionsoft. This approach taps into customer behavior to align the product to a specific customer need.
Sales cycle oversight and management –

with the Opportunity Management module, Infusionsoft enables your company to organize the B2C interaction right from the generation of the lead, all the way to the closing of a sale. This orderly approach ensures that your rate of closing sales considerably improves.
Sound email delivery tools –

responsibility and ethical practices are important when it comes to the manner sales and marketing emails are delivered. Infusionsoft maintains a strict policing procedure that ensures every single mail follows the proper avenues for a better success rate in your campaigns.
Friendly and professional support team –

the Infusionsoft support exhibits world-class professionalism, being friendly and prompt in the resolution of client concerns. This is a big selling point when manifested by a software company. The professional support ensures that users enjoy the available features to the fullest, boosting online sales in the process.
Regularly updated –

Infusionsoft rolls out updates every one or two months. Software updates aim to introduce additional features as well as fixing bugs for the best client experience. Updates also bring about fresh new looks that make using the software more enjoyable. Plus, major updates bring out a faster, more efficient software.
The downside to using Infusionsoft vs. alternative options
Like any software developed to serve varied clientele, Infusionsoft is not immune to shortcomings. Even with similar-sized Infusionsoft competitors, the efficacy of a software platform will vary depending on the nature of your business and its applicability. There may also be inefficiencies caused by a lack of proper understanding of the functionality of the online marketing tool.
These are some of the cons regarding usage of Infusionsoft:
Infusionsoft is costly

– with an initial cost of $2000 to set up, monthly payments after that will range from $200 to $300 depending on the version of the software you want; this is exclusive of add-ons. It is safe to say that some small companies will find this cost deterrent and opt for Infusionsoft alternatives.
Complexity –

Infusionsoft is a comprehensive and thorough platform with a wide variety of tools and add-ons. To master the intricacies of such a complex model can be a challenge to individual users and may even prove to be a deal breaker for some. A steep learning curve is to be expected before you get up to speed and truly earn the full value of the application.  
Potential training costs –

due to the complexity of the software platform, it can be a tricky proposition to expect employees to grasp the inner workings of Infusionsoft quickly and without training. Complexity necessitates to a period of training, and this directly translates to additional costs. Employees who are meant to be working have to sit and learn how to use the software properly.
Strict email delivery policy –

Infusionsoft is very keen on avoiding the sending of spam email. This restriction can prove a real hurdle when throttling comes into play. Throttling sees your mail put on hold until your spam rate declines, mainly when sent to an address you have not contacted in the past four months. If your ratio is greater than 1 in 1000, your email will probably not go through. This approach protects customers from spam but may hurt your business as well.
Not industry-specific –

Infusionsoft is designed for small businesses, but not for a specific type of small business. Establishments may be similar in size, but due to the different areas of operation, the needs of one company may significantly vary from another. This scenario may deter some potential clients who feel that the software is not particularly tailored to their needs.  
Additional fees –

there are add-ons that need purchasing to have the platform running at optimum performance. Of course, paid add-ons bestow an additional financial burden on the company, having already paid for a software that is not particularly cheap. These other costs can be discouraging. Luckily, there are free Infusionsoft competitors, as well as some paid alternatives.
Infusionsoft Alternatives
Infusionsoft software may be incredibly efficient for one company but end up being unsuitable for another establishment. The cause of this disparity ranges from cost to individual business needs. In a scenario where Infusionsoft won't work for you, a variety of options are available, each bringing something different to the table. The business software selection process demands patience for the choice to be an informed one. It is smart to take time and research the available options, giving keen attention to detail. Assess costs, technical support, general functionalities, and flexibility of purpose, among other aspects that may prove determinant on the suitability of the software.
What are the most popular alternatives?
There are Infusionsoft alternatives that enjoy a certain degree of popularity, and as such, are subject to a considerable number of online searches. These software applications have some great and unique qualities, and as a result, form a sizeable percentage of the overall sales and marketing software industry.
Here are some of the popular software platforms that are great alternatives to Infusionsoft: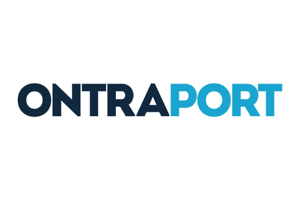 ONTRAPORT (The main alternative to Infusionsoft)
This framework is a comprehensive tool for all your business and marketing automation. Ontraport seeks to enhance automation and aid small businesses and entrepreneurs by reducing technological burdens. This software is a pretty comprehensive platform, covering an impressive array of functionalities such as:
Automation of sales and marketing procedures
The wholesome nature of this software ensures that the all-in-one claim isn't baseless. Ontraport is made to serve small, and growing businesses by handling marketing processes using automation and smart business tools.
---

This online market tool is another Infusionsoft alternative that avails general CRM as well as functioning as an all-in-one marketing software. Its flexibility is a huge advantage, enabling it to work flawlessly in both B2B and B2C setups for a variety of industries.
With SEO (Search Engine Optimization) being a critical component, Hubspot avails capabilities that facilitate simplified content generation such as blogs, articles and FAQs. With SEO functionality, your company's content is more likely to appear in online searches, and as a result this will increase traffic to your webiste.
Additionally, Hubspot has very effective lead management and nurturing tools that ensure that information gets to the target audience on time.
---

This platform is one of the best-marketed, and as a result, it is one of the best known alternative to Infusionsoft. A pioneer in the cloud computing field, Salesforce is not only powerful but also a prominent player in the SaaS (Software as a Service) sector.  
Salesforce avails an impressive selection of applications on its CRM (Customer Relationship Management) that targets small, mid-level, as well as enterprise organizations. As a powerful online business marketing tool, Salesforce has made a name with its products, proving an effective online sales and support partner. The software has a Sales for Outlook facet that facilitates the integration of contacts on Microsoft's well-known email client.
One of the standout qualities of Salesforce is that one can visit www.force.com and develop tailor-made solutions to suit the unique needs of a company's business model. The ability to customize manifests some much-needed flexibility as businesses tend to be different even when operating on the same field.
---

This powerful software prides itself in comprehensive email marketing and automation, along with a great CRM mechanism. ActiveCampaign's dynamic segmentation and email templates used for online marketing find root in customer site activity. This reactive approach ensures that the end product aligns with customer needs and preferences. Operating on automatic customer web triggers, drip campaigns and other B2C interactions are a result of what traffic does on your website. It is possible to develop customized tracking, not only when a customer clicks a button or fills a form, but where they spend time on the page.
Throughout the operation, the software keeps track of all activity by the customers. The idea of a platform that builds a business mechanism based on client preference is a smart approach. As a result, it is bound to deliver a product aligned with customer needs.
---

Interakt (free Infusionsoft alternative)
Due to budgetary constraints, a company or small business will want to boost its online automation without buying a fully-fledged marketing tool straight away. In a situation demanding that phased approach, Iterakt offers a free Infusionsoft alternative. There are some options when it comes to the paid version of this platform, making it financially accommodating to different budgets. Remember, the version you opt for will determine the capabilities available on the platform.
The online lead generation process is augmented with chat and help desk options as well as automated drip campaigns based on customer activity. This model enables the filtration and segmentation of generated leads for a more personalized approach, which allows you to assign designated personnel for closing.
Interakt's impressive options for email marketing include:
Along with a wide variety of features, one can create hosted online chats, a help desk, as well as an FAQ page.
---

This online sales and marketing software is a powerful tool equipped with a great CRM platform with sound automation mechanisms. The feedback procedures include the regular in-app notifications and reminders for sales follow up, along with the facilitation of background drip campaigns. All alerts and reminders can be synced with either Outlook or Google calendars for easier management.
With a sound analytics and reporting framework, your business is well equipped to make the most of all possible business opportunities, as well as being in a position to identify others that you would have probably missed out on.
The SocialPro app is an attractive extra that is automated to collect social data from online platforms and add it to respective business contact profiles. This powerful add-on keeps track of all B2C interactions along with customer history, with all these built into the sales dashboard. All in all, this is a great Infusionsoft alternative.
---

Another one of Infusionsoft competitors, Hatchbuck is an online marketing tool that comprises a CRM platform, delivering automated drip campaigns capable of following up potentials connects based on the customer's online activity. This powerful lead generation tool can create lead capture forms, keep track of leads, and subsequently help convert them into business transactions.
Hatchbuck possesses the ability to keep track of activity, and this goes a long way in facilitating the creation of a comprehensive customer engagement profile. The customer profiles can then be integrated to drive automated campaigns. The presence of a lead scoring system and smart notifications put your sales personnel in a position to detect hot leads. A sound inventory aids the recording of deals and B2C interactions throughout customer cycles with the aid of notes and email recording.
---

This marketing tool comes as a reasonably priced online business partner, with the availability of an enterprise version armed with ERP features. Mothernode is a comprehensive platform bundled with an impressive array of add-ons as well as business intelligence components. This software is a great operation management tool and a good alternative to Infusionsoft.
With a built-in CRM, Mothernode offers powerful automation in the online sales and marketing sector. These automated tools work hand in hand with Outlook and Gmail.
The core features on this platform include:
One unique quality about Mothernode is that it bears the capability to integrate with Infusionsoft and Hubspot.
---

Agile is a comprehensive, all-in-one CRM bearing service with automation capabilities. This software comes with a Helpdesk feature that plays a critical role in helping you support customers at vital points of the transaction cycle. Among its other features, Agile provides Deal Management, Telephony, Appointment Scheduling, and Contact Management. To give interactions a more personalized feel, Agile offers advanced email personalization options. For better deliverability (an impressive 100 percent rate), Agile utilizes third-party providers. Infusionsoft, for instance, uses its providers.
Armed with real-time notifications, Agile keeps you up to date with all B2C interactions, facilitating quick transactions and timely feedback. There are free telephony integrations, and this enables you to record and analyze all calls via your CRM. Your VoIP, Bria, and Twilio are integrated to ease the recording and analytics. A considerable advantage of using Agile is that it is incredibly easy to use and this negates the need to invest in training. This software is straightforward to set up as well and can be set up in a matter of minutes. Another selling point is onboarding, which comes standard with Agile, while Infusionsoft offers onboarding as a paid feature.
---

This sales and marketing platform enables you to create campaigns that stand out due to their uniqueness, making use of social ads, email, among other channels. Like all sound online tools, automation is a big part of the operational mechanism that MailChimp offers. Automation reduces the need to manually do tasks that can be set off using online triggers and other inbuilt components.
The critical competencies of Mailchimp are features that facilitate processes such as:
Segmentation: identify what works for the varied segments of your target customers.
A/B testing: test your campaign images, copywriting, and other aspects to ascertain the best performing options.
Report generation: get a thorough breakdown of your campaign performance.
Personalization tools: utilize existing data to create a personalized approach to your online marketing strategy.
As is the nature of the global business market, companies will get different results from various online sales and marketing tools. The consensus is that what works for one business may not necessarily guarantee success for another, even in the same field of operation. It is therefore advisable to exercise patience and assess all available online tools to make the smartest pick. Online research will not suffice, professional consultation is necessary to increase the chances of success. Picking the perfect sales and marketing software is a critical step and may have a significant impact on how your business fares, so take your time and make the best choice for your investment.
---
Infusionsoft Competitors
The online marketing software sector is a competitive one, with various platforms availing a variety of features and functionalities. It is in the available range of options that your business gets the chance to benefit from the most suitable marketing tool available.
These are the main Infusionsoft competitors:
ONTRAPORT (from $79 per month/user)
This software is the ideal partner when it comes to creating captivating visual campaigns with an inbuilt performance reporting mechanism. This platform is a software that aids entrepreneurs in driving their online sales.
As the name suggests, this powerful marketing tool gives you everything you need to be a successful marketer through targeted sales. Targeted sales and marketing tools enable you to generate leads, host webinars, sell products, and manage all email communication in one spot.  
Pardot Marketing Automation (from $500 per month/user)
This software is a cloud-based solution that facilitates automation of sales and marketing processes. The main approach employed on this platform is based on:
Use of shorter sales cycles
Utilization of multiple marketing channels
All components work in harmony to ensure a high ROI (Return on Investment).
Wishpond (from $44 per month/user)
This online marketing tool brings about a platform whose functionality operates on customer activity. Personalized emails automatically go out to customers who have shown interest in specific products. This type of targeted marketing has a higher chance of success.
This multilevel tool is suitable for small, medium, or large businesses. The software provides a couple of cross-channel marketing solutions:
Oracle Eloqua – built for B2B sales and marketing
Oracle Responsys – created for marketers dealing with products for consumers.
This software enhances consumer experience as well as facilitates transactions between companies at the B2B level. The core competence of this marketing tool is to drive revenue across channels.
Infusionsoft vs. Infusionsoft Alternatives
Your business could benefit greatly from sales and marketing software, and employing the right platform can grow your business significantly. Take the time to understand your business, identify points of need and comprehend specific modes of operation. After establishing a need, do your research and pick software that serves the purpose to perfection.
Infusionsoft is a market leader in online sales and marketing, and this powerful tool could be the investment that gives you the edge over the competition. Some may air concerns about the cost, but its ROI (Return on Investment) is a sure indicator that it is well worth it.
Disclosure: I am an independent ClickFunnels Affiliate, not an employee. I receive referral payments from ClickFunnels . The opinions expressed here are my own and are not official statements of ClickFunnels or its parent company, Etison LLC.