Infusionsoft Reviews – What Users are Saying | Sales Funnel HQ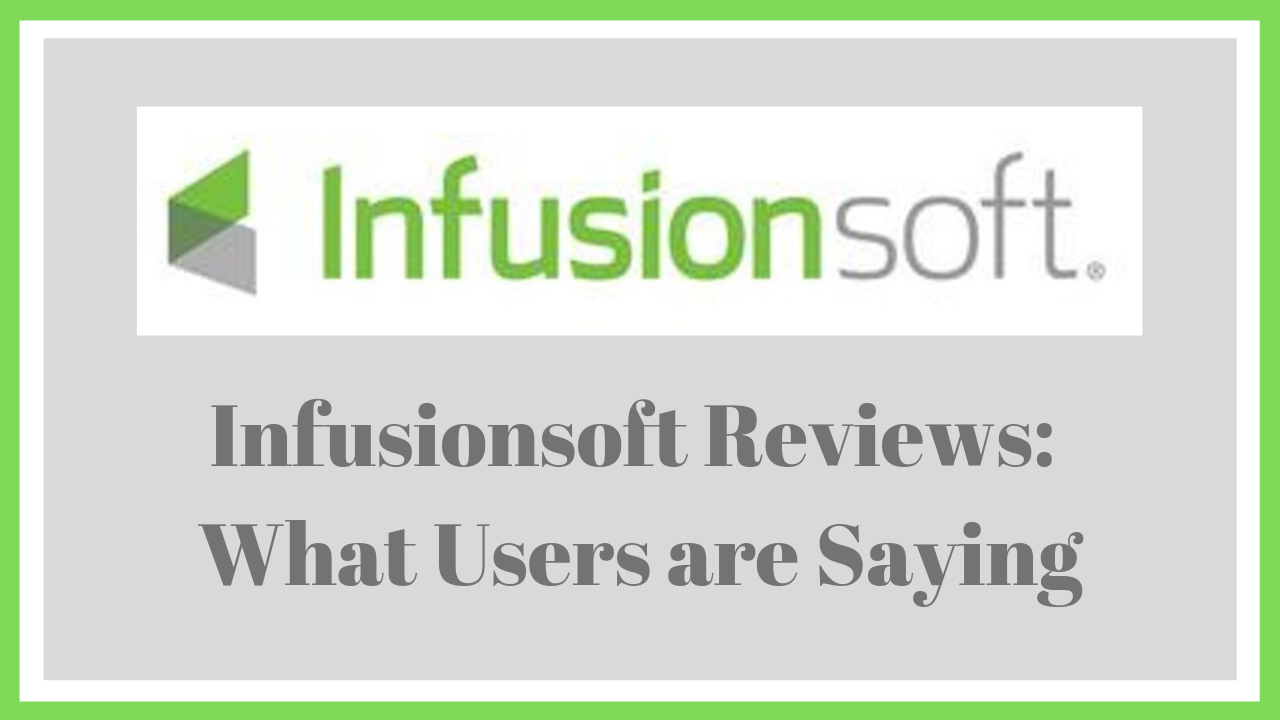 Infusionsoft is a cloud-based sales and marketing solution that offers many features, such as:
Customer relationship management (CRM)
Marketing automation
Payment processing
E-commerce support
Sales automation
Accurate user-based Infusionsoft reviews are far and few between since you don't know what portion of the platform the reviewer had used to come to their opinion. Infusionsoft's "We-can-do-everything" attitude shook the market as small businesses imagined what it would be like to have all of their sales and marketing tools on one platform. With their 9-figure venture-backed funding and generally positive reviews, it's a good bet that the platform is here to stay. Below, we'll take a look at some of the things users are saying about Infusionsoft's core features.

Infusionsoft CRM Reviews
The Positives
Most-In-One Solution
Infusionsoft is a solution targeted towards small businesses that have fewer than 15-20 employees. It's not meant for enterprise-level companies (although they claim to support that level). One user asked readers to think of Infusionsoft as "a MailChimp/Salesforce with an emailing workflow engine."
Users also enjoyed combining other parts of the platform with the CRM to create unique, powerful results. One user reported combining customer information with current email campaigns based on time (with touch points in month-to-month intervals).
Doesn't Break the Bank
Right now, any business can get started with Infusionsoft for as low as 99$ a month. This sends a clear message that Infusionsoft is looking to target the small and medium business market. Other leading CRM vendors will charge exorbitant prices compared to what it costs to get started with Infusionsoft.
Additionally, some users reported seeing minor savings when migrating their work to the Infusionsoft platform. Generally, users with subscriptions to 4-5 other services that Infusionsoft covers saw small amounts of savings when transferring over.
User-Friendly Platform
Users reported basic functions being very easy to execute. Adding contacts, creating opportunities, and editing information are very simple, intuitive, and quick to execute. However, complex multi-layer actions require expertise that can be acquired with a third party or a provided training.
Add-On Integration
Infusionsoft also has several hundred (and growing) add-ons that can assist with sales and marketing tasks such as converting sales, capturing leads, upselling customers, and handling referrals.
With the right vision and tools, users can use Infusionsoft as a platform to execute highly customizable actions to get their desired outcomes. The hundreds of various tools available can work along with (or replace) existing Infusionsoft functions within sales, marketing, payment, and ecommerce.
Popular add-ons include Spiffy Order Form, Graphly, and ScheduleOnce.
The Negatives
Not Mobile Friendly
While Infusionsoft's web interface tends to be clean cut and error free, the mobile platform is a different story. Certain functions, such as the calendar, have been reported by users to not display correctly. The biggest criticisms of the current mobile app are slow loading, faulty display, and reduced core functionality.
In this age of digital business, mobile support is becoming more and more necessary as people are leaving the workforce and starting small companies from their home or on the go. Updates have been consistent, although slow to deliver.
New Updates are Buggy
Regular users point out a pattern within the company's releases: New releases tend to be somewhat buggy and give off the impression of being undertested.
So far, the Infusionsoft team has been consistent with fixing user reported bugs. Updates have become more regular in 2018, which is a good trend for future users.
Points of Complexity
In order to be used to full value, a secondary market of Infusionsoft partners and consultants has spring up to help small and mid-size businesses set up their platform. To get the full value of the software, technical expertise or support will be necessary.
The Infusionsoft team has since started to offer a $299 training course, which shows an attempt to address the complexity of the platform. Many users, however, have cited the training as lackluster and have found greater results onboarding a consultant or contractor.
Infusionsoft Marketing Reviews
The Positives
Visual Campaign Builder
Infusionsoft's Visual Campaign Builder is one marketing feature that has consistently received rave reviews since its inception. With the Visual Campaign Builder, users can segment their marketing lists with extreme precision. This has the added effect of making sure every communication sent is relevant. Several users have reported higher response rates with their newly organized groups.
If you want to see the campaign builder in action, click the following link: https://www.youtube.com/watch?v=ZoDQ0SG2Ruk
Saves You Time
Automation features send out as many marketing materials as you'd like, to whomever you'd like, whenever you'd like. Although complex campaigns may take longer to set up, once setup is complete, businesses can find themselves with thousands of hours saved on a yearly basis. This frees up a lot of time to focus on other mission critical efforts.
One user said "I can literally not work for a week because Infusionsoft is running everything in the office." Users did comment on somewhat of a steep learning curve, but the users that were able to push through the dip (or hire the necessary help) were able to see tremendous benefits with automation tools.
Powerful, Robust Functionality
Marketing automation tools can support the most complex (or simple) campaigns. Automation can span a wide range across multiple decision diamonds for any subset of customers within a specified campaign.
Infusionsoft's CRM tools offer a wide range of outcomes when it comes to automation. This makes the platform especially valuable to companies that are looking to create any number of distinct marketing channels. Infusionsoft will allow marketing efforts to be delivered appropriately and effectively to multiple end prospects.
The Negatives
Core Functionality Missing a Few Features
The platform itself includes great features such as lead generation reports. However, several users have commented wanting more out of a platform that claims to deliver "everything in one place." Many users are using add-ons such as Wicked Reports and Graphly to view their ROI reports, a key feature that the main platform does not cover.
Infusionsoft has commented on the analytical needs of their clients, stating that they soon plan to release an advanced analytics tool onto their platform. They are listening to their clients and they will hopefully release a tool that reduces the necessity of third-party add-ons.
What is becoming increasingly common is users of the platform building what they call "software stacks", and combining Infusionsoft's core functionality with third party add-ons to generate the results they want. Infusionsoft obviously wants people to stay on their platform so their future plans to add more functionality should be monitored closely.
Complex Campaigns Require Higher Degree of Skill
"It can do anything… as long as you figure out how to make it work" – Marketing Director of a 12-person company.
Small and medium-sized companies may not have the expertise on site nor the funds for contractors necessary to get maximum value out of Infusionsoft. The inherent complexity of the platform seems to clash with Infusionsoft's marketing efforts which are mostly targeted towards small and medium size companies.
Infusionsoft's reviews tend to truly shine when a prospective customer has defeated technical roadblocks on the path to superior sales automation. However, increasing complexity of business needs necessitate a higher degree of skill necessary to set the software up. Infusionsoft is currently charging $299 for a "training program" teaching new users how to use the platform. Compared to their competitors, this is quite a steep price (in most cases, the training costs more than a monthly subscription to the software itself).
Infusionsoft Payment Processing Reviews
The Positives
Easy, Streamlined, Centralized Billing
Keeping client information and billing centralized saves support staff a lot of hassle when handling payment processing claims. Having everything in one place makes it much easier for people who need to access records and files. Many users expressed joy at being able to keep their disparate databases in a consolidated location.
Payment processing was also regarded as a breeze once the appropriate systems were set up per client. One user expressed joy and said "it just works and I don't have to spend any more time doing the non-revenue generating stuff after it was set up properly." Compared to some other features of the platform, users generally regarded payment processing as one of the easier ones to understand, set up, and execute.
Users who benefitted from having client information and payment processing in one location reported the following benefits:
Reduction in security risks across the business
Faster resolution of customer claims within billing
Massive time-savings
Small to moderate cost savings when migrating multiple datasets and/or workloads
Process Visualization
Infusionsoft's synergistic nature allows visualization tools such as the campaign builder to also pour into the billing aspect of the software. Infusionsoft's visual tools not only let companies run their billing cycles, but to view them from a top-down level for potential errors and roadblocks. This can be especially useful in detecting platform-side and client-side issues. With Infusionsoft, you'll be able to see who's paying, how they're paying, and if money's actually moving, along with a host of other information points.
One Infusionsoft user was able to detect a hole in their billing automation, resulting in thousands of dollars saved in tuition. The user stated that "our billing process had a hole, and many students never paid the next year's tuition. The Infusionsoft campaign made this visible, netting us thousands of dollars in lost revenue."
He went on to state that Infusionsoft was "more than just a CRM. It's a business process automation tool."
The Negatives
Difficulty in Refund Processing
Having linkages through multiple platforms naturally makes refund processing very difficult in Infusionsoft. For example, if you were using a separate platform for customer billing such as Paypal or Simplebills, and your customer attempted to process a refund, you would have to send in two claims: one through Infusionsoft and another through Paypal. This creates a lot of unnecessary hassle and paperwork and can turn a lot of users off to the platform.
One user reported that his company was using Paypal for their customer billing, and the difficulty of working with refunds through Infusionsoft necessitated a lot of wasteful manual work. This doesn't look good for a platform that uses automation as one of their main selling points. Companies that work with lower cost goods that are more often returned could see a bit of difficulty if they try to do their refund processing through Infusionsoft.
Complicated Setup
Complicated technology is a common complaint when it comes to many aspects of the Infusionsoft platform. However, when it comes to billing, there weren't as many complaints compared to other aspects of the platform such as marketing automation and campaign management. Nevertheless, a minority of users did have trouble setting up their billing system in an automated fashion.
Typically, users who had trouble with Infusionsoft's billing had more complicated billing needs – such as dealing with varying lifecycles of accounts payable, a large variety of pricing options, and expanded payment options. Users who had a simple way of handling payment did not hit as many roadblocks in a comparative sense.
Infusionsoft E-commerce support Reviews
Positives
Simple and Reliable
Infusionsoft's single order forms for products and services have proved themselves to be a functional, useful, and barebones solution for most online products. Integration with payment options makes it simpler for businesses to manage their payment processing tools and how they interact with the e-commerce platform. The added e-commerce tools have run for most users without any significant, platform-breaking bugs. It's a simple tool that does its stated job.
The e-commerce storefront tends to have a barebones array of available features. It's not a functionality that is much complained about nor raved about. Compared to some of Infusionsoft's other offerings, simple and clean is a welcome sight. Those looking for more functionality may have luck with BigCommerce, Infusionsoft's preferred e-commerce partner.
Great Third Party Support
Speaking of BigCommerce, Infusionsoft's e-commerce platform can synergize with a lot of third party tools to provide a dynamic, robust infrastructure. Infusionsoft's e-commerce tools will work with a lot of the most popular platforms out there, such as Shopify and Woocommerce, so businesses know they have a lot of options when it comes to what they're wanting to integrate and where they want to use it.
One user stated that "The e-commerce platform isn't anything to marvel at. But Infusionsoft's API is awesome so you can bolt on external software for whatever function you don't want to use in Infusionsoft." Chances are, if Infusionsoft doesn't do what you want it to do, there are reasonable odds of finding a replacement that the platform supports.
Advanced Analytics Potential
Having every feature of your business in one place allows you to get a bird's eye view of the entire marketing and sales process: from acquiring leads to closure. You'll be able to see how customers are behaving on landing pages, and what prior sales actions caused them to act in certain ways. Infusionsoft's platform is a big enabler of A/B testing for landing pages, and puts more power in the hands of your marketing department.
Negatives
Trouble Processing Multiple Products
A common complaint of Infusionsoft's shopping cart is that it works well for single or bulk purchases of one product, but struggles to offer the same level of stability and support when multiple products are involved. These complaints surged in early 2018, but seem to have tapered off recently.
Current reviews about multiple product processing suggest that the platform is buggy, slow, and sometimes unresponsive when it comes to processing purchases of multiple SKUs. This issue shouldn't be pervasive as easy fixes are predicted to be on their way.
Somewhat Dependent on Third Party Products
As mentioned earlier, the base platform for Infusionsoft's e-commerce functionality is quite barebones. Therefore many users turn to other synergistic tools to get the business results they want. While this may seem okay at first, this has long term implications for Infusionsoft as a whole.
Some users are already adopting a mindset of "If Infusionsoft can't do X, why should I subscribe to the platform if I'm just going to be paying additional fees for third party tools anyway?" Ultimately, a culture of third party fixes will have significant consequences on the perception of Infusionsoft's quality and longevity.
Goes Unused
Reviews in the past tended to express regret at paying full price for a software they only use half of. However, many reviewers are also happy just using 2 or 3 of Infusionsoft's main pillars. As of today, Infusionsoft has experimented with new pricing models. As of 2018, they are charging for the main CRM functionality, with an added fee for sales support as well as e-commerce.
The new pricing model, however, is heavily based around contacts. It's difficult to say whether it's better or worse (it depends on the business using it) but the perception of loss due to non-usage has definitely decreased for the end user. Reviewers in 2018 hardly express negative feelings towards the perceived bundling due to new selection options during subscription purchase.
Infusionsoft Sales Automation Reviews
The Positives
Powerful Email Automation
Users are saying many positive things about Infusionsoft's email features. Below is a quick spread of highly rated comments from third source sites.
1. "I can automate campaigns so I save a lot of time generating leads and prospecting. My prospects are great and my book of business is never running dry."
2. "I like how we can set our email campaigns to a 'drip.' This is a really useful feature that can make accounts avoid blacklists and help our system mimic human behavior."
3. "For my B2B operation, this helps my sales staff spend less time opening, and more time closing."
4. "I especially like how I can create different groups of users and tailor my email contacts specifically to those groups of users."
5. "Very useful for businesses that attempt to create multiple touchpoints with clients."
6. "Very easy to manage my pipeline by setting it up so we can see which clients are responding and which aren't. Campaign manager makes planning a breeze and splitting clients into groups makes organization easier."
7. "My company sells a wide range of service offerings in a B2B environment. It's nice to have initial contacts for clients automated, while moving them into specific categories depending on what the prospect may be interested in. It really speeds up the process to qualify."
Email features of Infusionsoft seem solid. Many reviewers claim that Infusionsoft's email features are of extremely high quality. A chief marketer of an advertising agency claimed that Infusionsoft's email features were "the best I've seen in the industry." She went on to claim that the real value was in the ability for emails to be paired with respective tools in the CRM software for follow-up.
Pipeline Management
Infusionsoft users who sell a variety of large products are finding a lot of value in the CRM and automation capabilities that allow them to dynamically manage their pipeline. Being able to group prospects by campaign, product of interest, and sales stage creates much needed organization for the busy sales professional.
With the proper automation in place, users are claiming that Infusionsoft allows them to spend less time on administrative tasks and more time on generating revenue.
Interaction Tracking Even More Powerful with Automation
Infusionsoft users are enjoying Infusionsoft's robust interaction tracking features. With Infusionsoft, users can see all of their customer touchpoints, and create an automated system that can perform certain actions with regards to time, response, and relationship. You can even send notifications to customers during the sales process if there are any issues with billing.
With groups of prospects and customers, Infusionsoft users have a wide array of actions they are able to take. Prospects can be separated by response, time, as well as other variables. One user expressed shock at how "you can make campaigns do whatever you want and make them start to perform BASED on the interaction that customers have with the campaigns."
This feature creates a robust, dynamic Infusionsoft that can bend to the rhythm of customer action. The real value is that this can all be done automatically.
The Negatives
Difficulties with B2B
Opportunities and contact records are linked in an odd way – each sale coming through the system is linked towards a certain contact record. This indicates that the software was originally developed for B2C companies. Businesses that sell to other businesses may need to find a workaround when looking at how Infusionsoft creates records of sales.
Infusionsoft has publicly stated they are working on resolving the issue. Many customers, however, have found workarounds using contractors or third party programs.
Infusionsoft Pricing Reviews
"Like Salesforce without Salesforce pricing"
Infusionsoft is a powerful tool that can deliver powerful results without commanding powerful prices. Users have compared the CRM aspect to Salesforce, as the functions Infusionsoft can perform are quite similar. Since Infusionsoft is marketed towards small and midsize businesses, prices will be lower. However, with subscriptions starting at $99, many businesses are finding value in the offerings even if they don't use all of the tools the platform offers.
"Sliding scale model adds flexibility"
Infusionsoft's current pricing model works on a "sliding scale", costing more depending on how many contacts you have and how many user accounts you want to access the cloud-based tool. This pricing model effectively creates immense value for small and midsize businesses. Businesses can now rest easy knowing they are getting what they pay for.
Other tools in the market typically use ceiling-based pricing with 3-4 tiers of usage, but Infusionsoft takes it a step further, offering subscription packages in 7 different levels. This is a godsend for small businesses who may not need as much and seek to not pay as much.
"New pricing plan creates value for some, but hurts others"
Infusionsoft's new pricing model is heavily centered on one core variable: contacts. Businesses that have 500 contacts can expect to pay around $99 a month, while businesses with 50,000 contacts are paying a minimum of $379 a month. If you're a niche business with a small amount of contacts, you can get onto the platform for cheap and reap all the rewards and benefits that Infusionsoft offers.
Infusionsoft's focus on total contacts means that if your business has a lot of contacts, you can expect to pay much more for software use. This can create unnecessary expenses for firms that are heavily focused on lead generation and prospecting. Businesses that have a small or medium-sized rolodex of longtime contacts would stand to benefit.
"Use it or lose it"
Having to pay a fee to access the entire platform can create a bitter feeling when customers don't use half of the tools they are offered. This is purely psychological, and the true value of Infusionsoft should be dictated by the value the software offers the business for the cost of a subscription.
Infusionsoft has since created a new pricing model that includes optional sales pipeline and e-commerce functionalities. They are aware of the feelings their bundling efforts of the past have created, and in the future we could see a much more compartmentalized Infusionsoft.
"Training fees are high"
One of the biggest complaints of Infusionsoft is the complexity of setting things up, especially revolving around automation. What makes matters worse is that a training fee of $299 is assessed for new users that want to learn how to use the platform. This is a stark contrast to the free tutorials offered by many of Infusionsoft's competitors, mainly Hubspot.
What makes matters worse is that many reviewers of the software report poor customer service and lack of quality in the paid training that Infusionsoft provides. This has led to the formation of a secondary market of Infusionsoft partners, contractors, and consultants who provide installation, training, and maintenance services to users.
Past, present, future
Infusionsoft Reviews of 2017
Infusionsoft Reviews in 2017 tended to be very polarized. Many users loved the software, and many users hated it, even going as far as calling it a "scam." Plans started at $199/month.
Many people who were critical of the platform in 2018 compared its bundled pricing structure to a cable company due to being forced to purchase all the software that they may (or may not) need. A user who ONLY needs email support, billing, and CRM would generally not be happy having to pay one price for the platform due to the perception of loss.
Detractors also criticized the learning curve of the solution and the lack of support available for small businesses. Infusionsoft is now offering a one-time training fee of $299 for new users, which has also come under fire. Some of Infusionsoft's competitors, including Hubspot, boast simpler, more intuitive platforms.
However, businesses that were open to adopting the platform and had a need for most of the tools included loved it. One user stated that he loved how "he could do everything his business needed from one place." For businesses that need the tools being offered, having one platform to manage everything simplified a lot of the work being done.
Infusionsoft also offered several features that were absent from the competition, including its "Decision Diamonds," campaign builder, and optional add-ons. Users loved being able to separate their email contacts into groups depending on how they were marketing to them.
Infusionsoft Reviews of 2018
In 2018, we saw a different Infusionsoft, and the platform's reviews changed to reflect this difference. Reviews in 2018 tended to be slightly more positive than in 2017, and this is mainly due to the following factors:
Change in pricing structure (Now starts at $99/month)
Increased customer support, training, and software support
Increased functionality due to the hundreds of add-ons within the platform
Negative reviews tended to critique the usual suspects: a daunting learning curve and a non-customizable bundled solution. Due to the nature of Infusionsoft's core offerings, this is something that cannot be avoided. The more functionality a solution has, the more complicated it will naturally be.
Infusionsoft in the Future
Due to Infusionsoft's increased investment in their training resources and customer support, it is reasonable to assume they are listening to customer feedback and making the necessary changes to their business. Infusionsoft's new "per email contact" pricing model has softened the blow and added some flexibility to a once rigid solution package.
Due to the breadth of offerings available within the platform, complexity will always be a natural (and necessary) evil. But it's good to see that the company is testing techniques to help their customers see a smoother integration and installation. Some customers reported taking months (or even a year) to get the platform running to full value. In today's business environment this is unacceptable.
Infusionsoft would do well to study some of their competitors (Hubspot, Mailchimp, Salesforce, etc.) to see how they're teaching smaller companies to get the most value out of their platform. People like the idea of having one platform to handle all of their needs, but tend to go to a competitor when that platform feels too daunting to handle.
Closing Statements
On a general level, a quick Google search for Infusionsoft Reviews will show the solution being placed between 3.5 and 4.5 out of 5 stars on most websites. The highest rated features tend to revolve around CRM, email, and automation. Users liked having an all-inclusive solution to conduct the majority of their customer-centric efforts. Automation features saved small businesses hundreds of hours of work – a giant labor footprint for companies with less than a dozen employees.
The most complained about features tended to not revolve around the software itself, but the customer support and setup. A large portion of negative reviews pointed towards poor customer support: small businesses were purchasing the software and getting confused during the installation, application, and optimization of all the features included. As of 2017, the training tools provided by Infusionsoft were generally classified as lackluster.
The ideal Infusionsoft customer would be an organization that:
Is a small business (Typically between 15-20 employees)
Has technical staff or the budget to hire technical staff on standby
Needs email marketing, customer relationship management, and e-commerce support
Wants to save time using automation tools
Is utilizing a large number of tools for different sales and marketing processes, but wants a "one-stop-shop" where employees can do everything
If any of the below statements are relevant to your organization, Infusionsoft may not be right for you.
I want somebody to handle all the technical stuff for me.
My business is a one man show.
I'm working with a large corporation employing thousands of people.
Our organization prefers to not use direct-response marketing.
Although we use many different tools for our sales and marketing processes, I am satisfied with the performance of those tools.
I looked at Infusionsoft's functionality and my business only needs two of those 6+ tools.
Ultimately, this post was created to give you a high-level look at what some people are saying on their Infusionsoft CRM reviews. We hope that you will use this knowledge to make a good decision when it comes to the technical support behind your business needs.