How To Grow Your Business [IT'S NOT WHAT YOU THINK]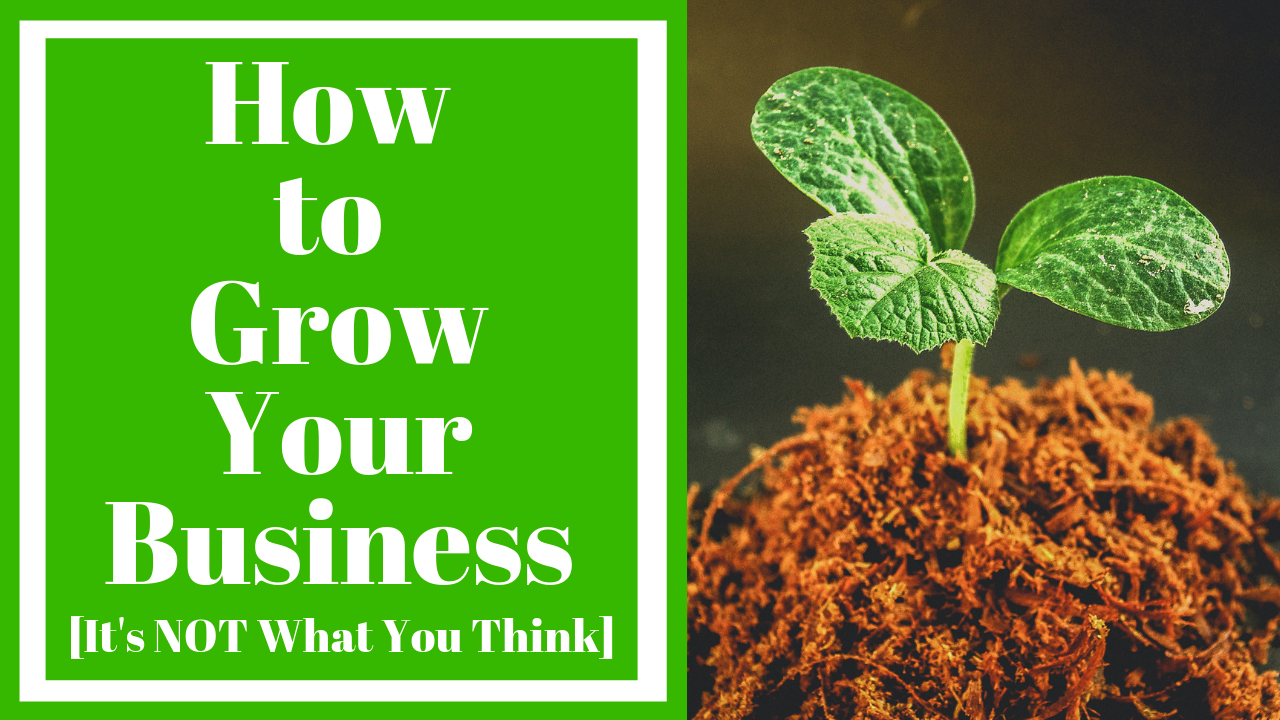 I know you want to learn how to grow your business with all the latest tactics and hacks, but I want to go over something that has been essential to our business growth. It is not what you think either…

Worry about yourself first… BE SELFISH.

Have you ever considered that you are the most important piece of your business?

You are responsible for your cash flow, your debt, your results, and your failures. If you want to make more money, then you have to take care of yourself first. If you are not operating at full capacity then your business will suffer and your income will suffer because of it.

80% of success in life is psychological, and 20% is strategy and mechanics.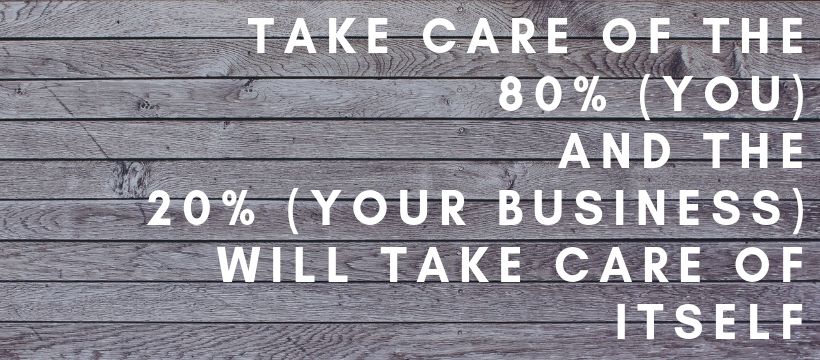 Take care of the 80% (YOU) and the 20% (YOUR BUSINESS) will take care of itself

When you shift your thoughts to being MORE selfish, and ignore the gurus telling you to invest every dollar back into your business, you can begin to see financial abundance in your future.

How to Take Care of Yourself

Your body and your brain are the biggest asset that you have as an entrepreneur. An entrepreneur is at the same caliber as a professional athlete. You must keep your body and brain in peak physical condition in order to maximize performance and grow your business.
I'm going to take the rest of this article to go over the strategies that I use to maximize performance physically, spiritually, and emotionally.
Morning Routine
This is by far the most important part of optimizing my day and probably the most important piece of growing my business. You can alter your routine based on your individual circumstances but the concepts are the same.
My morning routine starts out the night before. I shut down all electronics (try to) at around 8:00 pm every night. I then put my blue blockers on and try to hit the bed around 8:45 pm. I write down 3 or more things that I am grateful for in my gratitude journal, and I thank God for the abundance that I want in the future. I will then read until I pretty much drop the book on my face (9:00 – 9:45 pm).
Example of a Gratitude Journal Entry
I am grateful for dinner with my son, Jude, and my wife, Jenna.
I am grateful for the french press coffee that I enjoyed this morning.
I am grateful for our business having a record sales day.
I am grateful for lunch on the balcony with my wife, Jenna.
Thank you for my $50,000 per month in income, my Tesla, my Lakehouse, and my private jet (this is an example of future pacing and thanking God for the financial abundance that I want).
Thank you for my family of 5 (we are only 3.5 right now), our health, and our happiness.
SAVERS for My Morning Routine
The alarm softly goes off at 5:30 am and gradually increases in volume if I do not respond to it. I then jump into my SAVERS routine, which is taken from The Miracle Morning by Hal Elrod. SAVERS stands for Silence, Affirmations, Visionary, Exercise, Read, and Scribe.
At 5:30 am we start out with a 5-10 minute meditation using the app, Insight Timer (S). After the meditation is over we will sit in silence and envision what a successful day would look like (V).
Then I go to my bathroom, take my empty stomach supplements (probiotics) and read my affirmations on my mirror (A). I hydrate with 26-50 ounces of water while getting ready to go workout.
I workout from 6:00-6:30 am (E) while usually listening to an audio book or a podcast (R). After getting home, I drink about 16 more ounces of water, sit down with my planner and write down my 3 most important activities for this day (S). This article was activity number 3 for today.
Example of My Planner
Amazon PPC Training and Restructuring Campaigns
Optimizing Google Adwords for Articles
Write a PAS Article and Schedule a Facebook Live for.
After this, I will sit down and make myself a Bulletproof coffee in the french press, then add Brain Octane Oil and Organic Ghee butter and blend it with my Vitamix. This is the only thing I've had that has calories since 5:00 pm the previous day. I intermittent fast from 5:00 pm until I drink this around 7:30 to 8:00 am. The first thing I eat that has carbs or sugar will be my green smoothie for lunch, which is usually around 11:30 am to 12:00 pm.
Once you start optimizing yourself (80%) the rest of your business and life (20%) will take off. BE SELFISH and take care of yourself first. You cannot take care of others or your business if you are not optimizing your life first.
This requires systems and processes that are both loose but rigid at the same time. Be flexible with your routine and try something new to see if it helps. The most important part is to figure out what helps you perform at maximum potential. While my wife's routine may look slightly different, as yours will, it still hits all the bases in one way or another.
Systems and processes are also an important piece to making more money in your business and taking home more income. I can help you with both this and maximizing your morning.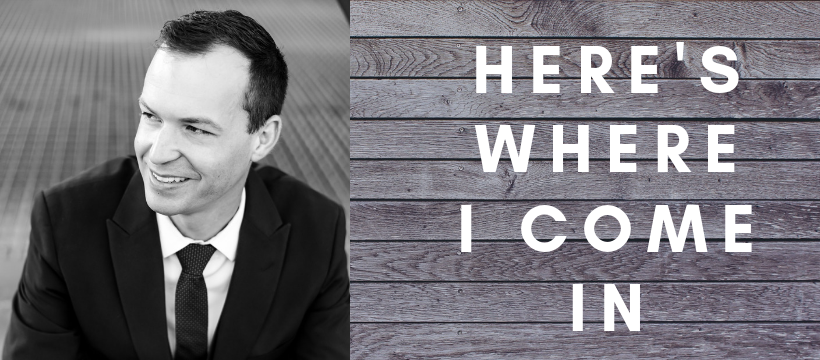 How I Can Help Make Your Business More Profit and You More Income
We've set aside time in the next 48 hours to speak to you personally about how you can apply these ideas to your business and life starting TODAY.
Whatever your biggest challenges are, we've seen it and we know how to overcome it.
We will get on the phone for about 45 minutes and…
On the session, we will work with you to craft a step-by-step game plan to hit your business goals, whether that's discovering more profit in your business, paying yourself right, feeling more fulfilled in life, or having more love for what you do every single day.
The cost? Absolutely FREE.
But this is not for everybody…
Who This Is For
You MUST be willing to take action to transform your life and business.
You MUST take accountability for your failures, avoiding excuses for why something can't be done.
You MUST believe in yourself!
Why We're Doing This
We do this because we love giving back and helping others attain financial abundance
Plus, we know that you might want help transforming your business (it's tough going it alone!). If so, we can discuss it and see if it's a good fit for both of us. If not, that's fine too!
If you're willing to:
1. Take Action
2. Be Vulnerable
3. Be Coachable

Then I would love to chat with you.

This is what I love helping people do. This is why I was put here on this Earth… to help people like you grow their business.
I can show you, step-by-step, how to create the life you want, free from the worries of debt, cash flow issues, and working all the time.
All you need to do is book a call here: https://www.growto1million.com
Every day that goes by is more time wasted. Every moment you hesitate is you settling for being less than you were born to be. Let me help you turn your dreams into a reality.
On that call, we'll get you crystal-clear on exactly what you want your life and business to look like after you're free from debt and have an abundance of cash flow. We'll dive into who you want to be, the difference you're committed to making, and a step-by-step plan to make it happen.
Your future is waiting for you.
Talk soon,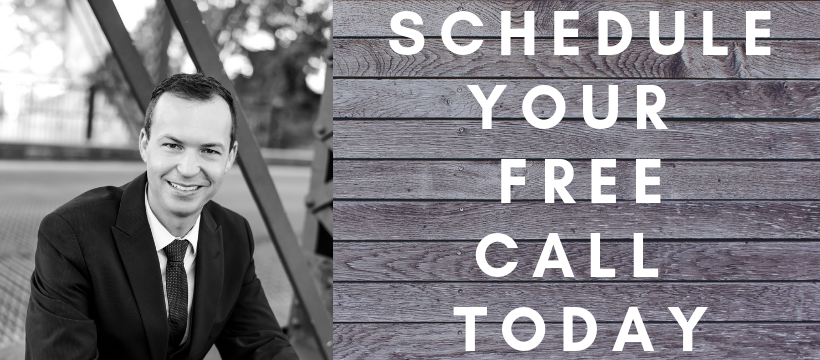 Dr. Travis Zigler
https://www.growto1million.com
FAVORITE BOOK: DotCom Secrets (Click Here To Get It Free [Affiliate Link])
RELATED ARTICLE: Do You Have a Fear of Money? How to Overcome It…
RELATED ARTICLE: How to Make More Profit and Income from Your Business