How To Advertise On Amazon – Diving Into Best Practices For Advertising On Amazon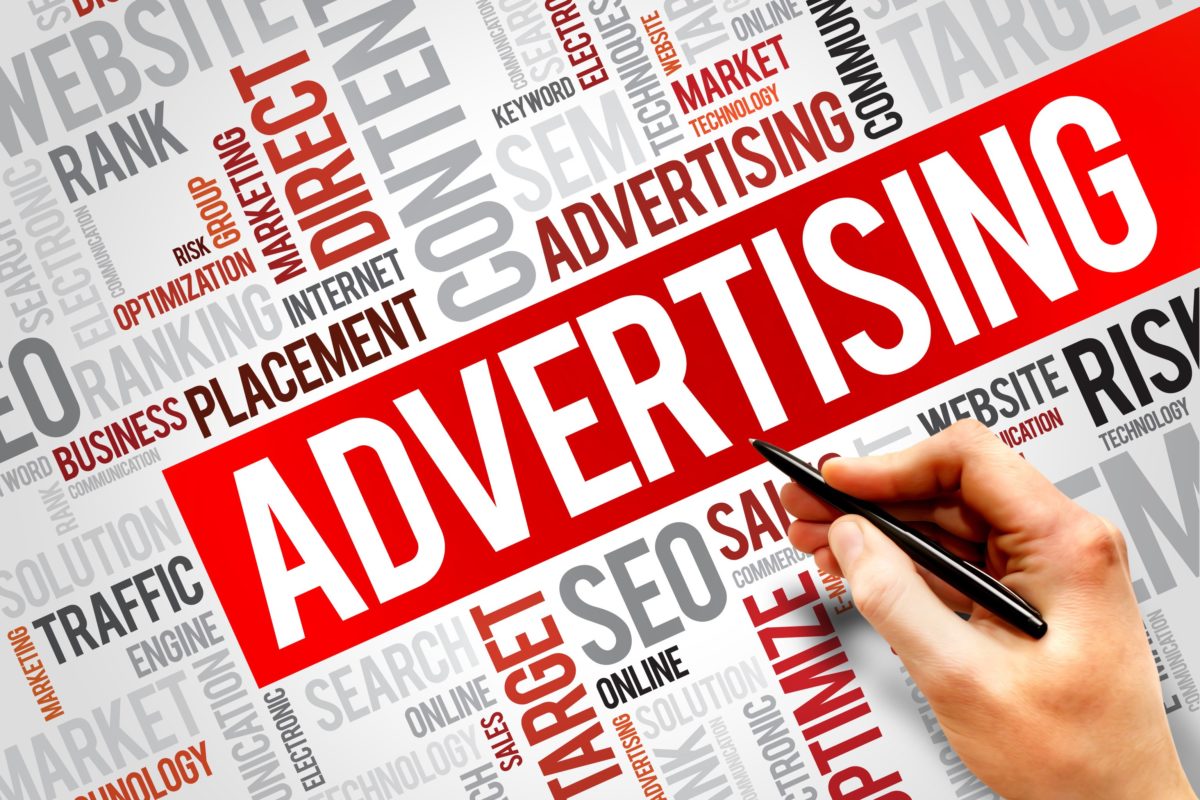 If you are selling tangible products online chances are you are trying to get your product on Amazon or already selling through the platform. Before you spend your entire marketing budget on ads, it's important to know how to advertise on Amazon. There are Amazon specific advertising requirements, costs, different types of ads and various ways to optimize those ads.
The online advertising space is booming and Amazon is at the forefront. Amazon may not have surpassed Google or Facebook ads, but it should not be overlooked. Amazon's ad revenue is growing at 5x the rate of Google's.
Amazon is crowding its product search pages and product pages with ads and it is working. With so many buyers flocking to Amazon to buy a particular product, it has been proven that they almost always buy a product that is on the first page. And having your product on that first page is nearly impossible without using the Amazon advertising platform. Using Amazon advertising can exponentially increase your traffic, ROI and sales.
Amazon is even putting sensor technology in its brick and mortar stores which collects data on the products that people buy. They are pioneers of the "walk-out technology" which allows them to charge customers through a Go app for all of the items they picked up in an Amazon Go store without going through a physical checkout.
But what the sensors are also collecting is more intriguing to the future of online advertising. The sensors can also collect information on the products that people pick up off the shelf and ultimately put back. This ultimately mimics how people shop online. Amazon's data that combines online shopping with brick and mortar shopping can be a huge advantage for the future of ad targeting.
While it is still possible to sell products on Amazon without using advertising, as Amazon and competition on Amazon grows, that might not always be the case. You should educate yourself about Amazon advertising so you will know how to increase your brand awareness on Amazon when your business begins to turn a profit. Amazon advertising is a good investment if you plan on growing your business online whether it be solely on Amazon, your own website or through social media.
Amazon Ads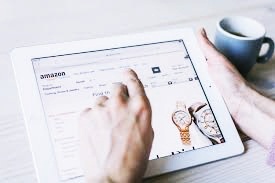 Amazon ads are shown as top results when you search by keyword. Ads are denoted by "sponsored by company x" at the top of the results page. This is similar to a Google search format.
In order for companies to gain awareness for their product and stand out in the crowd on Amazon, advertisers must bid on specific keywords. Winning bids on these keywords will increase an ad's rank and visibility. The advertiser is charged at the bid price when a potential customer clicks on their ad. Again, Amazon's ad platform is similar to that of Google AdWords.
Sponsored search post ads can also be placed on individual product pages when you are shopping on Amazon. They can appear on the right-hand side of the page or in a line of products underneath the product information on the individual product page.
Sponsored search post ads are just one of the ways how to advertise on Amazon.
It is recommended that if you are new to Amazon advertising to choose your most popular product that outsells all of your others online. Once you start to gain traction and get ROI back from your first ad, you can continue to tweak and place more ads for additional products.
You can also use Amazon ads to boost your organic rankings on Amazon.com. Successful keywords can help you gain ROI which in turn can increase your sales history. Amazon is all about sales, so if your sales history is strong, your product will start to climb up the search results. If the ads continue to improve your ranking, your product could end up on the first page of search results which will exponentially increase your product sales.
One of the unique features of Amazon ads is that since Amazon is technically a retail store that sells products, it also keeps track of your inventory. So, once you sell out of your product, Amazon stops running your ads.
Amazon automatically turns off your ads when your inventory is depleted; this is a very useful feature. You will not have to deal with people clicking on your ad and then being disappointed that the product is not available. And will also not have to pay for clicks that are not going to a saleable product. This helps you save time, money and the need for extra customer service.
Amazon Video Ads are also a popular offering that can play your ads with Amazon websites or on other Internet sites.
Amazon Media Group (AMG) can help you find "interest groups" and place ads on the sites that your potential customers frequent.
Once you place your first ad, we hope you will gain confidence to place several more. Amazon ads can help you get the word out about your product quickly and in turn help you increase your sales and build a sustainable business.
Related: Amazon Ads
Advertising Requirements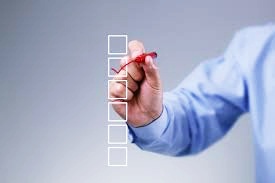 When thinking about how to advertise on Amazon, you should first be signed up in the seller or vendor portal. To sell on Amazon you will need to sign up for an individual plan or a professional plan.
The individual plan is for companies that plan on selling less than 40 items a month. There is not a monthly subscription fee, however you will pay $0.99 per item plus referral fees and variable closing fees.
The professional plan is for serious sellers that plan on selling more than 40 items per month. There is a $39.99 monthly subscription fee plus referral fees and variable closing fees.
Each plan is essentially the same. You will need to choose which plan is right for you based on your current selling rate.
Referral fees apply to several categories. Each of these categories have a per-item minimum referral fee.
When shipping sold items, there are two ways you can send the products to your customers. You can fulfill the orders yourself and use the money that Amazon collects from your customers to do so. You can also request that Amazon fulfills the order for you. If you choose this option, you will pay Amazon a fee for order fulfillment, storage and optional services.
It is difficult to become a first party seller on Amazon, as it is by invitation only. If you do not receive an invitation but would still like to be a vendor, try looking into the Vendor Express option.
If you use Amazon Seller Central, you are a third-party seller. This is a great option for independent online businesses are well as pro users that sell at a high volume.
How Much Does It Cost?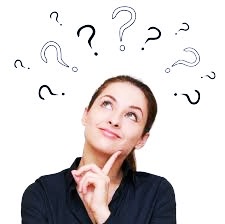 The PPC costs on Amazon are cheaper than those on Google AdWords or Bing and comparable to the lowest advertising costs on Facebook. With such a cost-effective way to advertise, it's a no-brainer to start experimenting with your best product lines.
Amazon Sponsored Ads: The minimum cost-per-click is 2 cents and $1 is the minimum you can spend per day.
Headline Search Ads: The minimum cost-per-click is 10 cents and $100 is the minimum you can spend for your campaign.
Amazon Product Display Ads: The minimum you can spend to create a product display ad campaign is $100.
Self-Serve Ads vs. Premium Ads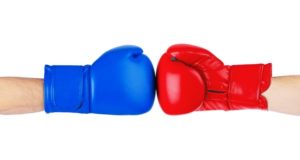 Once you venture onto Amazon's public advertising information webpages, you will see two choices, self-serve ads and premium ads.
Self-serve ads will show up on search and product pages on Amazon.com. If you want more flexibility and reach with your ads, consider investing in premium ads. A premium ad will have all the functions of self-serve ads with the added bonus of larger graphic sizes that show up on side bars. Premium ads can also appear on other websites based on your search history.
Types of Ads
Amazon provides you with different options when you are creating ads for your products. You can choose from sponsored product ads, headline search ads and product display ads.
Amazon Sponsored Ads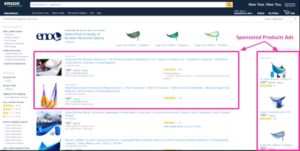 Amazon sponsored product ads are very common and are denoted by "Ad". You will find these sponsored product ads above or below your search results page. The sponsored products ads are relevant to what you are searching for and will often have high sales and good reviews.
The ads are keyword specific so you will be more likely to click on the product ad. As an advertiser you can choose a daily budget and campaign duration. This is great for controlling your marketing funds and you can even pause an ad campaign if needed.
Sponsored Product ads are the most expensive form of advertising on Amazon. However, they have larger targeting. You can use automatic or manual targeting for keywords. Sponsored Product ads are great for people who are already familiar with ads and are prepared to set a budget and research keywords. The minimum cost-per-click is 2 cents and $1 is the minimum you can spend per day.
Related: Amazon Sponsored Products
Amazon Headline Search Ads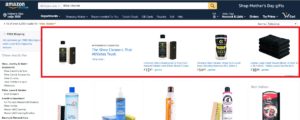 Headline search ads are always at the top of the page, as the name suggests. These ads are cost-per-click and once clicked will take you directly to the advertised product. Typically, you will see a fully branded page that is custom to the ad and provides the potential customer with more information on the company's product line.
Headline search ads can be placed on custom landing pages unlike other Amazon ad types. This is especially helpful for brand awareness since landing pages can include more information about your product and business. You can also pick all of your images and copy and advertise more than one product with the same ad. The minimum cost-per-click is 10 cents and $100 is the minimum you can spend for your campaign.
Related: Amazon Headline Search Ads
Amazon Product Display Ads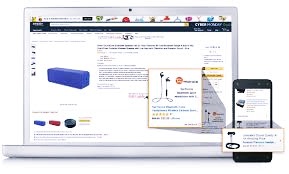 Headline search ads are keyword targeted and you are allowed to promote three or more products together. The ads have a minimum keyword bid of $0.10 and only have two keyword match options, exact and phrase match. You must have a budget of at least $100 to run a headline search ad but you can set them up 4 months in advance.
Amazon product display ads are different from sponsored product ads and headline search ads. Instead of using keywords to define ads, product display ads are interest or product targeted. These ads draw shoppers into a product detail page, and you will be charged for clicks, aka cost-per-click.
As an advertiser, you will choose similar products and interests to those of which you are selling. This helps target your products to interested and relevant shoppers.
These ads are more widespread showing up on the right-side bar or bottom of search results pages, customer review pages, on offer listings pages and in marketing emails direct from Amazon.
Product display ads also allow you to provide custom copy and images. You can target your ad by interest and select individual pages for your ad to appear on. You can even advertise directly on your competitor's product page. If you need to target potential customers who are comparing prices or brands, this is the ad type for you. The minimum you can spend to create a product display ad campaign is $100.
How to Advertise on Amazon: Creating Your Amazon Ads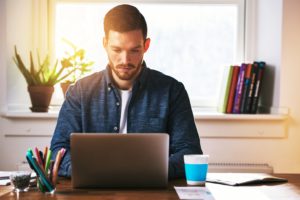 When creating a Sponsored Product ad, you will need to first sign into your Seller account. Look for the Advertising tab at the top of the screen and select "Campaign Manager" from the drop-down menu (it should be the first selection).
Once you are in the Campaign Manager, it will ask you to set up your campaign in regard to the name of your campaign, as well as budget and duration. This should not be a difficult step, but it is recommended that you think about how much you want to spend and how long you want to run your ad(s) before proceeding. If you are still unsure, it would be wise to seek advice from a friend or fellow businessman that has run ad campaigns before and can give you an idea on funds needed and a worthwhile duration for ROI.
You can also select from automatic targeting and manual targeting. Automatic targeting allows Amazon to pick the necessary keywords for you based on your product information. Manual targeting requires you to provide the keywords.
Manual targeting is more work on your part but it can also be beneficial as you are researching keywords online and keywords that your competitors are using. Being able to customize your keywords can help you stand out in the crowd and give ownership to A/B testing to see which keywords work best.
If you are overwhelmed by coming up with your keywords, use the automatic targeting feature first. See which keywords are working and copy those into a manual campaign. You can always add more of your own keywords and continue to test which keywords are performing the best. If keywords are underperforming, simply remove them from your ad and keep the high performing ones.
You will then need to enter in a budget for each keyword. If your daily budget is $50 and your keyword bid is $1, you will receive up to 50 clicks per day through your ad link. Setting a maximum budget will ensure that you do not overspend. It will also let you see if your keywords are working and if the ad needs to be tweaked to get more clicks. If you are consistently reaching your max budget, you can decide whether you want to increase your daily budget at that time. Usually it will depend on how many of those clicks are resulting in sales and if the ROI makes sense to increase your daily maximum click through rate.
When your budget is limited, you will not be able to afford the most popular keywords. That's ok. Do not spend money you do not have on keywords that big corporations are bidding up. Focus on keywords that you can afford. They will still bring ROI and you can keep your budget in check.
Once you have completed the above steps, just click save and finish. Your campaign is completed and you are ready to run that ad.
Related: Amazon Marketing Services 101
Optimize Your Ads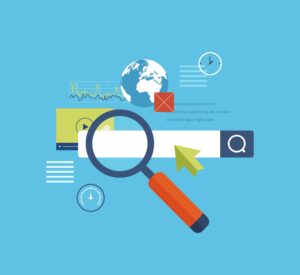 After you have chosen your preferred type of advertising, you will want to work on optimizing your ads. Taking the time to optimize will ensure your ad dollars are giving you adequate ROI.
Keep in mind that there is a lot of competition on Amazon. Getting your product to stand out is not easy and it will take some effort and money. If you follow these simple tips, you will get the most out of your Amazon marketing dollars.
First you will need to outline your ad campaigns. Start with a general category that describes your product and then create ad groups that are more defined. Once you have your category and ad groups, write out a list of keywords that go with your product. Try to stick to no more than 30 words per ad group. You will use the category, ad groups and keywords to make relevant ads.
Mastering the above skill can increase your ROI and save you advertising dollars. Although it will take some time to get your groups and keywords correct, it is worth the effort.
Ad copy is super important when creating your ads. You need copy that is concise and engaging. Inject some humor or come up with a creative way to say the mundane. If you are running a sale, make sure this is reflected in your copy. This can help potential customers click on your ad if they think that your sale is ending soon.
Along with engaging ad copy, you will want to make sure relevant details are added into the ad as well. Does your product's height, weight, or accessories make a difference or offer a benefit to your potential customers? Make sure your ad reflects this relevant copy so people who click on the ad know exactly what they are getting.
Research your competitors. What keywords are your competitors using? Even if you are a new or small company, you should be bidding on popular keywords that your competitors are using. Bid on name brands that people might search for when looking for a product like yours. If you are unsure which brands are the most popular on Amazon, do a general product categories search and see what results are at the top of the first page. These are the brands and keywords you should be consistently bidding on.
Try all of the ad formats to see which format is right for your product or business. A/B testing is critical when placing ads. While one format might work for your most popular product, another format might be better for a new product launch. Once you find out which type of ad is gaining you the most ROI, you can switch all of your advertising money to that format and get rid of the underperforming ads.
If you are still not seeing results, you will need to tweak your ad. Try changing the product price, photos, more engaging copy or even a new keyword.
Related: Simplifying Your Amazon Marketing Strategy
Amazon Reporting Tools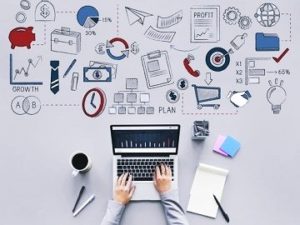 Amazon Marketing Services (AMS) is a specialized software that will keep track of your ad clicks, ad dollars and total amount earned. These are all key campaign metrics that can help you see what is working and what needs to be tweaked.
You can also track Average Cost of Sales (ACoS). This will help you calculate the total cost you are spending on advertising compared to the number of sales you are receiving. It is a great tool for calculating profits. You will also be able to determine if your product is priced correctly by the click-through and conversion rate.
Related: Our Favorite Amazon PPC Tool
How to Advertise on Amazon: Conclusion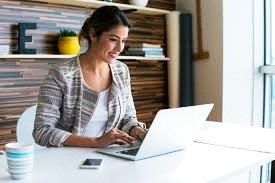 Bottom line, if you are selling a product on Amazon you should take advantage of the Amazon ad platform. Amazon wants to help you be successful and their ads do just that. After all, when you make money, Amazon makes money.
Amazon is an online marketplace with incredible visibility and even greater sales. When you advertise and market your product on Amazon, you are selling to people who are ready to buy. Most people who go to Amazon already have a product in mind they need to buy and they will choose the product that is highly promoted, has good ratings and is the best price. If you are selling a product that is in a competitive niche on Amazon, Amazon ads will help you improve your search rankings, increase brand awareness and ultimately increase your ROI and sales.
Spending more advertising dollars with Amazon makes more sense than spending your money with Google or social media sites. When people are on Google, they are researching. When people log on to social media they are catching up with friends, family and the current news. When people go to Amazon, they go there with the intention to shop. With the added benefit of Amazon prime, it has made online shopping just as easy as a trip to the mall, only with the convenience of not leaving your home.
Plus, your competitors are using Amazon advertising. If you want the chance to beat your competitors, start doing your research. Find out what keywords your competitors are using and start bidding against them. The more keywords you win, the more likely your product will be seen by potential customers. Any relevant keyword will exponentially increase your views over a traditional listing.
Amazon gives you full control over your ad campaign. Want to change a keyword? Revise your budget? Pause or restart a particular ad campaign? Amazon has the ability to let you optimize all of the above, whenever you want to.
You can also choose the type of ad campaign you want to run. Spend your ad dollars building brand awareness using Headline Search ads or create Product Display ads to edge out competitors.
Start creating a budget so that you can test your ads and see how much ROI you can receive. Whether you are a small or large online business, advertising on Amazon can dramatically increase your sales. Take some time to create engaging copy, use professional product photos and research those keywords. Once your ad is LIVE and traffic is increasing, you will be glad you took that first step. Once you have mastered your first ad, you will be surprised how easy it is to create several more and wonder why you waited so long to learn how to Advertise on amazon.