Email Funnel Blueprint | Building Out A Knock-Out Email Marketing Funnel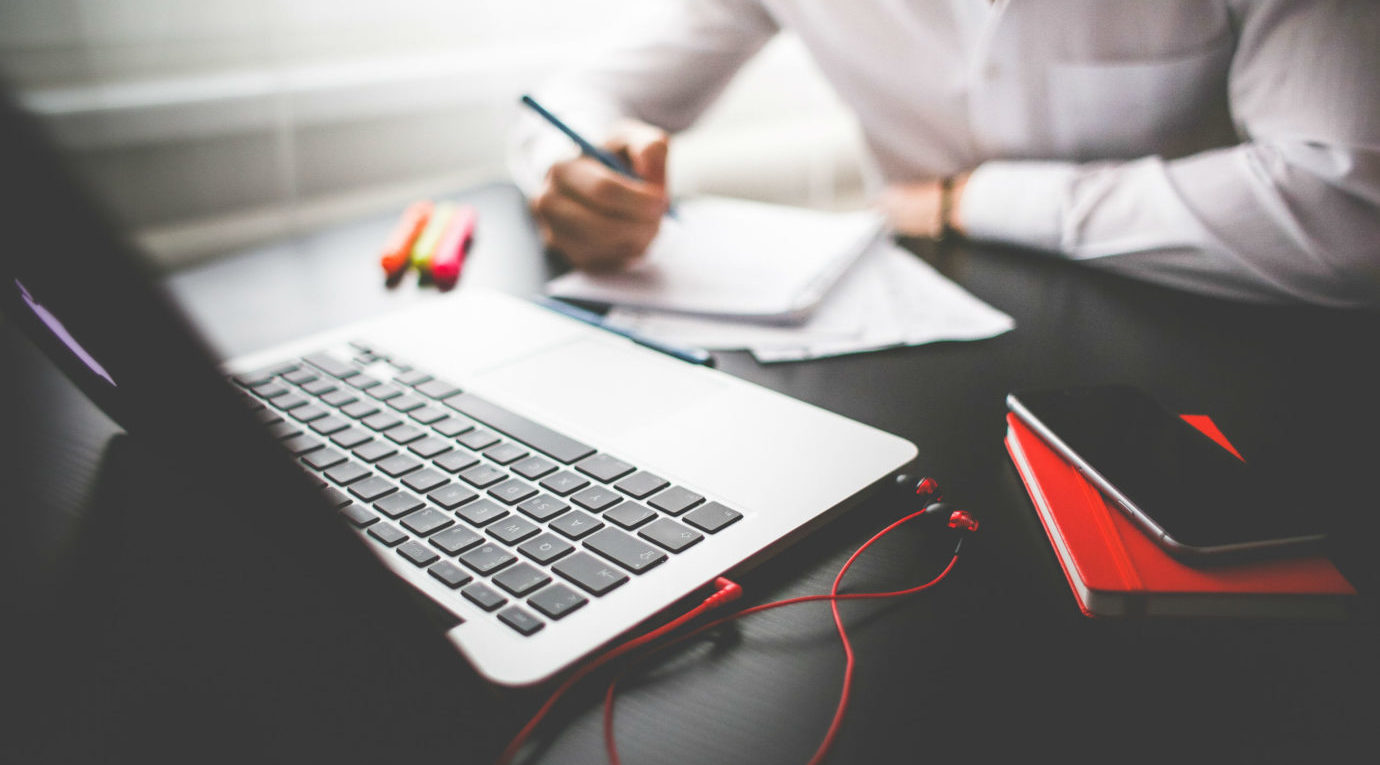 Have you ever heard of an email funnel? Chances are you have gotten so excited about a product you created that you meticulously crafted an e-mail to send to your subscribers. To your dismay, after spending all that time thinking your product would be the next big thing, your email blast was a big fail and didn't receive any traction or sales.
Just creating an email that is one big sales pitch is not enough. It is much easier to successfully recommend a product to a friend or family member than a stranger so stop treating your subscribers that way. You need to build relationship. Find targeted customers that share your same values and have similar problems that need solving.
Every email you send needs to resonate with the reader. It needs to answer the question "How does this make my [the subscriber's] life better?" The copy needs to educate in a way that inspires the reader to think proactively and promptly act on their new thinking. Focus on adding value to your customer's lives, and then think about sales. Your empathy will pay off.
Start your email marketing funnel blueprint. Once you have a subscriber list filled with genuine leads, you can implement a multi-email strategy that will secure a firm relationship with your readers. Once you create your sequenced emails, choose an automation platform that will do the work for you. When automation is setup you can create segments within your subscriber base to streamline sales. Finally, you can sit back and watch the process run itself. You will only need to do simple maintenance tweaks to keep the funnel running smoothly. These tweaks might be suggestions from your customers or editing your email copy to better communicate with your subscribers.
Are you ready to up your game and create the perfect email funnel? We are about to show you how easy it is to start a funnel that will increase your sales and improve the relationship between your business and your customer base.
What is an email funnel?
An email marketing funnel is a tool that is essential for growing a successful business. Whether you make products, provide services, sell other people's products (a.k.a. affiliate marketing) or have created an online course, an email funnel can be the difference between quitting your 9 to 5 and always treading water searching for new sales leads.
The goal of the funnel is to follow a blueprint that converts potential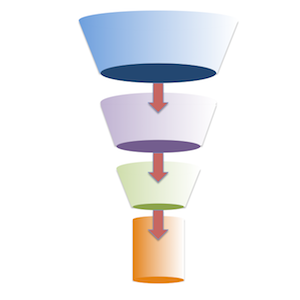 customers into repeat customers. The challenge is to perfect the blueprint by building a genuine list of subscribers, crafting emails that people want to open and click and automating the process. Once perfected, the funnel achieves a free advertising portal to customers who truly want your product or service. Therefore increasing sales and providing an ever growing email list that can also help you create passive income.
To perfect the email funnel, you'll need to optimize your email, A/B test what time you send out your email, and come up with catchy subject lines. The first key to creating a successful email funnel is getting your subscribers to open the email. This requires a lot of testing but is worth the time and effort.
You should be continuously improving your funnel to make the most money. Any kinks in your funnel can cause sales to drop. Paying a service to test your site or even recruiting a friend to complete a test conversion can be a huge asset. Taking the time to test your email marketing funnel and website can help you fix any issues before a large number of new subscribers are all unable to complete a sale.
Any issues that can cause a potential customer from being able to complete a sale, from broken links to payment processing delays, takes money out of your pocket. However, if you are proactive in managing your funnel, it will run smoothly and solidify the relationship between your company or brand and your subscribers, customers and repeat customers.
Related: Best Sales Funnel Software
Integrating an email funnel into your business plan can create an ongoing relationship between you and your customer. Instead of sending email after email trying to sell your product, you can simply take the time to explain your business in the first email. Then, over the course of the next couple of weeks use a series of pre-written emails to sell the product or service. By setting up this system, which can easily be automated (see below), you can garner genuine leads for a better conversion rate.
The benefits of an email funnel 
Email users are still on the rise with an estimated 2.9 billion by 2019. People still heavily rely on email as a main form of communication. When you think of online marketing, you might not think of email as the go to marketing strategy. After all, with the rise of social media, Facebook and Pay Per Click (PPC) ads are all the rage. However, email continues to be an accepted form of advertisement that people actually look forward to opening.
Email is a widely accepted form of communication for personal and business alike. We check email while we are commuting on public transportation, at lunch and even in the bathroom! Email has replaced the phone for preferred business communication. With 269 billion emails sent daily and the average office worker receiving 121 daily emails, it is clear that email is still relevant in our day to day lives.
Email is an easy way to generate income. Sending emails to a targeted list of subscribers can generate lots of income. Become a trusted brand and subscribers will flock to purchase your products, services and even goods that you merely recommend as an influencer.
Building an email subscriber list allows you the opportunity to earn passive income. Passive income is the money that everyone dreams about. Literally, making money while you sleep! The internet is open twenty-four hours a day, seven days a week, which means your business is always able to make money if you get your products and services in front of the right target audience.
An email funnel will help you get your content and sales opportunities to people who genuinely want to purchase your product or service. If you take the time to build a list of genuine subscribers and follow the funnel framework, you will be well on your way to generating some serious profits.
Building a list
The most important part of your email funnel is building a list. Without a list of subscribers or potential customers, there is no one to effectively market to. In fact, your list should be built long before your product is ready to be purchased. The quicker you can build a relationship with your potential customers, the easier it will be to implement this marketing strategy.
If you have created a website for your product or service, consider building a landing page for potential customers. A landing page is a simple webpage or pop up on your website that may contain your logo, information about your product or contact details. The purpose of a landing page is to collect the email addresses of interested leads. However, just a simple landing page is not often enough. Providing a freebie will entice people who may not know you personally or recognize your company to sign up for your list. Freebies include a digital product that educates your potential customer (often in the form of a one-page PDF), exclusive content or a discount for your product or service. Also try A/B testing your landing pages with different headlines, copy, colors and font sizes to optimize collecting the information you need to build a large email list.
Your website should also exude trust. Using a money back guarantee, Better Business Bureau logo or VeriSign logo is essential for helping your website look and feel trustworthy. The more professional your site looks, the easier it is to get a subscriber to convert to a buyer. Take the time to setup one or more of these trust seals to help boost the number of subscribers and in turn your sales. Using all three is even better. Having your guarantee, BBB logo and VeriSign all visible on the main page of your website is key. Also place the trust images on any landing pages and product pages so no matter what source your potential customer comes from, they will be able to see that your website is trustworthy and secure.
Once you have built a sizeable list, it is important to use the list wisely. Take care of your list and be sure not to spam the people who have taken the time to genuinely want to receive your updates. Not every email you send should include a product you are selling. You should also provide your potential customers with useful information in your niche they might not be able to find anywhere else. The information should be short and to the point. It should be highlighted so it is easy to read and easy to implement. The information should allow the reader to take action and solve a small problem or issue in order to save the reader time or money.
People rarely purchase a product the first time they see it. You must have an email funnel in place to capture customers and keep them engaged. If you currently make money from a social media channel like YouTube, for example, it is important that you still focus on building an audience via email. If YouTube were to shut down or no longer offer monetary value for your business, you could rely on your email list to still purchase products or services. Your email list would make up for the revenue lost from once profitable social media channels.
One dollar per subscriber is the minimum value for ANY mailing list. That means if you have one hundred subscribers, your list has a value of one hundred dollars or more a month.  Once your subscribers are established and you put in the time and effort to sell quality products and services to your email list, your profits continue to increase.
After your product is ready to market and you have built a solid list of subscribers, you are ready to implement an email marketing funnel blueprint.
Email marketing funnel blueprint
Now that you have a list of targeted customers, it's time to start building your email marketing funnel. The funnel consists of a series of emails that both educate and entice the reader to take action. The intent is that action will be to purchase your products or services and tell others about your amazing emails.
The email marketing funnel blueprint contains a series of emails that follow a specific sequence depending on what type of customer you are trying to sell to. The type of product or service and the cost of the product or service can be a determining factor in the content, length and number of emails you will need to create for your funnel. It is important to get to know your customer to determine how many emails it will take to get them to spend their money on your product or service. The email concepts below detail a simple blueprint to follow in order to build a successful funnel.
Email #1:
What is your product? Why does it stand out among its competitors? What information can you share in the email that will make the potential customer think and learn something new? The most important thing you can do with the first email is to provide information that will benefit your potential customer's life in some way. This will entice the potential customer to receive more emails from you and establish your credibility in both product and relationship.
The first email should end with some form of consideration. It should leave the customer wanting more.
Email #2:
The second email should offer background about how your product solves a problem.
Educate your subscriber about the problem at hand, why you created the product or service and how it changed your life (and the lives of others if you already have testimonials).
Offer a free teaser such as a video tutorial, webinar, or live q&a about your product. It doesn't matter what you provide, just make sure that it connects your potential customer to desire the product or service you are promoting.
Email #3:
Just when your customer is teetering on the edge of buying or not buying, you will need to hit them with a strong one-two punch of good old fashioned deals. Offer a discount, a two for one deal, free shipping or throw in extra products. You might have to experiment with what works the best. It is also important to set a deadline for the purchase. Urgent copy is a good tactic for sale conversions. Maybe the sale price is only for forty-eight hours or you only have fifteen products left. This is a good time to make sure your website is clean and free of errors. The last thing you need is your website to bug out when a new customer is trying to make their first purchase.
If a new customer purchases after email #3, this is a good time to segment them into a new list noting that they are a quick buyer and would be ideal for future purchases. They would also be a good candidate for supplying feedback about the product or service.
Do not forget to thank the customer for their purchase, but don't try to sell them something else in your thank you note. You will have plenty of time to pitch to them after they have received their first product.
A paying customer is to be celebrated. It is important not to take them for granted. If they have purchased an online course from you, offer them a follow up webinar or allow them to email you with questions after viewing the online course. Adding a personalized touch to this email will make the customer feel at ease after purchasing your product and more comfortable when it's time to purchase the next.
Email #4
If a subscriber does not purchase your product from the copy in the third email then send a forth stressing that the product is only available for a limited amount of time and may not be available again. Offer them a deep discount or exclusive bonuses that are also only available for a limited time.
More than likely if you product is of interest to the potential customer, you will win them over by offering a discount that makes the product more affordable and less of a risk. Providing bonuses may trigger a solution to another problem that the subscriber is facing and can also lead to a sale. Some people need prompting to purchase. Letting these subscribers know you will only be offering your product or service for a very limited amount of time can help the product or service seem more exclusive.
Subsequent Emails
If your subscribers have still not purchased your product or service, you will need to add additional emails to your email marketing funnel. Emails that engage the reader and stress the importance of your product or service that will fix their problem; make their life easier, etc. Keep in mind if you are selling a twenty dollar product, less emails should be needed since the cost is affordable to a large demographic. If you are selling a thousand dollar product you will need more emails to convince your email subscriber to spend their hard earned money on your breakthrough product. The more expensive your product or service is, the more trust and authority you will need to foster to increase your sales.
Being aware of who your target customer is can also help you determine how long or short to make your emails, the number of emails you need to make a sale, what you need to talk about to engage your target customer and how to structure your emails to get the greatest response.
If you are constantly adding emails to your funnel, you might want to take a look at your emails and determine whether or not they could use a copy edit, or maybe a fresh subject line. If your copy is dry and doesn't engage the reader, it does not matter how amazing your product is. Your email funnel needs to be periodically tweaked to get your potential customers purchasing quicker.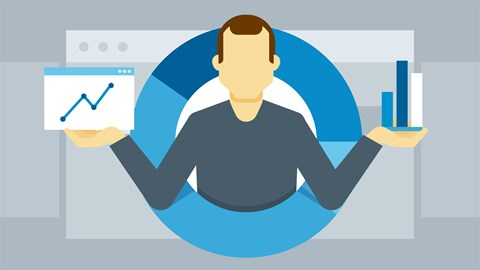 The new business of relationship 
The old school way of business created a funnel that essentially required you to keep filling the funnel with new leads since only a small percentage of those leads made a purchase. Since the funnel ended after a customer made a purchase, the funnel had to be continuously filled with new leads. This created a problem for selling your product or service when leads dried up or when your current customers had fulfilled their need and no longer needed your product. Concentrating on always finding new leads is a distraction from your business. It can also be taxing on the morale of the sales team.
The new email marketing funnel strategy relies on forming a relationship with the customer or better known as customer retention. When you put time into retaining your best customers, you will gain important feedback about your product or service. This information can be applied to your current product, next product, etc. to not only gain new customers but keep your current customers coming back for more.
Related: Clickfunnels vs. Leadpages
The more your current customers purchase, the less cold leads you need to search for in order to make more profit. Keeping your current customers happy can create a lot of free buzz. If they are happy with your product or service and feel like you are listening to their input, they will in turn tell all of their friends about your product. This type of marketing is the best free advertising you can get.
It is important to keep your content fresh in order to keep your subscribers. Offer freebie info. guides for signing up for your newsletter and continue to offer free content tips monthly to keep your subscribers engaged and begging for more. When choosing products, services or affiliate products, make sure they align with the free content you are offering. The better your sales opportunities align with your content, the more likely you will get quick sales and repeat sales. Staying in your niche will be more likely to fulfill the needs of your subscribers and help them to better their lives. If your products work for your customers, they are more likely to purchase additional products that will solve more of their problems.
Once a firm relationship with your customers has been fostered, you can rest assured that your readers will stay subscribed. In order to sustain customer retention, it is imperative that you automate your email funnel. If you try to manually email your current subscribers new content while emailing new subscribers the initial information about your company, you will fall behind. Not to mention forgetting who got what email and spending half your day just trying to keep up.
Lucky for you, there are several platforms that can help you automate your funnel for little to no cost.
Automation is the key to consistency 
Choosing a program that can automate your marketing emails is crucial to success. It is impossible to keep up with manually sending leads and an email every time your subscribers sign up for your newsletter or make a purchase. The automation process takes every new subscriber through your sequenced emails at their own pace. Once set up, whatever needs your customer has, the email automation will take them through their personalized journey. Maybe one person stays on track to only receive your free content, while another purchases the most affordable product and then continues to purchase additional up sells.
The brilliance behind automation is that once you take the time to correctly set it up, there are only very minor tweaks to maintenance. You can spend your time networking more products or crafting a blog post. Every time someone new finds your brand, the email automation is already setup and ready to sell to them. It's like having a virtual assistant for every new person you meet.
One of the best things about email is you can track its every move. You can learn which subscribers open the email, click on links in your email and even the subscribers that become customers and purchase a product or service from you.
Automation can save you time and frustration by documenting everything you need to know about your email list including demographics, purchases, and clicks. Popular automation platforms include Constant Contact, Drip, seva (formally ConvertKit), AWeber and Mail Chimp. All of these platforms include various email automation features for small to large businesses.
Use as much information as you can to segment your email marketing funnel. Segment your list by geographic location to send your email at the same time for every time zone. Set your list by life stage if you are selling products for multiple age groups. Segment your list by behavior if you want to sell faster to people who consistently click on the links in your emails.
If your automation program doesn't track specific statistics like the above, simply ask for that information when they opt in to receive your emails. The better segmentation you can achieve, the more personalized the emails will become to your subscribers. This creates amazing ROI and can help you achieve your business goals. 
Conclusion
Are you ready to create your email funnel? The quicker you put in the initial work to build your funnel, the faster you will gain more profit. Turn your customers into lifelong fans by building a relationship that will last for years to come.
Infuse your personality into all your emails. Using a personal story or sharing why you are promoting your product or service can go a long way. The more personality you can convey, the more interesting you will be and the more your subscribers will crave receiving your next email. People are emotional buyers. Use your story to help potential buyers relate to your situation. Share personal pictures that relate to the product or service to stress to your subscribers that you had the problem too but now it's fixed thanks to your product. Your subscribers will appreciate your vulnerability and know they are buying from a real person.
It is important to understand where your customers are coming from. How can your product help make the majority of your customers' lives better?  Once you have a fan on your hands, it's important to reward that devoted customer with incentives and praise to keep them coming back for more. This is the customer that will write a glowing review for you or tell all their friends on social media about your product, so treat this customer with respect. You will be reaping the rewards for years to come.
Continue to edit and tweak your email marketing funnel after each test. It may take a little time to get your funnel working smoothly but with automation you will have the time to continuously improve your funnel without sacrificing time to grow your social media and fulfill orders.
Also work on improving the value of your discount strategies and free bonuses. Competition can be fierce for certain niches so you will want to stay abreast of changing technology and keep your information current and accurate.
By segmenting a targeted email list, creating an engaging email sequence and choosing an automation platform, you are well on your way to building a successful email funnel that will be earning you income in no time!
Disclosure: I am an independent ClickFunnels Affiliate, not an employee. I receive referral payments from ClickFunnels . The opinions expressed here are my own and are not official statements of ClickFunnels or its parent company, Etison LLC.