How to Delete a Funnel in Clickfunnels [STEP-BY-STEP GUIDE]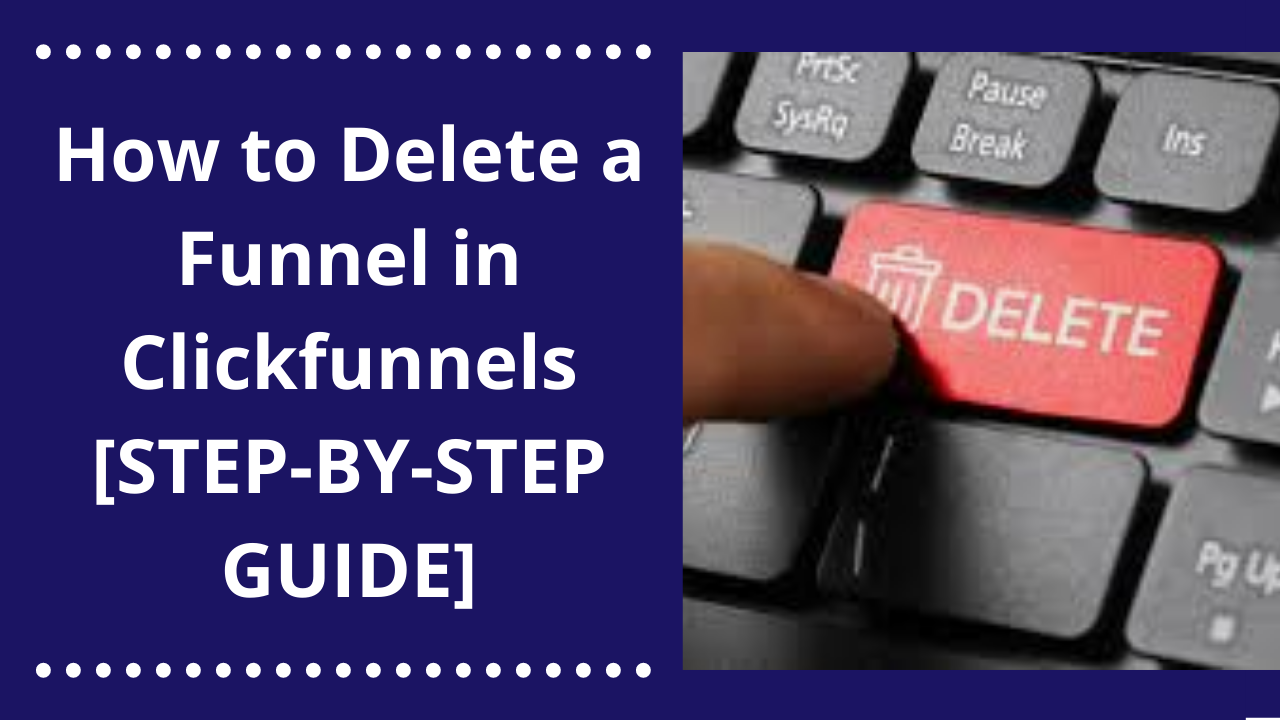 If you know how to navigate ClickFunnels, there's a good chance you won't find it difficult to delete a funnel. To delete a funnel or a set of landing pages using your ClickFunnels account is a fairly easy process that will not take up a lot of your time. This article is all you need to know about clickfunnels how to delete a funnel.
Before we begin…
Let us first learn a bit about ClickFunnels.
Introduction to ClickFunnels
ClickFunnels is a digital marketing software which accomplishes the following goals:
Build good quality landing pages to sell your products, services, or attain information about potential buyers.
Send follow up emails, gift cards, vouchers, and notifications to potential customers.
And here's the most important reason why sellers love using ClickFunnels:
It allows you to take your customers through a step by step process to ensure a mutually beneficial and healthy relationship with your customers that will increase the value and size of your orders.
What Do You Know about a Sales Funnel?
A sales funnel is a multiple-step marketing process. Also called marketing funnels, or conversion funnels, a sales funnel is used in a marketing campaign to make a sale. It breaks the journey of sales and marketing into multiple steps and makes the offer you present to your clientele more precise.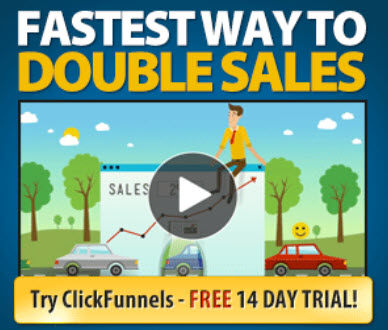 In simpler words, a sales funnel is a series of offers made to customers to eventually increase purchase value and size.
ClickFunnels is an online platform that allows you to build sales funnels to expand your business market, sell your products and services, and deliver them to your customers online. This makes marketing simpler and easier, allows you to sell and deliver orders larger in size and monetary value, and helps you find opportunities that could benefit your business in the long run and help retain customers.
A Brief Guide on Building Your First Online Sales Funnel
Building sales funnels has proven to be a remarkable sales strategy and more sellers are adopting this method to grow their business.
Here's your guide on how to create your first online sales funnel:
The first step is to create a kick-ass landing page.
To start off, present a front-end offer to potential buyers and customers.
Now, to increase order size, present your customers an upsell offer.
In case the customers do not like the upsell offer, offer them a downsell option to return to their previous package.
Build up the momentum and keep it going to establish a successful online market.
Common Misconceptions about ClickFunnels
While ClickFunnels definitely allows your business more opportunities, most people mistake it for a magic potion and fail to supply it with their own diligence, hard work, and implementation of proper sales techniques. Here are a few misconceptions about ClickFunnels.
ClickFunnels was initially designed to create actively converting landing pages. While you may be able to build a website using ClickFunnels, you must know that they are not one or the same. A website builds your presence on the Internet while a landing page helps focus customers' attention on the online sales process.
ClickFunnels is a software tool that helps grow your business by increasing traffic, sales, and utilization of online sales techniques for business owners who are not tech savvy and have commendable marketing skills.
Can You Delete a Funnel in ClickFunnels?
There is not exactly a delete function that will put away an unwanted sales funnel. On the other hand, ClickFunnels gives you the option to "Archive" landing pages or funnels.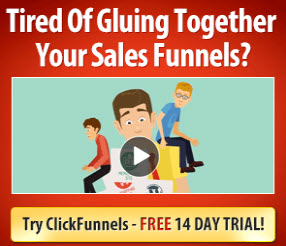 What archiving a funnel will do is remove the undesired funnels from your main list and put it into the archive section. Now the funnel will not show up on the main list, but will always be available for you to restore quickly and begin working with again.
So, let us begin with the step by step guide on how to delete a funnel in ClickFunnels.
Step No. 1 – Login to Your ClickFunnels Account
Visit the official ClickFunnels site.
On the top right corner, you will find a Member Login tab. Click that tab. It will redirect you to the ClickFunnels login page.
Enter your email address and password to login to your ClickFunnels account.
Step No. 2 – Find the Funnel You Want to Delete
Once you have logged into your account, you will be directed to the ClickFunnels dashboard.
Click on the ClickFunnels tab to go to the funnel page.
The next step is to locate the funnel you want to delete on the funnel page.
Step No. 3 – Click Archive Funnel
Go to your list of active funnels and choose the one you want to delete.
Now click on the Settings tab on the upper right corner of the screen.
Scroll to the bottom of the page and click Archive Funnel.
Give it a few minutes, and the selected funnel will disappear from your list of active funnels.
Step No. 4 – Check If the Funnel is Deleted
To check if the funnel is deleted or not, go back to the Funnel page and scroll through your active funnel list.
You can also access the Archived tab to see if the funnel is in the archive.
If you change your mind, click restore to get the funnel back in your list of active funnels.
See? We told you it was super easy to delete a funnel in your ClickFunnels account. Anytime you wish to have the deleted/archived funnel back in the list of your active funnels, you can restore and begin working with it again.We hope this was a helpful read for you, and now you know exactly how to delete an active funnel using your ClickFunnels account. If you haven't yet tried ClickFunnels, you can start your free 14-day trial to start building your first funnel today! ClickFunnels allows you a 14 day trial period without any obligations, contracts, and you can cancel any time. It gives you the perfect opportunity to market, sell, and deliver your products online.
Disclosure: I am an independent ClickFunnels Affiliate, not an employee. I receive referral payments from ClickFunnels . The opinions expressed here are my own and are not official statements of ClickFunnels or its parent company, Etison LLC.