Creating A Sales Funnel | Everything You Need To Know To Create A Great Funnel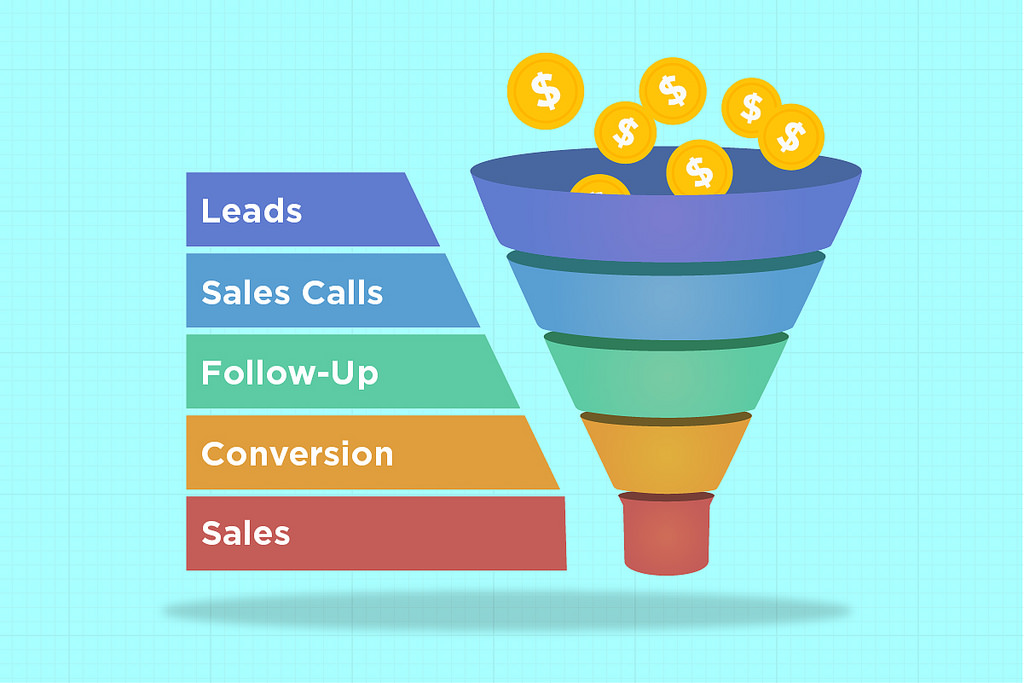 Have you crafted an irresistible product or service, but lack sales conversions? Creating a sales funnel could help. You have created a call-to-action and have even invested in professional pictures or videos, but your landing page is still amiss. If you feel like you have done everything right and are still struggling to produce sales, you are not alone.
Online business owners often have a hard time keeping up with social media and creating relevant content that leaves their customers wanting more.
Nearly 30 years ago, you could get away with sending out a direct mail piece or placing an ad on the radio or in the newspaper. Running an online business in today's market is a bit more complicated. With the rise of the Internet and social media, people have access to information overload. This has led to increased competition for businesses selling products or services.
Unfortunately, most companies are forced to reduce their pricing to outdo their competition. While this may work in the short term, in the long term it leads to reduced profits and a severed reputation as an industry leading business.
In order to combat the competition in today's market, it is crucial to have an online presence and build a sizeable email subscriber list. Even if social media is no longer a viable way to reach your customers, you will still be able to reach them directly with a simple email. And in this simple email, you can employ several forms of modern marketing including links to podcasts, webinars or even invites to an event you will be attending.
Top Related: Salesfunnel Examples
Once you have a candid audience, you will need to educate yourself on the must-haves for an online business. If you have several email subscribers and nothing to sell to them, your business will not be sustainable. Build a website, be active on social media, and start creating a sales funnel that will generate passive income for you repeatedly. Once you have all the steps down, you can repeat the steps over and over again for unlimited income potential.
Have a dream of traveling the world? Want to leave the 9-5? All of that is possible if you can correctly set up and maintain an online business.
Creating a Sales Funnel
If you are reading this article, more than likely you are curious about sales funnels and have no clue where to start. If you have a new online business you are probably knee deep in the massive amount of information that seems to change every day.
A sales funnel is a marketing strategy. It is a way for your potential customers to build a relationship with you and more importantly, a way for your customers to buy your product and service. A sales funnel can help nurture your leads, help you decide who is ready to buy and who is not relevant to your current business model.
A successful sales funnel turns leads and potential customers into lifelong readers and purchasers of your product or service.
There are essentially four steps to a creating a sales funnel: awareness, interest, desire and action.
People need to know your online business exists and what products or services you have for sale. You will need to create a website, blog, or social media account(s) to have the opportunity to be seen online. The more presence you have online, the easier it will be for new visitors to find you. The more ways you can point people in the direction of your sales funnel, the easier it will be to make sales and increase your profits.
Professionally created ads are essential for getting people to click and visit your website and landing pages. If no one clicks on your ads, you will not receive traffic. Without website traffic, your business will be short-lived. You need to quickly become a trusted authority for your business niche. Generating interest will help you determine how popular your product or service is as well as how you can improve it.
Once you get people's interest, you will need to nurture their desire for your product. If people click and there is nothing on your website or your website is still under construction, it can be damaging for your business. Make sure to have all of your initial content ready before launching. In order to get sales, people need to trust that your business is legitimate and is not a fly-by-night operation. Generate continued desire buy regularly posting and being available on social media.
The most important part of creating a sales funnel is to include a clear call-to-action. If you have awesome text and graphics but nowhere for people to request more information or buy the product you are selling, your landing page will be unsuccessful. Always include multiple links to a single call-to-action that takes the visitor through your multi-page funnel. This is also important for initial opt-in offers.
Online Presence
The first step in creating a sales funnel is getting your business visible on the internet. You cannot sell your product or service if no one knows about it.
In order to gain an online presence, you will need to start with a professional website. Your website should look credible and make people comfortable purchasing your products or services. It should have a clear and concise About Page and current contact information.
Most websites are created using WordPress. The website platform has a free and paid version that come with a lot of features including compatible themes, plug-ins, and more. WordPress features will help you easily modify your designs and automate many tasks that can eat up your time. Once automated, you can use that time to create more landing pages, answer emails, or converse on social media.
Once you have a website designed, consider adding professional photography and video. Having aesthetically pleasing visuals will help you stand out from the crowd. They can also add a personal touch to your landing pages. People love to hear the story about how you started your online business. The more vulnerable you can be, the easier it will be to connect to your growing audience.
Once you are happy with your website, you will need to join a few social media platforms. While it is not advised to try to grow all social media platforms at once, it is advised to sign up for all the platforms with your business name in case you want to start using that platform in the future (or that platform becomes more popular in the future).
Related Post: Clickfunnels Examples
Depending on what social platform you find easy to use or which social media is most relevant to your business, you should start with that one first. Examples of popular social media include Facebook, Twitter, Instagram, and Pinterest. You can also join popular video platforms such as YouTube and SnapChat.
It is important not to spend too much time on social media. Although growing a following can provide many benefits such as sponsorship opportunities and an increase in website traffic, social media can quickly take up all the time you could be spending improving your sales funnel and generating more income.
Other ways to grow your audience including writing a blog that is relevant to your landing pages, providing webinars as a way to deepen relationships within your community, and starting a Facebook group for exclusive access to your best content.
Identify Your Target Audience
Once your business has an online presence, you will want to begin to identify your target customer. Provide that potential customer with an incentive to join your email list. If they are part of your email list, they will only be an email away when you want to launch a new product, have a sale, or simply poll them for ideas on how to make your business better and more successful.
See Also: Clickfunnels Alternatives
Take a look at your customer demographics. What does your target market look like? Are they similar in age, gender, location, etc.? This information will help you narrow down the type of content you need to produce to turn new visitors into profitable conversions.
Once you find your core demographic, you can tailor your content to those specific groups. You will also be able to contact cold leads about your products or services. It will also be easier to identify possible customers on social media platforms.
Fix the Leaks
As your website gains traffic, your email list should grow as well. If you are receiving lots of website visitors but very little people are joining your email list, grabbing your opt-in freebie, or buying one of your products, you are experiencing leaks.
These leaks can stop a business from growing. If you are experiencing a low turn-out and not retaining your website visitors, you will want to do some investigating on why this is happening.
Leaks can happen for several reasons. There can be technical errors that people experience when signing up for your email list, a broken link to a critical landing page, or even a disconnect in your copywriting that leaves the viewer confused.
Once you find a way to fix these leaks, you will be able to turn a website visitor into a potential customer. A successful sales funnel turns a potential customer into a repeat customer. Using the power of technology and social media, you can easily lead nurture and retain your customers.
Listen to Your Customers
In order to cultivate your target audience, it is important that you do a little research. What are your competitors doing that is winning over customers? What improvements can you make that will help you outperform your competitors? Is there a product or service that meets the needs of readers and can improve their overall lifestyle?
By listening to the needs of your customers, you can start providing for their needs and stop guessing on what products and services to release. If you lead with a customer-first attitude, growing your email list and customer base will come naturally.
Once you begin to accumulate the needs of your customers, you can formulate a plan to drive content to them directly. Part of a successful sales funnel is continually helping your customers solve their biggest problems. If you do not know what those issues are, you will have a hard time building trust and establishing yourself as a leader in your chosen industry.
With every layer of your funnel, you will need to know who your customer is and what their current needs are. This is the only way that your funnel will make sense to the reader and continue to provide appropriate sales opportunities.
Although you may think it is as easy as solving your customer's biggest issue, this is not always the case. If the only content you provide is a detailed fix, your customer may absorb that information, use it, and never come back again. It is important to mix your expertise with more intimate stories such as an embarrassing story, how you felt going through the same situation, or upcoming events that may be of interest to your audience.
Relevant Writing is Key
It is important to connect with your customers are every stage of the sales funnel process. You will need to know what your customers need and are willing to buy. At every stage of the funnel, people are looking for something different.
One of the most underutilized forms of communication is a beginner's guide that helps your customers start from square one. The simpler the better. A wide range of people are looking for professional starter information that can help them save time, money, or even switch careers.
If you are interested in a long-term customer base, a loyalty program will entice those who struggle to commit. You could also offer free upgrades or a software that works alongside your main sale.
Referral programs are also a valid source of new business. If the referrer and the referee both get something from your online business for helping you out, the referral process can multiply like wild fire. It is critical that the person referring you is having a positive and rewarding experience with your product or service. It does not hurt that you continue to reward them for telling their friends about you. Providing them with a monetary incentive is ideal but not always necessary. Rewards relating to your product or service work as well.
But telling their friends and family is not enough. The people they are singing your praises have to benefit in some way as well. A strong welcome offer such as a discount or account credit is perfect for securing a targeted potential customer.
If after applying simplified content and loyalty and referral programs you are still not getting a good conversion rate, you need to take a look at your content writing. Price is usually the biggest issue for the lack of sales. Instead of changing your pricing and not getting the money you want and deserve, you will need to revisit your writing.
Your writing must convey the value you are requesting.  While your intro offer in your sales funnel might not require a lot of content to get your customer to convert, sales opportunities deeper in the funnel will. The more money you request, the deeper the relationship and level of trust that is required.
Types of Sales Funnels
If you are still unsure of how to create a sales funnel, you have a few options that have proven to be successful. You can build a tripwire, webinar, or high-ticket.
A tripwire is generally an offer that your potential customers cannot refuse. Low in dollar and high in value, you can offer digital products or even physical products like books or DVDs for only the cost of shipping. This is a great way to get more email subscribers so you can offer higher values offers to a larger list in the future.
By gathering emails and even credit card information in low dollar tripwires, you can use this information to offer visitors upsells on the same order that are also affordable and enticing. Now the free book you are giving away has gained you an email and possibly even a upsell. This is highly effective for new online businesses who do not have a large budget for marketing. Plus, upsells can pay for the freebies that you offer.
Webinars are a popular sales funnel option for businesses that are established and have a decent following. A webinar is usually half educational information and half sales pitch. By enticing your readers with positive and inspiring information that can change their life, you can end by offering a paid course that lays out all the details. The webinar can be live or pre-recorded and depending on your charisma and value of education, can bring in thousands of dollars per guest.
Once you have repeat customers, you can continue to build sales funnels that go deeper and ask the customer for more money. If your content has significant value, the sky is the limit.
If you have mastered the tripwire and the webinar funnel, try implementing a high-ticket funnel. High-ticket can include exclusive memberships and one-on-one consultations. Customers who have trust in you and have purchased multiple products from you will jump at the chance to talk with you on the phone or on Skype. This allows them the opportunity to get expert help and allows you the opportunity to share your business expertise and change someone's life.
If you are able to implement the above sales funnels, you have successfully created a brand and are considered an influencer. Your writing, photos, and videos engage visitors to the point they will freely give you their email address, credit card information, and even their hard-earned cash.
However, sometimes sales funnels do not work and when you are so invested it is hard to know why. This can happen to all online business owners, and it is important to note that it does not mean your product or service is not worth putting on the market. It may just mean you need to rework your sales funnel and re-listen to your audience to make sure what you are conveying is what is most profitable for their needs.
Sales Funnel Testing
So, you have established an online presence, listened to your customers, and set up your initial sales funnel. Now it's time to see if this thing works.
Testing requires you to look more at the end of your sales funnel where the final sale is present and less on the start of the funnel where you are concentrating on targeted leads.
In order to test your sales funnel, you will need to clean house a bit. Look at your lead pages. Which ones are high performing and which ones need to be set aside? Often, your pages that need re-working have poor traffic, a conversational disconnect, tech issues that prevent visitors from completing a sale, or a freebie that is just not worth opting-in for.
By testing your best performing pages, you can focus on the content that your subscribers are interested in. You will also be able to accelerate your profits by moving your leads through your funnel faster.
Before testing your selected pages, you will need to have personal goals in place. How much do you want to improve your conversion rates?
A great free online program to track your visitors is Google Analytics. Google Analytics not only tracks your visitors but also gives you critical information about them including their traffic source, the browser they use, and even how long they stayed on your website.
It is easy to sign up and plug-ins are available for online platforms such as WordPress. Google Analytics provides a unique tracking code for the pages you want to analyze.
My Sales Funnel Isn't Working
If your sales funnel is not generating sales, then it is not working, and you should rework the funnel after testing it for a short period of time. If building sales funnels is not the part of your business you enjoy, or you just feel it is too complicated to execute, that's OK. Not everyone who starts an online business will be excellent at creating a sales funnel.
You have two options at this point. Hire someone who has proven that they can build successful funnels to mentor and critique your current funnel(s) or model your sales funnel after your top competitor.
Once you have identified your competitors, choose a sales funnel that makes you want to buy their product. Takes notes and screenshots of your competitors' successful sales funnels from start to finish. Do not copy their funnel, but model your funnel in the same sequence as theirs by taking note of the number of images, video, and copy they use. Highlight the areas that grab your attention, and see if the pricing structure is similar to yours.
You can even run ads on the same websites as your competitors. It is fairly easily to google who their best traffic sources are. Purchasing ads on these websites will ensure you are spending money wisely and will also help you learn what it takes to beat competitive websites.
Retargeting or remarketing ads is also a viable option for improving your traffic. Once a person visits your website and then closes the tab, you are likely to lose the sale. With retargeting ads, a cookie is placed using JavaScript to track down your visitors and display your ad on whatever page they land on when they begin surfing the Internet after visiting your website.
Retargeting is highly effective since only 2% of your audience statistically will buy on the first visit. It is important that you only use your best ads for this method. For remarketing to work, you must have an offer that visitors who were only on your website for a very limited amount of time will remember you by that provides incentive to revisit your website.
Before spending part of your budget on retargeting, spend some time segmenting your customers so you can target the right people and match them to relevant product lines. It is important to note that retargeting does not initially bring more people to your site, but it does improve conversions.
Segment Your Customer Base
Once you master your target audience, you will be able to place your audience in different sales funnels depending on their interests and buying pattern. Segmenting your list helps you increase sales and build a more personalized relationship with your customers.
The different segments you create allow you to build a deeper understanding of the people who are interested in your products and purchase on a regular basis. If you provide your customer with a product or service under 50 dollars and your customer buys, you can now put them in a segment that will potentially buy a more expensive product or service. This creates a deeper funnel, a funnel that is built on only people who purchase your products.
If you have a list of people who are ready to purchase your products, it will be easy to sell directly to them and make sales on a consistent basis. These customers are no longer leads but people who are interested and engaged in your online business.
You can also segment a list for people who opt-in for a freebie. Providing different landing pages with different freebies can help you understand what issues your customers are facing and help you hone in on the products that you need to create.
An easy way to automate this process is to use software like Hubspot or Infusionsoft. You can easily automate your email subscriber list by basing the automated emails they receive on the likelihood of them buying.
Conclusion
If your sales are lackluster and you are looking for a way to improve your online presence, you will need to create a sales funnel. A properly built sales funnel will provide you with repeat customers, an interactive audience, and a sustainable income.
Always consider that a sales funnel is an ongoing process that needs to be continually monitored and tweaked. The internet and social media are always evolving, and your sales funnel should reflect these changes. What issues your customers have today might not be the same ones they have in a couple of months or a year.
Consult your customers and your employees on how your online business can run smoothly and more effectively. Frequently evaluate emails and feedback for ways you can improve and expand your knowledge base or product line. Ask your biggest fans to provide you with testimonials to help your business gain trust and notability.
Always try to better the experience and exceed expectations for your customer. If you want customers to buy from your repeatedly, you will need to change it up. It is impossible to get repeat sales if you do not update your information, so it is current and sellable. Reward repeat customers by offering access to exclusive content or sales.
A sales funnel is a necessary online tool for your business and should be properly cared for. By building sales funnels, you do not have to resort to selling your product or service for the lowest price. Once you have mastered how to create a sales funnel, you can acquire customers 24/7, increase your pricing as you become more established, and secure a passive income that will allow you to follow your dreams.
Ready to give sales funnels a try?  Get your free 14 day trial of Clickfunnels here!
Disclosure: I am an independent ClickFunnels Affiliate, not an employee. I receive referral payments from ClickFunnels . The opinions expressed here are my own and are not official statements of ClickFunnels or its parent company, Etison LLC.