ClickFunnels vs Leadpages | Comparing Two Giants in The Funnel Building Industry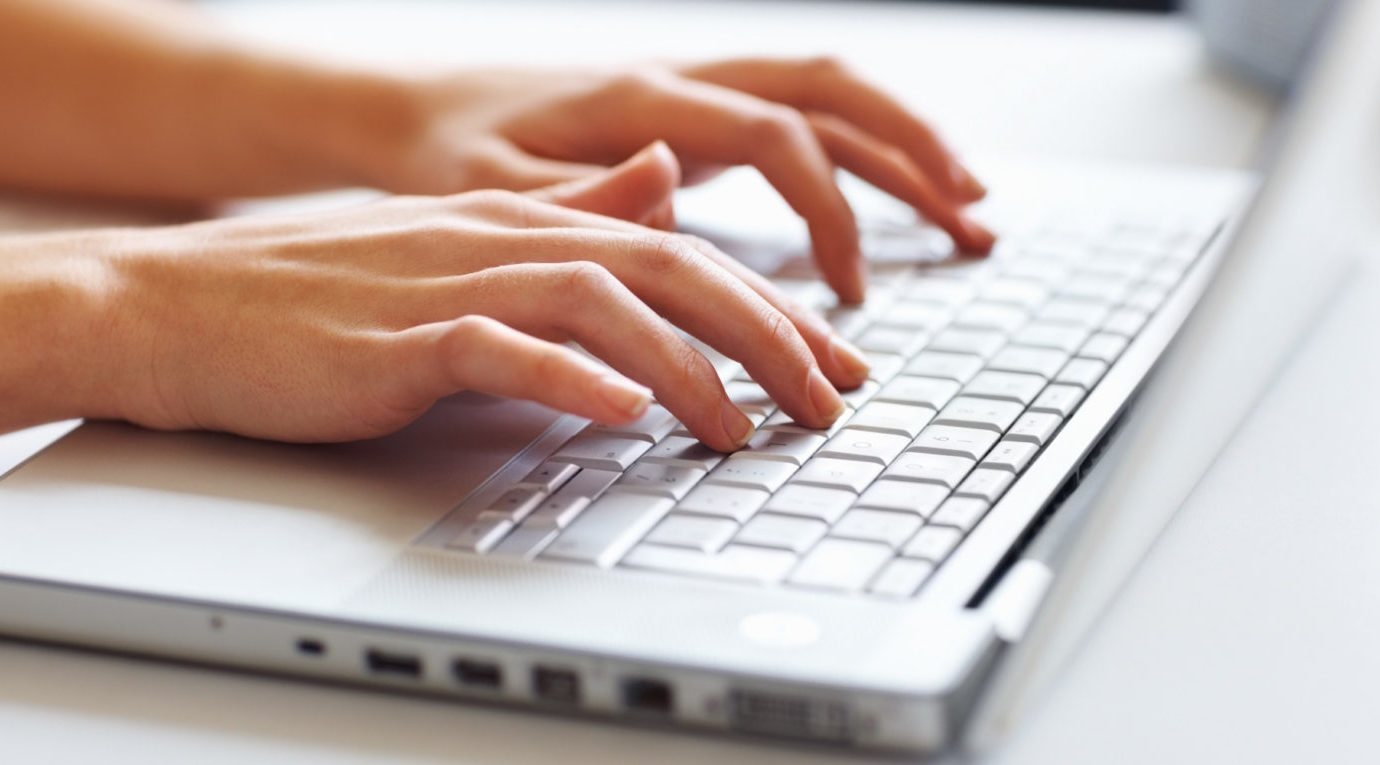 ClickFunnels vs. Leadpages—which of these two funnel building industries offer the best platform for your business? This in-depth guide is designed to answer just that!
Creating sales funnels is big business today as more marketers and businesses look for better ways to pull in new customers (traffic) and make more sales. Two top companies that have caught on to this need for better traffic are ClickFunnels and Leadpages. This review article looks at both companies to see what each company offers to its customers and compares their similarities and differences. First, a brief example of how a funnel becomes a vital part of your marketing and sales strategy to make more sales.
If you're already interested, check out the 14 day free trial we secured for you here.
A Brief Funnel Overview and What It Does for Sales
If you do not know anything about funnels and how they fit in your marketing and sales process, then let us envision the following scenario. Let's say you have just created a software program that connects every part of a dental office's workflow into one big platform, with integrated report forms for pulling data. Each worker can pull any information connected to their office position, which saves time and money for the business. Your main business focus is software as a service (SaaS) to your clients.
As a bonus offering to get dentists and office managers to sign up for an in-office software demonstration, you have also created a white paper that details the technical processes for running the varied data reports, and shows how the software can be customized to each dental office's needs, including add-on parts to the programming side, for an extra fee. As a strategy, you can offer a free add-on software part, if the client signs up to implement the software in his or her office within three days of the software demonstration.
In a secondary offering, you compiled a report that shows three cases studies, so potential clients see how the software program has helped others with specific problems. Now you have two free pieces that can be offered to potential clients. You use them to attract clients so they sign up for your demonstration. What you are starting out with in your marketing plan is the software program, a white paper with technical details, and the case study report.
You set up your marketing channels through social media (i.e. Facebook, Pinterest, YouTube), where you include links to forms that gather names, email addresses, and mobile phone numbers. The bonus for signing up and giving you that information is the white paper you created. Next, you write a series of emails that are automated to go out to new prospects at the time of signing up, starting with the double opt-in 'Thank You' email. This email states how often to expect an email, plus the chance to opt-out of emails. The white paper, promised as a bonus, is automatically sent to them by email for download. Your emails are now another marketing channel.
Videos about your software features and its subsequent benefits are posted on YouTube or Vimeo, yet another marketing channel. You can include a link under your videos prompting viewers to sign up or receive more information. Include an additional landing page link within the video for prospects to go to. The bonus here can be either the white paper or the case studies report.
Advertising a webinar that targets group-based markets where dentists and dental office managers are found, is another marketing channel. For instance, Facebook Ads, or Google Ads with text-based advertising that shows up when dentists search for "best software programs for a dental office." The search engine results pages (SERPs) uses the keyword phrase entered in the search box to show appropriate text advertisements at the top of the first page. Google is paid when these ads are clicked on. This process is known as Pay-Per-Click (PPC). When potential customers click on that text link, they are sent to a landing page for the in-office software demo. At which point, you could have a pop-up form appear that asks for their email, perhaps in return for a free webinar.
While you have built a plan to market your product, how you implement it becomes your strategy. As you go along, you'll find the connection possibilities also expand, to which extent depends on your product or service. You may change your strategy over time. It's only normal for certain methods of attracting customers to prove more profitable than other methods, that's why flexibility is key.
Obtaining the right tools will help you conduct your marketing and advertising more efficiently, which leads to a higher rate of success and more money to expand your business. Funnels and strategic planning are essential for that success in moving customers from the marketing channels, through funnels (pathways) that lead to the final goal, which is sales.
If you are new to the concept of funnels, go to the YouTube channel and, once on the platform, type in the following keyword phrase: sales funnels. Look for any videos put out by Leadpages and Clickfunnels to get an overview of how they work.
Download guides and books on the subject, so you can go through them before you sign up for any trial memberships.
Up next, ClickFunnels vs. Leadpages, starting with an overview of ClickFunnels and all that it offers.
ClickFunnels vs. Leadpages: An Overview of ClickFunnels
ClickFunnels opened its online doors for business in 2014, with Russell Brunson as Co-founder, EEO and Head of Marketing. Todd Dickerson is the Co-Founder, Lead Software Architect and head of technology, along with their supporting team of top talent. The company is headquartered in Eagle, Idaho—this is the main hub where nearly everything happens to support the business. They also have a remote team in various positions all around the world. ClickFunnels offers two versions of their two-weeks trial: the standard version at $97 a month, and a $297 option for the Full ClickFunnels Suite. If you pay a full year in advance you can get a discount.
The Two-Week Trial
By default, unless you specify otherwise, when you sign up for a trial, you will be put into the Full ClickFunnels Suite ($297 mo.), which includes Actionetics and Backpack. The standard version offers the funnels, but not the two add-ons mentioned above.
When you first sign up for your free two-week trial at ClickFunnels.com, go into your account and study your dashboard. If you hover your mouse over your profile picture on the upper right-hand corner, the drop-down list will show you a listing of the sections in your account you will use. Including Digital Assets, where you'll store uploaded images and content so they are handy as you edit your funnels.
Getting Started in ClickFunnels
Your opening account page shows a center graph icon and a message showing what to click on to begin charting your funnels. Or, you can click the beige-colored button 'Build New Funnel' on the right side to look at available options. A pop-up page shows where you can use the Classic Funnel Builder on the right, or the Cookbook Builder Process on the left. Click to open the Cookbook Builder site, and download the free Funnel Hacker's Cookbook (pdf) from the link at the top of the page. Or you can click here now to download it. This guide will be handy if you are new to funnels and need to follow how someone else created theirs.
As you scroll back down the page, on the left you will see choices for funnels by industry, and then types of funnels, like the image below. There are 22 types of funnels, such as Squeeze Page Funnel, Webinar Funnel, Survey Funnel, Membership Funnel, Lead Magnet Funnel, and many more choices. As you begin making your selections, the funnels choices reduce, until you only have several choices available, based on your selections. If you wrote a book, then you could select the Author industry, and under Type of Funnel, you can select Sell a Product (the book), as shown in the image below. Check out the available funnels first before moving on to the last choice.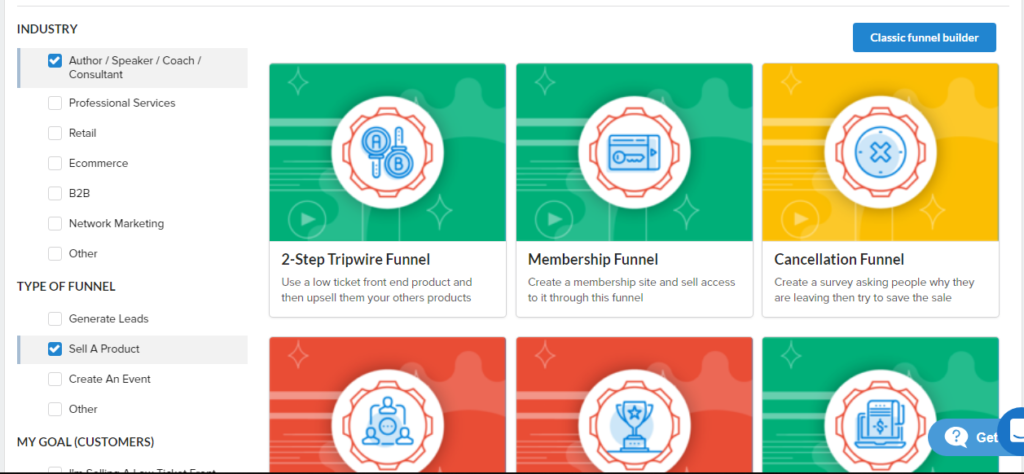 Finally, you can choose the Customer Goal for the funnel as Low-Ticket Front End, Mid-Tier Front End, or High-End Front End, each with different product pricing categories. Once you make your choice (Mid-Tier), you will have four remaining types of funnels you can use. In this case, select the Sales Letter Funnel, as shown below, and you will be directed to a new page.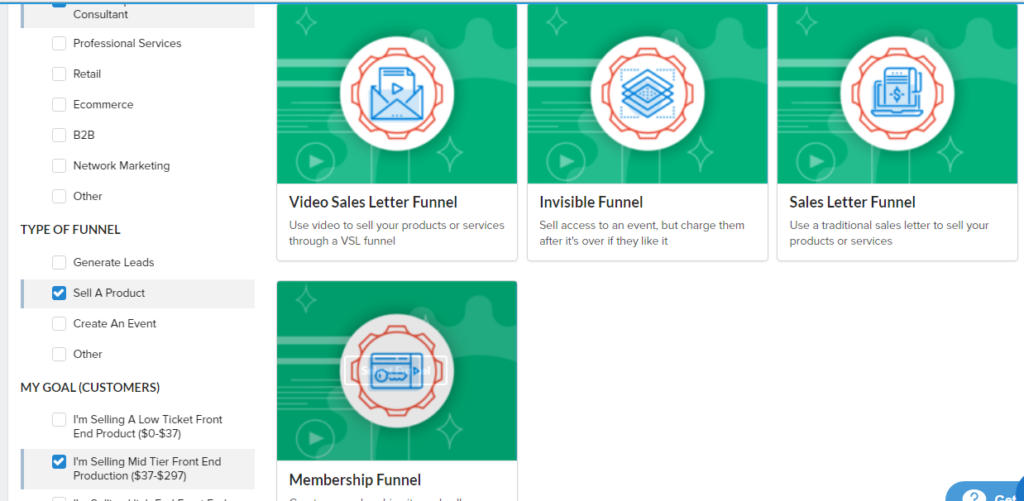 On the following page after the above Sales Letter Funnel choice, a new page pops up and now you can choose from a variety of templates. First, view the video posted there. Each template consists of the Sales Letter Order Form, the one-time-offer (OTO) page, a Down-sell page, and an Offer Wall. Off to the right, there is a link for the Funnel Map which shows the path of the sales funnel. Click and view it. The video also shows you what each piece is for.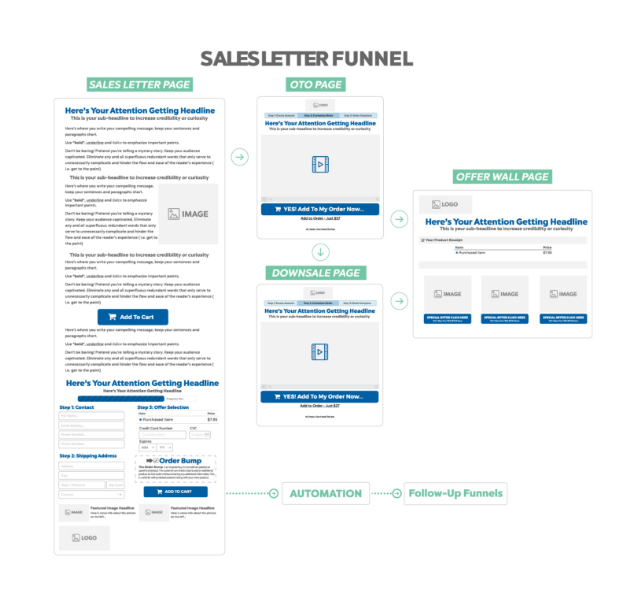 At the bottom of this page, you will see several choices for templates, including the choice to design your own. Some of the shown templates, which all have title names for easy identification, are free and some are paid. If you are starting out with building funnels, use one of the pre-designed free templates for now. Once you click on it, it'll show up on your account page ready for the next step. As you begin your editing process, you can remove any piece or add in other pieces. A template is just a guide to help get you started. You can expand as you learn more about how to strategize with funnels.
Edit each piece of the funnel for promoting and selling your book. The first step is to go through your funnel checklist on the left and add in the information you need. Your starting default URL address is your account at ClickFunnels unless you change it to something else, such as your website. You will also add in your payment account link and your email integration information.
Check out your Funnels Hacker Cookbook to get answers to your questions or just use the chat button on the page to get help. It may take a little time to get a response, depending on how busy they are. Once you have completed everything, you can launch the funnel.
Overall, the process appears easy and, as you build more funnels, you will become more proficient with the system. Trust us, it gets easier and easier to design funnels to your needs. If you work with WordPress and use either WP Bakery or ProfitBuilder, two popular webpage-building plug-ins, then building and editing funnel pages will be somewhat similar.
Actionetics
In the Pro version, you get Actionetics, the unique complimentary autoresponder, which collects your customers' information when they sign up for email, a webinar, or to buy something from you. The beginning page for working with Actionetics is shown below.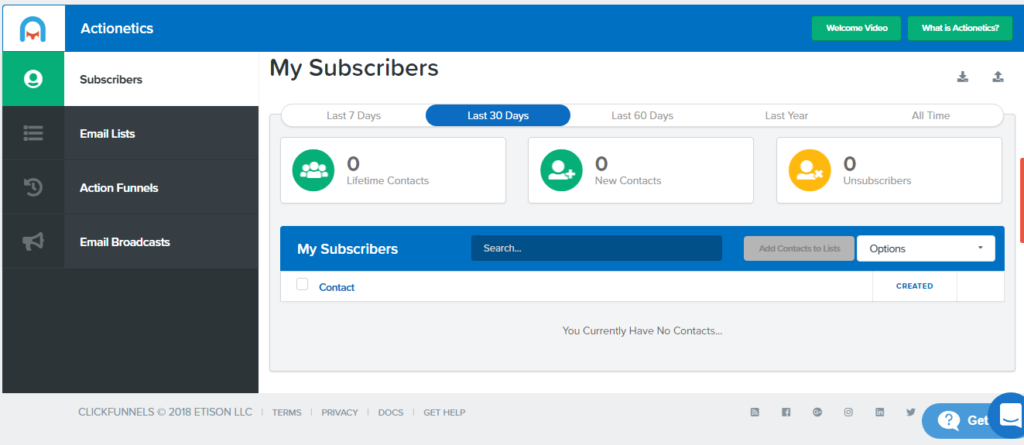 Over time, Actionetics can collect more customer information as they make repeat visits. Plus, you can create customer profiles and track their movements to get an understanding of what interests them most.
You can use Actionetics as your email provider, but you may also choose to keep your outside email service provider. Say for instance, you already have it set up to handle your weekly emails or newsletters. Actionetics gives tracking information for your landing pages and forms throughout your funnel, giving essential data and analytics on how successful your funnels are, or whether you need to change any under-performing components.
Backpack
Backpack is the unique ClickFunnels application that handles your complete affiliate system. Thus, making it easy to know what your affiliates are doing, what they bring in, and what they get paid, including what you get paid. You earn commissions by bringing in new customers. As long as they remain active you'll continue to earn money off their purchases. They, in turn, can create their own affiliate accounts if they are using the Full ClickFunnels Suite ($297 a mo.) plan.
A nice added perk is if you refer 100 new members, who stay active, then you can become part of the Dream Car program. In addition, if you refer 200 new active members then you get $1,000 a month. Go to this Dream Car link to find out more.
Although not necessarily part of the affiliate program, you can make money by creating your own successful funnels and selling these on the marketplace to ClickFunnels members. When you are checking out what funnels you want to import to your platform, keep in mind, while many are free there are also plenty you can buy. These were designed by ClickFunnels members.
Training
ClickFunnels has plenty of training to get you up and running, such as the Funnel University. After your two-week trial, your monthly payment is $67. You can also choose to pay up front for a year at $597, which is a 75% discount. When you sign-up to the university, you can also get Brunson's 108 Proven Split Test Winners book. The book is free, you just pay the shipping and handling fee.
While you are in your platform and building your funnels, you are provided with pop-up messages on your platform that guide you what to do next. There is also a chat box for you to use. Do not forget about the Funnel Hackers Cookbook! This book is a great reference as you build your funnels. There is also Brunson's book, Dotcom Secrets, which provides even more helpful information about funnel strategies.
As an added tip, if you need to find out how to do something and cannot afford to pay for extra help, go to the YouTube platform and search for ClickFunnels along with your question in the YouTube search box. Chances are, someone else has had the same problem and there is a video offering a solution.
This next section looks at Leadpages. Including what the platform offers, as well as its similarities and differences—Leadpages vs Clickfunnels.
ClickFunnels vs. Leadpages: An Overview of Leadpages
Leadpages began operations in 2013 with co-founders Clay Collins (CEO) and Tracy Simmons (CSO), along with a team of professionals that included John Tedesco (CCO) and Jason Heath (CFO). The company, located in Minneapolis, Minnesota, is focused on creating conversion landing pages without resorting to using code (unless you want to use code). The goal is that when potential customers arrive on your landing page from an outside link you promoted on social media, or in an email, they are coming for a specific reason. Perhaps to review your product and then buy it. Or, to sign up for your emails and newsletters, or an upcoming live webinar.
The plug-in lets you do A/B testing of page performance, as well as design and publish lead pages on your own WordPress website. You can also integrate most of the popular commercial email service providers on the market, such as MailChimp, Constant Contact, and other popular providers through the Zapier integrative app collaboration. Or, use Drip for your automated processes of converting leads into customers.
Other integrations available via Leadpages are Google Analytics and the Google Tag Manager, both of which may already be connected to your WordPress website (if using WP). Also, the Javascript Analytics Platforms. If you are running an online store, such as Shopify, then you are all set for integration, including payment systems such as PayPal or Stripe, two of the most commonly used payment platforms.
Leadpages also integrates with GoToWebinar and WebinarJam/EverWebinar, as well as most popular social media platforms, such as Facebook and Instagram. See the next section for information on the new Zapier collaboration. New advances are ongoing, so check back often to see what new application brands are being incorporated into the integration mix.
Before you sign up for your two-week trial, check out the homepage at Leadpages.net and click through the top menu to view templates and pricing. Leadpages offers more specific information about what you will get with your account. The standard account is $37 a month (or pay $300 up front for the year and get a discounted rate of $25 per month) and comes with:
Unlimited mobile-responsive pages
Limitless visitors
Integration with Facebook ads
Access to over 40 tools and platforms
A $100 credit for Google AdWords
Access to weekly coaching calls and email support
The other plans offer email, chat, and phone support. But, considering the price, email is adequate, so long as technical issues get solved quickly, or there are suitable links to solutions provided by email. It is possible to do it yourself if you cannot afford to hire help.
Zapier and App Integration
Through a new partnership with Zapier, the Leadpages platform now integrates with over 1,000+ web applications (apps). Thus, widely expanding the Leadpages universe for multiple app integrations for its customers. This gives a funneling workflow across a large choice of apps, such as your social media marketing channels. Zapier calls this a "zap," a resulting automated action that occurs when a prospect completes specific actions, such as a sign-up.
For example, a viewer signs up to access specific information, and that viewer's information is automatically sent to your email service provider's contact listing. If you have segmented a group from one specific advertisement placement, then that contact will go into that list, not the main collection of email contacts. You can custom design exactly how that will work from your Leadpages platform and your email service provider.
Sign up for a 30-day free trial of Zapier's For Work plan from inside the Leadpages account so you can see how this will work for you. Visit this link to see a brief video of how this is implemented. Take advantage of the trial offered to learn how such integrations can turn your whole marketing plan into an effective automated marketing and sales machine.
Getting Started with Leadpages
Before you start any trials with any platform such as ClickFunnels or Leadpages, collect your:
Product or service information
Images and written content for your product
Links to up-sell or down-sell product offerings you will be using.
If you already have an account with PayPal, or any other financial institution that handles your payment systems, then get that link for your integration in your forms.
Sign up for your two-week trial and while you are at it, sign up within Leadpages for a Zapier account. This means you will want to try the Pro account, rather than the Standard version. It is the perfect opportunity to try everything at once, so you can understand fully how to use the tools as you begin building your landing pages. There is a third account, the Advanced, but there is no trial period for it. It is $199 a month billed annually at $2,388 plus taxes.
Once you have signed in, your account platform will open and you will get the following page to begin creating a custom landing page. Three options are given, or you can check out what other templates are available by clicking on the Template Browser button underneath the three standard options.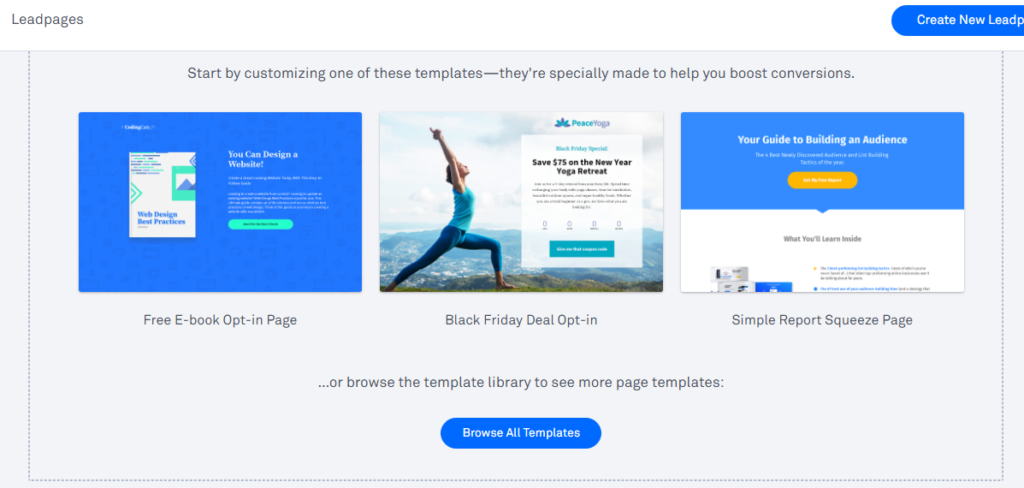 On your top menu, you will see selections for Leadpages (the one you are on), Leadboxes, Leadlinks, Leaddigits, and Templates. On the right side, you will see your profile icon; click on it to see the drop-down menu where you can upload your assets, such as a free eBook, or other incentives.
For now, just select the Simple Report Squeeze Page in your account page (as shown above on the right side). The Squeeze Page form shows up on your page and you can add your own images and edit any written content on the page to match up with your free offer. At the top, you will notice that you can switch views between desktop and mobile screens. This allows you to see how the page will look on a mobile device and on a desktop computer.
If you consider that a large percentage of emails are opened on a mobile phone while people are travelling on a bus or train to work, or during their lunch break, then the mobile view becomes a very important consideration. Especially if you are providing a link to your landing page. For the most part, getting a name and email address is enough to start with. More information can be added over time, such as when opening an account to make a purchase. Keep it simple for viewing on a mobile phone. Click on the Get My FREE Report Now button to see that only an email is requested to access the free report that you will send them.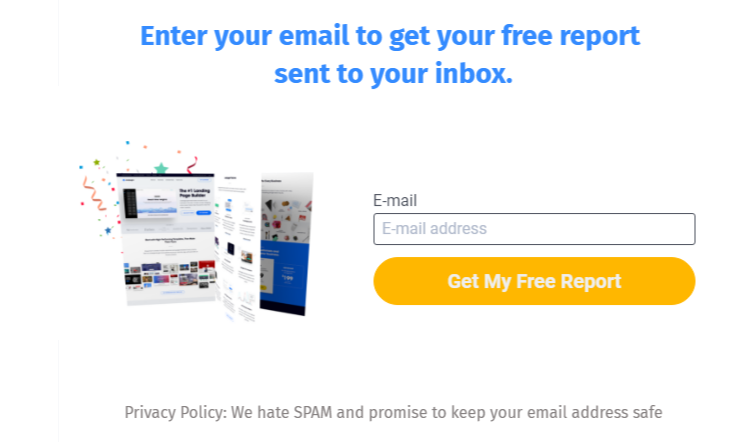 Looking Around Your Platform
On the left, there are four icons to click. Hover your mouse over the Widgets, Page Layout, Page Styles, and Page Tracking. You can click on each one to open and see the tools laid out for your use. You can also click on the question mark icon to look for help. The image below partially shows the Widgets toolkit when open and ready to edit your pages.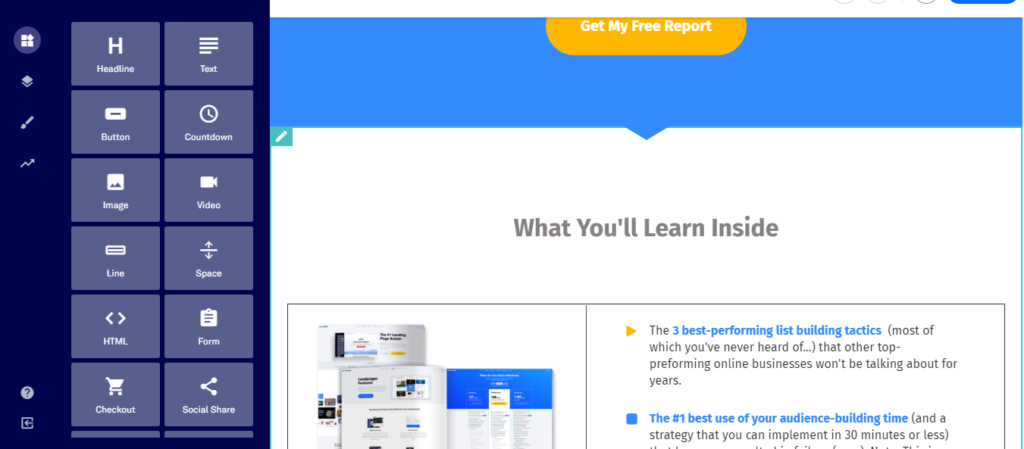 Once you have edited your page and form, you can save it and publish it, or just save it for now, and look around your account for other points of interest. For example, you can check out the list of all the Leadpages blogs ever created. Each one offers valuable information that can help you maximize your trial.
Go to the bottom of your account page and click on the 'Blog' link. Look for the recent blog that announces the new partnership with Zapier, click on the link to Zapier, and sign up for your account there, if you have not already done so. You would use the same user name and password you have with Leadpages. Take the time to see all the applications that Zapier relates to, and note those you would like to use, including those you already have accounts with. Keep a list handy so you can pull them up by a name search.
There is also the Getting Started link, which takes you to all the information you need to get started with your account and start building landing pages. The menu at the top of that page shows links to the ConvertedU center, where you can access the training courses available during your trial session. Two free courses are the Email List Building and the Leadpages Launchpad. The other two courses are premium courses. Other links include the Marketing Resources and the Webinars, both contain valuable information. If you go back to your Leadpages account page, you can find those same resource links at the bottom of your profile drop-down menu underneath your profile picture/icon.
Getting Leads Through Leadpages vs Clickfunnels
On your platform page, go to Leadboxes to create simple forms that collect email addresses from your visitors. There are three versions, with the first being the Standard Leadbox, which activates when a viewer manually clicks on a call-to-action (CTA) button, or a link-activated image. The Standard Leadbox is the only one of the three versions that also works on a mobile phone screen. The other two versions are the Popup Leadbox and the Exit Leadbox.
The Popup Leadbox offers the choice of manually setting how many page views the viewer makes, or for how long, before it pops up to ask for the viewer's information. It can also be set to not pop up again for a designated amount of days.
The Exit Leadbox activates whenever a viewer moves the cursor toward an exit action, such as clicking the back arrow to go to an earlier page, or to close the browser tab. This is a last resort method to grab the viewer's attention and try to get information. The Exit Leadbox can also be set to not pop up again for a few days, like the Popup box.
Leadboxes are a better way of collecting emails and they can be integrated anywhere on marketing channels, such as your websites, blogs, social media platforms (i.e. Facebook, Google+, Twitter), CTA buttons, images, banners, and sidebars. By using these, you maximize your opportunities to collect leads from anywhere on the Internet that you have a presence.
Leadlinks and Your Affiliates
Leadlinks is another way to sign up your viewers for a webinar, or whatever else. These are only used for a current list of your subscribers as there is no need for a double opt-in. Your affiliates can also share your webinar link or email link with their own subscribers, thus adding more subscribers to your list. Although, a suitable notice should be made that says they are joining your list when they sign up. As the webinar, your lists, your affiliates, and their lists are all within the Leadpages platform, then the double opt-in is not needed. However, whenever you are working outside the platform, with the potential of bringing in new customers, then you should use the Leadboxes for the double opt-in function. Click here to learn more about how and when these tools are used.
Leadpages Affiliate Program
Leadpages offers the Affiliate program to active members in the Pro plan, whereupon you earn a 30% commission for each affiliate payment made under your account. As an affiliate, you can add your links to any of your pages. To avoid being penalized by Google for having too many affiliate links on one page, you can add the 'nofollow' tags at the end of each link. As you create the link by highlighting the word or phrase, select external link, add the link and then click the nofollow checkbox. Once completed, save it and the link is now active. You can add tracking pixels as well to any of your pages. The following section briefly discusses Leadpages analytics.
Leadpages Analytics
You should know what is happening with your pages, and one way to track traffic is to add tracking pixels. Click on Leadpages and choose one of your pages from inside your account. On the left side menu, click on the crooked arrow to open the Page Tracking menu. Your first open page shows the SEO Title box, the Page Description (meta description), and the Page Keywords you are using. The image below shows the three pages on the menu, although Analytics is missing the bottom part on the page. Once you have completed each page, save it and go to the next one.
| | | |
| --- | --- | --- |
| SEO Page Tracking | Facebook Tracking | Analytics Tracking Page |
The Leadpages Knowledge Center says that when tracking Leadboxes, only those that get opened are tracked. If one person were to open the Leadboxes multiple times in one week, for example, each open action would be counted, but the viewer would only be counted once as a unique visitor, unless they were using a different browser. This implies (but does not state) that cookies, tags, or pixels do the tracking. Cookies are deposited on a browser when a visitor goes to a website. Pixels, on the other hand, send information to a server, rather like a homing pigeon returning a message back to the point of origination.
Another analytic to look at are conversions. If there is a form submission for getting your email or newsletter that counts as a conversion and can be tracked individually. If tracking a landing page with multiple conversion forms, the page analytics counts the total sum of all forms of conversions made on the page as the page conversion count, not individually for each form. Form A (Hotel) on the landing page named Grand Sailboat Excursion on July 12th, gets 20 conversions, while Form B (Snorkel Rental) gets 16 conversions, and Form C (Captain Charles Boats Reservations) gets 40. The landing page, Grand Sailboat Excursions, gets a total of 76 conversions on that specific day.
You can also select and view your landing page data in graph mode by each hour over the past seven days, and see daily statistics from 90 days back. Any further back, means you will only see monthly statistics, so it is important that if you want to have a tracking history, you must collect the data daily for your own use on your computer. If you are savvy with compiling data over several external platforms, and putting it all together to analyze for a larger picture, then you have a much better in-depth understanding of how your strategies are working out.
An Extra Tidbit About Landing Pages
One valuable aspect of using landing pages is the ability to embed your videos into the landing page, rather than sending your customers to YouTube. When you go to YouTube, the platform offers many videos on the side column, and you may not be able to control the setting that stops the next video from starting up after your viewer has finished watching yours. It is one thing when you are there in your account and can control the settings for your own preference, but quite another when others go there to watch your video. The Video Sales landing page is designed to manage your customer in that one place – the landing page.
Therefore, holding your viewer in one place to see the video and then complete an action becomes essential to keeping the viewer's attention. Thus, getting the desired response – clicking on the link and filling out the form, or making a purchase.
A Summary of Comparison: ClickFunnels Vs. Leadpages
Looking at both companies in the early review and comparison stages, the viewer could say that these two companies have many similarities, and they do. But the focus of what each company offers is different: ClickFunnels focuses on building funnels with a series of processes to get traffic to the landing page and the resulting action. Leadpages, on the other hand, focuses more on the landing pages and on-page results.
Autoresponder Comparison
Both companies have automated responders that activate when prospects or buyers fill out forms to sign up for something or make a purchase. Actionetics for ClickFunnels is solely an internal creation, while Drip for Leadpages is a company product integrated from the outside. In both cases, however, if you already are set up with an email service provider to handle weekly emails and monthly newsletters, then the recommendation is to keep that list, while using the autoresponders to make the first captures in the sales funnel experience. If you want to have leads from your funnel also sign up for weekly emails/newsletters, the recommended process is to send them that link so they join by completing the email platform's required double opt-in process.
Affiliate Program Comparisons
Where affiliate programs and opportunities to make money with the platform are concerned, ClickFunnels appears to have the advantage over Leadpages by a wide margin. For one, you can bring in more affiliates on a regular basis and reap the ensuing commissions from their purchases across the platform. Plus, ClickFunnels has a marketplace for those experienced in creating successful funnel packages which can be sold back to ClickFunnel members. Other perks are the Dream Car program which rewards members who reach milestones with each set of 100 active new members.
Leadpages has its own affiliate program where you bring in new members and make commissions from their purchases. Through Zapier's integrative apps partnership with Leadpages, members have access to affiliate programs from many of the partnering apps, such as email service providers (MailChimp, Aweber, ConvertKit, Drip, etc), web hosting companies (LiquidWeb, WPX Hosting, etc.), and WordPress themes and plugins, such as Genesis Framework and Thrive Themes. There are many others to look at in the Zapier universe of apps.
Therefore, much of what ClickFunnels offers, has been created within the boundaries of the platform. Leadpages has brought in other partners to fill those needs that marketers have asked for. Again, this is mainly in integrating through Zapier with other applications over a wide range of top influencers in the marketing industry. Including email service providers, shopping cart providers, web host providers, WordPress theme and plug-in builders, and shopping carts and payment system providers, among others. There are tons of opportunities here, if you think this through further with both ClickFunnels and Leadpages.
Training Comparisons
ClickFunnels has an extensive range of training opportunities for members to take advantage of, although those with low marketing budgets might not be able to access all of it at once. Certainly, there is plenty offered for free and that is a good way to start off, including the Funnel Hackers Cookbook, Brunson's published books, and the included videos on the platform.
Leadpages has its training outputs as well. Although, due to those outside integrations, training to use other applications may mean that members must go outside from time to time to get training through the actual app's platform.
Final Summary
Both platforms offer excellent opportunities for marketing online on a professional level. The decision is yours, based on your products and services, and how involved you want to get in the marketing process. Your budget also has a lot to do with it too. You can start out with a small budget and work your way up as returns begin to pile in. Learn both platforms, see how each fits your plan, and then dive in. You cannot go wrong with either one.
We worked out a 14 day free trial for you here
What You Should Know About Marketing Online Today
The recent news of both GDPR and Google's call for better secured web pages suggests that the next section should be at the top of your mind when creating funnels that collect customer information. Or, for that matter, conduct any kind of marketing where sensitive customer information is collected.
Following GDPR and Google Policies
You may need to include a privacy policy statement on any form or landing page, wherever personal information is being collected.  Particularly if you are creating them manually, rather than in a pre-designed form. Make sure the privacy policy is in your email series, any form or page that captures customer information, including your own website. It can be as simple as the one you saw on the Leadpages email capture form in the earlier section on Getting Started with Leadpages.
This is due to the new General Data Protection Regulation (GDPR) policies of the European Union (EU) that went into effect May 25th, 2018. Your customers coming from the EU to your websites and landing pages, who access any of your forms to give you their information, are protected by the GDPR policies. These policies can put you at risk if you do not have a privacy statement available. An EU prospect, who is outside the EU borders at the time you collect their information, is not covered by the GDPR, at least for now. That could change at any time.
For more information:
As you may know, Google has been encouraging website owners to upgrade security by implementing the SSL certificate, which you can buy from your hosting company. They will implement it on your site(s). If your site is considered unsafe, Google will put a visible message on your URL, telling viewers that your site is unsafe for sending personal information. Avoid this penalty and get your SSL certificate today. Learn more about Google's SSL certificate policy and penalty.
Disclosure: I am an independent ClickFunnels Affiliate, not an employee. I receive referral payments from ClickFunnels . The opinions expressed here are my own and are not official statements of ClickFunnels or its parent company, Etison LLC.