Clickfunnels vs Infusionsoft | Comparing Two Giants In The Sales Funnel Industry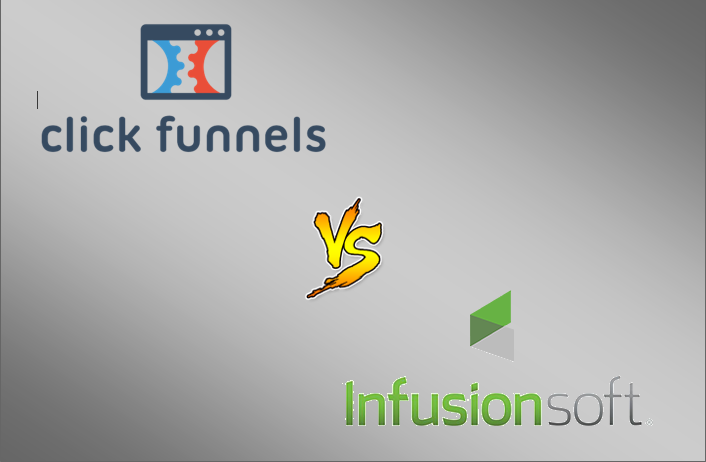 Clickfunnels vs Infusionsoft — which is the best option for your business? Those who are into online sales are well aware of the fact that there can be many different methods of finding customers and converting them into sales. One of the most prominent means of getting new customers is to have quality sales funnels. Both Clickfunnels and Infusionsoft offer help with this.
On your own, it can be difficult to navigate through all the necessary components. As we compare ClickFunnels vs Infusionsoft on this page, we will illustrate why you may choose to use one of these tools to create your sales funnels. Plus, does ClickFunnels replace Infusionsoft? We help you decide that, as well as if one is better than the other.
Click here for a 14-day free trail of Clickfunnels today!
Nobody wants to make an investment that is destined to fail. This is why it is important to do all of your research and homework before you make an investment of any sort. On this page, we will compare ClickFunnels vs Infusionsoft, two industry sales funnel giants, to help you consider if a service like these could help you grow your business.
What is a Sales Funnel?

A proper sales funnel is a web page which catches potential clients, informs them of your service, builds up interest, and then puts them into a position where they need to decide whether or not they want to subscribe to your service.
In a nutshell, a sales funnel should be effective one way or another. Even if it means that a customer submits their e-mail address on the web page.
Related: Clickfunnels Review
One popular strategy for people who have sales funnels is to collect e-mail addresses and then start a drip campaign, where you send out an e-mail series. The idea here is to continuously give a problem client another small piece of further information (a drip) regarding your service. When you have wonderful content and the product to back it up, drip campaigns are an effective part of a sales funnel.
Quick & Effective Information on Your Service
The whole idea behind your sales funnel is to quickly inform the potential client. Put yourself in your potential clients' shoes. If you land on a random sales funnel page after surfing the web, your attention span is going to be very slim. As the designer of a sales funnel, you need to harness this as one of your primary concerns.
When constructing your sales funnel, the idea is to have content that is quick to the point, engaging, and convincing. You need a nice balance between honesty, rhetoric, and quick points. Many people will hire professional content writers who are experienced in this field to ensure that they have content which helps generate leads and sales.
Typically Only One or Two Pages
A nice sales funnel doesn't actually take that much setup time. Sure, without a premium service like the ones we will discuss later, you will need to create your website manually. However, consider the fact that you only need to have one or two pages. As soon as you recognize this, the entire process of creating a sales funnel becomes a lot simpler and streamlined.
Typically, there is one page with content and an e-mail address collector placed front and center. The second page only serves as a confirmation that you successfully subscribed. Of course, not everybody has the skills necessary to create a sales funnel site which is professional, attractive, and effective. For this reason, comparing ClickFunnels vs Infusionsoft will be necessary on this page.
Collects Contact Information
It will be extremely difficult to have a successful sales funnel if there is no means of collecting an e-mail address or some sort of relevant contact information. As a general rule, you should place your contact collection box in a manner which is easily seen. In fact, it should be the first thing that any visitor to your website encounters.
Without collecting contact information, you will lose a ginormous chunk of your potential clients. Sure, you could have a wonderful service and have the checkout page right front and center, but if you don't supply the quick rhetoric to get people to whip out their wallets while operating on a short attention span, your sales funnel will likely not have the results you want.
The Life Cycle of a Well-Designed Sales Funnel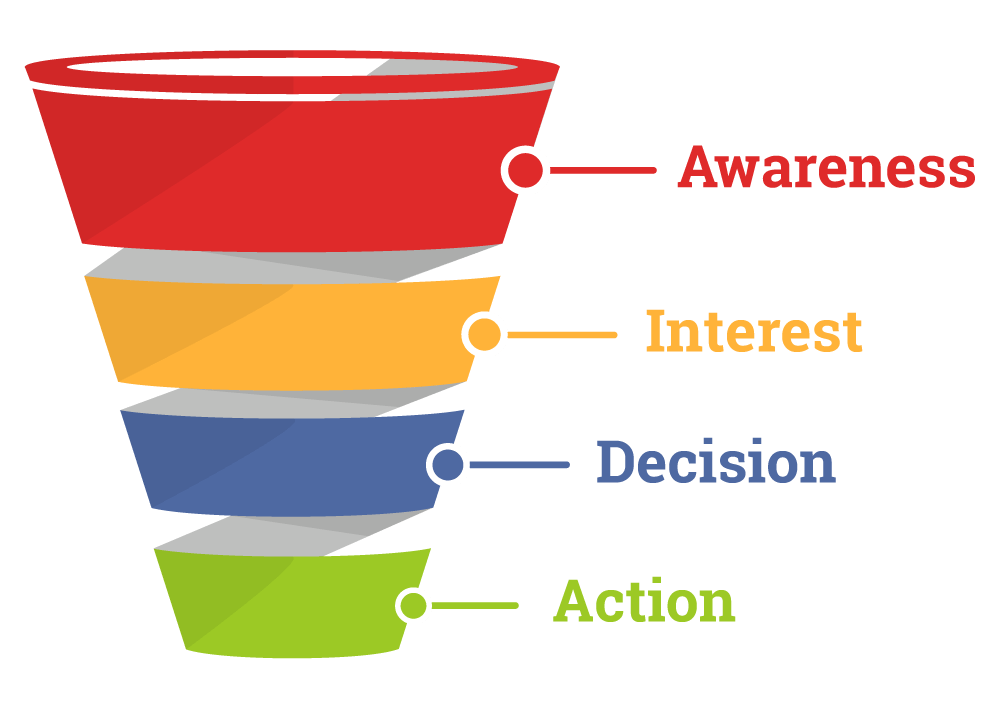 Typically, a sales funnel is something that is rather easy to point out if you know what you are looking for. Those who do this for a living tend to get into a routine and are able to account for all necessary variables of a successful sales funnel.
Related: Best Sales Funnel Software
However, those who are completely new to the process might be overwhelmed with a task list and whether or not they will even get an ROI. Here are the steps which all sales funnels go through during their lifecycle.
Stage 1: Marketing to Gather Prospects
Once you have your sales funnel established, you need to find the means to get people on your landing page. Whether you run some PPC ads on Google, social media, or another platform, you need to get people to click on your page link. This is perhaps the most challenging portion of constructing a sales funnel. When we compare ClickFunnels vs Infusionsoft, we will demonstrate how a premium service can make this stage of having a sales funnel much less stressful.
Stage 2: Generate Interest In your Service
This is the part of the sales funnel life cycle where you have a client on your landing page. Whether or not they know what they are looking at, this is the time where you have the ability to quickly generate interest in your service. Since the client likely found your page due to the efforts of a marketing scheme of some sort, odds are likely that their attention span is very slim. If you have high quality content on your website, the interest should be gathered right away. Ideally, interest is gained after reading a couple sentences or so.
Step 3: Switch from Informative to a Decision-Making Tone
A wonderful sales funnel designer knows when to transition from the informative tone where they break down the value of their service, why you should purchase it, and so on, and then switch to the tone which forces the reader into a decision. If you have done a wonderful job illustrating what your service is and why they should purchase it, this will transition very smoothly and naturally. The interested client may even decide to scroll down or click on a place to take action at this point. In most cases, they won't even read all of the text.
Step 4: Subscription, Purchase, or Refusal
Normally, a sales funnel's most immediate mode of success is by getting someone to subscribe to their drip campaign. If you have a service with an inherent form of value which requires delivering a lot of information to the client before they make a purchase, this is the easiest way to keep them engaged over a longer period of time. Although ideally you would have somebody immediately purchase your product or service, be ready to establish a long list of contacts before noticing a large number of sales.
Step 5: Renewing the Service
In some cases, those with sales funnels also have some sort of service which they can charge for based on the number of days using it. Examples of this include some sort of service where manual labor is required, creation and shipping of products, or even some sort of online service which people are willing to subscribe for and consistently pay for. One of the best ways to ensure your sales funnel succeeds is to make sure that one-time customers turnaround and become second and third-time customers.
Manually Setting Up Sales Funnels: 3 Easy Steps to Avoid Premium Services
Before we compare ClickFunnels vs Infusionsoft, two companies which can automatically set up sales funnels for you, it's important to note that you don't actually need to depend on services like these to construct sales funnels. On the contrary, you can do things on your own. If you are curious as to how you might avoid paying any sort of monthly fee to have a premium set up your sales funnels for you, here are three easy steps to handle things on your own instead.
1. Purchase a Domain & Hosting
There are many places you might go about purchasing a domain. If you are the type of person who is not experienced in coding, you might choose to go with an option like WordPress, which will let you purchase the domain and hosting in one package and then begin creating the website all on one platform. Of course, there are also many other services to choose from. If you purchase a domain separately, you need to account for how the website will be designed and put live on the web.
2. Create the Website and Content
The second step to manually setting up your sales funnel is to put in the hard effort to design the website and implement the content. This means you should have an attractive page with just enough content to garner the client's interest. In any case, there needs to be a balance between the quality and quantity of the content. Don't expect to put a book's worth of content on a page and expect it become a successful sales funnel. Put the most important paragraph or two on the page instead.
3. Market the Landing Page
Those who are aware of how to market a landing page will almost assuredly be one of the top candidates for skipping our discussion comparing ClickFunnels vs Infusionsoft, since they may be able to handle things on their own. Of course, if you can't set up the website or the content properly, then there will be little use to have marketing skills. However, if you are able to do all three of these steps on your own, then you should skip the ClickFunnels vs Infusionsoft comparison. That is, unless you want to have a service which automates everything for you.
Why Use Premium Services for Building Sales Funnels?
Using a premium service to build sales funnels is of course, unnecessary. However, as we break down ClickFunnels vs Infusionsoft, you may start to notice many of the immediate benefits that may come with services like these. Premium sales funnel building services like ClickFunnels and Infusionsoft offer you a short path to developing a sales funnel without all of the headaches that may come from setting things up manually.
Why Use Premium Sales Funnel Services? Short Answer
The two most likely reasons one may choose to use a premium service to build a sales funnel is either because they are not confident handling it on their own, or they simply would prefer that they have a professional service automate the entire process for them.
Clickfunnels vs Infusionsoft: What are these Services?
Now that we have established what a sales funnel is, we can now begin comparing ClickFunnels vs Infusionsoft. Both of these services take much of the pain of running your own sales funnels away so that you can focus more on the profits and sales, and less upon things like managing e-mail addresses, automated e-mails, content creation, design, hosting, and so on. Both of these are premium services which allow you to automate much of the work behind a sales funnel.
What is ClickFunnels?
ClickFunnels is an online sales funnel builder that allows an average person with little to no technical experience the ability to build their own sales funnel without all of the extra steps, services, purchases, and so on. For a monthly fee, ClickFunnels takes care of all of the difficult aspects of creating a sales funnel for you, eliminates the need for purchasing website hosting and a domain, and helps businesses to market their funnels. Of course, these are all of the important steps for establishing a successful sales funnel that we have discussed.
What is Infusionsoft?
Infusionsoft is a similar service to ClickFunnels in that it can be used to help keep track of all your potential clients, send automated e-mail drip campaigns, host web forms, and gather contacts for you. Infusionsoft is great for the people who would rather pay a price based on the number of contacts they have. This helps level the playing field for those who have a startup without too many subscribers yet. As we compare ClickFunnels vs Infusionsoft below, try to find which features and plans would suit your needs the best.
Clickfunnels vs Infusionsoft: Why Use Services like these
As we have briefly discussed above, you don't necessarily need to compare ClickFunnels vs Infusionsoft and determine which one to use if you already know how to create your own website, manage a list of contacts, send out automated e-mails, receive payments, and so on.
See Also: Clickfunnels Alternatives
If you know how to handle each of the aspects of a sales funnel, you might choose to bypass a premium service. However, those who simply want a service to automate things for them or simply don't know how to create a sales funnel will prefer a premium service like one of these.
Why Use ClickFunnels?
ClickFunnels is a great option to consider to have a high quality sales funnel without all of the difficult extra steps involved. For example, you won't need to purchase a separate website, domain name, and so on for each of the funnels you want to create. If you are the type of person who wants to create multiple sales funnels, ClickFunnels may be your best option.
Automated sales funnel creation.
No need for a domain or hosting.
Priced according to traffic and number of funnels.
One of the most important features to note about ClickFunnels is that you can have up to 20 different sales funnels with the startup package. Unless you are a large enterprise with several different funnels and a large audience, this should be more than enough for you to handle. Of course, you can always upgrade your plan if this isn't enough sales funnels for you, or you want to take advantage of another feature.
Why Use Infusionsoft?
Infusionsoft may perhaps be the better online platform as far as the level of organization is concerned. When comparing ClickFunnels vs Infusionsoft, one of the most immediate takeaways is its gorgeous online platform which helps you to easily create and organize your clients. You can even make a profile for each client and keep track of any information which may be relevant.
Tracks all contacts in an organized manner.
Helps find new leads and set up drip campaigns.
Priced according to the number of contacts gained.
Infusionsoft is a wonderful choice for the business that places an emphasis on the customer. Since each customer profile is considerably detailed and provides you with all the information that you need to know, many people may see Infusionsoft as the better product. Unlike ClickFunnels, it is priced according to the number of contacts that you gather.
ClickFunnels vs Infusionsoft: Complete ClickFunnels Review

Now that we have established the basic background information for a complete ClickFunnels vs Infusionsoft comparison, let's go ahead and have in-depth look at each of these products. As we are comparing ClickFunnels vs Infusionsoft, it is important to give each respective service the full attention that it deserves. Accordingly, we will now completely break down everything you need to know about each of these services, starting with ClickFunnels.
Up to 70 Sales Funnels
For starters, one of the most immediate benefits of ClickFunnels is that with the top plan you can create up to 70 separate sales funnels. With the Startup package this number is limited at only 20 funnels. However, this should still be plenty of funnels when you consider how difficult it will be to plan, design, and then successfully execute 20 sales funnels at the same time. Those who do need more than 20 funnels can simply get the Enterprise package and enjoy more funnels than many would know how to handle.
Up to 300 Different Pages
As we have discussed, a typical sales funnel may only have 2 pages: one page for your main content and e-mail collection and another to confirm that they have subscribed to your e-mail campaign. However, there are successful sales funnels which will have order forms, separate pages for information, and so on. With up to 100 pages in the Startup package and up to 300 in the Enterprise package, you should have enough pages to account for the number of possible sales funnels.
100,000 Maximum Visitors
Although having a maximum number of visitors to your sales funnels may at first seem a little concerning, do not be alarmed. Think of things this way. If you can muster up 100,000 visitors to your funnels then not only are you doing something right, but probably you are also generating more than enough sales. For these reasons, ClickFunnels allows Startup users up to 20,000 visitors. Enterprise users get to have up to 100,000 visitors.
Unlimited Contact Leads
Although you only get a maximum number of visitors to your sales funnels, you can have an unlimited number of contact leads in your contact lists. Anybody who is familiar with bypassing internet security systems might then be thinking at this point how they can receive contacts without having each one count as a visitor. Since this may be difficult (and immoral) to do, imagine that the number of contact leads that you receive reflects how many visitors you can receive. That is, unless you market through other platforms.
Automatic E-mail Campaigns
Automatic e-mail campaigns (or drip campaigns) are one of the most popular and effective means of convincing a customer to purchase your product that may have otherwise stayed on the edge. These typically commence after the client visits your funnel, fills in their e-mail address, and then waits to hear more information from you. A successful sales funnel will have a drip campaign ready in these circumstances so that the potential customer can soon turn into a paying one.
Webinar and Hangout Funnels
In addition to being able to set up sales for products and services using e-mail marketing campaigns, ClickFunnels also allows you the ability to incorporate webinars and Google Hangout events using your sales funnel. Since many people prefer to inform potential customers in one of these manners, they would prefer to use ClickFunnels. Best of all, setting up a event like one of these is very simple with either the Startup or Enterprise package. Although of course, the webinars themselves won't be automatically planned for you.
Included Order and Upsell Pages
As we have briefly discussed, there are plenty of potential pages for you to use with ClickFunnels, regardless of which page that you take. This means that anybody who wants to reserve extra page space for things like order and upsell pages will have plenty of room to do so. Best of all, these come included with the service and are constructed in a professional manner designed to boost sales and easily help your customers checkout.
Up to 20 Custom Domains
With 20 different possible domain names to work with, you will be left with plenty of space for your sales funnels. Typically, many people with more than 20 sales funnels will use one domain for multiple funnels. This is actually very simple and straightforward to do, since the average client who lands on your page will likely only see one of the funnels under a particular domain.
In other words, don't see 20 domain names as any sort of inhibition for your success. The other way around this would be to manually purchase your own domain names, which makes having 20 free domain names very attractive.
Two Different Business Plans
If you haven't quite figured this out from the review, there are two different plans which you can subscribe to with ClickFunnels. The Startup plan is suitable for just about any small to medium business. Those who choose to subscribe to the Enterprise plan will have a seemingly unlimited number of spaces. Of course, there are many businesses that will find themselves limited by the number of sales funnels, pages, and so on, and might instead choose Infusionsoft for its pricing based on the number of contacts.
Absolutely Free to Try
The mark of a wonderful service is when the provider shows confidence in their service. As far as ClickFunnels is concerned, this is relevant when we notice that there is a two week trial that comes with the service. In other words, you can make sure that the service works well for you before you even make any sort of financial commitment. Specifically, there is a two week trial period that comes with this service. Once it is done, that is when you finally get charged.
ClickFunnels vs Infusionsoft: Complete Infusionsoft Review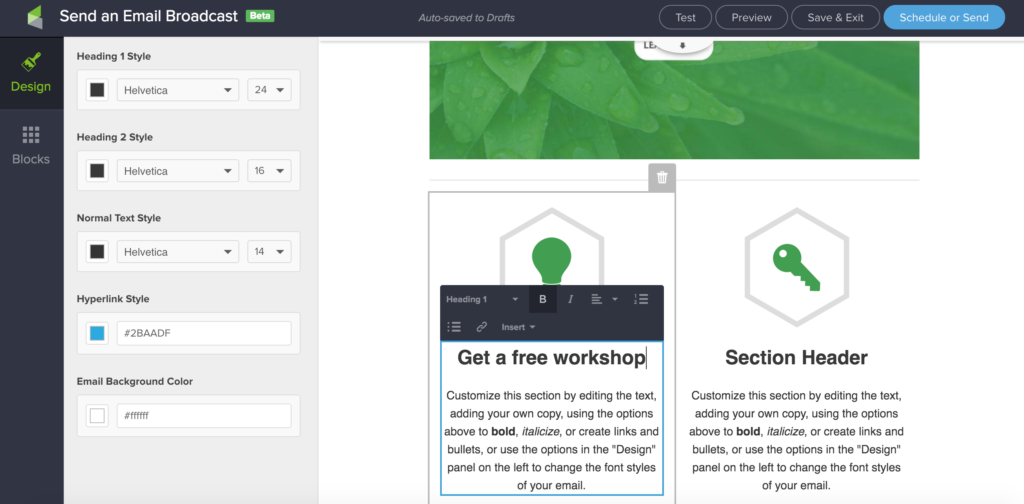 As we are comparing ClickFunnels vs Infusionsoft, it is important that we individually break down each individual service in complete detail. In our previous section, we gave a complete in-depth look at ClickFunnels. However, to fully compare ClickFunnels vs Infusionsoft, it is now important for us to do a complete Infusionsoft review. In a nutshell, this is a wonderful service with its own set of competitive features and its own system of pricing. Here are some more of the many highlights of this wonderful service.
Related: Clickfunnels vs. Leadpages
Excellent Platform for CRM
Customer relationship management (CRM) is one of the trickiest parts if you have a business with multiple different customers to track. This is one of the main reasons that when we compare ClickFunnels vs Infusionsoft we can see a sharp divide in each's popular features. Since Infusionsoft allows you to organize and have all of your customers one organized platform, this is perhaps the better choice for managing clients when we compare ClickFunnels vs Infusionsoft. Each customer receives their own profile and you can easily update information and marketing strategies individually.
Custom Landing Pages
One sharp difference we notice when comparing ClickFunnels vs Infusionsoft is that with Infusionsoft you receive landing pages which are hosted under the Infusionsoft domain. This doesn't mean that you don't necessarily get to have your own custom domain with the service. Although, as you may know, getting domain names is not entirely difficult to do. The Infusionsoft service allows you to integrate your own personal domain names if you don't want to use their domain. As a result, anybody who has their own domain name can easily connect it to avoid using the Infusionsoft one.
Does All the Marketing for You
Perhaps the most difficult part of having a sales funnel in the first place is doing all of the marketing to get people onto your landing page. After all, placing PPC advertisements and finding your potential customers as they are can be a rather difficult thing to do. With Infusionsoft, the marketing aspect of your sales funnel campaigns becomes much less of a concern. Since the service takes care of marketing for you, you should spend more time checking the sales reports and balancing your budget at the end of the month. Marketing is exhausting, after all.
Automatic E-mail Campaigns
Automatic e-mail campaigns are the bread and butter of having a successful sales funnel. Also known as a drip campaign, this allows you to give your potential client a little bit more information piece by piece in a slow manner. This actually can be a very effective strategy if you do it correctly. If a customer is interested but not quite willing to whip out their wallet, then typically all that they need is some reasoning as to why your service is as valuable as it is. This is where a high quality drip campaign really comes into play.
Web Forms Designed to your Liking
The forms that your potential clients use need to be both attractive and engaging. Imagine going to a sales funnel with a form for collecting information with outdated technology and designs that remind you of the dial-up era. This is one of the reasons that many people choose to use a service like Infusionsoft. Since it provides you with high quality tools to provide a modern looking web form on your landing page, the last thing you will need to worry about is losing a client because your website was unprofessionally designed.
Ideal for All Business Sizes
Another sharp difference we notice when we compare ClickFunnels vs Infusionsoft is how the business model is developed to accommodate different types of clients. Infusionsoft's business model is geared more at accommodating businesses of all sizes. Whether you are a solo freelancer or a major enterprise, there is a package that will perfectly suit your needs. Specifically, this may be the better service for those who work for themselves, and don't have a large list of employees to help them out.
Payment Processing
There is no sense in getting a service like this which handles your landing page, marketing, CRM, and so on, if they don't also assist with the payment process. Since accepting payments online can become rather difficult if you don't have the right tools, many people love having a service like this which combines various popular features along with the ability to easily accept payments from your customers. Since credit cards and various popular payment platforms are accommodated, receiving payments is a breeze with Infusionsoft.
Included Sales and Marketing Reports
One area where Infusionsoft really stands out is that it comes with consistent sales and marketing reports. This is much more than just a list of sales made for each month. It includes an in-depth look at where you are performing well and gives a forecast for the future of projected sales. Additionally, there are precise details given on the process that went into the marketing. If you want to have the most data possible, Infusionsoft may be your preferred choice.
Priced According to the Number of Contacts
As we have briefly discussed, this service is designed with the ability to accommodate for businesses of all sizes. This means that the person sitting at home on his computer will be able to afford this service just as much as a giant corporation with hundreds of employees. Since the price of this service is determined not by how many funnels you wish to have, but by the total number of people in your contact book, Infusionsoft provides you with the pricing that lets you start small and grow into a larger company.
Very Attractive and Easy to Use Service
Perhaps the overall best aspect of Infusionsoft is the overall quality and professionalism of the online platform itself. Each customer profile is very well organized and helps you to quickly see any relevant information which you may need to be aware of. It is also very easy to locate all relevant features, which can make a big difference to anybody who is not as tech-savvy. If the quality of the platform itself is one of your primary concerns, then Infusionsoft won't let you down.
ClickFunnels vs Infusionsoft: Does ClickFunnels Replace Infusionsoft?
Now that we have fully compared ClickFunnels vs Infusionsoft, it's important to address a common question. When people notice that ClickFunnels has features like included domains and hosting, some wonder if it might even replace Infusionsoft as a whole. In reality, this is difficult to argue. Both of these services have their own set of unique features which will benefit both large and small business owners.
Does ClickFunnels Replace Infusionsoft?
Short Answer: No. When we compare these two services, there are many different unique features that we find in each. Accordingly, it is unfair to assume that one of these services is better than the other. In reality, they are both high quality services which can help you to construct funnels and start gaining some more sales. To further illustrate this point, let's go ahead and spend some time exploring why each of these services is actually better than the other.
Does ClickFunnels Replace Infusionsoft? Why ClickFunnels is the Better Service
ClickFunnels stands apart from Infusionsoft in that you get to have your own domain name and plenty of pages. This means that although you are using ClickFunnels as a service, those who visit your sales funnel page won't be able to easily notice any immediate connection between your sales funnel and ClickFunnels.
Separate domain names and funnel pages.
Automated funnel construction and implementation
Emphasis on the number of potential funnels.
This service works to essentially automate the construction process of your sales funnels so that you can focus more on the sales and profit. The service is priced based on how many funnels and pages you want. If you get the Enterprise plan, you are also provided with priority support, template requests, and all of the top features possible.
Does ClickFunnels Replace Infusionsoft? Why Infusionsoft is the Better Service
Infusionsoft stands apart from ClickFunnels in that it has a wonderful platform for organizing your relationships with your customers. Each customer receives their own profile which you can pull up. You can see what email campaigns you may have sent to them, any other notes you may have taken, and so on. It's all on an engaging and aesthetically-pleasing platform.
Aesthetically-pleasing CRM platform.
Automatic marketing with routine reports.
Priced according to the number of contacts.
Unlike ClickFunnels, Infusionsoft prices their plans according to the number of contacts that you have on the online platform. Although this may seem like an inconvenience at first, it also levels the playing field for small startups. For example, a sole proprietorship could theoretically market itself as efficiently as a large business. It is simply when you reach a certain number of contacts that the service needs to be upgraded.
ClickFunnels vs Infusionsoft: Summary and Conclusion
Both ClickFunnels and Infusionsoft are high quality services which assist with the construction of sales funnels, landing pages, and online sales in general. They both exist to take the hard parts out of online business and streamline the process of online sales. Since there are even features to help automate email campaigns, collect customer information, and remove otherwise difficult steps to establishing online passive income, both of these companies are heavily worth considering if you want some extra sales for your funnel.
Disclosure: I am an independent ClickFunnels Affiliate, not an employee. I receive referral payments from ClickFunnels . The opinions expressed here are my own and are not official statements of ClickFunnels or its parent company, Etison LLC.