ClickFunnels Training | Comparing Training Courses for Clickfunnels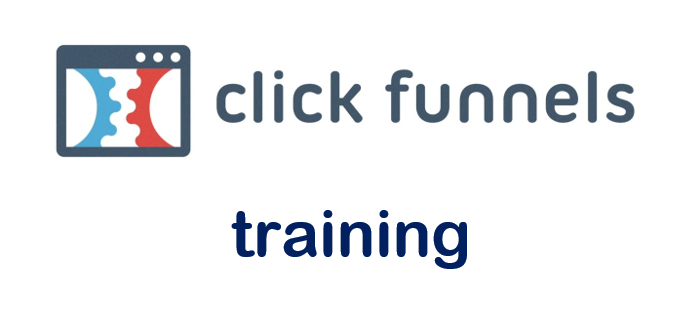 ClickFunnels is a great way to create landing pages that actually convert, but it can be difficult to utilize ClickFunnels in the best possible way without taking a ClickFunnels training course, which teaches you exactly how to structure the templates, create split tests and much more.
Anyone who owns their own eCommerce website has probably dealt with the difficult task of structuring their landing pages in a way that not only appeals to the visitor at first glance, but also leads the potential customer through a sales funnel that actually works.
In many instances, a website visitor may leave your website not purchasing your product or service simply because they did not receive enough information, had to search too hard for the information or came to a point where they did not know what the next step in the process was.
ClickFunnels helps prevent this from happening by providing you with all that is needed to improve your conversion rate. However, it is very important to find the right ClickFunnels Training Course and learn ClickFunnels in a manner that will pay off down the road.
In this review guide, you will learn exactly what ClickFunnels is, what features ClickFunnels offers that can help you take your business to the next level and the numerous benefits ClickFunnels users receive, including how much each ClickFunnels certification costs. Additionally, you will learn exactly how a ClickFunnels training course can help you learn ClickFunnels, and we reveal three of the best ClickFunnels training courses on the market today, going into depth on why each one is particularly valuable.
ClickFunnels is a landing page builder that helps companies create sales funnels that convert website visitors into paying customers or clients. ClickFunnels has gained a lot of popularity over the years due to how simple it makes creating beautiful, unique landing pages that actually convert. With ClickFunnels, you never have to code, install complicated add ons or pay large sums of money to a developer in order to receive the website of your dreams.
The way ClickFunnels works is simple. Simply sign up – they offer a 14-day free trial – and you have access to numerous templates, including sales funnels for services, products, webinars and much more. While it is simple to sign up and the template design, which is drag and drop, can be learned without too much difficulty, ClickFunnels offers numerous features (see below), and it usually requires a ClickFunnels training course to learn exactly how each feature can be best utilized.
Let's face it, it's so important to build sales funnels that actually can convert, and the more time you spend on trying to create and code a beautiful landing page and implementing all of the necessary add ons, the less time you have to focus on the results and maximize conversions. In essence, ClickFunnels is there to make everything easier for you by giving you easily customizable templates and providing you with easy access to all of the most vital eCommerce integrations.
However, while ClickFunnels certainly makes it easier to create landing pages that convert, it is still important to understand and learn ClickFunnels, including what a sales funnel should include, how to split test to find the landing page that works best, etc.
ClickFunnels is backed by amazing reviews and it is arguably the best sales funnel builder on the market. With that said, going through a ClickFunnels training course can ensure that you get the most out of your ClickFunnels subscription.
What Does ClickFunnels Offer?
ClickFunnel offers its users numerous useful features that help them convert website visitors into customers or clients, track and analyze data and provide exceptional customer support. The way you ultimately choose to utilize the features offered is entirely up to you, but a ClickFunnels training course can show you exactly what each feature is and how it is intended to be implemented. Here are just a few of the many features that ClickFunnels offers:
Since some of these features are confusing to the average website owner, let's go into depth on what exactly what each feature is.
A/B split tests
After you learn ClickFunnels, you will have the ability to conduct split tests, which is essentially the act of creating two different landing pages and analyzing the conversion rate of each one to find the best sales funnel for your website.
Email integration
Email is one of the more integral parts of owning an eCommerce website. Through ClickFunnels, you can enhance your overall marketing strategy by adding email and message marketing to your website's landing pages.
Various funnels
ClickFunnel offers its users a wide variety of templates to choose from, including templates for selling a product, service, hosting a webinar and much more. Everyone has a different need as it pertains to their sales funnels, and regardless of the need, ClickFunnels has you covered.
Opt in software
The opt in features are a fantastic way to increase conversions. Opt ins – which most commonly occur in the form of a website popup – are one of the many features offered by ClickFunnels that can help you convert your website visitors.
Upsell pages
It is much easier to sell to a repeat customer than it is to attract a new customer. Subsequently, upsell pages are very valuable for increasing revenue, and ClickFunnels gives you the option to create upsell pages before, during and after a visitor has made a purchase.
Benefits of a ClickFunnels Training Course
Along with the numerous integrations offered by ClickFunnels, there are other benefits of ClickFunnels that can help your eCommerce site thrive. ClickFunnels helps business owners worry less about their online marketing strategy.
Related Article: Clickfunnels Examples
However, it is important to go through a ClickFunnels training course to ensure that a proper strategy is put into place and carried out on a daily basis. After going through a ClickFunnels training course, you will be able to take advantage of all the benefits ClickFunnels has to offer. Here are just a few of the biggest benefits ClickFunnels has to offer:
Many stubborn business owners try and save money by creating their own website templates – either through attempting to code everything themselves or using a free website builder – only to end up with landing pages that are not appealing and do not work to convert visitors. By utilizing ClickFunnels and going through a ClickFunnels training course, you can save time and increase your long-term profits substantially by creating beautiful, purposeful landing pages in an effortless manner.
Half of the battle is creating sales funnels that look good and have a high chance of converting website visitors. The other half of the battle is utilizing every tool at your disposal to learn what customers like and how to constantly improve your conversion rate. Subsequently, being able to collect and analyze useful data about website traffic and your landing pages is very important. ClickFunnels provides all the resources necessary for you to utilize analytic software, and a ClickFunnels training course gives you the knowledge and understanding of exactly how to use the information to the best of your ability.
A major goal of every business owner at the end of the day is to maximize their products. By taking advantage of all that ClickFunnels has to offer – and going through a ClickFunnels training course – you can do exactly that.
The Importance of ClickFunnels Training
ClickFunnel is a great resource and provides all that is needed in order to create aesthetically pleasing landing pages that actually work to convert website visitors, which is incredibly difficult to do without the proper resources. However, it is important to know exactly how to operate ClickFunnels specifically and what exactly a good sales funnel consists of in general in order to get the most out of ClickFunnels.
Therefore, it can be very helpful, if not necessary, to enroll in one of the best ClickFunnels training courses before obtaining a ClickFunnels account. With the best ClickFunnels training course, you will gain knowledge and insight about exactly what makes a sales funnel great, how to purchase ClickFunnels and how to integrate your website with Clickfunnels. Without taking a quality ClickFunnels training course, you may become overwhelmed by the numerous features that ClickFunnels offers, and it can cause you not to get the most return on your investment into ClickFunnels.
ClickFunnels makes creating sales funnels simple and easy to do, but it is still a complex system that contains many different integrations and features. In order to get the most out of ClickFunnels and to utilize the extensive list of integrations offered along with it, it is highly recommended to learn ClickFunnels from a professional who has proven success with ClickFunnels.
By having a full understanding of exactly what ClickFunnels is, how it works and how to utilize the integrations and software into your own website – all of which can be learned through the ClickFunnels training courses mentioned below – you can maximize the profits of your business and save yourself a lot of time that would otherwise be spent coding or money that would otherwise be spent paying a developer, who may or may not be able to produce landing pages that are the way you want them to be.
Ranking and Reviewing the Best ClickFunnels Training Courses
Without further ado, let's get into the best ClickFunnels training courses on the market today. Through extensive research, we have compiled a list of the top three ClickFunnels training courses available to do, all three of which are proven to increase profits and yield a return on your investment into the course.
There are certainly ClickFunnels training courses out there that do not provide good information and are not worth taking. However, a high quality, detailed ClickFunnels training course, such as these three, can provide you with the knowledge you need to utilize ClickFunnels to the best of your ability, ultimately leading to an increase in revenue and more personal profit.
All three of the following ClickFunnels training courses are taught by highly intelligent people inside the industry, and they have proven success and are backed with outstanding customer satisfaction. From purchasing ClickFunnels to creating and analyzing split tests, you will learn exactly how to get the most out of ClickFunnels through the completion of these courses.
One of the biggest factors in finding the three best ClickFunnels courses is the quality of the reviews from previous clients, the ClickFunnels certification cost, the organization of the information and how strong of a reputation both the program and program instructor have. Be sure to take into consideration your own personal needs and preferences when choosing the best ClickFunnels training course for you personally, along with the reputation and satisfaction of those who have previously taken the course.
With that said, all three of these courses are sure to be a good purchase, regardless of the one you decide to choose. Most receive a quick return on their investment, especially for those who take the entire course and follow the advice provided. Now, let's get into the three best ClickFunnels training courses on the market today.
The Ultimate ClickFunnels Training Course presented by Udemy is hands down the most popular course and for good reasons. This course – which is a series of videos and lectures by instructor Nathan Williams – is sure to give you all of the necessary knowledge and help you develop your skill set to the point where you can create amazing landing pages that convert every time. This very in-depth ClickFunnels training course is most certainly worthy of your time, and it is available at a very affordable price.
Structure
This ultimate ClickFunnels training course by Udemy is broken down into ten different segments, and it walks you through the entire process of developing sales funnels through ClickFunnels that actually convert. The program starts by laying the groundwork, including what a sales funnel is and how to integrate necessary components into ClickFunnels. Nathan Williams then goes into depth on exactly how to structure and build the funnel and build the pages. In total, the course is ten hours and forty-six minutes in length.
What you learn
The first thing Nathan Williams teaches in this excellent ClickFunnels training course is what exactly ClickFunnels, and a sales funnel in general, is. He lays out the information in a very clear, concise way that lays the groundwork for the rest of the course. You also learn how to structure the funnel and determine exactly what the sales funnel should consist of, including what each section should consist of, what elements are needed and how to create popups. After which, Nathan Williams walks you through the process of actually designing your landing pages through ClickFunnels.
What to expect
This is a fairly rigorous course filled with useful details about every small component and feature that ClickFunnels offers. Subsequently, the course is likely to take some time to complete. The entire length of all of the videos is ten hours and forty-six minutes, so just simply watching the course can be done in several days. However, you are going to want and need to take notes, which may make the course take a week or so to complete. In the event you plan to build your sales funnels while watching the instructional videos – which is the case with most – it may take more than a week. However, in the end you will be knowledgeable enough to teach the course yourself.
---
The ClickFunnels training course offered by Justin Cener may be the most hands-on course you will find out there today. Justin Cener personally answers every question posted in the exclusive Facebook group that becomes available once you sign up, an attribute that is not available with most of the other top ClickFunnels training courses. If you are wanting to learn ClickFunnels in an easy to understand manner, then Justin Cener, who explains everything in clear detail, is your guy.
Structure
Perhaps the best part about the ClickFunnels training course presented by Justin Cener is that it is very well structured and easy to understand, and you can take it at your own pace. There is not a live component to this training course, which allows you to complete the training at your own pace at whatever times work for you. Most of the course is presented through training videos of Justin Cener himself, in which he goes over all of the details needed to produce large monthly profits. While he certainly covers everything specific to ClickFunnels, he goes far beyond sales funnels and into various other areas of online marketing as well.
What you learn
As mentioned, Justin Cener provides more information than simply ClickFunnels training, although understanding, using and analyzing ClickFunnels is the main part of his message. In this ClickFunnels training course you will not only learn ClickFunnels strategies and be given access to his own ClickFunnels templates, but you will also be taught his entire Facebook Ads strategy, scaling strategies to help grow your profits and a step by step guide about how he created his own eCommerce funnels – and that is just to name a few. There are many more bonuses Justin Cener provides in this course, including access to his exclusive Facebook group.
What to expect
With this ClickFunnels training course, you can expect to learn ClickFunnels in an easy to understand method. From how to structure the ClickFunnels to how to analyze the data, you are certain to be an expert after taking this course. Additionally, Justin Cener teaches you how to succeed in other areas as well, including with Facebook ads and Shopify. This course is a much more personable experience as you have the ability to ask the instructor questions when there is something you do not understand as well.
---
Funnel Hacking Live is certainly different than all of the other ClickFunnels training courses currently on the market. Unlike the other ClickFunnels training courses on this list, Funnel Hacking Live is a four-day live event held by the founder of ClickFunnels himself, Russell Brunson. It is held February 19-23 in Nashville, Tennessee, and it will consist of multiple speakers and cover all that you need to know about operating ClickFunnels and much more.
Structure
Funnel Hacking Live 2019 is a four-day event, which spans over the course of four hours each day. It is put on by Russell Brunson himself, and other top names in the industry are scheduled to speak as well, including Dean Graziosi, Stacey Martino and many more. Also, violinist and YouTube celebrity Lindsey Stirling is scheduled to perform as well. Needless to say, this event is a big deal and one that is most certainly worth your time and investment, especially if you are a business owner looking to take your business to the next level with ClickFunnels.
What you learn
At the event, you will learn the foundational keys to success, including what ClickFunnels is, how to utilize it and much more far beyond sales funnel training and into the world of digital marketing as a whole. On the second day, you will learn absolutely everything there is to know about funnels specifically, including eCommerce and webinar funnels. In days three and four, you will learn much more about digital marketing and how you can put all of your new knowledge into practice.
What to expect
The main thing you can expect at Funnel Hacking Live 2019 is a ton of useful knowledge about ClickFunnels, including how to build sales funnels and maximize your profits online. Additionally, you are in for an amazing four days of excitement, getting to hear from and meet some of the industry's biggest, most famous stars. If you are willing to take the time and attend the event in Nashville this upcoming February, you are certainly going to be glad you did and will certainly learn information about ClickFunnels that you will be using for years to come.
No matter which of these three best ClickFunnels trainings you decide to take, the information and strategies you learn will make your own sales funnels much more successful and give you the confidence to use ClickFunnels like a pro.
Disclosure: I am an independent ClickFunnels Affiliate, not an employee. I receive referral payments from ClickFunnels . The opinions expressed here are my own and are not official statements of ClickFunnels or its parent company, Etison LLC.