ClickFunnels Review 2020 | Is ClickFunnels Worth All The Hype?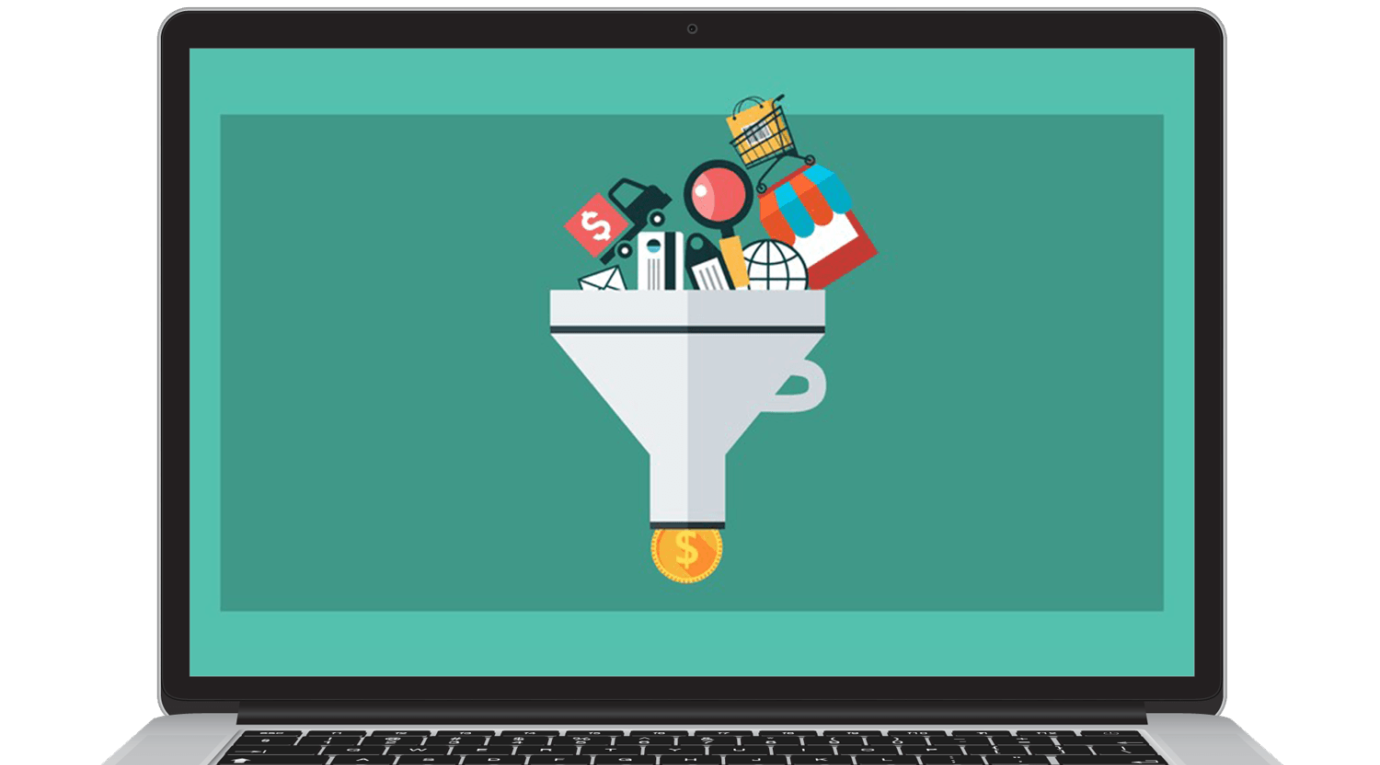 You have a great idea and an incredible website but are missing the one key in getting to the next level – organic customers to actually view it.  Ever wonder why someone else, who looks to be running a similar campaign as you, is generating significantly more traffic and success? The answer – ClickFunnels.   ClickFunnels is a software-as-a-service (SaaS) platform, where you can get everything you need right in one place to create funnels that bring in traffic.  Continue reading to check out our ClickFunnels Review and also check out a free 14 day trial we secured for you here.
Designed and developed by co-founder Russell Brunson, who also wrote the books, DotCom Secrets and Expert Secrets, the platform is focused on business owners and marketers who want to take every advantage available of having a business online and bringing in as many customers as possible. You can run a membership site, a consulting site, an author site, or deal only in affiliate marketing. The way to bring in traffic is through a strategic system of funnels.
Every tool you will ever need to run and integrate your business is provided to you on the platform and it is all found in one spot with one monthly billing. ClickFunnels also offers its own robust affiliate program so you can cash in on that, too. More details about the affiliate program are presented further on in this article.
What is ClickFunnels?
ClickFunnels is based on providing several types of funnel systems, a process where prospective customers start from a marketing channel, such as ads with links that show up at the top of an organic search engine results page (SERP), or placed, with permission of the owners, on websites that attract the right audience. Social media accounts, your website, a blog, an email, or a YouTube video, are also part of the marketing channel infrastructure that you put together.
Marketing channels are where your potential customers make first contact with your product or service and, now, want to know more about your offer. They click on a link you provide on one of those channels. From here, you need to move your customers through a marketing funnel first (in most cases), where they view a video, sign up for a webinar, or download a free report that gives more information about the offering. You can also offer a free eBook, or a free consultation that perhaps costs $100 an hour under other circumstances. Any of these incentives should relate directly to the product or service being offered.
If interested and ready to buy or sign up, customers click through to the sales funnel leading to the end goal of making a purchase, signing up for a paid membership group, or anything else where money is exchanged.  An added incentive or bonus can be offered at the check-out point to sweeten the deal, such as a discount on the purchase of the product or service within a prescribed time frame, a free content-rich eBook.
ClickFunnels Pricing and What You Get With It
Each tool you will ever need for building that funnel strategy, depending on your product or service, can be found in your account when you sign up with ClickFunnels. There are two types of accounts you can try out with the two-week trial: The Full ClickFunnels Suite, sometimes called the Etison Suite, for $297 a month, or the standard ClickFunnels account for $97 a month. Go here to sign up for your free trial.
When you sign up for the standard version, you are limited to creating 20 funnels, 100 designed pages (landing pages, etc.), and 20k visitors a month. This may be the perfect choice to get started when you have a small list of prospects, or none. But, you should try the full suite first, so you can see what options are available. You can downgrade to the standard version before the trial ends, if you have a small budget and cannot manage the full suite monthly fee just yet.
With the Full Suite at $297 a month, you also get Actionetics and Backpack included, along with unlimited traffic (visitors), unlimited pages, funnels, and domains. This is worth the try for two weeks, as you will see the full capabilities of the platform, including any available third-party add-ons. The Backpack program, for example, tracks all your affiliate link clicks if you are a ClickFunnel affiliate.
Once you have started your ClickFunnels trial, you can also check out any third-party add-on programs, such as CF Pro Tools (Jaime Smith, creator) that integrates with ClickFunnels. If you have a products store, for example, you can sign up to use these third-party applications that take your shopping cart/order form page to the next level by adding coupon bonuses to bulk purchases. You can also add highlights on the shopping cart order form so that your bonuses are visible to customers as they fill up their shopping cart. Instead of buying one product, the highlighted bonus gives a choice to buy more than one at a reduced rate by levels of quantity. The more quantities of one product bought at check-out time, the lower the price goes.
Add-ons are great when you have been using ClickFunnels for a while and know what you are doing. Once your system is running smoothly, you can check out any add-ons you might like to use, to generate more sales. CF Pro Tools and the CSF Highlight are two such tools to look at, particularly if you are running an online products store.
What to Expect When You Sign Up
One important point concerning the product or service you are selling to your customers, and signing up with ClickFunnels, is that you should have at least a few of your products ready for sales, including any free eBooks, free incentive reports, videos which you might already have on YouTube or elsewhere, and any webinars or training programs that you want to promote. This also includes content that you might want to use for landing pages in the funnels. Get all this done before you sign up for your trial period. That way you can spend time learning the ClickFunnels platform, rather than stopping in the middle of your funnel design to create content.
The reason for this is to minimize the time you will need to set everything up on ClickFunnels and not waste your trial period of two weeks, or your monthly fee if your trial has ended. You want everything ready to begin placing your components along the marketing/sales funnel so you can see your design. If you must stop and create content for a landing page, then you are wasting money and time. You can create content for a landing page, and collect all your images ahead of time, so they are ready to be inserted into your page forms when you select your landing page design. Here is an image of your opening page when you sign in to begin your design.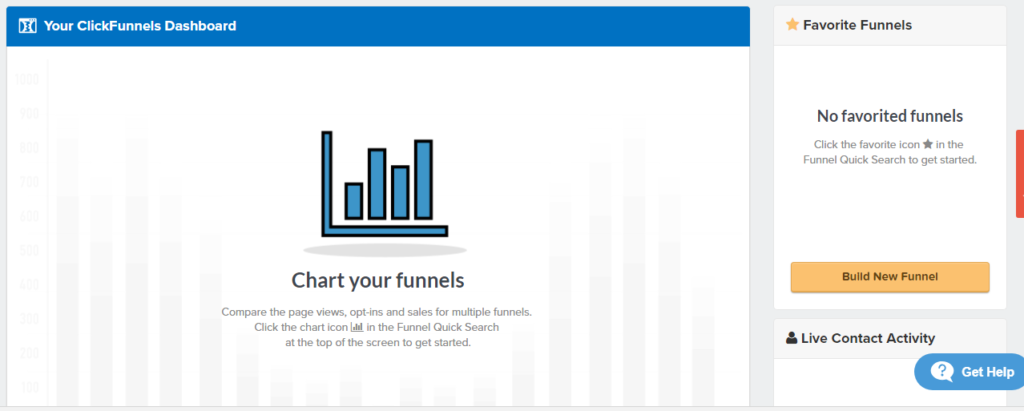 When you open your dashboard page, you are instructed to create a chart of your funnels. Click on the Build New Funnel button and you will get the following pop-up page, seen in the image below. You have two selections to start with. On the right side, you can select one part of your new funnel to start building and designing your new funnel. On the left, you can choose to use a specifically geared pre-designed funnel. Your funnel sections are already set up. You just edit the form for your product or service. For now, you might want to try a part on the right side.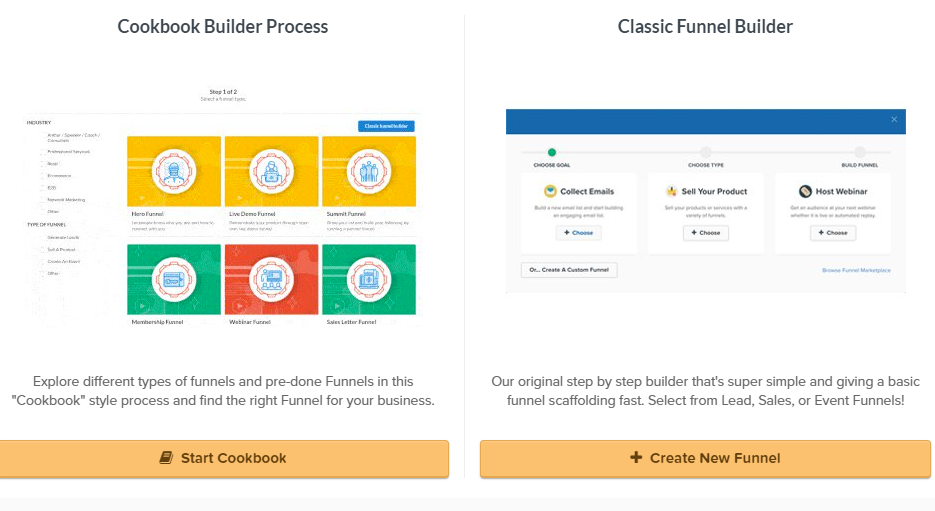 Begin with creating a double opt-in email form by clicking on the Collect Emails button so you can capture leads at once when they come to your website or landing page. Essentially, this becomes part of your squeeze page funnel. Other tools offer integrations for landing pages, registration pages (i.e. webinars), sign-up pages (emails, newsletters, etc.), products pages, shopping cart system, payment infrastructure, an up-sell or down-sell page, and a thank-you page after the desired action is taken by the prospect.
In the image below, a free share funnel was downloaded to show a typical set-up for editing a webinar registration page. All you need is to edit the funnel and set up all your information for the webinar. Note that you need to have all your links handy to tie in the form your already-created webinar account and platform. You can choose to have a live webinar or a pre-recorded one.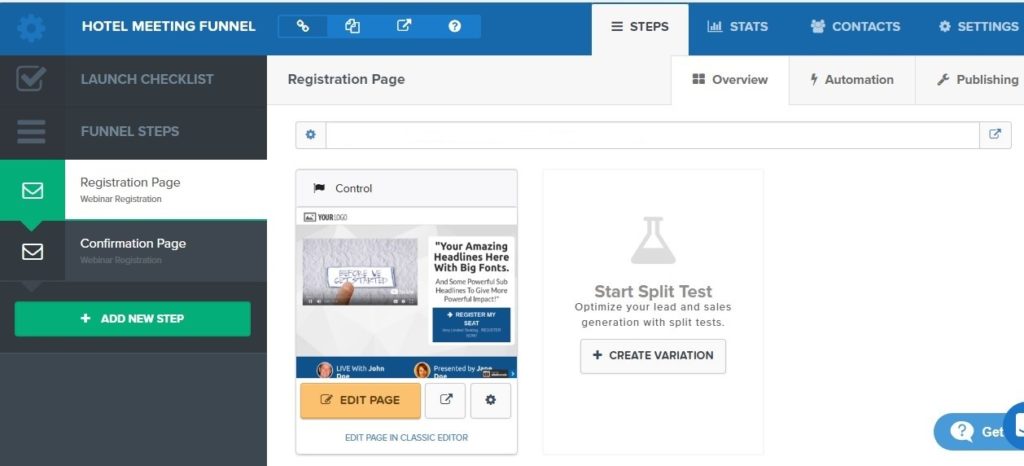 When you make your choice, such as the email collection form or a webinar form, you will receive instructions about what you need to do next to complete your part. For new funnel members, this is so important to have, instead of wondering what you should do next. You also have the chat button below that you should use if you have a question.
If you do not see a free template that you want to use, then head over to ClickFunnel's marketplace to look at what is offered there. For the enterprising designer, this is also another way to make money through ClickFunnels. Design a successful funnel and you can sell it on the marketplace earning 70% of the fee. You can also click on a button if you need specialized help with a design.  Here is what else you can examine as part of your Full ClickFunnel Suite trial experience.
The ClickFunnel Autoresponder
Actionetics, a complimentary autoresponder service with the Full ClickFunnels Suite plan ($297 mo.), along with Backpack (affiliate tracker for ClickFunnel), is essential to capturing your visitors on your website. This is also the beginning of gathering information on your visitors, starting with their IP (Internet Protocol) address, linked to the computer they are using. You will see the Actionetics platform below when you first open it up to get started.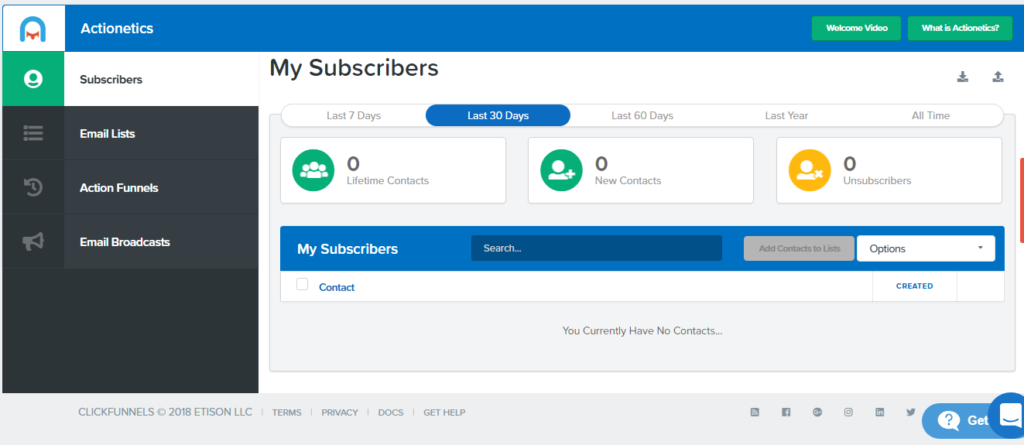 When a visitor fills out a form (for email or newsletter), or makes a purchase and creates an account, then you start learning more about your visitor/customer by the analytics (data) gathered behind the scenes. You can track what pages your visitor landed on, what other pages were clicked on from that first page, how many times a purchase was made, and what products the visitor showed interest in, but did not buy during the visit.
If a visitor creates an account for making purchases at your store, you now have the address, phone number, and charge card information, along with a name and email. You can also correlate IP address information with that visitor and note if he or she also visits your social media sites, blog, landing pages, and other marketing channels. You can learn a lot about your customers by building customer profiles from the analytics you gather over time.
Once you begin accumulating customer information, you can create strategies by segmenting customers according to their interactions with your website, landing pages, and other marketing channels. Actionetics, therefore, becomes one of your most valuable tools and you want to take full advantage of its capabilities to capture leads and keep them engaged with you. Check out the Actionetics video here on YouTube.
Check this brief video to see the Actionetics platform and how to work with it inside your account. If you have this tool, or have added it on, you will not need any other third-party bulk email service as part of your marketing infrastructure. However, consider downloading your contact list from time to time, just so you have a copy available on your computer. You never know what can happen and your circumstances might suddenly change.
The Affiliate Program and Backpack
One great perk about being a member of ClickFunnels is the connected affiliate program, which appears to be one of the best out there. If you want to use the Backpack program that comes automatically with the Full ClickFunnel Suite account, then you can set that up, but this can only be done on one of ClickFunnel's subdomain pages. Backpack must have direct access to those who sign up to become your affiliate and be able to track the click-throughs and money generated when customers buy from those links. You also keep track of money you need to pay them at the right time. The image below shows the Backpack platform opening page when you are first getting started.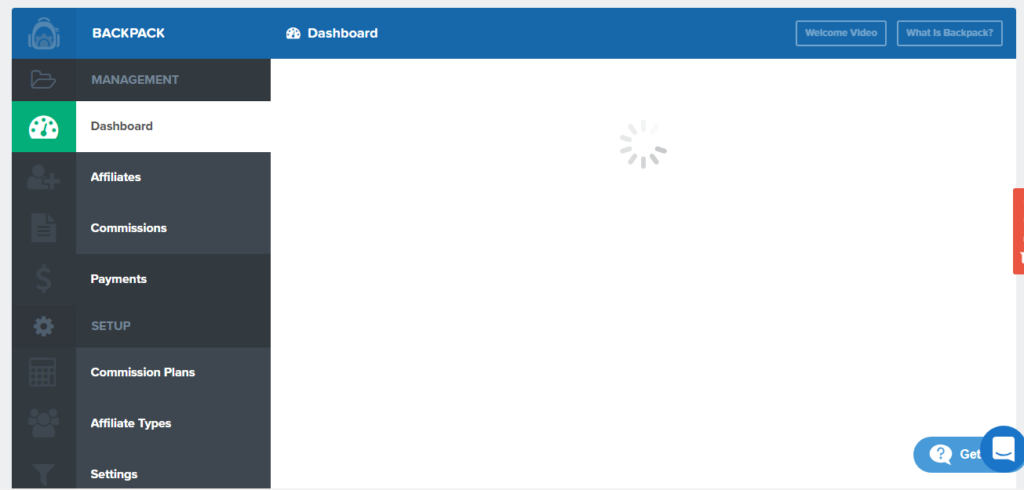 Give out the proper link to your ClickFunnel's affiliate page where new members can click on it, come over and sign up, and then the other link where current affiliate members can sign in to see their account standings. You can check out the affiliate video here to watch how you can set up your affiliate account on your platform.
Here are some other great perks of the affiliate program that you will get, according to Chris Fong of Smart Business Trends. You get recurring commissions by bringing in new customers to ClickFunnel from your affiliate links posted across the internet. When you refer 100 new members and they stay active, you get $500 a month towards the leasing fee of your car of choice, as part of the Dream Car program. Bring in 200 new active ClickFunnels members, and you get $1,000 a month. You can learn more about the car program by clicking this link here. There are very few affiliate programs out there that offers this car perk.
Once you get your new customers in, promote the affiliate program and have them sign up in your account. They, in turn, can also create their own affiliate program if they are using the full suite platform. How do you create traffic to get new members in? One way is to write a review, much like this one you are reading, about your experience with ClickFunnels and include your affiliate link in the background of the word or phrase chosen to send the reader to a ClickFunnel page. In full disclosure, this review is straightforward, and does not include any affiliate links, even though the writer is, for now, a trial member.
When you become a member and open your affiliate account, then you can find out more ways to use your links to bring in new members. Always think strategy about how to get your message across. Consider carefully, that if you are writing reviews and including affiliate links, that your review can be considered suspect, because the public perceives it and you as only being out for the money you can bring in. At least try to write an honest review, including pitfalls experienced with ClickFunnels. The reading public will trust it more than others. Make sure you also note in your review that your links are affiliate links as part of full disclosure. In the next section, you will learn about more ways to earn money, aside from your own business and the affiliate program.
Funnel University
Want to become a professional funnel expert and know how to do split testing to see which funnel version works best? You can sign up for Funnel University and begin learning about all the behind-the-scenes tips you can implement to create high-value traffic-producing funnels. When you sign up for free and get a two-week trial, the cost is $67 per month after that.
When you sign up (free), you can also get Brunson's new book, 108 Proven Split Test Winners, if you pay $19.95 for shipping and handling. This may really be worth your while if you can add it to your budget. Go to the blue link and click to find out more about Funnels University and how to get the book. You also have the choice to pay for a year up front for only $597, giving you a 75% discount.
If you want to know more about how funnels work, you can also pick up Brunson's guide on funnels, called The Funnel Hackers Cookbook for free by clicking here. Anyone who is starting out with building funnels on the platform, will want to refer to this book while working in their account. The guide gives information on the elements found in each type of funnel form, and basic instructions for building each part. You will likely enjoy the squirrel art used as part of the examples too. The guide also gives occasional links to building some of these parts as part of his recipes. Brunson suggests reading his Dotcom Secrets book (free copy here) to learn more about funnel strategy, as that is not really found in the guide.
Building Funnels, Editing Forms, and Getting Help
Once you have signed up for your trial, you can find out more about the funnels and forms used, if you do a search on the platform. For example, if you want to learn more about building a membership funnel, you can click on a provided link to learn more and watch a video. Look at this page to see how they present help in building membership funnels. You can also Google outside the platform and find ClickFunnels help for just about anything you need to know, including YouTube videos.
There is plenty of documentation available to help in nearly every situation, both on the platform and elsewhere. You might have to search a bit for it, but do not forget the chat button because they may have the link to help solve your problem.
How to Make Money Using ClickFunnels
Aside from the affiliate program, take time to learn all the different ways you can make money with ClickFunnels using the tools made available to you. Second, study the strategies that successful marketers use in building their funnels, which may not be visually obvious until you buy their products or services. Observe what up-sells and down-sells they use, when they use them, and how they create follow-ups as well.
Once you have studied a few funnel strategies for products or services like yours, then you can develop your own series of funnels. But, where do you go to find your customers to get them into the funnels? An interesting point that Russell Brunson made in his promotional video was on the section on bringing in traffic.
Brunson suggests tracking down customers on competitors' websites and learning where they come from (backtracking) before they get to your competitors' websites. When you find where your customers are congregating, then you can create banners advertisements that can be placed on those sites, once you have approval from the owner. You might have to pay a fee, or do an exchange venture where you add one of the owner's advertisements on your website.
Utilize all your marketing channels and do not forget that using direct response marketing in print form can also be part of your strategy. As an example, a visitor signs up for your emails which they will get once a week. Send out a notice by email just after the visitor signs up explaining what they will receive from you, and when, so they know exactly what to expect from you.
A few days later, send out a print letter thanking them for signing up, and include some type of bonus towards a product or service, such as a free eBook. Give them the choice of receiving it electronically in pdf (Adobe Acrobat) format, or in print format, sent by "snail" mail.
Things to Look at for ClickFunnels for Added Financial Success
Funnel Hacks
Funnel Hacks is where you learn the three secrets of legally hacking funnels from other marketers who are very successful, which was mentioned in the earlier paragraph. Typically, you cannot see the whole funnel unless you buy your competitor's product or service. You would track from where you first start, such as an email from your competitor. Then follow the call-to-action (CTA) link from the email to the landing page provided. Make the purchase and see what happens there, including any follow-ups. Check how up-sells, down-sells, or cross-sells are done, and where.
Study the layout of the page and the message. It is important to understand that you must create your own content. Do not steal their copy because then you are plagiarizing their content and may end up talking to someone's lawyer. But you can look at the layout of the page design and the function of the funnel's strategy. The idea is to model your competitor's funnel layout or path, but not the written content. You also learn about funnel cloning, and finally, how to conduct traffic hacks. This is important in bringing new customers to your website or landing pages. You can view a webinar here which explains further what Funnel Hacks will give you.
Two Comma Club
This is a list Bruson created on a page of those who have made over $1 million a year. Many of these ClickFunnel members use add-ons to their infrastructure to maximize ClickFunnels' extended capabilities, along with using their affiliate program too. The name, Two Comma Club, refers to the obvious number of commas used in a 7-figure income ($1,000,000) statement. Many members have also gone on to making $2,000,000. You can click here to see the current list of the Two Comma Club, plus a video from Brunson about the club.
If you want to take training courses to become eligible for the Two Comma Club, then here are the prices for the two courses available. The first one is a home study course and costs $1997, and now offers monthly payment plans too. The second is an intensive in-person workshop which costs $14,997, according to Pankaj Singh of Whatever I Know.com. You can go here to find out more about the club's training program.
For example, the home-study course offers a Secret Masterclass with eight core modules, the Spy For Profit (Funnel Hacking 201) class, six months of weekly coaching accountability calls, a private discussion group (available for six months), and learning about what the Two Comma Club members did behind the scenes. This offers a great opportunity to learn how to achieve success by modeling current successful members. You can start this course with a $297 monthly payment, rather than paying in full ($1,997) upfront.
The second training course offers the first package plus the course, Fill Your Funnel + Traffic Secrets over 12 months. You also get a live three-day in-person coaching session called the Funnel-Hack-A-Thon at the ClickFunnels headquarters in Boise, Idaho. There is only the upfront payment of $14997.
Share Funnels
If you would rather use a free pre-designed funnel, you can go to this link and look at the free funnels that other ClickFunnel members are creating and sharing. Note that you, or a friend who wants to see a share funnel, should already have an active account to see what these funnels looks like on the platform. This is also an added way to receive money because when a person downloads one of your shared funnels, you receive a referral credit for every month that person stays a paying member. You can even import free funnels, share them, and get credit, or design your own and share those, according to Greg Jeffries at FunnelMode.com.
Do not forget that if you do not see anything you like there, the ClickFunnel marketplace offers more advanced funnels, but you will pay for them. Once you have mastered the art of designing strategically successful funnels, you can sell your funnel creations too. There is nearly every type of funnel offered on the platform and quite a few to choose from.
The Financial Side
During your trial period with ClickFunnels, you should decide whether you can invest the money for the monthly fee, especially when using the full suite of tools. Consider the budget you have available for the monthly payments, including a budget for advertising, such as with Google AdWords when you want to create text advertisements with links. You may, over time, want to add on other tools to enhance your funnels. Some may be free while others might cost you. If you think you can manage a few months using the full suite of tools, then optimize that time by learning everything you can about making money with ClickFunnels, so that you gain money rather than spend it.
The Overall Analysis of ClickFunnels
Funnels, and bringing in traffic, are the most important aspects of making sales and being successful online. When looking at the whole picture of ClickFunnels, what it does, how you can expand your business with affiliate marketing added on to your business portfolio for making money, and implementing other perks, then the investment of $297 is a bargain. Beware of adding on too many things at the start of your membership, though. Taking it a step at a time is a more logical way of learning each part of the system available to you. Take the next step when you are ready, not just because you are anxious to make money. That will happen when you know what you are doing and how to implement the tools to get money in.
ClickFunnels has training videos available for each part of the system and, if you want to look outside of the platform for more information, go to YouTube, search for ClickFunnels, then drill down to a specific part you want to know more about. There is a video for just about everything connected to ClickFunnel.
If you need help with something, have questions about an aspect of your account, use the chat box to ask a question. Generally, you will get a fast response and a lead to where you can go to get answers for your questions. So far, response time has been very quick to any questions posed to the chat box, including by email.
The Pros of ClickFunnels
When you consider that most of us take multiple steps with different providers to put our online business together to conduct marketing and sales on the internet, the idea of connecting everything on one platform makes a lot of sense. It saves time because you do not have to run around to different vendors on the internet (think multiple open browser tabs) to get things done. Everything is available on the same platform and you can access anything you need with just a click of your mouse.
You can use the pre-made themes included on the platform to create your forms, or you can also design and create your own. It just depends on your level of using HTML, CSS, or any other language/program coding that may be allowed on ClickFunnels. For most beginning internet marketers and those with little time to spend on coding and designing, using editable pre-made forms is a big bonus. Most forms allow for drag-and-drop functions, making it easy and quick to create the forms needed so they are ready to go.
Another issue most common for new internet marketers, is the lack of knowledge on how to set up integration between an email service, and automatically sending out a free report or short eBook as the bonus for signing up. It is the same for online stores and shopping carts with integrated payment systems, and the follow-up system for delivering the product (drop-ship process or direct mail).
Searching around for the right provider can take a lot of time in researching prices and platform infrastructures, learning how to use that platform's tools, then getting it all set up and integrated. The goal is to have everything automated so you can spend more time marketing and connecting with potential customers. The ClickFunnels platform bypasses that aggravation of integrating multiple tools from multiple internet vendors.
The availability of training for anything you need or want to add on, such as how to join the Two Comma Club, or to attend the Funnel University, is a big plus. Yes, in both examples, you do pay extra but if you can do it, then it is worth a try. However, be prepared to commit to your success because it is a waste if you do not use what you learn. If you do not understand what you are learning at any given point in your course, ask the question. If you are paying big dollars to get that education, make sure you understand what you are learning. It's your money and your future.
The Cons of ClickFunnels
You will have a two-week trial to decide whether you want to make a commitment or not. The downside to working with a platform like this is that should you decide to drop the ClickFunnel service, you will need to rebuild your funnel infrastructure by hand, or implement a new strategic plan on your own.
If you built landing pages on ClickFunnel, sold products from those page(s) using the ClickFunnel shopping cart and integrated payment system, along with their email responder system, then you will need to replace all that. You may find that is it quite an ordeal to get this done quickly, unless you have a backup plan in place, ready to go when you unhook from ClickFunnel.
If you own or have worked with a WordPress website and use a page builder plug-in (i.e. WP Bakery or ProfitBuilder) to build your pages, then you can build similar drag-and-drop landing pages and forms like those you had at ClickFunnels, which work pretty much the same way, including the ability to add a bit of coding. Integrating outside vendor tools to recreate the funnels will take some time to match up with what you had before. Therefore, it is always wise to have that backup plan that can be implemented quickly, should that decision need to be made.
The expense might prove to be too much, especially for those just starting out. If you can, use the standard platform to stay connected and, if possible, add on extras as you go along, then you would be better off staying. It just depends on your circumstances and what you can manage.
ClickFunnels has a lot to offer its customers, and while a little pricey, it appears to be well worth the investment of time and money. If you start making money from your funnel strategies, then what you have left over after living expenses and business expenses, can be invested back in your business and learning more. Not everyone will agree with that belief, but it is up to each person to decide that for themselves. This following section is a compilation of things heard around the internet that have some merit in mentioning, as some comments may help others make their own decision.
What Others Say
In a consensus of opinions from around the internet about using ClickFunnels, the biggest problem users had was in trying to get technical help with their funnels when something went wrong. For new members, this can be problematic, as they may not have enough knowledge yet to help themselves fix problems or where to find that information.
As with any business, if customers cannot rely on getting enough help, that no one responds to them in a prompt fashion, then people will move on to other provider solutions. Customer and technical service is essential to a company's success, particularly a software platform. This reviewer did not have trouble connecting with the help desk through chat and email, but the questions asked were not technical either. For the most part, though, many users like using ClickFunnels because of the platform's ability to help them bring in more customers. One user says he loves ClickFunnels and his whole business is built around the platform. His comment was that ClickFunnels is one of the best marketing tools available.
When checking around the internet to do initial research, there were many favorable reviews for ClickFunnel and that is fine, until you realize that some writers are using their affiliate links, in case the reader wants to sign up from the review page. The reader, once he or she catches on to that, is less likely to trust what the writer is saying about ClickFunnels. That also lowers the public's view of what ClickFunnels is, and harms how people might see the company. ClickFunnels offers customers plenty of other opportunities to make money that are not quite so blatant.
Another comment also made is that users do not always want to pay monthly fees but do not have enough in their budget to pay for a whole year at one time. These are personal preferences and valid. Some past users do not like having enough control over what happens with their funnels, and want to take that back, particularly if they have enough experience to just build their own funnels.
The final statement is that ClickFunnels offers a lot to today's marketer, no matter what field or niche they are in. There is something for everyone and if the marketing budget supports paying for the full suite of tools, then aside from negative comments about service, the ClickFunnels platform is a good purchase. Take the time to learn the what the platform offers, read Brunson's two books mentioned earlier for strategy, and get the cookbook to have at your side.
We worked out a free 14 day trial for you here
Disclosure: I am an independent ClickFunnels Affiliate, not an employee. I receive referral payments from ClickFunnels . The opinions expressed here are my own and are not official statements of ClickFunnels or its parent company, Etison LLC.